Cryptocurrencies can pique curious minds, especially when you relate them to investments and new payment methods—for a good reason. They offer a new way to handle transactions and interact with the digital world.
If you're reading this, there's a good chance you have heard of Polkadot—and you may even have some questions about it. Polkadot is a blockchain platform that connects different blockchains, allowing for more seamless and secure transactions.
Because of its unique abilities, Polkadot has the potential to revolutionize the world of crypto. In this guide, we'll break down everything you need to know about the Polkadot coin, including how it works, where to buy it, and what makes it unique.
So whether you're just starting in crypto or looking for a new investment opportunity, read on to learn more about it.
What is Polkadot?

Polkadot[1] is a next-generation protocol that enables scalability, security, and interoperability for blockchains. It does this by connecting disparate blockchains into one cohesive network. It can facilitate an internet where independent blockchains can exchange information and transactions transparently and allows users to have a decentralized web where everyone has control.
Pioneers in the blockchain industry[2] such as Gavin Wood, who also co-founded Ethereum; Robert Habermeier, a Thiel fellow who has a background in research and development on blockchain technology; and Peter Czaban, the Technology Director of Web3 Foundation were the ones who created Polkadot.
In 2016, Polkadot was launched, and it has been under the great minds Web3 Foundation, an organization that fosters innovation and growth.
The native currency of Polkadot is DOT, which is used to motivate decentralized governance and pay stakers. DOT is required to participate in network governance, staking, and bonding activities, and it has a total issuance of more than 1 billion.[3]
Read more: Best Long-Term Crypto Investments 2022
What is Polkadot Crypto Used for?
Polkadot is a decentralized web 3.0 blockchain that enables cross-chain transfers of any data or asset type. It's designed to empower users to easily create and connect decentralized applications.
It also helps connect different blockchain networks together, so they can share information and work together. This makes it possible to create a "decentralized internet," which is more secure, private, and efficient than the current centralized internet.
The native token of the Polkadot ecosystem is DOT, which is used to secure the network and enable governance. DOT holders can participate in staking, voting, and protocol upgrades.
Polkadot is intended for a variety of applications, including payments, identity, and decentralized finance (DeFi). Overall, Polkadot is a powerful protocol with the potential to revolutionize the way we use the internet.
Is Polkadot Crypto a Good Investment?
Polkadot is a relatively new cryptocurrency that was created six years ago. It's unique in that it allows different blockchain networks to interoperate with each other. Polkadot is also scalable, meaning it can handle a large number of transactions without compromising security or performance.
So, is Polkadot a good investment? That depends on your investment goals and risk tolerance. Cryptocurrencies are considered high-risk investments due to their volatility and the fact that they're subject to government regulation.
Since it's still young, there might be new technologies that can overshadow its capabilities, although it does have a huge potential when it comes to its protocols and features.
If you can survive double-digit percent losses from time to time, and still have the patience to wait for the token to increase its value for a few years, then this could be for you. Otherwise, just opt for traditional investments.
Related articles:
Where to Buy Polkadot Crypto?
When it comes to buying Polkadot crypto, there are a few different avenues you can explore. One option is to purchase DOT tokens through cryptocurrency trading platforms.
This entails setting up an account with an exchange and then transferring funds from your bank account or another cryptocurrency into your exchange wallet. Once the funds have been transferred, you can use them to buy DOT tokens.
Another option is to purchase DOT tokens directly from someone who is already selling them. This can be done through online marketplaces or by meeting in person. If you choose this route, make sure that the seller is reputable and that you're comfortable with the terms of the sale.
You can also buy DOT tokens through the Metamask wallet where you can convert your existing altcoin to DOT charged with network fees. If you have a Binance account, you may also convert USD Tether to DOT if you want to hold or trade the tokens.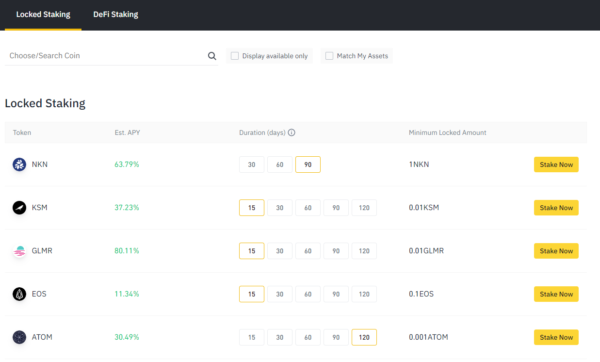 Once you have the tokens, you may also use Binance staking[4] that involves locking up your DOT tokens in return for a share of the rewards generated by the pool.
As of this writing, when you choose locked staking with a fixed term, the annual percentage yield (APY) is 36.79%. Whether you choose to buy, earn, or both, there are plenty of options available for acquiring DOT tokens.
How Much is Polkadot Crypto?
As of today, one Polkadot token is worth approximately ₱450. However, remember that cryptocurrency prices are highly volatile, so this figure may fluctuate significantly over time. Its all-time high was in August 2020 when it was worth around ₱19,000.
How to Buy Polkadot Crypto in Binance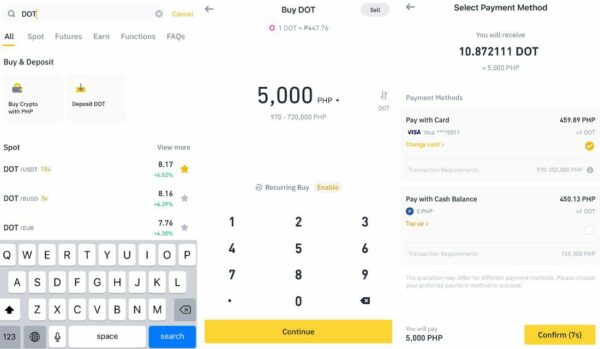 Binance is a popular cryptocurrency exchange that allows you to buy and sell digital assets, including Polkadot crypto. If you're new to Binance, here's a step-by-step guide on how to buy Polkadot crypto on the mobile app.
Create a Binance account and verify your identity. To do this, go to the Binance website and click "Create Account." Then enter your email address and create a strong password.
Once your account is created, you'll need to upload some identification documents to verify your identity. Link your bank account or debit/credit card to your trading account if you want to buy using local currency.
Deposit funds into your account. To do this, go to Markets then enter DOT on the search bar. You'll see DOT and its trading pairs.
Tap Buy Crypto with PHP and enter the amount in Philippine Pesos. Tap Continue > Confirm. If you don't have a debit or credit card yet, you may enter the details on the next window and then continue until the amount is charged.
Final Thoughts
Polkadot is a new cryptocurrency that's still in development. Its main purpose is to act as a bridge between different blockchains, which will allow for more seamless and secure transactions.
While there are some speculations as to whether or not DOT, Polkadot's native token, will be a good investment, the technology behind it is something to watch in the coming years.
If you're interested in learning more about Polkadot or want to buy DOT tokens, Binance is a great place to start. Remember, invest only what you can afford to lose.

Sources:
DISCLAIMER: Information published on this blog or elsewhere on www.moneymax.ph should be used for general information purposes only and does not constitute investment advice, performance data or any solicitation or recommendation that any security, investment product, transaction or investment strategy is suitable for any specific person. This material does not take into account your financial situation, risk tolerance level, investment experience or objectives; all of which are unique to you. Before acting on information on this blog, we suggest consulting an independent professional to advise you on the risks of any decision and the extent of any exposure to loss.