Cryptocurrencies are becoming more and more popular these days in the Philippines. As a result, there's an increasing demand for wallets that can store different types of cryptocurrencies, whether for trading altcoins, long-term crypto investment, or selling NFTs.
If you're looking for a great wallet that can store multiple cryptocurrencies, then you should check out Exodus. This article will discuss what Exodus wallet is, how it works, and everything you need to know before using it.
We'll also provide a tutorial on how to use Exodus wallet, plus tips on using it safely and securely. So if you're interested in learning more about it, keep reading.
What is Exodus Wallet?
Exodus wallet[1] lets you securely store over 200 cryptocurrencies and manage your digital assets. It's free and can be installed on your computer or mobile device.
The Exodus wallet has a built-in exchange that allows you to trade one cryptocurrency for another instantly. For example, you can change your Bitcoin for Ethereum in just a few clicks and pay only for the network fees.
The Exodus wallet also provides a secure way to send and receive payments using your digital assets—all in one mobile wallet. You may also connect your Trezor hardware wallet and manage your crypto coins without registering for another account, so you can send and receive coins between these two wallets. If you're looking for a secure and user-friendly way to manage your cryptocurrencies, then the Exodus wallet is the perfect solution.
Is Exodus Wallet Safe?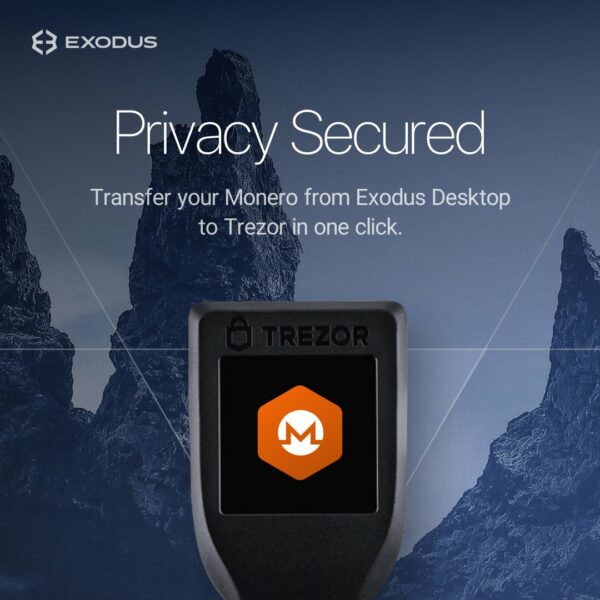 Exodus is a Hierarchical Deterministic (HD) wallet,[2] which means that your private keys are generated from a seed phrase that only you know. This seed phrase is used to generate all of your future addresses, so it's important to keep it safe and secure.
Exodus stores your private keys on your computer's hardware with encryption, so it's important to make sure that your computer is free of malware before using it. Thus, it's only safe as the device installed in it.
You can do this by scanning your computer with an antivirus program and running a malware scanner. It supports Trezor integration, which means users can transfer funds from Exodus to a cold wallet in an uncomplicated way. Therefore, despite its security measures, if the device is exposed to keyloggers, malware, and viruses, you may lose your funds.
As with any online service, there's always a risk of hacks or security breaches. So, if you're looking for the absolute safety of your digital currency, you might want to consider storing it in an offline wallet like Trezor.
How Does Exodus Wallet Work?
The Exodus wallet is a desktop wallet that works with Windows, macOS Linux, a web browser extension, and Android and iOS mobile devices. It's designed for people who want to hold their own private keys and want an easy-to-use interface.
As mentioned, Exodus is an HD wallet, so your private keys are generated from a seed phrase. This seed phrase is generated when you first create your wallet and can be used to regenerate your private keys if you lose them.
This desktop wallet supports multiple currencies, allowing you to store all your cryptocurrencies in one place. When you want to send or receive a crypto coin, you simply select the coin from the list, click it, and enter the amount.
It also has built-in ShapeShift support, which allows you to exchange one cryptocurrency for another without having to set up an account on an exchange.
Exodus Wallet Key Features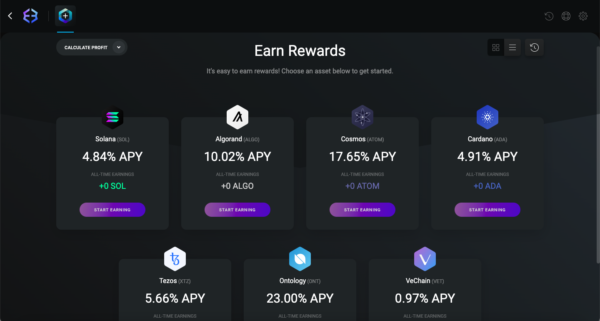 Exodus is a "multi-cryptocurrency wallet" with a built-in exchange that allows you to store various coins and tokens in one place. Released in December 2015, Exodus has quickly gained popularity due to its user-friendly design and wide range of features. Here's what you can do with it.
Buy Crypto Using Debit/Credit Card and Apple Pay with 0% Fees on Mobile
Using its mobile app, you can top-up your wallet and buy Bitcoin and other altcoins using debit/credit cards and ApplePay with 0% fees for a limited time only. You pay using US Dollars, Euros, and British Pounds through the Ramp network, a registered cryptoasset business.
Trade Using the Built-In Exchange
You don't have to sign up for another account to trade in an exchange. With Exodus, you can trade a coin with another—buy, sell, and store it as you wish.

Easy Access and Syncing Across Devices
Download the wallet and access your funds wherever you go. As long as you have your seed phrase, you have full control over your coins. You may also store them for the long term and earn Exodus rewards with up to a 16.77% average reward rate.
Collect and Browse Your Own NFTs
Collect your favorite Solana NFTs and view them in your own gallery in the wallet. Grow your collections and just store them in your Exodus account.
Secure Your Account with Exodus Password and Recovery Phrase
To ensure your funds are safe, set up your Exodus password and recovery phrase. This way, you can access the coins on any device even if your computer is locked, stolen, or broken. You must first enter the password and then the 12-word seed phrase before you can recover your account.
Stake Coins to Earn Rewards
Hold your long-term cryptos such as Solana, Cardaon, Algorand, Cosmos, Tezos, Onthoology, and Vechain and get up to 17.65% all-time earnings. Use the calculator to get an estimate of your profits for up to 24 months.
How to Use Exodus Wallet: A Quick Tutorial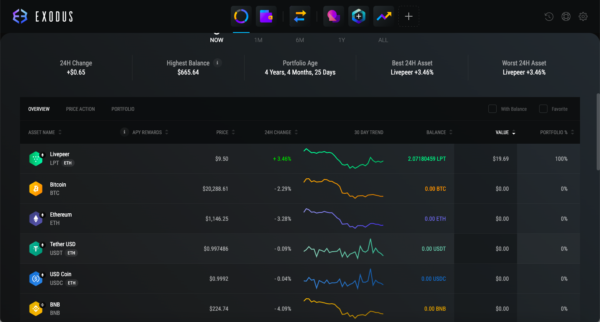 Curious about how to install Exodus wallet on your computer? Here's a quick guide on how to use it on your desktop. For illustration purposes, this is a walkthrough using a macOS computer.
Visit the Exodus download page and download the Exodus installer. Once you've completed this process, simply set up your seed phrase. Write it down and don't ever share it with other people.
The main dashboard shows the total amount of your assets and a list of cryptocurrencies with their current market price.
You can exchange a coin for another directly. To do this, simply click the coin, click "Exchange," and then you'll be directed to another window for you to choose your desired coin.
When sending a coin to another wallet, just click the Send button and paste the wallet address. Networks fees are charged depending on the coin you want to send.
When receiving a coin, simply click the Receive button and scan the QR code to get the wallet address. You may also copy and share it with the sender.
To add other features, click the plus (+) button on top, and you'll see a list of apps you can add to your Exodus wallet. For example, you can add the NFT marketplace where you can buy and sell Solana NFT art without having to register to another NFT marketplace.
Read other crypto wallet guides:
Final Thoughts
Exodus is a desktop and mobile wallet that provides a user-friendly interface and features for managing digital assets. It has built-in security measures and allows you to control your own private keys.
In this Exodus wallet tutorial, we've shown you how to set up a wallet on Exodus and transfer tokens to it. We also walked through the key features of Exodus, including the portfolio view and the support for multiple cryptocurrencies.
As with any software, there are always risks associated with using digital products. However, if you take precautions like creating a strong password and backing up your recovery phrase, your coins should be safe in Exodus wallet.

Sources:
DISCLAIMER: Information published on this blog or elsewhere on www.moneymax.ph should be used for general information purposes only and does not constitute investment advice, performance data or any solicitation or recommendation that any security, investment product, transaction or investment strategy is suitable for any specific person. This material does not take into account your financial situation, risk tolerance level, investment experience or objectives; all of which are unique to you.
You should be aware that the value of virtual currencies (VCs) including cryptocurrencies may fluctuate greatly. As with any other type of investment, you should know and fully understand VCs before investing in such a product. You should only buy if you are prepared to accept the risk of losing all of the money you put into VCs.
Before acting on information on this blog, we suggest consulting an independent professional to advise you on the risks of any decision and the extent of any exposure to loss.