Non-fungible token (NFT) games are all the rage these days. A lot of people dabbling in crypto are branching out to blockchain games to diversify their investments. Some seasoned gamers are even looking into various NFT titles, knowing that sooner or later, the gaming sector will fully embrace the metaverse.
There are a lot of NFT games to choose from. But since you're putting time and money towards this endeavor, it's just practical to go for something simple yet potentially lucrative, such as CryptoBlades. If you want to learn how to play CryptoBlades, let this guide give you a walkthrough.
What is CryptoBlades?

Developed by Riveted Games, CryptoBlades is an NFT role-playing game (RPG) that incorporates medieval aesthetics and fantasy elements. If you're into the likes of Game of Thrones, this game may appeal to you.
CryptoBlades' main appeal is a reward system that allows you to earn the game's tokens every time you defeat enemies, complete quests, and take part in other activities in the metaverse. And since it's a blockchain game, you have actual ownership over the assets that you create and earn in this game. These include the in-game currency, characters, and weapons. Furthermore, such assets have real-life values.
CryptoBlades is initially started on the Build and Build (BNB) Chain, which is Binance's blockchain.[1] However, the game has expanded to other networks to offer players more options for transactions and help them increase their earnings. With that, CryptoBlades is now available on the following blockchains.
Avalanche
Polygon
OEC Chain
HECO Blockchain
Avalanche
CryptoBlades is a web-based game, meaning you can play it directly from your browser.[2] You don't need to download any app to join the metaverse.
Read more: Live Your Space Opera Dreams: How to Play and Earn from SpaceCrypto Game
What is SKILL?
SKILL is CryptoBlades' native currency. Every win earns you SKILL tokens. You can use SKILL to mint new characters, forge or reforge weapons, and trade assets at the CryptoBlades marketplace.
As of this writing, one SKILL is equivalent to ₱83.53. This is much lower compared to some of its past prices. To put things in perspective, one SKILL used to be equal to over ₱7,000 around July last year.[3]
How to Start CryptoBlades
Before you learn how to play CryptoBlades, you'll have to do a few things, such as setting up your wallet and loading it with SKILL. For this guide, the instructions will be focusing on BNB Chain since it's the game's native blockchain network.
1. Create a MetaMask Wallet
To gain access to the BNB Chain, you need to set up a MetaMask wallet. Skip this step if you've already created one. Alternatively, you can use Binance wallet or other supported wallets, such as Coinbase.
To easily access your MetaMask wallet, install it as a Google Chrome extension. Make sure that your wallet is connected to the BNB Chain. Then, load your wallet with BNB, which is Binance's cryptocurrency. You'll need it to buy SKILL.
Read more:
2. Purchase SKILL
To convert BNB to SKILL, you'll need to go to a decentralized exchange (DEX).[4] You can buy SKILL using your BNB on ApeSwap, one of the most popular decentralized exchanges out there.
Check out this CryptoBlades tutorial video on how you can purchase your first SKILL and start playing CryptoBlades:
3. Mint Your Game Characters

Now that you're loaded with SKILL, you can mint your NFT characters. The price of minting is displayed in the Plaza, a place where you keep your active characters. Remember that you can keep only four active characters at a time. Nonetheless, you can keep unlimited characters in CryptoBlades' Garrison; you may think of it as a holding area.
4. Mint Your Weapons
Your character's weapons are also NFTs. The good thing about owning them is that there's no limit on how many you can hold. Forging weapons will also come with a price. You can mint your weapons by accessing the game's Blacksmith tab.
Each weapon comes with a number of stars, which determines its power. According to CryptoBlades' whitepaper, the chances of minting a specific weapon are the following:
One-star weapon: 44% chance
Two-star weapon: 35% chance
Three-star weapon: 15% chance
Four-star weapon: 5% chance
Five-star weapon: 1% chance

How to Play CryptoBlades
Got your characters minted and weapons forged? This is the part where you'll learn how to play CryptoBlades. Here are the things that you need to take note of:
First of All: Know the Elements
Your characters, weapons, and weapon attributes will be assigned an element. These elements either increase or decrease your chances of winning when it comes to fights. As a rule of thumb, each element either trumps or is trumped by another element. Overall, your game strategy will depend on how you pair your character and weapons based on their elements.
Fire: Trumps Earth and is trumped by Water
Earth: Trumps Lightning and is trumped by Fire
Lightning: Trumps Water and is trumped by Earth
Water: Trumps Fire and is trumped by Lightning
Now, the Gameplay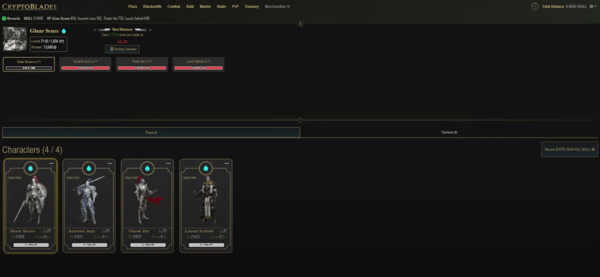 Just because CryptoBlades is an RPG doesn't mean that the gameplay is designed with moving visuals. Essentially, it's a clicker type of game where you'll simply point and click any character or asset to start the fun.
Learning how to play CryptoBlades requires you to know the metaverse's four game modes, which are the following:
Combat
The Combat mode is where you'll fight different creatures of the CryptoBlades metaverse. In order to fight, you'll need to choose a character or weapon from your arsenal. Then, you'll be presented with four enemy choices and fight one of them. Keep in mind that your enemies are randomly selected based on your attributes.
After choosing an enemy, the game will then calculate on-chain the randomized rolls of your character and the enemy. If your character gets the higher roll or is equal to your enemy's roll, you win the match.
The Arena
The Arena mode is your gateway to the Player vs Player (PVP) mode of CryptoBlades. In this mode, you'll be battling it out with other CryptoBlades players. This is a much more challenging game mode since the pairing of players is randomized, which means that there's a chance you'll play against higher-level opponents.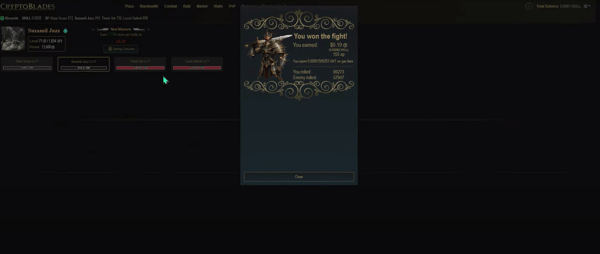 Raids
Just like in other video games, raids in CryptoBlades are a group activity. In a CryptoBlades raid, you're expected to team up with other players to beat other bosses and win rewards. One important thing to remember here is that the higher your level is, the more challenging the bosses will be. Don't worry that much if your character's power isn't enough. After all, you'll fight the bosses with the combined power of everyone in the team.
Quests
To improve your character, you can always go on quests. This is generally a system that will reward players for completing certain tasks. When you complete your quest, your character earns reputation points that increase its experience and even tier. This game mode, though, is only available for characters that are not in the arena.
How to Make Money from CryptoBlades
Just like other NFT games, CryptoBlades offers various ways to make money. Here are some of them:
1. Play the Game
One of the primary ways to earn money from CryptoBlades is actually playing the game. As mentioned, every battle won earns you SKILL. Following this logic, the more wins you have, the more SKILLs you earn. And because SKILL has real-life value, you can always withdraw it when its price goes up.
2. Mint Your NFTs
Your characters and weapons are NFTs, meaning they have real-life value. Other CryptoBlades players are always on the lookout for strong characters and rare weapons. If you have improved the power of your characters or forged much stronger weapons, you can always sell them at the Bazaar, which is CryptoBlades' official marketplace.
3. Trade Your SKILL
Cryptocurrencies' prices go up and down. You can always leverage this reality to make money with your SKILL through trading it with other cryptocurrencies. However, just make sure that your trades and withdrawals are timed strategically.
4. Stake Your Crypto
CryptoBlades has a SKILL for SKILL staking system. This means that you'll receive SKILL if you stake your own SKILL. If you stake your SKILL, it will be locked for seven days. After that period, you can withdraw your staked SKILL directly into your MetaMask wallet with zero tax.
Read more: Best NFT Apps Every NFT Collector and Enthusiast Should Have in 2022
CryptoBlades FAQs
After learning how to play CryptoBlades, it's just understandable that you'll still ask some questions. Check out the items below to learn more about this NFT game.
1. Can I play CryptoBlades on Android or iOS?
As of this writing, CryptoBlades doesn't have an app on the App Store or Google Play. But if you're asking if you can play this game on a smartphone, you technically can, as long as you have a browser.
2. Is CryptoBlades a good investment?
A quick search on YouTube will show you that some gamers earned ₱7,000 a day or P 65,000 a week by playing CryptoBlades. The prospect is admittedly enticing. But keep in mind that those gamers made this money last year when the game was extremely popular and the price of SKILL was much higher.
So, is CryptoBlades a good investment? It will depend on how much you're willing to put towards the game, the SKILL's price, and how committed you'll be. Last year, you'd hear stories of people investing up to ₱30,000 to start a CryptoBlades team. But things are different now since the price of SKILL has already gone down. To stay on the safe side, you may use around ₱5,000 to join the game. Depending on your circumstances, this budget may not be too big and you can easily recover from your loss if the pursuit doesn't take off.
When planning your investment budget, you need to take into account other charges, such as gas fees and similar transaction costs. More importantly, never ever take a huge loan just to fund this investment. Only use the money that you're willing to lose.
3. How much is the CryptoBlades gas fee per battle?
Because CryptoBlades runs on the Binance chain, you'll need to cover gas fees, which are payments needed to facilitate transactions on the blockchain. Depending on your transaction in the metaverse, gas fees usually cost between 0.0007 and 0.0010 BNB or ₱8.34 and ₱11.9 respectively as of this writing.
Gas fees for combats are 0.0025 or ₱29.70. However, note that it's the maximum amount that you may pay. The true gas fee for fights is around 0.0007, which is reflected on your MetaMask transactions.
4. What is a CryptoBlades simulator?
Some serious CryptoBlades players are practicing their strategies using a simulator. A CryptoBlades battle simulator is usually a browser extension that simulates CryptoBlades combats. This will give you a picture of how you can increase your odds of winning. You can look at it as one way to learn how to play CryptoBlades.
5. What is CryptoBlades Kingdom?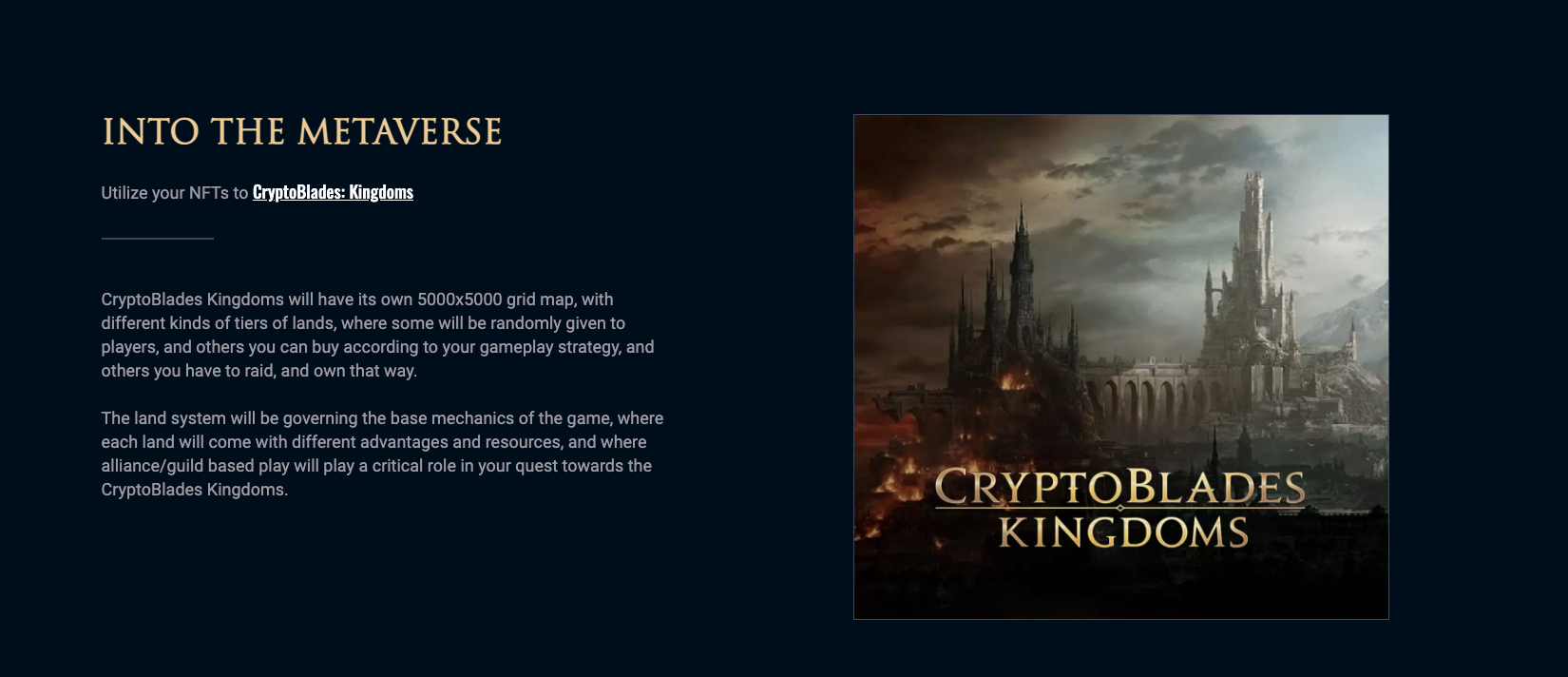 Last year, CryptoBlades released CryptoBlades: Kingdom or CBK, which is a realm that contains more than six million claimable territories. Such territories are grouped into 5,000 x 5,000 clusters, thus forming a total of 400 territories within the metaverse.
Some of these lands will be randomly given to players. Nevertheless, you can buy your own depending on your game strategy.
CBK has its new token called KING. As of now, there's one billion KING in supply.
Read more: Compare the Best Currency Trading Platforms in the Philippines
Final Thoughts
CryptoBlades is just one of the many NFT games out there that let you enjoy the best of both worlds: having fun and earning money. While it's an RPG, it doesn't follow the traditional gameplay where action is anchored to the heavy and moving visuals. Instead, this game relies on the player's strategy and wit.
Truth be told, there's a lot to unpack in this game, and this guide has only scratched the surface. If you want to learn how to play CryptoBlades, it's highly recommended to try a simulator. You may also watch CryptoBlades tutorials online.

Sources:
DISCLAIMER: Information published on this blog or elsewhere on www.moneymax.ph should be used for general information purposes only and does not constitute investment advice, performance data or any solicitation or recommendation that any security, investment product, transaction or investment strategy is suitable for any specific person. This material does not take into account your financial situation, risk tolerance level, investment experience or objectives; all of which are unique to you. Before acting on information on this blog, we suggest consulting an independent professional to advise you on the risks of any decision and the extent of any exposure to loss.