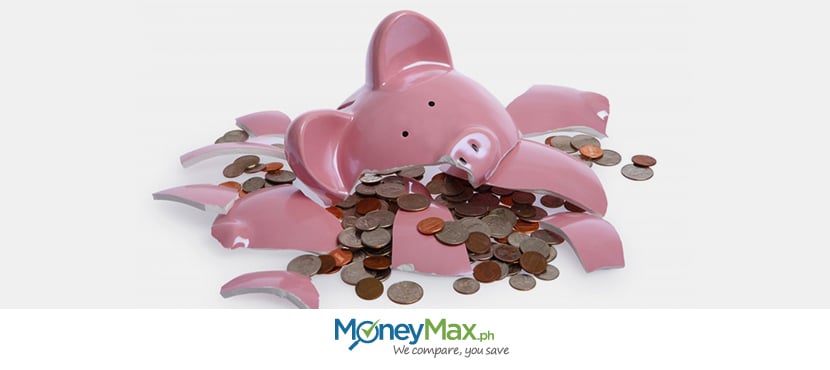 Do you believe that the Filipino people were destined to be poor?
The demographic sweet spot that has always been cited by financial experts say that now is a great period for the country because the majority of the population belong to the working class. Despite the low unemployment rate which has been at 5.8% (according to Ibon, an independent research firm), there are still many earning opportunities that are available to Filipinos. Some of these are working overseas, getting into business process outsourcing companies that offer better compensation while staying in the country, or through providing online products and services.
But the question is, why do most Filipinos still struggle from paycheck-to-paycheck, not save up for retirement, or get buried in bad debt? Understanding the reasons behind our seemingly reflexive reactions to financial situations can be a big help on how we can fix our financial habits.
Many Filipinos lack financial literacy.
Money is a very sensitive topic for Filipinos. It is unlikely that a Filipino will be very willing to come up to a financial advisor for help or attend a financial seminar so he can get advice on how to fix his financial situation. This is the reason why we seek financial advice from family members and significant others instead of seeking out help from financial professionals who have expertise in the topic.
We also have the impression that financial professionals are just salespeople out to get our money, out to get their commission, and are not worth the fees that they charge us. While this is brought about by the increase of scam activities in the country, most financial advisors only want what's best for you.
How can you avoid this:
Start by looking in your network to see if you know anyone working at a financial institution. This may make your experience easier since you are already familiar with the other person.
Read blogs and books about money management. If you are too shy to go up to anyone and ask for advice, you can still get mentors on money management through learning from the experts' works.
Find support groups that can help you get started with proper money management. Some close-knit groups offer a community where you can talk freely to the other members about your money concerns.
Many Filipinos do not allocate their money based on priority.
Many of us say that our family's health is our priority but our actions state the opposite. Most of us do not get health insurance or medical cards aside from the PhilHealth and our employer's provider since this requires a lot of paperwork. We only realize that its importance once a critical illness or sudden health problems hit the family.
Our resources will either go to our siblings' or our kids' education or cultural festivities such as birthday celebrations for every social circle we have and Christmas gifting. There is also the temptation of buying something for instant gratification such as gadgets instead of saving the money for rainy days.
How can you avoid this:
Aya Laraya, the founder of Pesos and Sense and the financial coach for the #Money4LifeChallenge of Sun Life Financial, suggests these steps when getting a health insurance plan.
Get a check-up. Know your family's medical history.
Write a shopping list. Determine your budget.
Go shopping for health insurance.
Read the fine print.
Buy health insurance.
Many Filipinos are not open to discuss money matters with their partner or family.
Our parents, siblings, and friends who have higher incomes than us can automatically become our financial safety nets. A big factor to this is in the Filipino culture, it is not common to neglect or decline a family member when they are in need. This should not be the case since being financially independent makes life easier both for you and your family.
There are also some money topics that we find depressing or taboo like health issues and education sponsorship.
How can you avoid this:
There are two sides to this: how to be financially independent and how to deal with family members who think they can just ask for cash from you when their funds run out.
Being financially independent starts in connection to being financially literate and being proactive in taking charge of your financial situation. Nothing will happen if you learn everything but do not have the drive to take charge of your finances.
Many Filipinos have access to easy ways of borrowing cash which results in bad debt.
If you go to an appliance store, chances are you can get the appliance you want by using home credit. What most shoppers do not is that home credit prey people to ignore compound interest by front-loading small payments. Your interest can reach up to 60% without you knowing it.
There are also micro-lending companies that can give us access to personal loans in less than a week with minimal requirements.
How can you avoid this:
Cliché as it may seem, do not buy what you cannot afford. Most of our bad debt comes from spending beyond our means. Buy a cheaper alternative instead of getting in debt for something you need.
Many Filipinos do not take advantage of using good debt to prosper in life.
Other kinds of debt can help you grow your assets and gain more income. Some of the types of good debt are borrowing to buy a house or funding a growing business.
This kind of debt can entail more paperwork but will benefit you in the long run.
How can you avoid this:
Assess which asset you want to use the debt for. Some people would say that having a car or getting real estate that you will rent out are great investments. Remember that you will be borrowing money just for the acquisition of the asset and not the additional expenses they will bring. Make sure that you have enough money for these upcoming expenses.
For a car that you're planning to use for Uber, compute if you will earn enough money to cover your driver's salary, gasoline expenses, car insurance, and car maintenance. For buying a condominium through a loan, think about the association dues, maintenance costs, and estate tax that will be brought along by the property but cannot be charged to your future tenants.
Many Filipinos have the Come What May mentality.
A popular expression for Filipinos is "Bahala na" which means "Come what may." We can associate this with planning at the spur of the moment for things such as impromptu getaways and unforeseen plans.
This is the complete opposite of saving for the rainy days which can lead to not preparing financially for your future, which could be dangerous since getting quick money fixes can bring consequences for the future.
How can you avoid this:
Use a budgeting app like Mint or Wally so you can keep track of your spending and also list down your future expenses such as birthday celebration expenses and big purchases.
You can also list it down on a piece of paper and place it at your room so you can see it all the time. Having visual cues will help you prevent out-of-the-blue spending moments.
Many Filipinos spend right after payday which leads to Petsa de Peligro.
In relation to the previous scenario, one of the immediate effects of the come what may mentality is encountering Petsa de Peligro. This is common for Filipino workers who spend more than 50% of their paycheck upon receiving it either on necessary utilities or impulse buys. This makes us resort to scrimp on food and other things 5 - 10 days till the next paycheck comes.
How can you avoid this:
For necessary expenses, start adjusting your budget by finding out which top 3 expenses do you spend on during the month and make a plan on how you can minimize them.
In order to avoid impulse buying or big purchases, adjust your environment so it will not be conducive to spending. Politely decline lunch outs every payday or don't pass by shops where you know you'll find something to buy.
Many Filipinos are victims of lifestyle inflation.
Getting a new promotion from work or someone in the family got a promotion? The immediate response is to eat at an expensive restaurant or improve your way of living even when it's not needed.
Lifestyle inflation is a common phenomenon but if one really wants to save money for the long run, then that is needed.
How can you avoid this:
A common cause for lifestyle inflation is because of peer pressure. Most of your friends and family will expect you to adopt a more expensive lifestyle when you get that raise.
Final Thoughts
Managing your finances can be hard when going against cultural norms and delayed gratification are against you but it is possible. You just have to recognize what you need to improve and find ways on how to work on them.