Maya Center is one of the leading providers of financial services in the country. While its history can be traced back to Smart Padala, its business goes beyond money remittances.
You may have come across its banners in your neighborhood store and practically everywhere. But what does Maya Center actually do? Yes, you have an idea of its remittance business, but how can it help with other money-related errands?
We've come up with a beginner's guide to Maya Center. Aspiring entrepreneurs can also benefit from this article, as it also covers how to become a Maya Center agent.
What is

Maya Center?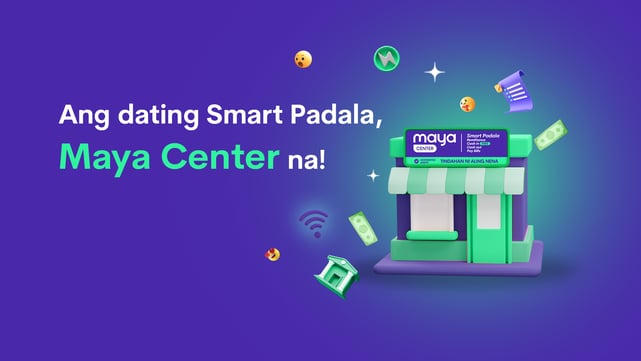 Formerly Smart Padala, Maya Center is a one-stop shop that facilitates a wide range of financial transactions, such as remittance, bills payment, cash-in, cash-out, and reloading. With more than 63,000 partner agents, Maya Center reaches even far-flung areas in the country, giving unbanked Filipinos access to remittance and other financial services.
What are the Services

Maya Center Offers?
Maya Center offers the following financial services:
✅ Smart Padala
The former remittance brand is now Maya Center's flagship service, through which you can send and claim money to and from anyone in the country. You can transact up to ₱5,000 per month without presenting an ID.
For this service, Maya Center partners with the following names in remittance:
Tambunting

Panalo Express

Palawan Express

Bayad

ExpressPay

ECPay

Ayannah

PERA HUB
✅ International Remittance Claims
This service is made possible by Maya Center's partnership with Western Union. If your loved one from abroad sends you money through Western Union, you can claim your remittance at select Maya Center branches nationwide.
✅ Cash-In/Cash-Out
If you want to cash out or add funds to your Maya account, you can visit your nearest Maya Center. Cash-in is free, which means savings on your end.
✅ Bills Payment
You don't have to go to the mall or payment center just to pay your bills. If your neighbor happens to be a Maya Center agent, you can just settle your bills right there and then. Maya Center accepts a wide range of bills, from utilities to insurance.
✅ Load Purchase
You can buy e-load and load packages for cable and internet from your Maya Center agent. Moreover, your agent may offer gaming pins and load for your beep card.
✅ Remit to Bank Account
Send money to a local bank via Maya Center. The best thing about this is that you can remit money even after banking hours. Below are Maya Center's partner banks:
RCBC
Diskartech
AUB
Chinabank
Read more: Top Remittance Centers and Money Transfer Services in the Philippines
For New Customers: How to Use Maya Center's Services
In this section of Maya Center guide, new customers like you will learn how to use Maya Center's services.
👉 How to Send Money via Maya Center's Smart Padala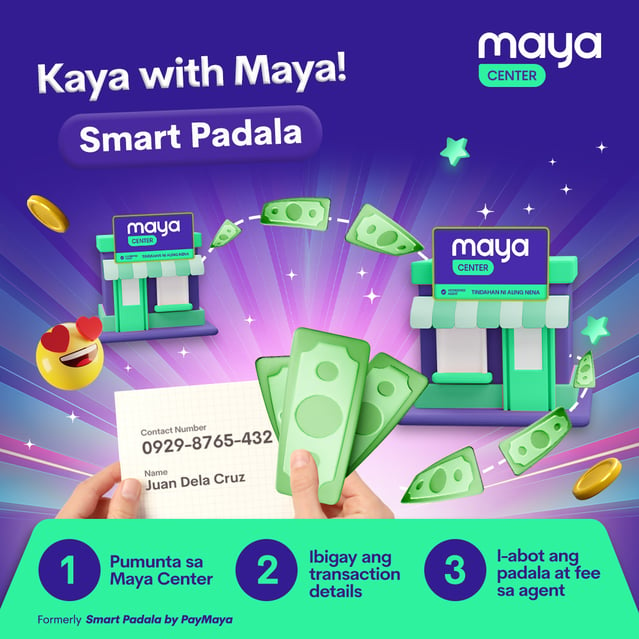 To send money via Maya Center's Smart Padala, here are the things that you need to do:
Head to your nearest Maya Center or partners.

[2]

At Maya Center, provide your full name, cellphone number, and the details of your recipient.

Give the money that you'll send together with the fee. You and your recipient will receive a text confirmation with the Claim Reference Number.
👉 How to Claim Money via Maya Center's Smart Padala
Claiming money at any of the Maya Center branches is easy. Check out the following steps:
Check for a confirmation message from Maya Center.

Head to the nearest Maya Center.

Give your full name, cellphone number, and Claim Reference Number.

Claim your money from the agent. Count it before leaving.
Note the following:
For transactions up to ₱5,000 per month, you don't need to present a valid ID. The agent will just take a picture of you.

If your transaction exceeds ₱5,000, you'll need to do a one-time registration and present one primary or two secondary valid IDs.
👉 How to Claim International Remittance via Maya Center
Money remitted via Western Union can be claimed at select Maya Center branches. The process is easy:
Head to a Maya Center that offers the said service. Make sure that you have the Money Transfer Control Number or MCTN and a valid primary ID with you. If you don't have a primary ID, two secondary IDs will suffice.

Give your agent your customer details, the MCTN, and your ID.

Wait for the agent to process the remittance. You'll receive your remittance in Philippine pesos.

Wait for the confirmation text from Maya Center. Count your money before leaving.
👉 How to Cash in and Cash Out via Maya Center
You can add money to your Maya account or withdraw from it. For cashing in, just follow these simple instructions:
Launch your Maya app. Tap

Cash In

then choose

Maya Center via code

.

Enter the amount that you want to add to your Maya account.

Go to the nearest Maya Center and show your cash-in code and give the money.

Check your app to see if the amount has been credited.
For cash-out, only upgraded accounts are allowed to do so. How to cash out in Maya? It's equally simple:
Get the 16-digit Maya Center number where you plan to cash out.

Launch your Maya app then tap

Send Money

.

Input the 16-digit Maya Center number and the amount of money you want to cash out.

Double-check the details. Once you're good with it, tap

Send

. Note that there's a 1.5% fee. You'll then see a confirmation of your transaction.
👉 How to Pay Bills via

Maya Center
Maya Center's bills payment service works like traditional bills payment centers in the Philippines. To pay your bills, just bring your billing statement to the nearest partner outlet that accepts bills payment and give your payment before your due date.
Maya Center accepts payments to the following billers:
Telecom: PLDT, SMART Bro, SMART Postpaid, Globe Telecom, BayanTel, etc.
Cable TV: Cignal, Sky Cable, Destiny Cable, Converge ICT, etc.
Banks: BPI, Equicom Savings Bank, Sterling Bank of Asia, UnionBank Credit Card, etc.
Loans: Home Credit, Cash ni Juan, AEON, Global Dominion, Makati Finance, etc.
Insurance: Pioneer Intercontinental Insurance Corp., Sun Life of Canada, Pru Life U.K., Paramount Insurance, Caritas Health Shield, Manulife, Cocolife, etc.
Government: National Home Mortgage Finance Corporation, DFA, MMDA, Pag-IBIG, POEA, DTI, etc.
Transportation: Easytrip, Snappy
Travel: Air Asia, Cebu Pacific, Philippine Airlines Contact Center, etc.
School tuition: Ateneo de Naga University, University of San Carlos, University of Nueva Caceres, National Teachers College, etc.
Read more: Got Bills to Pay? Here's Your Guide to Bills Payment Centers in the Philippines
👉 How to Purchase Load via

Maya Center
Buying load from a Smart Padala agent is straightforward. Just go to your nearest agent, specify the kind of load that you need to buy, and give your phone number if needed. At present, you can purchase the load for the following networks and services.
Smart
TNT
Globe
TM
DITO
Garena
PLDT Famload
Cignal
Steam
Garena
Genshin Impact
PUBG
Roblox
Mobile Legends
beep
👉 How to Remit to Bank Account via Maya Center
How to send money from Maya Center to a local bank? Here's what you need to do:
Head to the nearest Maya Center. Provide the following details: bank name, account number, accountholder name, and accountholder mobile number.

Show your valid ID.

Give the money to be sent. Note that there's a 2% convenience fee.

Wait for the confirmation of the transaction. You and the bank accountholder will both receive this message.
For Small Businesses: How to Apply as a Maya Center Agent
Want to earn extra income by starting a Maya Center business? You can make as much as ₱27,000 or more per month by providing remittance, bills payment, and prepaid mobile reloading services in your neighborhood.
Here's your guide to becoming a Maya Center agent.
📋 Maya Center

Agent Application Requirements
This entrepreneurship opportunity is available only to small business owners with a physical store. Meaning, you should have a sari-sari store, cellphone repair shop, mini convenience store, or any business establishment where customers can transact with you.
Starting this business also requires a capital of ₱5,000 to ₱10,000, an Android smartphone, and SIM from any mobile network. No processing fee or franchise fee is required for those who wish to open their own remittance center.
To apply as an agent, you need to submit certain documents, depending on how your business is registered.
Non-DTI/SEC-Registered Business
If you own a small sari-sari store or any business that doesn't require a DTI registration, here are the required documents for your Smart Padala agent application:
Valid ID of authorized signatory
Barangay Business Permit
Printed and clear photo of the store with the store name and owner
RA (Remittance Agent) license (for pawnshops and money changers)
Sole Proprietors
Valid ID of authorized signatory
Business / Mayor's Permit
BIR Form 2303 (Certificate of Registration)
DTI Certificate of Business Name Registration
RA license (for pawnshops and money changers)
Partnership or Corporation
Valid ID of authorized signatory
Business / Mayor's Permit
BIR Form 2303
SEC Registration
SEC General Information Sheet
Articles of Incorporation and By-Laws
Secretary's Certificate / Board Resolution on authorized signatories
Financial Statement
RA license (for pawnshops and money changers)
📱 Maya Center Agent Application Steps
How to register with Maya Center as an agent? Here are the simple steps:
Download the Maya Business app from Google Play.
Agree to the reminder. Read through the features and tap Get Started.
Tap Register. On the next page, tap Start.
Provide your basic and personal information. Enter your email address and password.
Once done, tap Proceed.
Input the OTP that has been sent to your phone.
Enter the verification code sent to your email address. Tap Next.
On the next page, choose your source of funds and nature of work/business. Tap Next.
Provide your address. Tap Next.
Take a picture of your valid ID. Tap Next.
On the next page, input the details of your ID.
Take a video selfie. To do so, tap Start Video Selfie.
Review all your details. Once you're good with everything, tap Submit.
FAQs on How to Use

Maya Center
Want to learn more about how Maya Center works? Check out the following:
1. What should I do if I didn't receive a Reference Number?
Whether you didn't receive a reference number or you accidentally deleted the text message that has it, you can call the Maya Center hotline at (+632) 8845-7788 to get your Claim Reference Number.
2. Do I have to pay a fee to claim money from an agent?
Claiming money from Maya Center agents is free of charge. You must report the agents who are charging you a fee.
3. What's the validity of remittance transactions?
Remittance transactions at Maya Center branches are valid for up to 60 days only. If the remittance isn't claimed after 60 days, the sender will receive a notification regarding it. Only the sender is allowed to claim the expired remittance.
Keep in mind that paid fees are non-refundable.
4. What are the valid IDs accepted by Maya Center for claiming money?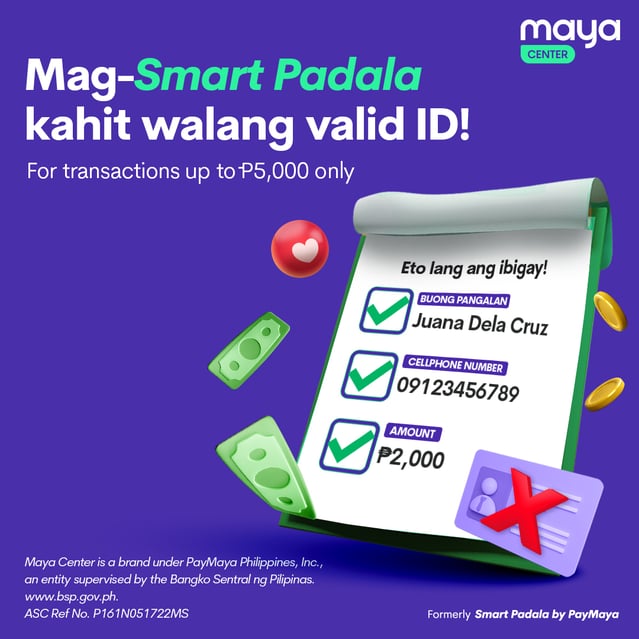 If the money to be claimed is less than ₱5,000, you don't have to provide an ID. Otherwise, Maya Center will require you to provide one primary or two secondary valid IDs:
Primary IDs
Passport
NBI Clearance
Driver's License
UMID
SSS Card
Alient Certification of Registration/Immigrant Certificate of Registration
PRC ID
PhilHealth ID
Postal ID (issued 2015 onwards)
Integrated Bar of the Philippines ID
PhilSys ID/Phil ID
Government Office and GOOC ID
Secondary IDs
Voter's ID
TIN ID
Police Clearance
GSIS e-Card
Barangay Certification
OWWA ID
Senior Citizen Card
Seaman's Book
Certification from the National Council for the Welfare of Disabled Persons (NCWDP)
DSWD Certification
IDs issued by private organizations registered with or supervised or regulated by the BSP, SEC, and IC
5. The name of the receiver has a typographical error. What should I do?
If the receiver's name has a typographical error, the sender needs to call the hotline (shared above) to correct it. The change or correction will be reflected within one business day.
However, remember that Smart Padala has rules regarding this. Minor typos, spacing mistakes, and unintended removal of silent letters (e.g. removal of "u" from Aguilar), are some of the errors that Maya Center will allow you to correct.
On the other hand, total name change, removal or inclusion of suffixes (Sr., Jr., I, II, III, etc.), and single or multiple letter changes that may refer to another person (Marie to Maria) will not be accepted.
6. How much is the send fee?
It will depend on the amount that you're going to send. The minimum service fee is ₱15 while the maximum service fee is ₱1,485. To learn more, check out the official list of Maya Center fees for sending money.[3]
7. Is there a minimum amount for cashing in?
Yes. The required minimum cash-in amount is ₱100.
8. How much is the service fee for adding money to my Maya account?
Adding money to your Maya account via Maya Center is free. But keep in mind that there's a monthly limit of ₱15,000. If you go beyond it, Maya Center will charge you 1.5% of your cash-in amount.
9. I'm withdrawing my Maya Center funds. Is there a cash-out fee?
Yes. You'll be charged a 1.5% transaction fee. This will be deducted automatically from your Maya account. Remember that you won't need to pay the Maya Center agent any fee.
10. Can I pay other people's bills through Maya Center?
Yes. Just make sure the details are accurate and complete.
11. Does Maya Center charge any fees for bills payment?
No. Paying your bills via Maya Center is free of charge. However, your biller will charge you a convenience fee. The amount of the Biller Convenience Fee (BCF) varies from biller to biller.
12. What's the maximum limit for remittance to local banks?
The maximum amount per transaction is ₱10,000. You can transact more than once a day if the agent hasn't reached their sending limit for the day.
13. How much is the service fee for buying gaming pins?
For purchased load below ₱100, you'll need to pay ₱5. For load worth ₱100 and above, the service fee is ₱10.
14. I want to reload my beep card. How much is the limit?
You can load up to ₱10,000. Just a reminder from Maya Center: you won't be able to recover the load if you lose your beep card. As such, you'll have to take good care of it. Every transaction has a service fee of ₱10.
Related reading: GCash Starter Guide 2023: Your Most Common Questions Answered
Final Thoughts
Remittances and bills payments used to be a stressful chore. You had to travel to and from the payment center, which could be far from your home.
But now that you know how to use Maya Center, you have one less thing to worry about. If your neighbor happens to be an agent, you can send money and settle your bills at your most convenient time.
Got any issues with sending or claiming your remittance? Call the Maya Center hotline at (+632) 8845-7788. For other concerns, call (02) 8-845-7777, 15177 (toll-free for SMART and TNT,) or 1-800-10-845-7777 (toll-free for PLDT).

Sources: