Buying a home may seem like an elusive goal for many Filipinos. For the most part, investing in a property requires a lot of money. Thankfully, though, real estate developers won't require you to pay for the property's total sum in cold cash.
With the right help, you can get and live in your dream home. Aside from a real estate agent, a mortgage broker, like Nook, can help you find good deals on mortgage.
Mortgage brokering may be a new concept to you since it's not widely known yet here in the Philippines. But it's worth a try—a mortgage brokering company can help you save time and money on your online home loan application.
In this article, you'll get to know more about Nook and how you can use the platform to easily apply for a housing loan online. Let's start!
What is Nook?
Nook is a mortgage broker—the Philippines' first and the only one of its kind.[1] Simply put, a mortgage broker is a company that evaluates your financial capability to buy a property. It reviews different loan offers from lending institutions and banks and then picks the option that best suits you. More importantly, it simplifies and speeds up your online home loan application, which means less work for you.
Another way of looking at a mortgage brokering company is that it is the middleman between you and the bank, with your best interest rates in mind.
Why Should You Get a Home Loan Through Nook?
Working with Nook comes with many benefits. Using its platform will keep you from overexerting yourself when you apply for a home loan.
1. Apply for a Housing Loan Online in the Comfort of Your Home

In the Philippines, home buyers traditionally visit or contact different banks and lending companies to apply for a home loan. That means taking several trips, making multiple inquiries with loan officers, and signing different application forms. This option, of course, is not practical, especially these days when you want to keep your family safe from the coronavirus.
But with Nook, you can apply for a housing loan online without actually leaving your home. Just visit its website and hit "Apply Now" to get your journey started. The online home application process is just a breeze since Nook's website is also intuitive.
See also: Everything You Need to Know About Housing Loans in the Philippines
2. Nook Has Partnerships with the Country's Reputable Banks
Nook's main job is to get you a suitable home loan from a major bank. It works with some of the country's leading banks to make housing loans accessible to more Filipinos. Nook's partner banks include RCBC, UnionBank, Security Bank, AUB, BPI Family Savings Bank, and China Bank.
3. It Helps You Save Money in the Long Run
Mortgage brokers can help you with your home loan application so that you don't have to waste time trying to do everything yourself and facing possible rejections. In the long run, you get to save not just time and effort but also money. The money that you've saved can be put towards other home purchase-related expenses such as down payment.
4. You're Committed to the Right Kind of Home Loan
When you don't compare different bank loans properly and accurately, you run the risk of locking yourself into a home loan that isn't right for you for many years. You may find yourself paying excessive interest rates and principal, which can eat up most of your monthly budget.
Paying for a home loan is a long-term commitment. With that in mind, Nook uses a systematic method of comparing different home loans and provides you with options that offer favorable terms and features.
Related article: How to Find the Best Housing Loan: A Step-by-Step Guide
5. Getting Pre-Qualified Doesn't Take Too Long
With other banks, getting pre-qualified may take days. With Nook, on the other hand, you can find out if you qualify for a home loan from its partner banks in about three minutes through its online platform.
6. No Application Fee
Nook's online home loan application services are free of charge. It only gets a commission from the bank in case your loan application is approved.
Nook Online Home Loan Application Process: 3 Easy Steps to Apply for a Housing Loan
Getting a housing loan through Nook is pretty straightforward, thanks to its website's intuitive design and easy-to-understand instructions. Here's a simple step-by-step guide to the online home loan application process. If you have the time, you can try it yourself.[2]
Step 1: Complete a Pre-Qualification Form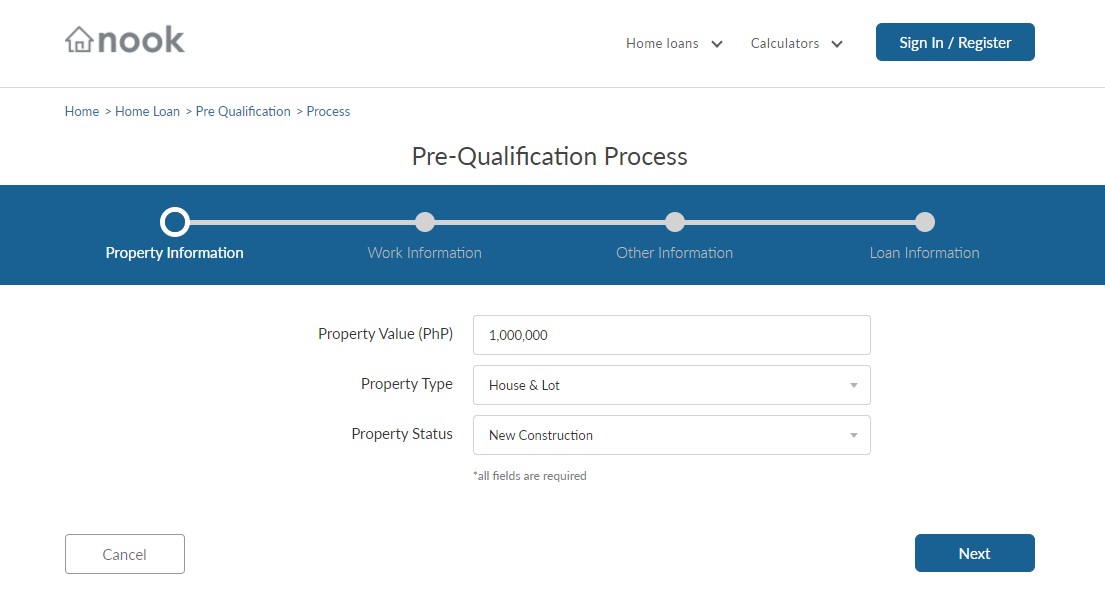 The housing loan application process starts with pre-qualification through the Nook website. On the Nook's homepage, click the Home Loans menu and then click on "Pre-Qualification." This will lead you to a page where you'll fill out the pre-qualification form.
The pre-qualification process involves providing the following information:
Property Information
On the Pre-Qualification page, you'll be asked to provide the information about the property that you'll buy. You'll be required to input the following details: Property Value, Property Type, Property Status, and the Developer Name.
Work Information
After completing the Property Information form, you'll then need to accomplish the Work Information form. Under this tab, provide information for the following fields: Employment Type, Employment Rank, Employment Tenure, and your Gross Monthly Income (in PHP).
Other Information
Once you've accomplished the Work Information form, you'll be directed to the Other Information tab. Supply details for the following fields: Birthday, Nationality, Credit Card Ownership (whether you have a credit card or not), Existing Loans, Income Investments, and Civil Status. You'll also be asked if you're going to have a co-borrower. Remember that listing a co-borrower or adding other sources of income will help you raise your chance of getting approved for a home loan and qualifying for a higher loan amount.
Related articles:
Loan Information
Under the Loan Information tab, provide your preferred Loan Type and Loan Term, which both ultimately depend on the type of property you'll buy. For the Loanable Amount, select the percentage of the property price that you want to borrow.
Note that the actual amount you can loan will depend on how much the bank can offer you. In this part of the home loan application process, a consultant from Nook can assist you.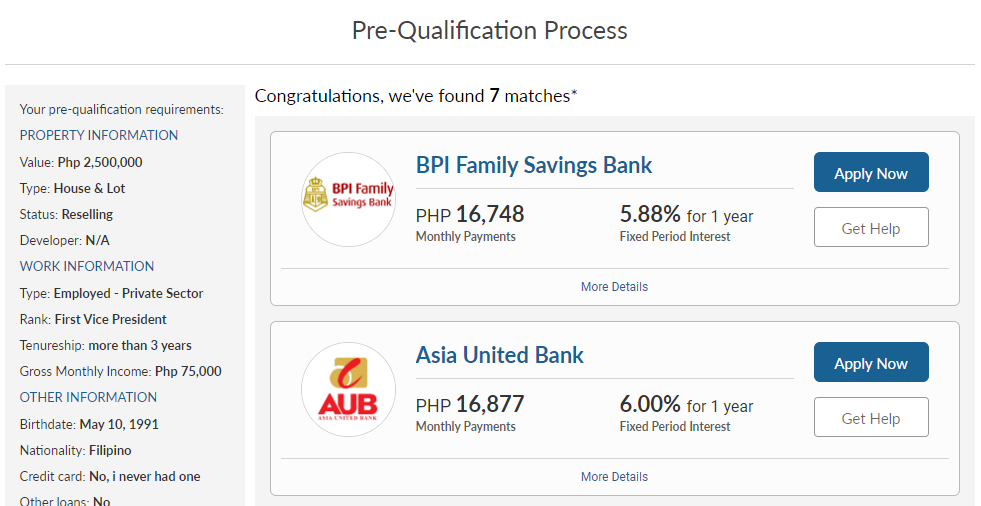 Once you have provided all the required information, the system will then process the application and show a list of banks with suitable home loans for you. Remember that the results will depend on the information you have provided. With that, make sure that all the details you've entered are accurate, so you'll get a list of banks that accurately matches your needs.
Step 2: Proceed with Your Online Home Loan Application
Once you're pre-qualified, you can now apply for your desired home loan. Here are the things you need to do to apply for a home loan online through Nook.
a. Log in or Create a Nook Account
After Nook presents you with a list of suitable banks, select the one that best matches your needs. Once you've made a choice, click the "Apply Now" button on the right side of your chosen bank. This will then lead you to a Login/Register page(3) where you'll have to sign up for a Nook account to get started with your online home loan application.
b. Enter Your Personal Information
Under the Personal Information tab, provide pertinent details about yourself, such as your Full Name, Sex, Civil Status, and Educational Background. In case you've selected a co-borrower or Married as civil status in the Pre-Qualification stage, this page will automatically add fields that will require you to input some details about your spouse or co-borrower.
c. Provide Your Contact Information
Enter your contact information and address accurately. Nook and the bank that you've picked will use these details to contact you. Under the Current Address section, provide the status of your home ownership.
d. Fill Out the Loan Details Form
On this page, you can modify the Loan Term and Fixing Period. It'll also show the possible Rate and Monthly Repayments based on your preferred term and fixing period.
e. Enter Your Employment Information
Under this section, provide your Company Industry, Company Name, and your employer's address and contact details. Additionally, enter your TIN and SSS number.
If you have selected a co-borrower in the Pre-Qualification stage, you'll also need to input their employment information on this page.
f. Accomplish the Other Information Form
In this section, provide the details of your dependents. This is a necessary step, as some banks require home loan applicants to have a dependent, though this works on a case-to-case basis.
g. Fill Out the Required Information Form
Under the Legal Documents section, upload a picture or copy of the following documents:
Two valid IDs and another two valid IDs if you declared a co-borrower
Certificate of Employment
BIR Form 2316
Once these documents are uploaded, proceed to the Property to be Purchased section. You'll need to provide the address of the property, name of the contact person, and contact number.
Nook will also ask you if you're ready to upload your collateral documents. If you are, prepare the applicable documents required by the bank, such as the following:
Title/Contract to Sell/Reservation Agreement
Tax Declaration (Land/Condo/Townhouse)
Tax Declaration (Improvement/Building)
Bill of Materials or Building/Floor Plan
h. Review Your Application Form
You're nearly there! The last stage of the online home loan application process will ask you to review all the details that you have entered thoroughly.
Agree to Nook's Terms and Conditions by ticking all the boxes. Then click the Submit Application button to finish. Take note of the reference number that Nook will provide at the end of the application process.
Step 3: Wait for the Bank's Approval
After providing the necessary information and submitting all the requirements, Nook will then work with your chosen bank to get your home loan approved. You can check your application status from time to time by logging into your Nook account.
Final Thoughts
The online home loan application process is easy and less stressful with the help of a mortgage broker like Nook. Convenience is a big deal, especially during these times when going on several trips just to have your home loan application approved is not the most practical option.
This article was created in partnership with Nook Philippines. While we are financially compensated for this collaboration, we ensure to maintain our editorial integrity to provide you with the best recommendations that can help you make smarter financial decisions.

Sources: