Nothing could be more exciting than buying a house. As you plan for your purchase, you might be already daydreaming about the interior design and envisioning how many rooms will be needed. You might have even considered creating your Pinterest-inspired mood boards!
The excitement, however, may be dampened eventually. This is after knowing that the process of buying a home isn't just about going on house tours and then signing papers. The entire process can be overwhelming, as there is a heavy amount of paperwork involved and a lot of people to talk to. Along the way, you'll find yourself spending more time, money, and effort than you should.
The stress starts with finding the right home loan, and it all trickles down from there. But you can get yourself a head start when you work with the right people. In this case, it will be the mortgage broker.
We've outlined below how mortgage brokering, a relatively new concept in the Philippine real estate industry, can help you purchase your dream home.
What is Mortgage Brokering?

Confused about the complexities of the home buying process? You may need a mortgage brokering company such as Nook, the first and only mortgage broker in the Philippines.
A mortgage broker gives financial advice to homebuyers and connects them to lenders. Mortgage brokers can evaluate your financial capability to buy a property and then recommend the right kind of loan for your current needs. That way, you can save money on your home purchase.
A mortgage broker can even help you with the paperwork needed for your home loan application. They'll remind you of the documents you lack and the ones that need updating. This, in the long run, will help you submit accurate and properly prepared requirements on time, which in turn may even increase your chances of getting approved for a loan.
Read more: How Mortgage Brokers Can Help You Secure a Home Loan
Are Mortgage Brokers the Same as Lenders?
In the real estate industry, many first-time homebuyers put mortgage brokers and lenders in one box. But this is not the real case.
Lenders are organizations or people who lend you money for your home purchase. These are usually banks, lending institutions, and cooperatives.
A mortgage broker is a middleman that reviews different loan offers from banks and lending institutions and then recommends the best option for the customer. You can think of mortgage brokers as your representative.
Mortgage brokering companies, like Nook, have partnerships with local banks, such as BPI Family Savings Bank, Bank of Commerce, AUB, UnionBank, RCBC, and Security Bank. Working with a mortgage broker that has ties with reputable banks will surely be an advantage for you.[1]
Related: BPI Housing Loan Application Guide for New Borrowers
How to Work with a Mortgage Broker Like Nook to Get a Home Loan
Mortgage brokers make the process of buying a home simple. With Nook, everything is done online.
Here are the easy steps involved when you work with a mortgage broker.
1. Get Pre-Qualified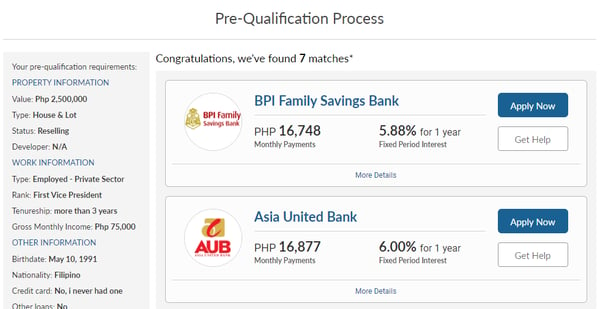 Pre-qualification is the first stage in your home buying journey that allows you to find out which banks you're qualified for a home loan.
Getting pre-qualified through Nook can be completed in just about 3 minutes. All you have to do is fill out an online pre-qualification form[2] with the following details:
The value, type (condominium, house and lot, etc.), and status (pre-selling, ready for occupancy, foreclosed, etc.) of the property you want to buy
Your employment information, such as the sector you're in, your rank and tenure, and gross monthly income
Your personal and financial information, i.e., whether you have a credit card, other loans, other sources of income, etc.
Your preferred loan type, term, and amount
Read more:
2. Apply for a Home Loan Online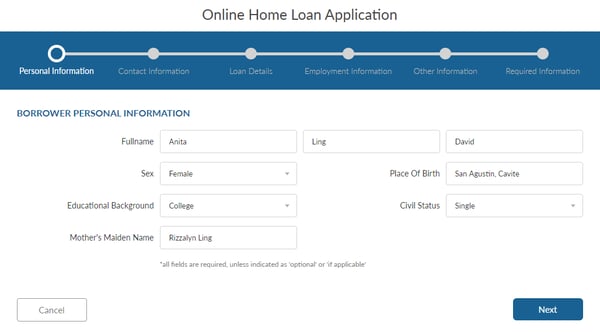 Once you've accomplished the Nook pre-qualification form and hit "Finish," you'll see the suitable home loans for you from different providers. Choose the bank you want to borrow from by clicking the Apply Now button.
To proceed with your home loan application,[3] you'll need to create a Nook account. Just click on "Sign Up" to register. After signing up, you can log in to your account. This will take you to the home loan application wizard where you'll provide required details about yourself, your home loan, your employment, and the property you want to buy, among others.
You'll also have to upload images of your two valid IDs, income documents (e.g., payslips, Certificate of Employment, bank statements, etc.), and collateral documents (e.g., Property Title, Tax Declaration, Contract to Sell, etc.).
Click the Review button to double-check your information. If everything is good to go, you can click on "Submit Application."
Read more: How Home Loan Refinancing Can Help You Save Money
3. Wait for Your Home Loan Approval

Done applying for a home loan online? Now all that's left to do is to check your application status on the Home Loan Applications section from your Nook account. When your status has changed to "Bank Approved," this means your housing loan is approved. The bank will then contact you for the next steps.
Read more: Here's How You Can Buy a Home in Your 30s
How Do Mortgage Brokers Make Money?
Traditionally, mortgage brokers charge a fee for their service. Usually, it is a very small portion of the loan amount. Nook, on the other hand, helps you with the entire loan application process for free! But banks pay Nook a commission if they get your loan approved.
Final Thoughts
Buying a home can be a tedious and stressful process. Typically, the challenge will start with finding the right home loan that suits your current financial situation. But the going will get easier when you have a mortgage broker by your side. They don't just apply for a home loan on your behalf. They also help you save time and effort, which is an indispensable service for busy people like you.
While some brokers offer free services, don't easily discount their sincere intentions (They still make money through commissions and deals closed). They'll put your best interest and financial needs first.
Along the way, they'll even help you assess your financial health. The useful insights that you get from such evaluations will turn you into a wiser spender. However, know that all these benefits will only come to you when you find the right broker.
This article was created in partnership with Nook Philippines. While we are financially compensated for this collaboration, we ensure to maintain our editorial integrity to provide you with the best recommendations that can help you make smarter financial decisions.

Sources: