Borrowing money online is the way to go these days. Its undeniable convenience is among the many things that attract potential borrowers. You don't have to leave home to file your loan application. More importantly, you can access quick cash whenever you need it.
Asteria Lending Inc. is one of the online loan companies that you can count on in times of need. Want to learn more about their products? Read this comprehensive Asteria lending review.
What is an Asteria Lending Inc. Loan?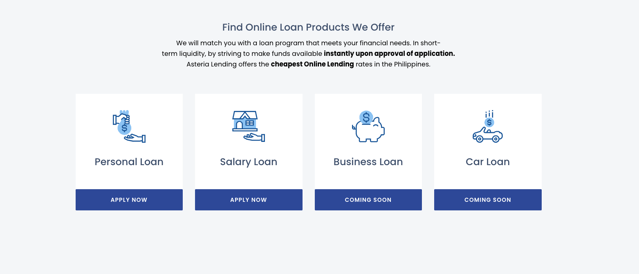 An Asteria loan is a lending product offered to cash-strapped Filipinos by Asteria Lending Inc. The company's lending products primarily refer to salary and personal loans.
Asteria salary and personal loans are offered online, making it easy for clients to access financial help. Asteria Lending Inc. is also set to offer business and car loans soon.
With Asteria Lending Inc., you can borrow as low as ₱2,000. The maximum loan, on the other hand, is ₱50,000.
The interest rate for both loans is 0.2% per day. For repayments, the Asteria loan term ranges from 30 days to 120 days.
You can apply for an Asteria loan by accessing the lender's website at asteria.com.ph.
Is an Asteria Lending Legit?
Yes. Asteria Lending Inc. legally offers lending products. The company is registered with the Securities and Exchange Commission (SEC). Its registration number is CS201603853 while its Certificate of Authority number is 1813.[1]
Related reading: RFC Loan Guide: How to Apply for a Loan from Radiowealth Finance

Asteria Lending Review: Advantages and Disadvantages
Want to know if an Asteria loan is right for you? Check out its advantages and disadvantages.
Below are the reasons you should check out Asteria Lending Inc.:
👍 Quick and Easy Application
As Asteria loan products are offered online, there's no need to make a personal appearance and endure long lines at the lender's office. All you need to process your application is a computer connected to the internet.
Asteria also boasts of its quick turnaround time. They claim that they can process loan requests within 24 hours. Right after approval, Asteria will transfer the funds to your bank account for easy access.
👍 Flexible Loan Purpose
Both Asteria's personal and salary loans can be used for different purposes. You can use them for groceries, bills, tuition, vacation, and other unforeseen expenses.
👍 Competitive Interest Rates
Asteria Lending offers some of the lowest interest rates in the market. Borrowing from this company accrues a daily interest rate of 0.2%.
👍 No Collateral
Don't worry about having to use your jewelry, appliances, and even your car as collateral. Asteria Lending Inc. only asks for minimum documentary requirements to process your loan application.
On the other hand, Asteria Lending Inc. may not be a suitable option due to the following:
👎 Small Loan Amounts for First-Time Borrowers
For first-time clients, the maximum loan amount you can apply for is ₱9,999.99. You can only access amounts starting from ₱10,000 and above if you renew your loan.
The maximum loan amount for repeat clients is ₱50,000. Depending on your needs, this amount may still be small.
👎 Short Loan Tenor
Asteria Lending Inc.'s loan terms are rather short. Repayment may be challenging, especially if you have existing cash flow problems. If it's any consolation, you won't have to pay the interest for a long time with a short loan term.
👎 Bank Account Requirement
Informal methods of borrowing money, such as 5-6[2] and family loans, don't require a bank account. However, this is a strict requirement with Asteria Lending Inc., given that it operates online.
Asteria Lending Review: What do Former Clients Have to Say?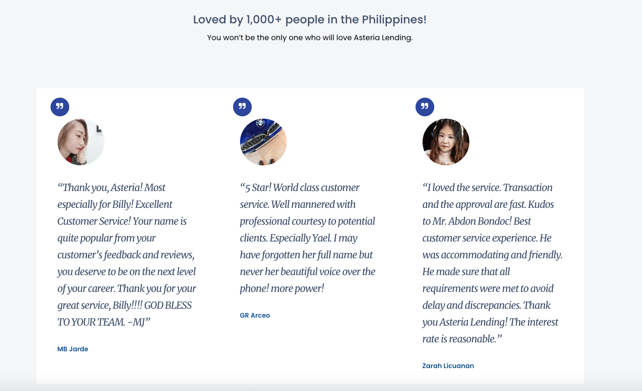 A couple of former clients featured on Asteria's website swear by the lender's quality of service. One borrower praises the company's customer service.
Another even claims that Asteria offers a "five-star" and "world-class" service, saying that one of the company's customer associates has displayed "well-mannered professional courtesy to potential clients."
Checking the Asteria loan reviews on Facebook, you'll see that the same praises have been extended to the lender's customer service team. One thanks an Asteria employee for being accommodating and helpful. Another client says one can tell that the loan agents were trained well, as they guide borrowers through everything and provide them with all the necessary details.
In one Asteria loan review, a client shared that her loan application was approved the same day she applied. This mirrors the lender's claim that they can process applications within 24 hours.
All in all, Asteria Lending Inc. receives a 4.9/5 rating on Facebook. This is based on more than 4,900 reviews. One can easily see that Asteria Lending Inc. is a trusted provider.
A reviewer on YouTube explains that Asteria's interest rate is almost the same as the ones offered by banks. Nevertheless, he points out that Asteria's edge over banks is the former's lighter requirements.
The same reviewer even encourages borrowers to try Asteria first before using online lending apps. According to him, Asteria isn't a loan shark; he claims that Asteria has been in the business for quite some time.
How to Apply for an Asteria Loan

This Asteria lending review might have convinced you to try the company's loan products. If you're planning to apply, here are things that you should take note of:
📌 Eligibility
You can apply for an Asteria loan if you meet the following criteria:
You must be a Filipino citizen.
You must be currently residing and working in Metro Manila, Pampanga, Batangas, Bicol, Quezon Province, or other nearby cities.
You must be between 21 and 60 years old.
You must have a minimum salary requirement of ₱10,000 per month (gross).
📌 Requirements
The following are the basic Asteria Lending requirements. These personal loan requirements also apply to salary loans:
Duly accomplished application form
One primary ID (UMID, new PhilHealth ID, new TIN ID, or driver's license)
Company ID
Latest payslips for the last two months
A personal bank account
Proof of billing
📌 Application Steps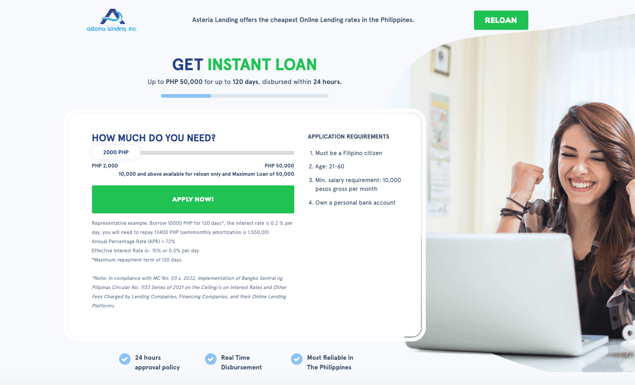 To apply for an Asteria Loan, just follow these steps:
Go to asteria.com.ph.
On the tab, click Loan Products and choose the type of loan you want to apply for.
On the next page, click the Apply Now button.
You'll be then directed to the application page. Fill out the form and upload the required documents. In case you don't have the requested documents yet, you can save your progress. However, you'll need to log in again to attach the required documents and complete your application.
Wait for Asteria Lending Inc.'s notification of loan approval. You can also log in to your account to track the progress of your application.
Asteria Lending Review: FAQs
Still got questions about Asteria Lending Inc.? You may find the answers here:
1. How will I know if my Asteria loan application has been approved?
Once Asteria Lending Inc. has reviewed and processed your application, they will send you an email or SMS regarding your loan status. As mentioned, you may also check your Asteria account to monitor your application.
2. The approval of my application is delayed. What should I do?
You may contact Asteria Lending Inc. at (02) 5318-8000 to check the status of your application's approval.
3. How to repay my Asteria loan?
Once your loan has been disbursed, Asteria Lending Inc. will send you an email containing the repayment instructions. You can pay your loan using the Dragonpay[3] payment facility, which is available at the following:
7-Eleven
Cebuana Lhuillier
GCash
Maya
LBC
Robinson Payment Centers
Bayad Centers
4. Is there a penalty for late payments?
Yes. You'll need to pay late payment charges and a penalty of 5% per month on the outstanding amount due. Asteria Lending encourages borrowers to contact their team in case of late payment.
5. Can I apply for a new loan while I have an existing loan?
According to Asteria, you can avail of their re-loan program only after you've fully paid your existing loan. To re-apply, just log into your Asteria account and click Re-Loan.
6. I'm planning to renew my loan. Will I be able to get a higher amount?
Yes. For renewal, the minimum loan amount is ₱10,000 while the maximum amount is ₱50,000. However, the approved loan amount will depend on your previous loan repayment and salary.
Read more: Ask Moneymax: What to Do When You're Threatened by Lenders? SLAP!
Final Thoughts
If you need quick cash for a variety of unforeseen expenses, Asteria Lending Inc. can help you with that. Loan application is easy with their online facility. More importantly, you can get cash as quickly as possible, as they process loan requests within 24 hours.
Stay updated on Asteria's loan products by following them on Facebook or checking their official website regularly. Go beyond this Asteria lending review by talking to people who have availed of their services.
Looking for more loan providers? Check out these options:
| Personal Loan | Loan Amount | Monthly Add-on Rate | Minimum Annual Income | Approval Time |
| --- | --- | --- | --- | --- |
| UnionBank Personal Loan | | | | |
| UNO Digital Bank Personal Loan | | | | As fast as 7 banking days |
| Metrobank Personal Loan | | | | |
| BPI Personal Loan | | | | |
| RFC Loan | | | | |
| Tonik Flex Loan | | | | |
| Tonik Quick Loan | | | | As fast as 1 hour |
| Tonik Big Loan | | | | 7 days |
| Tala Loan | | | | 24 hours |
| HSBC Personal Loan | | | | |
| CIMB Personal Loan | | | | |
| Maybank Personal Loan | | | | |
| RCBC Bank Personal Loan | | | | |
| SB Finance Personal Loan | | | | |
| CTBC Bank Personal Loan | | | | |
| PSBank Personal Loan | | | | |
Sources: