You already know that a real estate property makes a good investment. But you have to understand that the success of such an investment will depend on your decisions early on. Surely you want to avoid buyer's remorse. More importantly, you don't want to waste your hard-earned money on something you don't want or deserve. So, if you're planning to buy a home, you need to work with a reputable property developer in the Philippines.
If you're entirely new to home buying, this guide is for you. Foreigners who want to gauge the real estate landscape of the Philippines can benefit from this article as well.
What is a Property Developer?
A property developer in the Philippines is an organization or company that develops real estate assets for profit, such as houses, condominiums, apartments, and commercial buildings.
Property developers also build villages, communities, and townships or mixed-use developments that contain residential and commercial properties (e.g. Greenfield District in Mandaluyong, Eton City in Laguna, Vertis North, Arca South, etc.). They cater to different groups of home buyers, so expect that each property developer has client tiers.
What are the Advantages of Working with a Property Developer in the Philippines?
Primarily, buying a home from a property developer will allow you to make the most of your money in the long run. Nevertheless, here are some of the top advantages of working with them:
1. You Get a High-Quality Real Estate Asset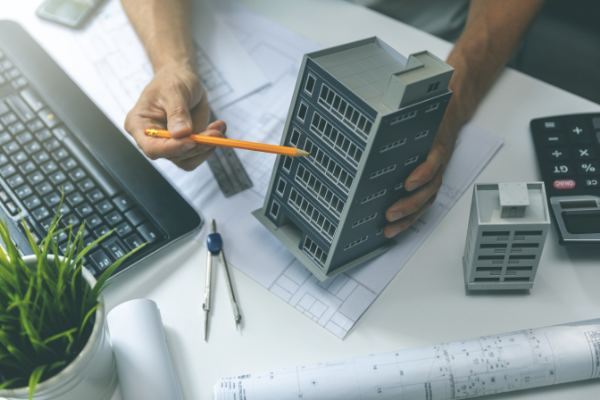 When you buy from a trusted real estate developer, you have every assurance that you'll get what you pay for or even enjoy privileges that are more than what you've bargained for.
For instance, you get to live in a community that's just a few steps away from important facilities and establishments, such as schools, hospitals, transport terminals, and malls. Moreover, you can sleep at night knowing that your home is well-constructed and will not collapse on you.
Read more: Where to Live and Invest in the Philippines? Here are Our Top Picks
2. You Get a Valuable Investment
Real estate assets are investments, and their value is usually influenced by the reputation of the developer. If your property is built by a reputable company, you can expect that it will fetch a high resale value in the future.
3. Your Family Can Move in On Time
Top property developers in the Philippines are held in high regard. And this well-deserved reputation is all thanks to their commitment to quality and timeliness. If your developer is known for being professional and prompt, you can be confident that your family will be able to move into your new home on time.
Who are the Top Property Developers in the Philippines?
There are a lot of property developers in the Philippines that produce high-quality output. But the following are some of the most outstanding ones:
1. Ayala Land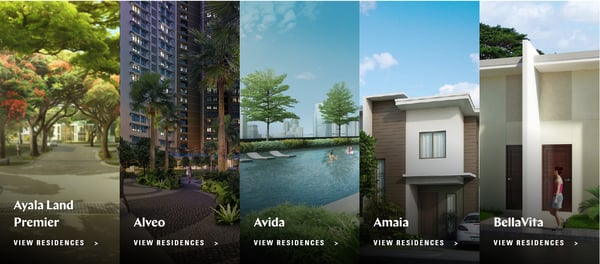 Ayala Alabang Village, Alveo, Avida, Amaia―these are only some of the flagship projects of Ayala Land. Being the largest property developer in the Philippines, the company has an unparalleled track record when it comes to developing sustainable communities that also serve as economic centers.[1]
Moreover, Ayala Land is known for its commercial real estate projects, such as Tower One & Exchange Plaza, Tower 2, Ayala North Exchange, and Solaris One, which are all located inside the Makati Central Business District.
2. SM Prime Holdings

Another juggernaut in the real estate industry, SM Prime Holdings, Inc. is the company behind SM Supermalls. But this esteemed property developer forayed into building residential properties through SM Development Corporation (SMDC), which focuses on designing condos.
A few of its award-winning projects include S Residences in Pasay City, Leaf Residences in Muntinlupa, and Park Residences in Santa Rosa City, Laguna. SM Prime also excels in developing luxury properties. The company is actually the developer behind the Tagaytay Highlands.
3. Filinvest Land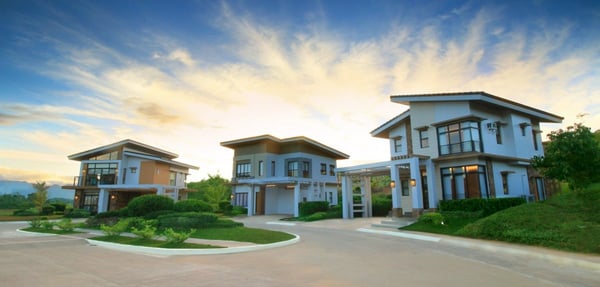 With a heritage of 60 years, Filinvest knows how to build communities well. Its business is fueled by its desire to build the Filipino dream, which is to own a home. The company has not only built residential communities but also business districts. Currently, the following developments are part of Filinvest Land's portfolio: Filinvest City in Muntinlupa, Fora in Cavite, Brentville International, and communities under the Futura brand.
4. Megaworld Corporation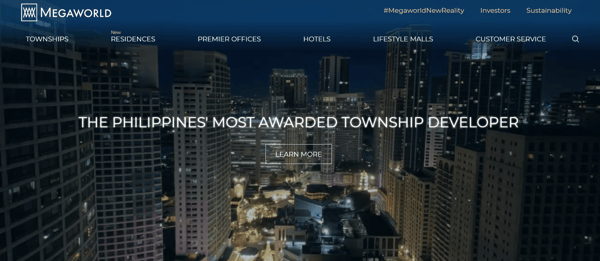 Incorporated in 1984, Megaworld Corporation has business interests in real estate development, marketing, and leasing. Among its most notable projects is Eastwood City. Other than creating malls and office buildings, the company has also been developing upscale townships, such as Capital Town in Pampanga, Arden Botanical Estate in Cavite, Westside City in Parañaque, and Southwoods City in Laguna.[2]
5. DMCI Homes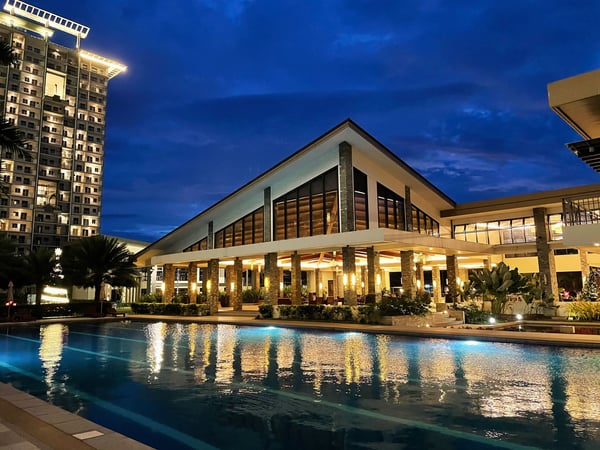 The elegant properties of DMCI Homes are sometimes among the top-of-mind choices of people looking to live luxuriously in the metro. This is because the company mainly invests in building condo complexes.
Young professionals, starting families, and even seasoned real estate investors can definitely fit right into the lavish condominiums that this company built, such as Cameron Residences, The Crestmont, Maple Place, and Sheridan Towers, among others.
Read more: Investing in a Condo? Get the Best Rental Yield Out of These Projects
6. Robinsons Land Corporation

Robinsons Land Corporation doesn't only build office buildings and malls; it also builds condo complexes, townhouses, and mixed-use properties. Among its most popular projects include the RLC Residences, One Gateway Place, Chimes, Escalades, and Otis 888 Residences. Robinsons Land Corporation prides itself for having a wide geographical reach as it has key projects from Ilocos to South Cotabato.
7. Century Properties

For 30 years, Century Properties has been creating well-appointed neighborhoods and mixed-use estates within and outside the metro. This property developer is the brains behind prominent vertical communities, such as Azure Urban Resort Residences in Parañaque, The Residences at Commonwealth in Quezon City, Acqua Private Residences in Mandaluyong, and Century City in Makati.
Century Properties also expands its portfolio by developing provincial lands. It created Batulao Artscapes, an exclusive and design-driven house and lot project located between Tagaytay and Nasugbu.
8. Rockwell Land

The Rockwell Center is perhaps the company's crown jewel. It's a masterclass in seamlessly weaving commercial, lifestyle, and residential properties together.
Among its most notable projects are East Bay Residences in Muntinlupa, 8 Benitez Suites, Aruga Apartments, and Proscenium. But Rockwell is more than building exclusive condominium complexes. It has also ventured into horizontal projects, with Rockwell South at Carmelray in Laguna being its first.
Read more: Property Management 101: What You Need to Know to Make Your Real Estate Business Work
9. Vista Land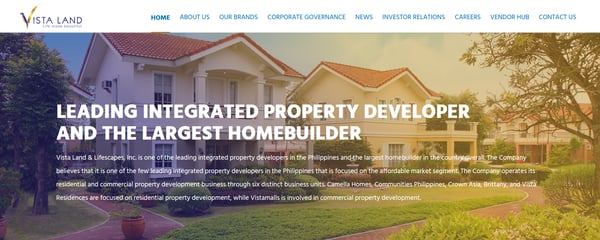 Simply known as Vista Land, Vista Land and Lifescapes, Inc. (VLL) develops properties across four major categories: house and lots, condominiums, commercial, and affordable housing. Founded by Manny Villar, the company owns mid- and upscale subsidiaries, which include Brittany Corporation, Crown Asia Properties, and Camella Homes. For affordable housing, Vista Land has developed Lessandra and Lumina Homes.[3] It's also the operator of Vista Malls and Starmalls.
10. Shang Properties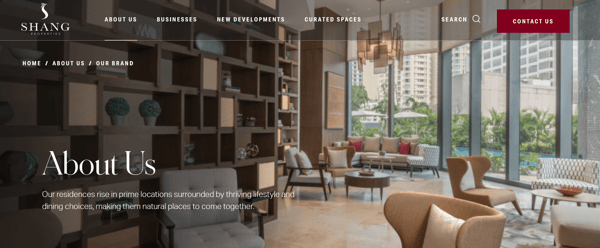 One of the luxury leaders in the country, Shang Properties has been in the property investment development business since 1987.[4] On top of leasing offices and retail spaces, the company is also engaged in building premium residential spaces. Shang Properties is the owner and operator of the Shangri-La Plaza Mall, and one of the biggest proprietors of the Shangri-La at the Fort.
Shang Properties' residential spaces are mainly vertical communities. Its portfolio includes One Shangri-La Place, The Shang Grand Tower, Shang Salcedo, The Rise, and Shang Residences Wack Wack.
Read more: Tips When Buying Your First Real Estate Property
How Do You Choose a Property Developer in the Philippines?
Doing your legwork will spare you the financial disappointments in the future. Here are some of the things that you need to do when choosing a property developer in the Philippines:
1. Look At Their Reputation
This is not to discount the abilities and the potential of budding property developers in the Philippines. But if you have the money and you don't want to gamble, it's wise to invest in a reputable real estate company―a firm that has a solid track record over the years.
Aside from the ones on this list, there are other trusted and esteemed property developers out there that are worth checking out. A quick Google search should give you a list of these companies.
2. Check Their Projects
If a developer has already caught your eye, the next thing that you need to do is to check their previous or ongoing projects. This way, you'll have an idea of how they design living spaces for their clientele.
Checking your potential developer's projects should be easy; you can get a brochure from their agents or visit property platforms, such as Lamudi or Presello.
3. Visit Open Houses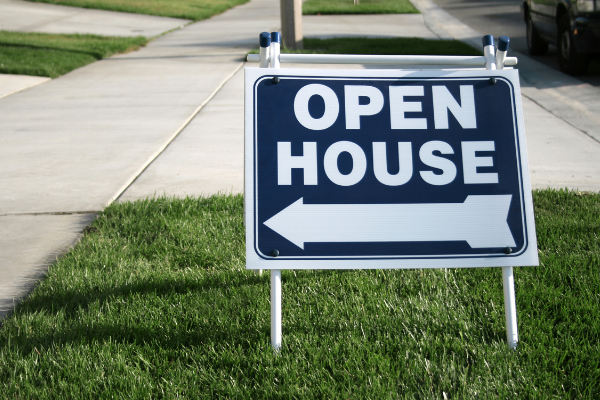 To see is to believe. If you want to get a feel of how living in your prospective developer's property will be like, visit open houses. Going on such tours won't only allow you to see the property in person but also give you a picture of the neighborhood that you may become part of.
Moreover, you get to inspect the developer's quality of work. And should you decide to buy a property from the developer, an open house will help you plan or design your home since model houses are already spruced up.
4. Talk to Property Owners
Real estate agents may tell you how happy their clients are with their purchase. But always take their words with a grain of salt. Cross-check their claims with existing property owners. Ask about how the project was delivered or how well the developer provided them with after-sales services.
Related reading:
Final Thoughts
Buyer's remorse that you may experience when you choose the wrong property developer in the Philippines will be significant and even long-lasting. After all, you're spending a large sum of money on a real estate asset. Avoid this dilemma by being discerning and meticulous when checking your potential home. Ask your developer lots of questions, and see to it that they have sensible, satisfactory, and practical answers.

Sources: