Curious to know how to make extra money with your car? There are many ways to earn income using your car, but a lot of Pinoys may be thinking it's easier said than done.
Well, not for these car owners who managed to successfully earn a living with the help of their cars. Get to know their stories, know the pros and cons, and learn from their helpful tips to succeed in this endeavor, just like they did.
4 Car Owners Share Tips on How to Make Extra Money with Your Car
Richard and Gemma Rejuso, Kape Kalye Owners
Two years ago, Richard Rejuso and his wife Gemma bought their Toyota Wigo so that they'll have a more convenient way to travel to work.
Back then, Richard was working as a barista in a small local coffee shop in Quezon City. But this barista stint didn't last long because the coffee shop soon folded up. Richard had to look for another job, eventually landing one at a lending company.
And then the pandemic hit. He realized that their income was no longer sufficient, even with his wife's full-time income as a supervisor in a hardware company. So he took inspiration from some people he saw on the street operating a mobile coffee shop using just their mountain bikes.
"Naisip ko mountain bike pero napagkakasya nila ang mga gamit. Nakakapag-set up sila ng ganito. Paano pa kaya yung sa amin na medyo malaki-laki ng konti?"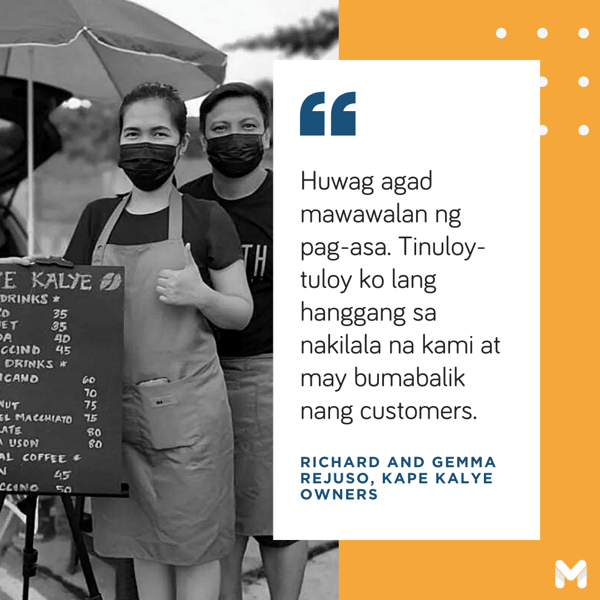 Armed with Richard's barista training and his coffee shop experience—plus their hatchback—the couple set up their own mobile coffee shop, registered it with the DTI, and named it Kape Kalye.[1]
"Inaral ko yung ganitong set-up, yung mobile coffee shop na ganito. Yung mga gagamitin, yung mga iba't ibang timpla," Richard shared.
Since its opening last June 12, Kape Kalye has been getting a steady stream of customers, most of which are bikers, joggers, and commuters.
Read more: 9 Ways to Make Money Using Your Car
Easy and Economical Mobile Business
Richard and Gemma didn't shell out a lot of money to get started. Their small capital went to purchasing a couple of stools, foldable tables, ingredients, and simple coffee-making equipment. The car trunk serves as a shelf where the menu and ingredients are displayed. Because of this, they were able to get a return on their investment in just one month.
According to Richard, using their Wigo for their business has been very easy and economical so far. Having a mobile business like Kape Kalye allows him to set up in the most ideal location, too. "Kahit saan pwede ka pumuwesto. Magpaalam ka lang dun sa pu-puwestuhan mo," he shared.
He used to set up shop at the Neopolitan Business Park in Fairview, Quezon City, which is a known cycling and jogging ground. But now, Kape Kalye is set up along Welcome Road in San Jose del Monte, Bulacan, close to Gemma's office (Richard sets up shop in that area after dropping Gemma off at work).
On weekends, Gemma joins him in selling coffee at a different location where there are a lot of bikers, joggers, and pedestrians.
Because they're not paying rent for a space, their business costs are low, which enables them to offer their coffee at affordable prices (Their most expensive drink is the Iced Mocha Uson that costs only PHP 80).
They're still paying off their Wigo. But their income from Kape Kalye helps with paying the amortization and the bills at home.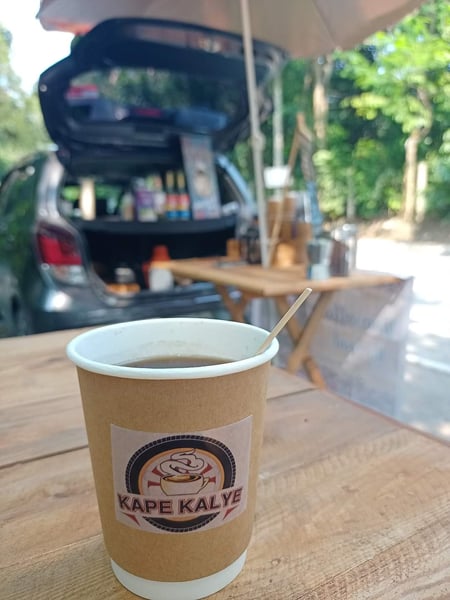 The Drawbacks of a Small Car
Because Wigo is a compact car with limited space, they can't bring a lot of equipment around. They can't get the tables they want nor bring more chairs for customers. So right now, they're just using small, light, and foldable tables and chairs that can fit inside the trunk.
Their goal is to finish paying off their car. But in the future, they want to invest in a bigger vehicle that will be perfect for business use, like a van or a pickup truck. Richard also hopes that they can expand their business and even open a mobile food business or restaurant of sorts.
"Don't Lose Hope Too Soon"
Richard once considered being a GrabCar driver, too. But he knows the challenges that a Grab driver faces during this pandemic: too much competition and not a lot of passengers. This is why he chose to put up his own mobile coffee shop instead.
He recalled those weeks when they were just starting out with Kape Kalye. "Wala masyadong bumibili. Tinuloy-tuloy ko lang hanggang sa nakilala na po kami at may bumabalik-balik nang customers."
The biggest lesson learned from this experience? "Huwag agad mawawalan ng pag-asa."
Carlo Neil Mamaril, Grab and Lalamove Partner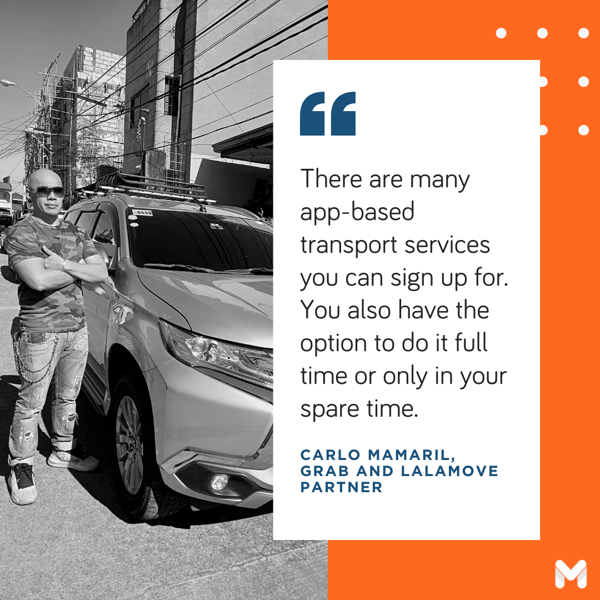 For Carlo Mamaril, his 2017 Mitsubishi Montero was purchased primarily for business. He uses it mainly for Grab as a transport network vehicle service (TNVS) driver and for Lalamove for delivery services.
"The growing industry of ride hailing apps was very profitable back then. That made me decide to send in my Grab driver application and do it full time," Carlo shared.
But aside from Grab and Lalamove, Carlo was also able to earn additional income using his Montero during the enhanced community quarantine last year. He partnered with two major transport service companies to provide shuttle services to BPO companies.
For six months, he partnered with Danril Transport Services in shuttling employees of Hinduja Global Solutions. After that, Carlo partnered with Grab for seven months to shuttle Concentrix employees. With these two stints, he earned on a fixed and a per trip basis, with incentives when he reached a certain number of trips.
Currently, aside from being a Grab driver and Lalamove partner, Carlo also has his own bicycle parts and accessories business called Koy Accessories,[2] which he runs from home.
Read more:
The Pros: Freedom and Flexibility
If you have your own car for business, you have very flexible working hours. "You can choose whether you want to drive at night or during the day," Carlo explained.
Moreover, Carlo also loves how he can squeeze in his side hustles. "I sell bicycle parts and accessories online while waiting for a passenger or delivery booking. When I need to deliver a certain bike part or accessory to my customer, I just wait for a Grab or Lalamove booking that's the same as my destination. It's like killing two birds with one stone."
When not accepting Grab or Lalamove bookings, Carlo also accepts bookings from customers who need a car with a driver to travel around Metro Manila or to nearby provinces. These bookings are usually for a certain number of days and pay really well.

The Cons: Wear and Tear
Since Carlo has been using his Montero a lot for Grab and Lalamove bookings, the biggest disadvantage he finds is the wear and tear. "Your car will suffer from wear and tear earlier than a car you drive only for personal use," he said.
Another disadvantage is that your car will be considered a public vehicle because you're using it to transport passengers. "There will be times you'll encounter certain people who are not careful when riding in your car. For example, they slam the door when they get out. Sometimes, they also leave their garbage behind."
Is Transport Business for You?
According to Carlo, using your own private vehicle for your transport business can be very lucrative because people are now looking for safety and convenience.
His advice on how to make extra money with your car? "There are many app-based transport services you can sign up for and join. You also have the option to do it full time or only in your spare time," he said.
"But excellent customer service is a must because this is where you'll get your suki," he said. "It's also important to have a well-maintained, clean, and odor-free car. It's a big plus, too, if the driver is well-groomed."
Roy Sy, Grainsmart Franchise Owner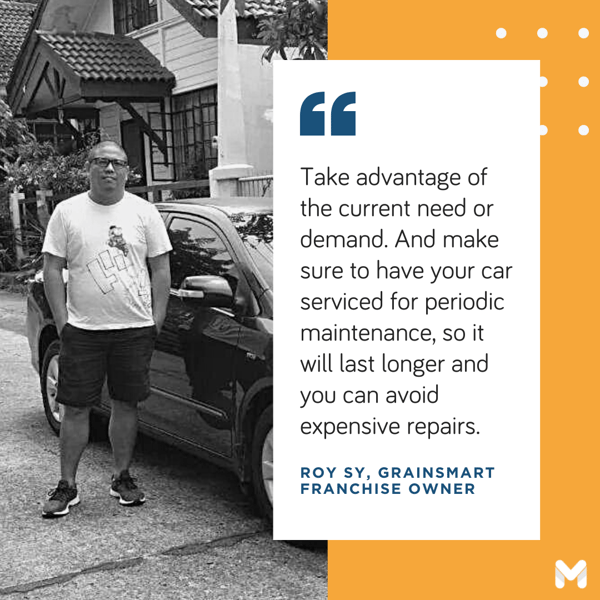 As a marketing coordinator in one of the most prestigious universities in Laguna, Roy Sy worried about getting laid off during the early days of the pandemic last year. This is mainly the reason Roy and his brothers Marc and Rico put up a rice retail business.
They opened their Grainsmart[3] franchise in September 2020 as their Plan B. Thankfully, no one has been laid off from their jobs, and their rice business is going well.
The store is located in Biñan, Laguna, close to where Roy currently resides. Since he's working from home, he also helps in managing the store's daily operations, attending to walk-in customers, as well as making deliveries for their online orders.
"We have mostly walk-in customers. For deliveries, we usually get orders via Facebook Messenger and text," he said.
For delivering the sacks of rice to their customers, Roy relies on his 2008 Corolla Altis. "There's a need for delivery, so we decided to use the car to accommodate the demand."
Delivery Services Without Additional Capital
Currently, Roy's Corolla Altis has proven to be very helpful when it comes to delivering their products. "It's very beneficial to the business because we generate additional sales and earn extra income without shelling out additional capital."
Another good thing that came out of this business is being able to provide jobs. Because of their store, Roy was also able to hire their former janitor at the university where he works. His janitorial job was affected because students, faculty, and staff were all working from home. So Roy offered him a job to man their physical store and attend to walk-in customers.
Disadvantage: Your Car Usually Takes a Hit
Transporting heavy sacks of rice can really take a toll on a car. With Roy's Corolla Altis, the car's exterior usually takes a hit. "Madalas yung exterior, like the bumper or sides of the car, since there are roads or streets na makipot or malubak. Hindi maiiwasan na matatamaan talaga during delivery."
Aside from the exterior, there's also the paint and the tire wear and tear. "Yung paint and gulong mas mabilis nang mapudpod since lumaki yung mileage ng biyahe. Unlike before when we used the car only to go to the office or to the grocery."
But Roy takes care of his car well so that he can maximize its use while keeping it in top condition. In fact, he has a mechanic on call that goes to their house to do periodic and preventive car maintenance.
According to Roy, they'll upgrade to a vehicle with more cargo space, like a pickup, when the number of their rice deliveries also increases.
Advice on How to Make Extra Money with Your Car
For Roy, having a car for your business is a good thing because people now prefer delivery services due to the pandemic.
"Take advantage of the current need or demand. Just make sure to have your car serviced for periodic maintenance, so it will last longer and you can avoid expensive repairs."
Jade Trixia Repotente, Online Seller and Car Owner
It was always a dream for hardworking daughter, mom, and wife Jade Repotente to have her own car. To make this dream a reality, she went into business even as a college student by selling all sorts of items.
Two college degrees and a family later, Jade is a successful online business owner and proud car owner.
Aside from her online business, Jade uses her 2021 Mitsubishi Xpander GLS for business, too. "Si Dad madalas nagda-drive nung Xpander. Ako nagsi-schedule at naghahanap ng customers for carpool," she explained.
Her father lost his job as a facilities head last year because of the pandemic. They decided to rent out their car, with her dad driving the car for passengers.
Jade posts her ads and gets passenger bookings on various transport booking groups on Facebook.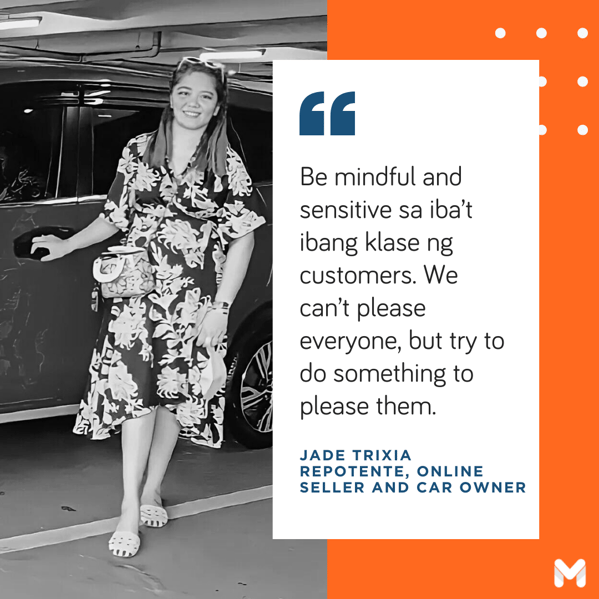 Income Helps Pay the Monthly Amortization
For Jade, there are many advantages to using your car for business. "I must say it pays well. We earn, at the same time we cover the amortization and other maintenance costs." If business is really good, a portion of their earnings goes to her Dad's savings.
Because of their carpool and shuttle service, they also have the opportunity to meet people and create good relationships. As a result, these customers usually make Jade and her dad their regular service providers.
"Nakakuha na ako ng regular customers. Yun ang pinakamahirap eh, yung ma-establish ka. Pero dito pa lang sa subdivision namin and yung mga kakilala kong APORs (authorized persons outside of residence) and frontliners na hindi talaga nagko-commute, win-win situation na."
Jade also uses her Xpander to make her item deliveries. "Since we can deliver the goods, our orders also went up," she shared.
More Frequent Maintenance Checks
Of course, there's a downside to using your own car for your business, too. For Jade, it's having to check and give proper maintenance to it more often. "Kailangan lagi ang PMS and change oil since laging gamit. Mas mabilis siyang umabot sa mileage na required na mag-PMS."
As for the business side of things, there are also days when there are no passenger bookings, so Jade has to work doubly hard on the booking schedule to get new customers.
Money-Making Tips for Filipino Car Owners
For car owners who want to know how to make extra money with their car, Jade advises the need to be resourceful. "Maximize your resources. Kung may sasakyan ka, try to look for carpool groups on Facebook and then join. Pag-aralan how the business is going. Kung may online store ka, gamitin ang sasakyan for deliveries. Kung may knowledge ka sa mga courier services, try to apply."
It's also important to have good communication and rapport with customers. "Same kasi kami ng daddy ko, makwento. So kinakaibigan namin ang mga passengers namin. Kaya minsan, passenger na namin, nagiging ninong at ninang pa kami. Tapos 'tito' at 'sis' na ang tawagan."
But at the end of the day, you're still running a business, and they're still paying customers. After gaining your customers' trust, don't ever break it. "Be on time para 'di sila ma-late sa appointments or sa work nila and so that they'll also be comfortable with their ride."
More importantly, always provide good customer service. "Be mindful and sensitive sa iba't ibang klase ng customers. We can't please everyone, but try to do something to please them. Kahit gaano pa ka-grumpy yun, makikita nila 'pag sincere at maayos kang tao."
Jade advises to remain positive even during these difficult times and to always pray. "Huwag makakalimot magpasalamat, at laging ipagdasal ang safety lalo na sa panahon ngayon."
Final Thoughts
Now that you know how to make extra money with your car, are you ready to put your plans to action? Whether you want to be a Grab driver, use your car for TNVS in the Philippines, or make it your delivery transport, it can be a lucrative venture.
Like any other job or business venture, it takes commitment and hard work, especially if you're just starting out. Try to reduce your car's wear and tear, and get the best car insurance in the Philippines. It also pays to get a good and reliable car that's right for the job.

Sources: