Planning to travel this Holy Week? Brace yourself for a rise in traffic volume.[1] Major roads and highways such as the North Luzon Expressway (NLEX) and Manila-Cavite Expressway (CAVITEX) will be heavily congested.
To beat traffic congestion during the Holy Week break, know what to expect and be prepared for it. Here are some tips to get you started.
8 Ways to Beat Traffic Jams This Holy Week
Almost everyone traveling out of Manila this coming long weekend wishes to survive the hours-long drive to Pampanga, Pangasinan, Baguio, or La Union. But the Holy Week rush might double that travel time.
If you're too eager to reach your vacation destination safely and as fast as possible, here are a few things you can do to beat the traffic and enjoy the road trip.
1. Leave Early or the Night Before
The early bird catches the worm, and the early traveler arrives ahead of time. Nothing beats getting ahead of traffic. So leave much earlier than planned to avoid the volume of cars traveling this Holy Week.
If you're planning to take a long drive to Baguio or La Union, leave before dawn, ideally around 3 to 4 a.m. Not only do the wee hours offer better traffic conditions. They'll also save you from getting in queue during the day when the heat of the sun is at its peak.
If you can, take a vacation leave on Holy Wednesday (or even earlier) and start the drive from there, so you can avoid the rush of vehicles taking the same route. Plus, who doesn't want an extra day of relaxation or two?
Read more:
2. Take Alternate Routes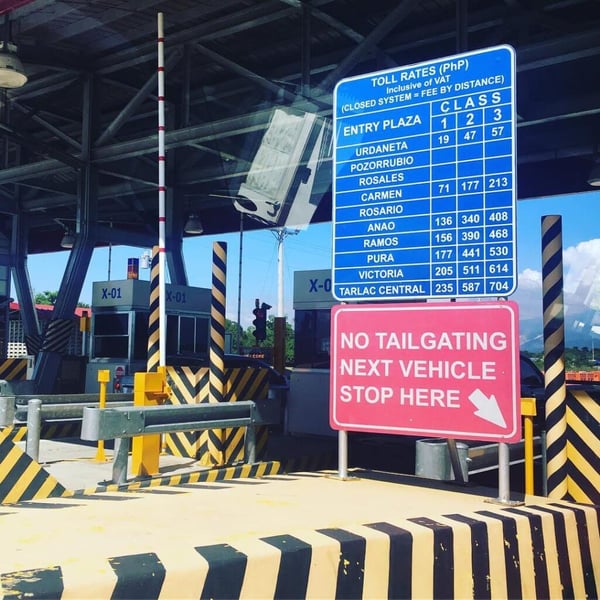 There's no one definitive route to take when you're going somewhere. When planning your Holy Week trip, consider alternative roads and highways such as the TPLEX Pozorrubio Exit, Mabiga Interchange, and Barkadahan Bridge. These help ease traffic and reduce travel time. Do some research on possible routes in advance to identify which one can take you to your destination the soonest.
🛣️ Manila to Baguio in up to 5 Hours via TPLEX Pozorrubio Exit
A trip to Baguio, La Union, or anywhere in North Luzon from Metro Manila will be a lot faster when you take the Tarlac-Pangasinan-La Union Expressway (TPLEX). You can reach Baguio in only 5 hours, thanks to the TPLEX exit in Pozorrubio, Pangasinan. To shorten your trip, travel beyond peak hours from 12 midnight.
Rather than passing through the MacArthur Highway/Manila North Road/Radial Road 9 or TPLEX Urdaneta exit, just go straight ahead to the Pozorrubio exit, which is the end of the highway. This will reduce your travel time to just 45 minutes from Tarlac to Pozorrubio, which used to take 2.5 hours. From the TPLEX Pozorrubio exit, it will take you another 45 minutes to get to Baguio.
🛣️ MacArthur Highway to SCTEX Subic/Tarlac via Mabiga Interchange
Heading out to and from Subic or Tarlac via the MacArthur Highway-SCTEX (Subic-Clark-Tarlac Expressway) route is easier and safer through the SCTEX Mabiga Diamond Interchange in Mabalacat City, Pampanga. Note that he U-turn slot along the NLEX-SCTEX connection in Barangay Mabiga has been permanently closed to traffic.
If you're going from MacArthur Highway to SCTEX Subic/Tarlac, simply take the new Mabiga northbound entry toll plaza. Take the new Mabiga southbound exit toll plaza on your way back to MacArthur Highway.
🛣️ Manila to Meycauayan via NLEX Libtong and Pandayan Exits
If you often traverse NLEX, you know how traffic can get bad at the Meycauayan Interchange. But no need to dread traveling to Meycauayan City anymore. You can avoid the congested Meycauayan Interchange and instead take the new NLEX exits in Barangays Libtong and Pandayan.
You can also use the Libtong exit for traveling to Manila via Sterling/Iba Road. Meanwhile, the Pandayan exit allows easier access to MacArthur Highway for motorists bound for Baguio.

🛣️ Quezon City or Caloocan to Manila, Pasay, NAIA, or SLEX via Radial Road 10
Traveling north to south and vice versa can be a pain in the neck, especially when people go on out-of-town trips. Escape that holiday commuting nightmare—take the Radial Road 10 (R-10) via Bonifacio Drive and Roxas Boulevard.
The R-10 spans from Delpan Bridge in Tondo, Manila to C-4 Road in Navotas City. The wide road can accommodate motorists who are looking for an alternate route to EDSA and C-5.
🛣️ Taytay to Bicutan in 30 Minutes via Laguna Lake Highway and Barkadahan Bridge
If you'll drive from Taytay, Rizal to Bicutan, Taguig, avoid passing the congested EDSA and C-5 Road. Take the faster route via the Barkadahan Bridge in Taytay and the widened Laguna Lake Highway.
Formerly known as the C-6 Road, the Laguna Lake Highway has two additional lanes, which make travel faster between Taytay and Bicutan by 50%. What's so cool about this new highway is its 3-meter biking and jogging lane, the first of its kind in Metro Manila.
Aside from Taytay and Bicutan, using the Barkadahan Bridge also provides convenient travel to and from other cities and towns of Rizal, Quezon City, Marikina, as well as NAIA and SLEX.
🛣️ SLEX or Skyway to NAIA in 20 Minutes via NAIAX
Need to get to the Ninoy Aquino International Airport (NAIA) faster for your holiday vacation? Take the NAIA Expressway (NAIAX).
NAIAX connects the Skyway, South Luzon Expressway (SLEX), CAVITEX, and Diosdado Macapagal Avenue to all NAIA terminals. Cut down your commute from 1 hour to just 20 minutes.
How to go to NAIA via Skyway
Take NAIAX from SLEX or Skyway and then take the Villamor exit ramp. Keep driving along the road past Terminal 3 and the Resorts World complex and onto the Rotunda monument.
From there, take these next steps to get to a particular NAIA terminal.
Terminal 1 - Keep driving down the road. Take the left exit when you reach another rotunda. Then turn left to MIA Road at the traffic light at the end of the road. Turn right on the first intersection. You'll soon get to the access ways to Terminal 1.
Terminal 2 - Keep driving down the road. Take the left exit when you reach another rotunda. Then turn left to MIA Road at the traffic light at the end of the road. Proceed to the terminal's entrance gates.
Terminal 3 - Simply keep driving around the rotunda and onto the terminal entrance.
Terminal 4 - Keep driving down the road. Take the left exit when you reach another rotunda with a Petron gas station across it. You'll soon see the terminal entrance on your left side.
Related articles:
3. Take Advantage of Navigation Apps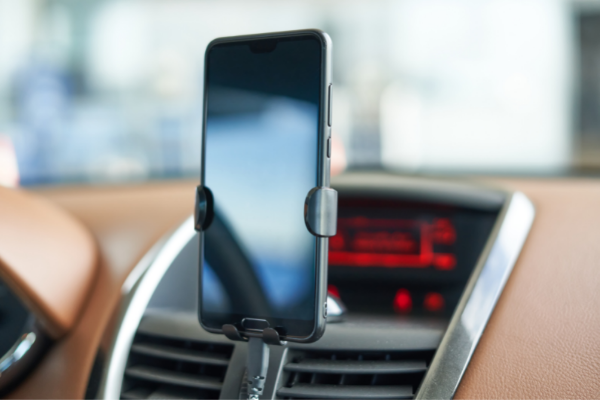 Gone are the days when you needed to bring an NLEX/SCTEX/TPLEX map when traveling. Traffic and navigation apps are now readily available to show you the way. Some apps can even provide you with alternate routes and traffic updates, so you can decide which road to take.
Download and use driving apps such as Waze and Google Maps to determine the latest traffic conditions and monitor accidents, police locations, and other possible road obstacles.
Apart from helping you reduce travel time, these apps also allow you to track other vehicles on the road, which is perfect for convoys. Just don't get too distracted when using a phone while driving.
📌 Tips When Using Travel Apps While Driving
Navigation apps can be very useful especially if you're taking the route for the first time and if you want to beat traffic. However, take note that there are factors affecting the performance of these apps, and knowing how to use them while driving can reduce the hassles and risks of getting lost:
Some information may not be accurate when the internet connection is weak. Waze, for instance, may point you in a different direction if your data connection is unstable. Check Google Maps before leaving to get familiar with landmarks and roads just in case Waze fails during your trip.
Fully charge your mobile phone. The battery life of your gadget may run out unexpectedly, so take a charger and a fully charged power bank on your trip.
Don't rely on just one app. Download two or more navigation apps for backup if one app fails. Make sure you have enough time to learn how the app works before driving off.
Use a cellphone holder or mount. It will be difficult to hold your mobile phone while holding the steering wheel. Buy a sturdy, easy-to-use, and good-quality phone holder that you can install in your car.
Download food and drink apps. The long trip can be tiring, so you need food and drinks apps that will lead you to the nearest restaurants or shops.
4. Keep Your Vehicle in Top Condition
It goes without saying that before taking a trip, you need a fully functional car. For a safe and fluid trip, ensure that your vehicle is in excellent condition.
Follow the PNP-HPG's time-tested BLOWBAGETS checklist before your trip: Battery, Light, Oil, Water, Brakes, Air, Gas, Engine, Tools, and Self. Don't forget to bring your driver's license, vehicle registration, and insurance certificate just in case. Remember, there's no such thing as being too prepared.
If you don't have insurance yet, Moneymax can help you compare the best car insurance here in the Philippines.
5. Be Updated on the Latest News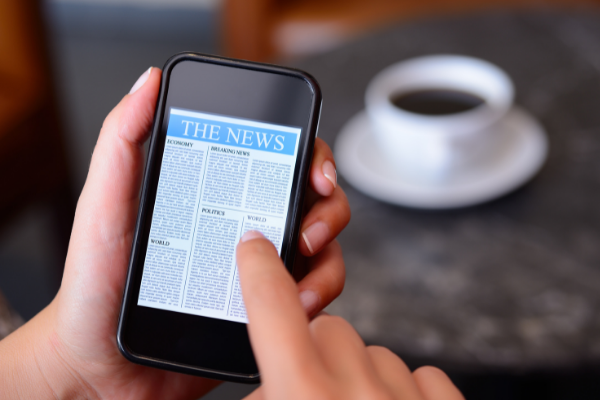 Will it rain on the day of your trip? Are there social events that will affect traffic? Are there roads that are flooded or closed for excavation? It pays to be updated on the latest news across the country before heading out.
Some announcements can be very useful, such as the suspension of the number coding scheme in Metro Manila during Holy Week. The Metro Manila Development Authority (MMDA) will suspend number coding from April 6 to 10, 2023.[2]
Catch the latest news on TV or online through news websites and their social media pages before leaving. Tune in to your car radio from time to time for more updates. Stay updated to avoid possible roadblocks and create a backup vacation plan.
6. Follow Traffic Rules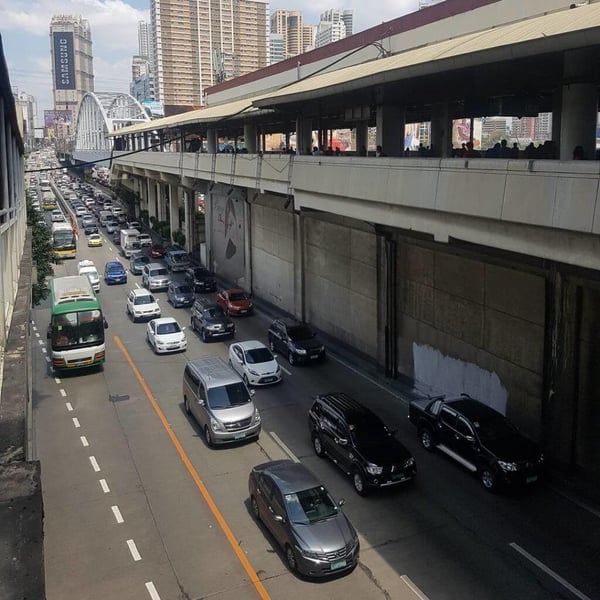 It sucks that you have to deal with heavy traffic. But you know what's worse? Being the cause of traffic. So it's self-explanatory: Don't cause a traffic jam. Stay in your lane no matter how congested the road is.
Follow traffic lights, take note of speed limits, and be respectful to traffic enforcers. Always maintain a calm composure and be considerate of other drivers who are stuck in traffic. Remember that driver discipline and kindness always pay on the road.
Read more: What are the Road Traffic Signs in the Philippines and Their Meanings?
7. Prepare a Road Trip Playlist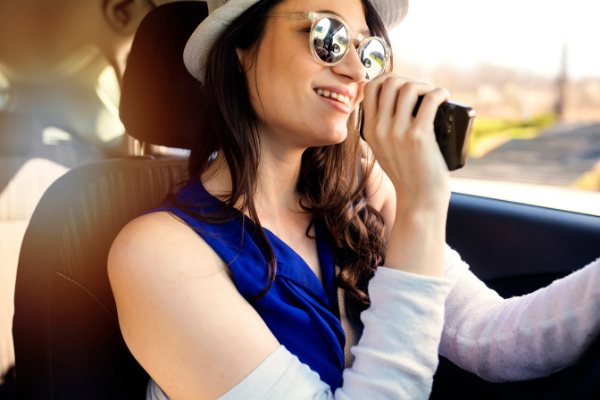 Beat traffic and make your trip more memorable by preparing the ultimate music playlist that will be the official soundtrack of your trip. If you don't have the time, ask a friend or relative to compile some great tunes on Spotify.
Music will keep you focused and alert while your eyes are on the road. It can also make the drive more lively and entertaining for you and your family. Just make sure not to pick overly relaxing songs to avoid dozing off.
8. Keep Yourself Full and Hydrated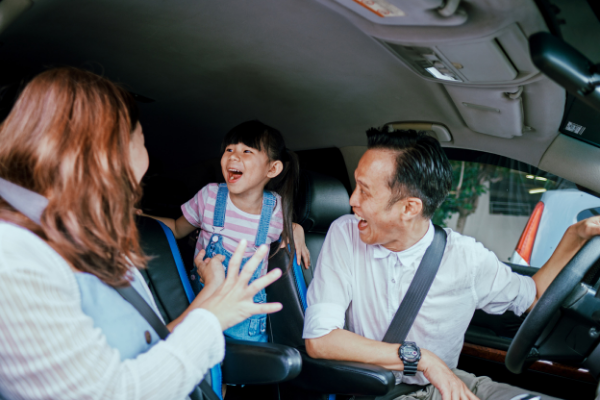 Always prepare yourself, physically and mentally, before any trip. Pack enough food and water for you and your companions to prevent anyone from getting hungry or dehydrated, especially if you're traveling with children.
Grab a quick bite before leaving, or pack some snacks that you can easily eat while driving. You can also make quick stops at restaurants along the way, so you can eat, rest, and relieve yourself before going back to the road again.
What to Expect During Your Holy Week Trip
Stoked to be traveling to the best tourist spot or to see relatives in the province? You must be! But remember that local festivities also coincide with the Holy Week, and some destinations may have protocols and activities which could affect your plan to beat traffic.
Here are a few things you should anticipate during your Holy Week trip:
Your trip can be slowed down by processions. If you want to beat traffic, try a different route or know what time the procession will start.
Churches might be crowded due to Visita Iglesia, a Catholic tradition of visiting at least seven churches on Holy Thursday and Good Friday. Some areas will be crowded with cars and pedestrians heading to the churches, especially at dawn.
Catholics also abstain from eating meat during Holy Week as a form of sacrifice. So expect that little to no meat will be served in most dining areas. Suppress your meat cravings and be prepared to choose from a meatless menu. On the fun side, you'll be acquainted with different local delicacies, which are also popular during Holy Week.
You'll pass by penitents imitating the suffering of Christ, and this may draw a number of spectators on the roads. From flagellation to crucifixion, the rites involve the whipping of oneself to draw blood, which may be interesting to the young generation who may be witnessing this tradition for the first time.
Final Thoughts
A lot of Filipinos will take advantage of this upcoming long weekend to have some me time and spend quality time with loved ones before facing the reality of the grind.
The hardest part of any long vacation is to beat traffic. But after all this fuss, you'll have the entire Holy Week for fun activities with your loved ones. Consider this as your motivation for going through the trouble of making all these travel preparations. Plan your trip thoroughly, check your vehicle, and keep yourself in tip-top shape to ensure a Holy Week vacation like no other.

Sources: