Flights? Booked! Hotel rooms? Reserved! Instagram-ready outfits? Packed! How about travel insurance?
For many vacationers, travel insurance is just an afterthought. Most travelers realize its importance only after the worst happens. If you're flying abroad, you may need this kind of safety net, especially if your destination is one of the countries requiring travel insurance.
So which are the countries that require travel insurance? Keep reading to find out.
Should You Get Travel Insurance to Go Abroad?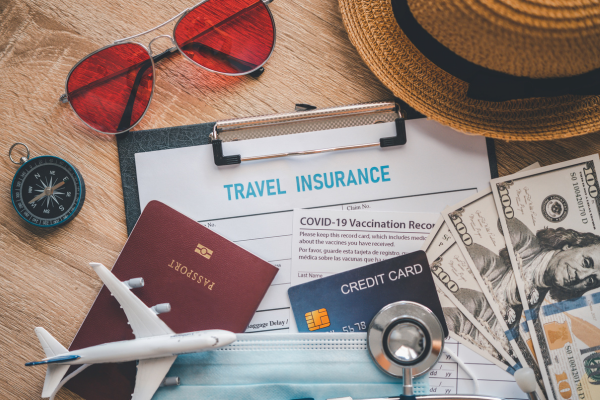 Is travel insurance mandatory for international flights? It depends on the country you're visiting. Some nations won't compel you to buy travel insurance, but will highly recommend it all the same. On the other hand, there are countries that require travel insurance.
But you shouldn't look at travel insurance as a mere requirement. After all, it comes with practical features that will save you from stress and headaches in the long run.
Here are the top reasons for getting travel insurance for your trip abroad:
Travel insurance covers medical expenses. In case you get injured or sick during your vacation, your travel insurance will cover pertinent costs, from doctor's fees to hospital expenses. This feature definitely comes in handy when you're in a country with an expensive healthcare system.
Travel insurance covers personal accidents. This will help you and your family protect your finances in case of death or permanent disablement during the trip.
Travel insurance takes away the stress of repatriation. Some policies cover medical evacuation and repatriation of remains in case of death.
You'll be compensated for travel inconveniences. Delayed flight? Canceled trip? Lost luggage? Stolen laptop? Travel insurance covers an assortment of trip inconveniences.
Travel insurance is relatively cheap. You can get a policy that is accepted abroad for

as low as ₱330

!
What are the Countries That Require Travel Insurance?
Travel insurance is mandatory for which countries? Several countries in Europe have a Schengen travel insurance requirement. In addition, certain countries from the non-Schengen zone, Asia, South America, and Africa won't allow you to enter without travel insurance.
Here's a list of countries that require travel insurance:
Schengen Countries[1]

Austria
Belgium
Croatia
The Czech Republic
Denmark
Estonia
Finland
France
Germany
Greece
Hungary
Iceland
Italy
Latvia
Liechtenstein
Lithuania
Luxembourg
Malta
Netherlands
Norway
Poland
Portugal
Slovakia
Slovenia
Spain
Sweden
Switzerland

Antarctica
Argentina
Aruba
Cuba
Ecuador
Fiji
Georgia
Lebanon
Iran
Israel
Jamaica
Jordan
Moldova
Morocco
Nepal
Qatar
Romania
Rwanda
Seychelles
The United Arab Emirates (UAE)
Togo
Turkey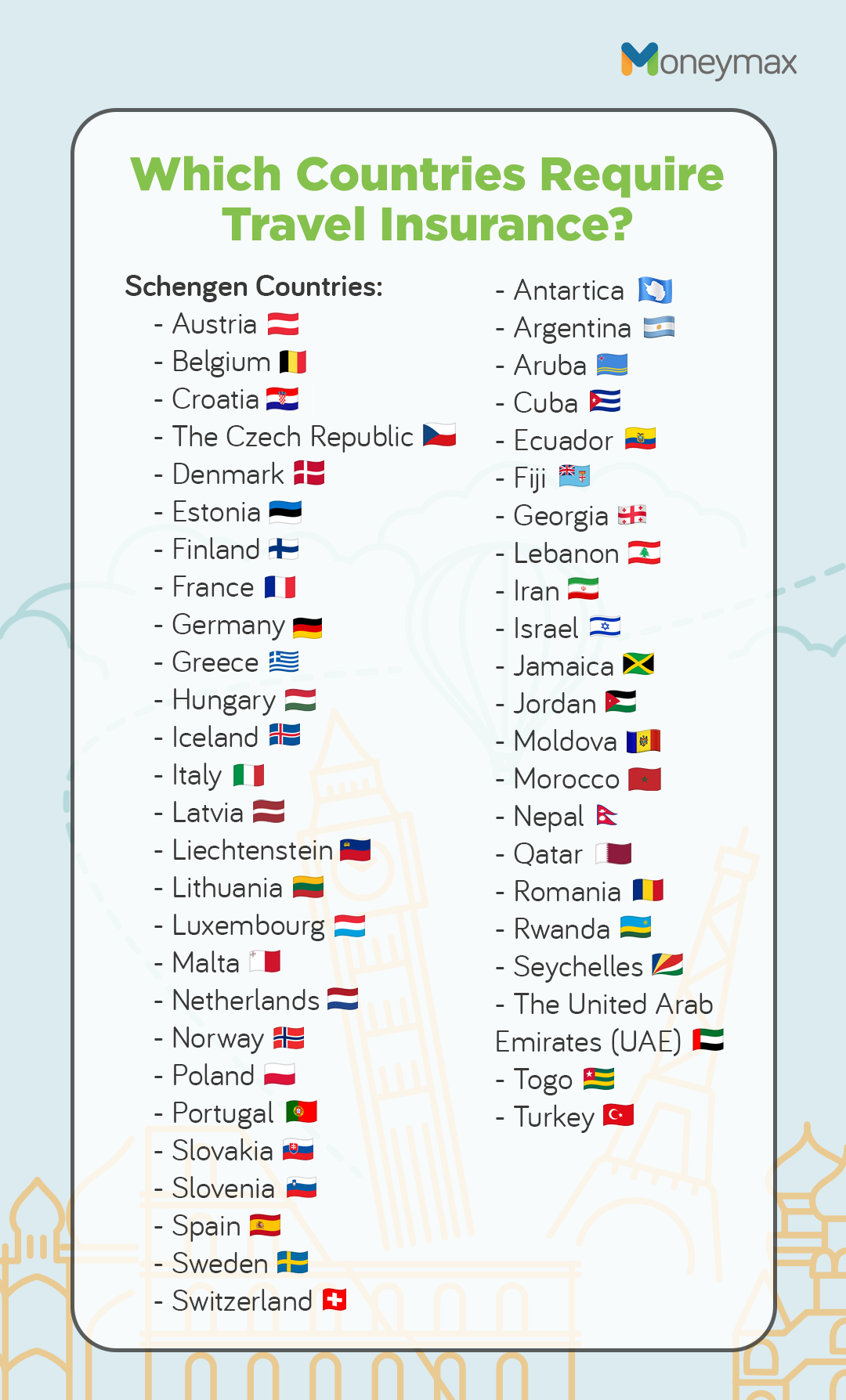 Read more: Europe, Here I Come: Schengen Visa Requirements in the Philippines
Due to COVID-19, travel insurance is either required or strongly recommended to enter the following countries:
Anguilla
Antarctica
Aruba
Bahamas
Brazil
Cambodia
Costa Rica
Cuba
Dominican Republic
Ecuador
Egypt
French Polynesia
Iran
Jamaica
Japan
Lebanon
Mexico
Nepal
New Zealand
Qatar
Russia
St. Maarten
Tahiti
Thailand
Turkey
Turks and Caicos
Ukraine
The United Arab Emirates (UAE)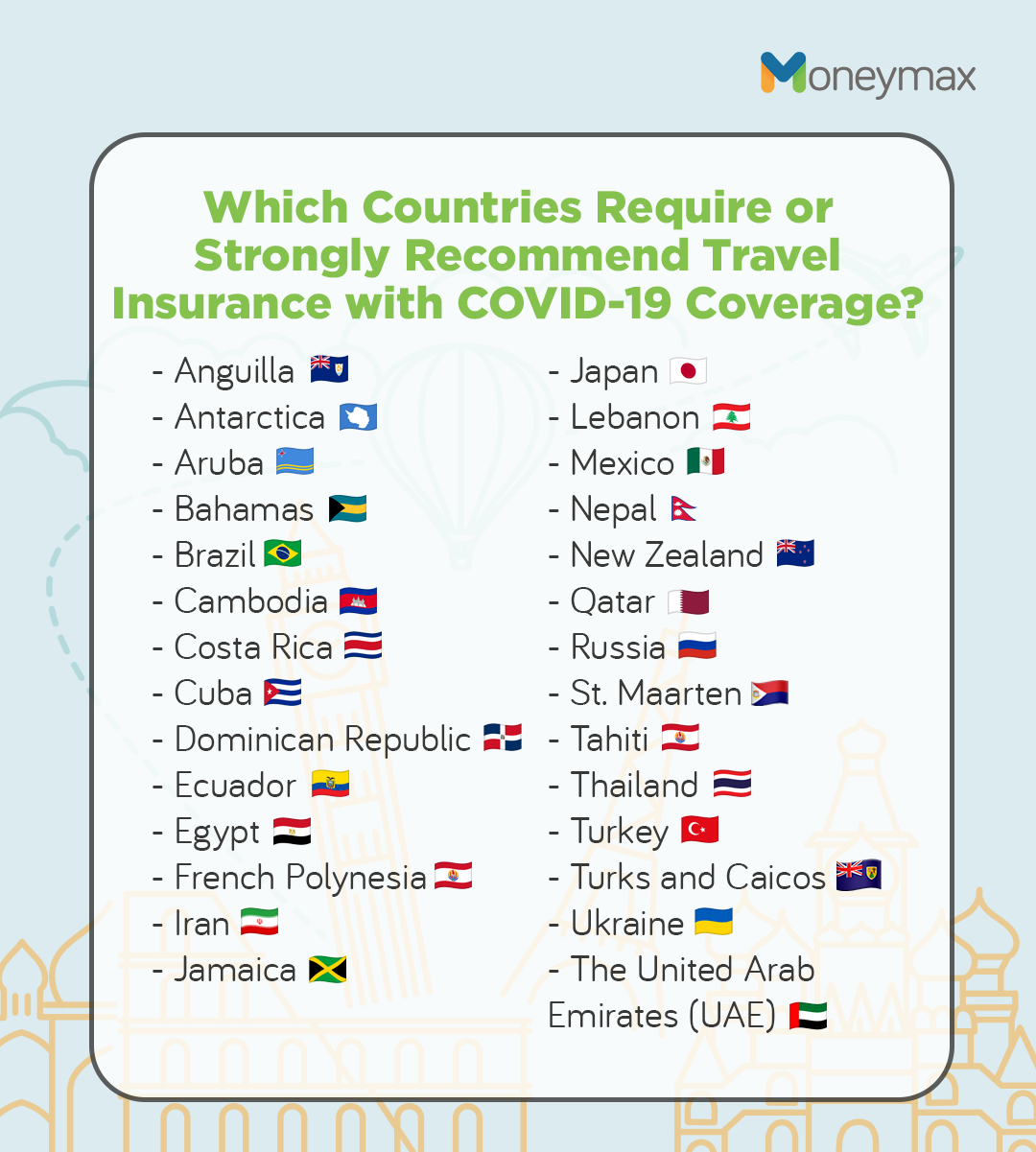 ---
✈️ Book Your Trip Now, Pay Later with #UNOnow Loan!

Fulfill your travel goals without worrying about your budget. UNO Digital Bank has got your back! You can easily apply online for an #UNOnow Loan—no collateral needed—and get extra cash for booking your trips.
Enjoy quick approval and disbursement, as well as flexible payment terms, so you can travel now and pay later. Apply via Moneymax now!
---
FAQs on Countries That Require

Travel Insurance
If you have more questions regarding travel insurance, you may find the answers in this section.
1. Is travel insurance mandatory for the USA?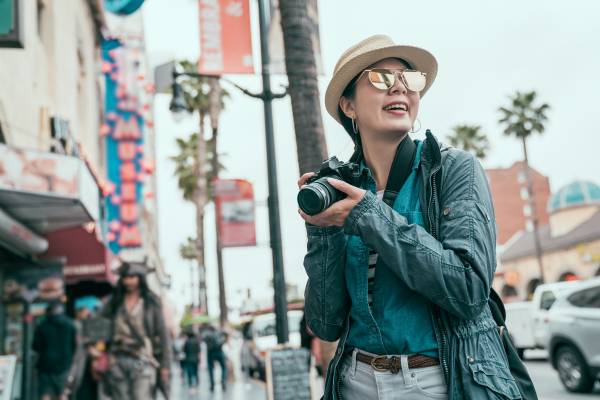 Travel insurance isn't a requirement for foreign visitors in the United States. But many experienced travelers recommend getting one.
The U.S. healthcare system is mainly private, which means treatment costs are very expensive. There's also no universal healthcare that provides health benefits for the country's citizens and visitors.[2]
2. Is travel insurance mandatory for Japan?
No. Japan doesn't require tourists to get travel insurance. Nevertheless, it's strongly recommended to get your own insurance with medical (including COVID-19) coverage.
Japan has a universal healthcare insurance system that covers foreigners, as long as they have residency status.[3] But if you're a tourist who happens to get sick, injured, and hospitalized, you'll need to pay for the medical expenses out of pocket.
Failure to pay your medical bills has serious repercussions that will affect your future travel plans. You'll be denied entry to the country the next time you visit. The country's authorities screen foreign visitors for records of unpaid bills.[4]
3. Is travel insurance mandatory for Korea?
No. Travel insurance is an optional add-on for your trips to South Korea. However, seasoned holidaymakers recommend getting an insurance package with a coverage of at least ₩30,000,000 or around ₱1.2 million. See to it that your insurance plan covers COVID-19.
4. Is travel insurance mandatory for Singapore?
All travelers can now enter Singapore without COVID-19 insurance. They can also fly to the country without entry approvals, pre-departure tests, on-arrival tests, and quarantine. But to stay on the safe side, get a travel insurance policy.
5. Is travel insurance mandatory for Hong Kong?
Hong Kong doesn't require its visitors to get travel insurance. But if you want to protect your finances, you're free to get your own policy. While the city has a reliable public healthcare system, it doesn't cover tourists.
Hong Kong is a very expensive city, so expect that hospital costs will also be high. You can bypass this issue if you have travel insurance with adequate coverage.
Read more: HK Vacay: Hong Kong Travel Requirements and Recommendations
Final Thoughts
Traveling is exciting. It takes you away from the mundaneness of life, even for a while. But while it's a thrilling activity, it's also unpredictable. A lot of things can go wrong, turning an otherwise fun vacation into a stressful one.
Get travel insurance to counter future inconveniences and protect yourself financially. You'll thank yourself later.
Always keep in mind the countries that require travel insurance. Avoid delays in your trip by purchasing it as early as possible.
Need Travel Insurance? Apply Through Moneymax
At this point, you already know the importance of having travel insurance. So the question "What countries require travel insurance?" somehow becomes irrelevant—you just know that you have to get it, regardless of which country you're visiting!
Let Moneymax help you pick the right travel insurance. Through Moneymax, you can compare insurance packages from different providers, saving you money and time. You can also apply for travel insurance right away.

Sources: