Whenever we think of flying, we usually picture sitting in a cramped and loud cabin, enduring a seatmate with no regard for personal space, and eating an expensive but unappetizing meal. But this doesn't have to be the case, especially when you can enjoy a flight in business or first class.
Sitting in business or first class can definitely make you feel like you're on a different flight. There's ample legroom, comfortable seats, privacy, and an array of food and drinks throughout your flight.
But there's a significant drawback―flying first class is very expensive. You might have to pay double or even triple the price of an economy seat.
For most of us, a seat in first class is beyond our travel budget. Luckily, you can follow these tips on how to upgrade to first class and enjoy a luxurious flight without shelling out a lot of money.
10 Tips on

How to Upgrade to First Class
The biggest question in your mind would probably be, "Is it better to buy first-class or upgrade?"
Yes, it's cheaper to purchase an economy ticket and get an upgrade to business or first class via last-minute upgrades. The cost to upgrade can drop significantly if the airline can't sell its business or first-class seats at full price. Airlines would rather get some revenue from them than not sell them at all.
If you want more tips on how to upgrade to first class without having to pay more, check out these helpful tips.
1. Take Advantage of Peak Seasons
The first important tip on how to upgrade to first class is to fly during the busiest times for family vacations or travel. This is when business or first-class seats are more likely to be unoccupied. The more crowded the economy class is, the higher your chances of being upgraded to business or first class.
2. Book Using an Airline-Branded Credit Card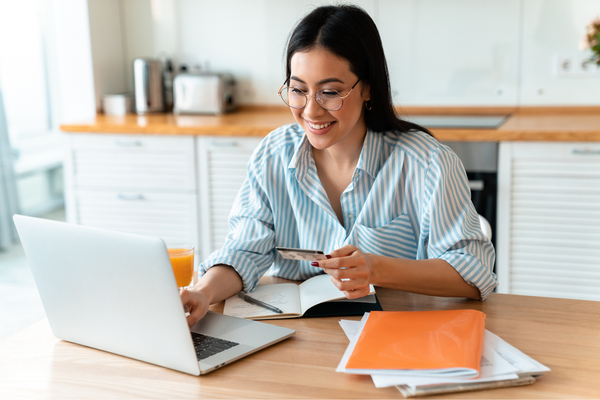 Certain credit card companies partner with big airline companies. With these credit cards, you can earn points whenever you make qualified purchases. Use these points to get gifts and discounts or redeem flight-related rewards. Under certain circumstances, you may even get offered flight upgrades.
---
Here are some of our top recommendations for airline-branded credit cards in the Philippines:
💳 RCBC AirAsia Credit Card

Welcome gift of 8,000 AirAsia Points upon spending ₱20,000 within 60 days of issuance
Earn 1 point for every ₱22 international spend
Priority check-in, boarding, and baggage on AirAsia flights
Use AirAsia BIG Points to redeem free flights or vouchers from Lazada, SM Gift Pass, Grab, and many more
Convert your straight purchases to installments for up to 36 months
0% installment on purchases made abroad
💳 UnionBank Cebu Pacific Gold

1 Go reward point for every ₱200 spend
1 Go reward point for every ₱100 spend at Cebu Pacific
Access to exclusive Cebu Pacific seat sales
Free life insurance of up to ₱400,000
💳 PNB-PAL Mabuhay Miles World Mastercard

Welcome gift of free 2,000 PAL Mabuhay Miles upon card activation
Additional free 10,000 Mabuhay Miles when you make ₱100,000 worth of PAL transactions within 1 year from the date of card issuance[1]
1 rewards point = 1 mile
Priority check-in at PAL Business Class counters in NAIA Terminals
5% discount on select PAL international flights booked via the PAL website
Dual currency billing option
📌 Other Features and Benefits
Up to ₱250,000 free purchase protection insurance
Free travel insurance coverage of up to ₱10 million
Domestic concierge service on dining, entertainment, travel reservations, and other concerns
---
3. Use Your Miles and Loyalty Points
By joining an airline's frequent flyer program, you can get flight upgrades for future trips. Airlines reward loyalty points, and the first cluster of free flight upgrades goes to their loyal frequent flyers.
One way to earn miles is to get a type of credit card that lets you earn miles every time you use it. Start accumulating miles and rewards points to redeem free flights and purchase flight upgrades.
✈️ How Many Miles for a Business Class Upgrade?
So you've racked up the points and earned the miles. But how many miles to upgrade to first class or business class?
The number of miles or points to qualify for a business or first-class upgrade varies per airline. It also depends on your travel dates, place of origin, destination, and the cabin type you originally booked.
✈️ Mabuhay Miles Upgrade to Business Class
How much is it to upgrade to business class with Philippine Airlines? Again, it depends on the route and the Service Class Upgrade (SCU), a Travel Award under the Mabuhay Miles program which grants a one-step upgrade to the next level of Service Class upon fulfilling certain conditions.[1]
For example, if you're flying from Manila to Macau, Hong Kong, or Taipei on Economy and wish to upgrade to Business Class, you'll need 12,000 Mabuhay Miles.
If you're headed to Singapore, Bangkok, or Osaka, upgrading from Economy to Business Class will require 15,000 Mabuhay Miles.
For long-haul flights to the U.S. or Canada, you'll need at least 40,000 Mabuhay Miles to upgrade to business class.[2]
4. Check the Aircraft and Cabin Layout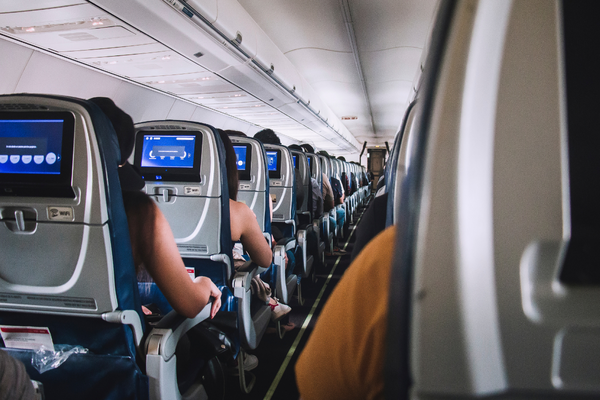 When booking your flight, you'll see what aircraft you'll be flying on and the cabin's layout. It has more business and first-class seats if it's a wide-body aircraft like the Boeing 777 Dreamliner. Thus, these aircraft types most likely contain more unbooked or unoccupied seats in these sections.
A few hours before your departure, log in to the airline's website like you're booking the same flight again. From there, you can see how many seats are still available in the business and first-class cabins. The more unbooked seats, the bigger your chance of getting a seat upgrade.
5. Fly Solo
Are you traveling alone? Solo flyers have a better chance of nabbing a free flight upgrade than those who travel in groups. Big groups, families with over three guests, and couples are harder to seat than solo flyers.
When you're flying solo, the flight crew can easily seat you anywhere in the first or business-class cabin without anyone noticing.
6. Have a Good Reason for an Upgrade
Pregnant or suffering from back problems? Seat not reclining? Unresponsive entertainment system?
Make sure to alert the flight attendants and share your flight issues with them nicely. There's no harm in asking. Offer a legitimate reason to increase your chances of getting a free flight upgrade.
The same goes for when you're celebrating a special event. Let the flight crew know you're celebrating an occasion, whether it's your birthday, anniversary, or honeymoon. If you don't get a flight upgrade, you might at least get a drink on the house.
7. Remember That Timing is Everything
So when is the best time to upgrade to first class? It depends on the situation. Whether you get to the check-in counter early or late, both can be potentially beneficial.
If you're early for your trip, you may be one of the first lucky passengers to get an upgraded seat. You can also get upgraded to business or first class if you're late or if the flight is overbooked.
But try to score a flight upgrade while at the gate and let the gate agents know you're interested in one. Once you're on board, there's not much flight attendants can do.
Gate agents usually have a list of frequent fliers eligible for flight upgrades. You can easily get bumped up to business or first class if you're on the list. It also helps to know the airline's membership upgrade policy before you make a request.
8. Consider Flight Upgrade Auctions
Technically, this option isn't free. Nevertheless, it increases your odds of getting a flight upgrade without spending a fortune. Major airlines like Etihad, Singapore Airlines, Virgin Australia, Qantas, and Cathay Pacific allow passengers to bid for premium-class seats. If you're the highest bidder, you'll get that business or first-class seat.
9. Check Emails from the Airline
We usually just ignore promotional emails as they just contain ads. But sometimes, airline companies send vouchers or loyalty point bonuses that entitle you to a flight upgrade. So if you have an upcoming flight, check your inbox regularly and read your emails carefully.
10. Sometimes Flight Delays are Good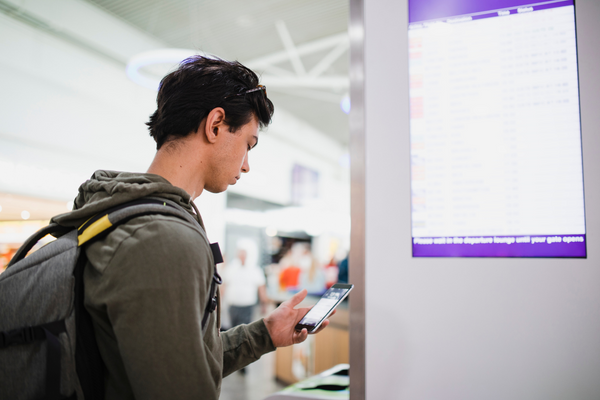 Everyone hates delayed flights. But sometimes, a delayed flight can be your ticket to a seat upgrade. If you keep your cool, you might get a special treat for your troubles and inconvenience.
According to flight attendants, passengers who are kind and always smiling are usually the first to be considered for any last-minute upgrades.
Related reading:
Final Thoughts
First-class seats are expensive because you're paying for the comfort. You enjoy more legroom, spacious seats, better meals, and superior service from the flight crew.
Plenty of people travel without ever experiencing flying first class because of the steep prices. So before you spend your hard-earned money on first-class tickets, find ways how to upgrade to first class without having to pay extra. Consider if a first-class flight is worth it, or if you're better off on an economy seat. This way, you can use the money to pay for other important purchases.

Sources: