Online shopping has redefined the second hand car purchase process. Gone are the days when shopping for used cars meant spending a whole day hopping from one dealership to another and haggling for a lower price. Nowadays, you can easily search where to buy second hand cars in the Philippines online.
Visit a buy-and-sell car website, type your desired make and model, and hit Enter. Within seconds, you'll get an extensive list of second hand cars for sale. All you have to do is find the best deal for you and contact the seller to set up or negotiate the purchase.
The best part of using buy-and-sell car websites? It doesn't cost anything. You don't even need to haggle—you can easily find cheap used car deals online. If you want to know where to buy second hand cars in the Philippines, check out the list below.
Where to Buy Second Hand Cars in the Philippines
1. Carmudi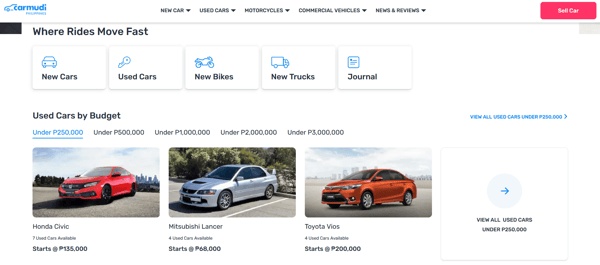 Carmudi[1] is one of the top places where you can buy second hand cars in the Philippines. The website provides a host of useful services to enhance the buying experience for those looking for used cars in the Philippines.
The most noteworthy is its multi-point inspection service that eliminates the uncertainty about a used car's real condition. Some of the used cars undergo full inspection—from the interior to under-chassis—before they're put up for sale online.
Buyers can download an in-depth vehicle inspection report for free, which shows the components that passed the quality and safety checks. The report also recommends parts for repair or replacement. This can help you decide whether a car you're considering to buy meets your needs and preferences.
Finding the exact car you want is easy, as the website allows filtering your search by location, price range, make and model, year, condition, mileage, transmission, and fuel type. You can also sort the listings by recent posts, nearby locations, cheapest car prices, and lowest mileage.
If you'll buy a second-hand car via an auto loan, you can view the interest rate, downpayment, and loan term, as well as compute the monthly payments.
Read more: Car Models with Low Downpayment in the Philippines
2. Tsikot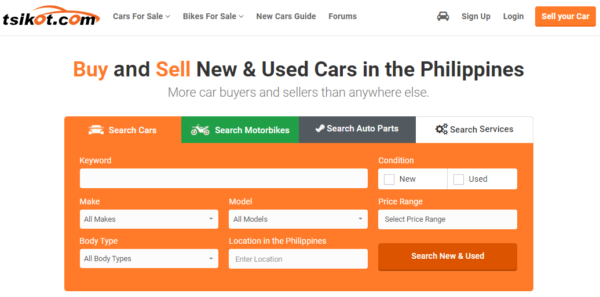 Where to buy second-hand cars online, you ask? Then you better try this car selling institution. Tsikot[2] is one of the popular names in the used car market in the Philippines, having been around since the early 2000s. It has comprehensive listings not just of new and used cars for sale but also motorcycles, car parts, and services (car wash, car rentals, repair, window tinting, accessories, etc.).
This innovative buy-and-sell car website sports a user-friendly interface with simple and organized listings. Finding second hand cars is made easy with filtering search results by keyword, make, model, body type, condition, price range, and location in the Philippines. Used car listings can also be sorted by lowest to highest prices, lowest to highest mileage, vehicle year, newest posts, or most popular posts.
The site has a useful tool for comparing up to five vehicles at a time. It comes up with a very detailed side-by-side comparison of the cars' exterior and interior parts, and other critical components.
Tsikot also houses one of the biggest and most active local car forums where Pinoy car enthusiasts discuss anything automotive, like car events, brand-specific topics, car advice, and more.
Read more: 12 Best Sedans in the Philippines for 2021

3. AutoDeal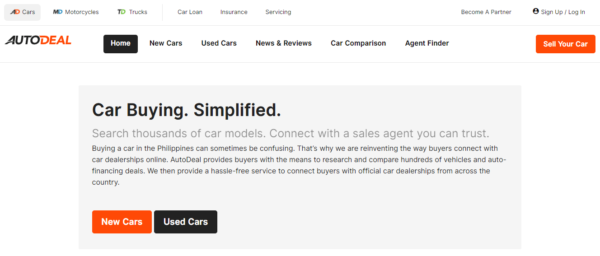 AutoDeal[3] features brand new and second hand car listings from certified dealers and private sellers in the Philippines. It allows thorough search filtering from the make and model, location, and price range down to the engine size, fuel type, and the number of seats. Aside from used cars in the Philippines, you can also search for repossessed and certified pre-owned cars.
To help you make the right decision, AutoDeal has a nifty tool for comparing three second hand cars at a time. The online tool compares prices, monthly payments, mileage, vehicle specs and features, and safety features. It also highlights used cars with the lowest price, lowest mileage, and biggest engine.
Once you've decided on a used car to purchase, you can request quotes from second hand car dealers through the site. If you don't get a response from a dealer, AutoDeal's customer support team can help you get the dealer to reply within 48 hours. AutoDeal also has a section for car news and reviews.
Read more:
4. Philkotse

Philkotse[4] has a comprehensive collection of vehicles for sale, with around a thousand new listings posted daily. Each used car listing includes a detailed description of the car, its current condition, and history. It also shows information on payments (whether cash or bank financing), down payment, and monthly installments.
At the bottom of each used car listing's page, you can view listings of cars with same models and price range. These provide more options if you aren't satisfied with the current listing.
Philkotse also has a car comparison feature that allows checking up to three vehicles according to price, monthly payments, condition, mileage, and specs. If you're still wondering where to buy second hand cars, add Philkotse to your list of car websites.
Read more: [Battle of the Brands] Suzuki S-Presso vs Toyota Wigo: Choosing the Mini Hatchback That Suits You
5. PhilMotors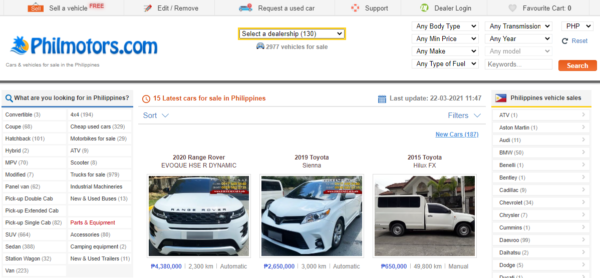 If you want a more no-nonsense approach to find where to buy second hand cars, then visit the PhilMotors[5] website right now. Used cars for sale are listed according to city or town, so you can easily find a car near you.
You can also refine your search by price, make, year, model, and type of fuel. PhilMotors also organizes its listings according to car brand and specific category, like convertible, hybrid, 4x4, and even damaged cars.
It lacks the bells and whistles other websites have, but it's a lot more straightforward and convenient for those looking for more car variety. If you're looking to find the best used car website in the Philippines then PhilMotors is a safe bet.
Read more: Top 15 Fuel Efficient Cars in the Philippines
6. Zigwheels Philippines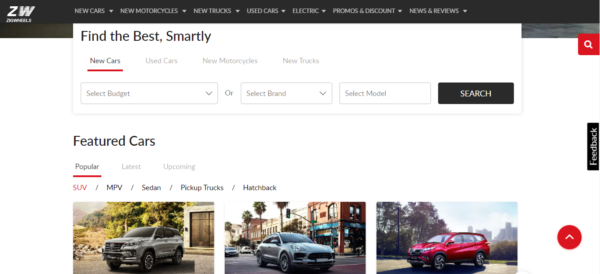 One of the newcomers in the online car selling business, Zigwheels Philippines[6] stands out for adding value to its car selling platform. Aside from second hand cars, it also lists used trucks and motorcycles and features related content to further educate car buyers.
But in terms of buying experience, Zigwheels isn't a slouch. When you visit its website, you can easily sort your search by price range, make, year, model, and vehicle type. You can also sort second hand cars for sale through popular cities and towns in the Philippines and read user reviews for popular car models.
Zigwheels Philippines is certainly a good addition to your list of where to buy second hand cars in the Philippines. You can also join the Zigwheels Community to interact with fellow car enthusiasts.
Read more: Brand New or Second Hand Car: Which is the Right Option for Me?
7. Automobilico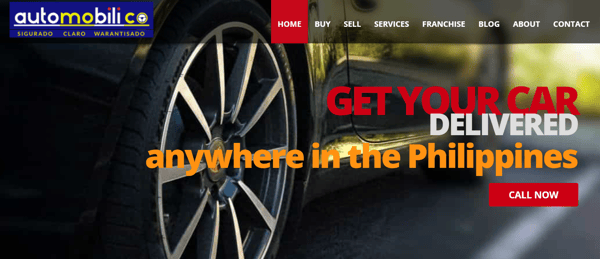 From a small used car dealership with a capital of less than PHP 30,000 to one of the biggest pre-owned car buyers and sellers in the country today, Automobilico[7] certainly has a lot to be proud of. Hailed as the first CASA for used vehicles in the Philippines, Automobilico now has around 300 vehicles in its showrooms, the biggest of which is in SM Bicutan.
To find second hand cars on its site, just click on the Buy tab and type car you want. You can also select from the drop down menu for cars, commercial vehicles, and motorcycles.
If you find a second hand car that you like, click on the its photo and you'll also see the computation based on the down payment amount (10% to 40%) and the monthly amortization (for 12 to 48 months).
At Automobilico, you can also sell your cars, trucks, and motorcycles. It also accepts trade-ins, with most of the big name car brands in the Philippines as its trade-in partners.
8. Carmax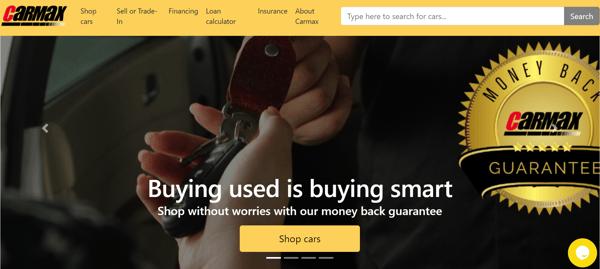 For Carmax, the promise to sell pre-owned cars that look and feel brand new without the hefty new car price is its top priority. In fact, it even offers a 7-day money back guarantee, a proof of its confidence in the excellent quality and topnotch maintenance service it provides to its vehicles.
If you're interested in buying a car, you can book an appointment for a test drive and vehicle inspection at its Carmona or Cainta showroom. But if you prefer to just purchase a car, you can do so online as well. Carmax will even arrange the car to be delivered to your location. When there are special promotions on select cars, you can also enjoy up to three months warranty.
To shop for second hand cars on the site, just click Shop Cars and specify the make and model, as well as the body style, price, mileage, transmission, and fuel type. You can also tick the box under Deals if you want cars that are on special sale or are Carmax Choices. These will filter your second hand car options so you can find exactly what you're looking for.
From there, you can find the price of the car and the estimated loan details. Click on the button to get pre-qualified, to try the loan calculator, or to book a virtual demo or test drive.
Final Thoughts
These best car selling websites in the Philippines are a cut above the rest in terms of ease of use, helpful features, and security. Remember that they act only as agents between used car buyers and sellers. So when using them, you're still responsible for verifying the accuracy and legitimacy of the listings. Now that you know where to buy second hand cars in the Philippines, shop wisely!
Get a Free Car Insurance Quote from Moneymax
Protect your investment with the right car insurance coverage online. Find the best car insurance deal for your car at Moneymax!
Car Insurance Company
Features
MAPFRE Insular



10 years of casa eligibility
366 accredited repair shops
PHP 5,000,000 maximum total sum insured
Overnight accommodation - Yes, up to PHP 3,000
Towing - Yes, up to PHP 5,000
Vehicle removal crane services - Yes, up to PHP 10,000

Malayan Insurance



3 years of casa eligibility
58 casa repair shops
PHP 7,500,000 maximum total sum insured
Overnight accommodation - Yes, up to PHP 1,000
Towing - Yes, up to PHP 4,000
Vehicle removal crane services - Yes, up to PHP 8,000

Prudential Guarantee



10 years of casa eligibility
PHP 3,000,000 maximum total sum insured
Overnight accommodation - Yes, up to PHP 2,000
Towing - Yes, up to PHP 5,500
Vehicle removal crane services - Yes, up to PHP 15,000

SGI Philippines



5 years of casa eligibility
36 accredited repair shops
PHP 5,000,000 maximum total sum insured
Overnight accommodation - Yes, up to PHP 2,000
Towing amount - Yes, up to PHP 5,000
Vehicle removal crane services - PHP 10,000

Stronghold Insurance



10 years of casa eligibility
167 accredited repair shops
PHP 3,000,000 maximum total sum insured

The Mercantile Insurance Corporation



10 years of casa eligibility
77 accredited repair shops
PHP 5,000,000 maximum total sum insured
Overnight accommodation - Yes, up to PHP 2,000
Towing - Yes, up to PHP 5,000
Vehicle removal crane services - Yes, up to PHP 10,000
Sources: