For many, getting a second-hand car is more practical than buying a new one. Depending on the model you're purchasing, you can enjoy significant savings. On top of that, pre-owned units are cheaper to insure.
Wondering where to buy cheap 2nd hand cars in the Philippines? If you prefer a convenient route, there are many online platforms that facilitate transactions between buyers and sellers. But if you want a face-to-face approach, you'll likely find a second-hand car dealer in your town or city.
Don't know where to start? Let this article be your guide on where to buy second-hand cars in the Philippines.
Where to Buy Second-Hand Cars in the Philippines
From online platforms to banks, here are some of the places where you can score great deals on second-hand cars.
🚗 Carmudi
Website: www.carmudi.com.ph
Carmudi is one of the top places where you can buy second-hand cars in the Philippines. The website provides a host of useful services to enhance the buying experience for those looking for used cars in the Philippines.
Finding the exact car you want is easy, as the website allows filtering your search by location, price range, make and model, year, condition, mileage, transmission, and fuel type. You can also sort the listings by recent posts, nearby locations, cheapest car prices, and lowest mileage.
If you're planning to buy a second-hand car via an auto loan, you can view the interest rate, downpayment, and loan term, as well as compute the monthly payments.
🚗 Tsikot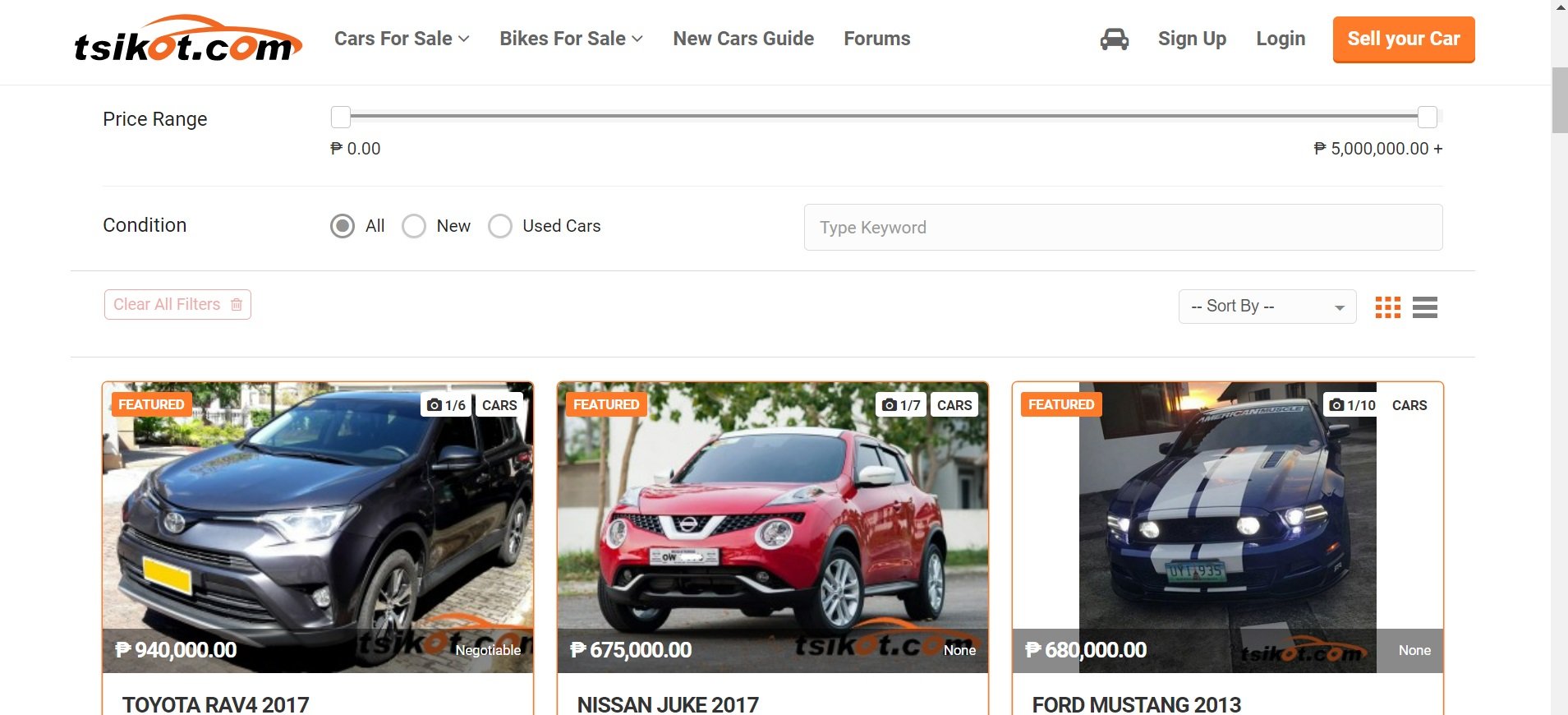 Website: www.tsikot.com
Where to buy second-hand cars online, you ask? Try this car-selling institution. Tsikot is one of the popular names in the used car market in the Philippines, having been around since the early 2000s. It has comprehensive listings not just of new and used cars for sale but also motorcycles, car parts, and services (car wash, car rentals, repair, window tinting, accessories, etc.).
This innovative buy-and-sell car website in the Philippines sports a user-friendly interface with simple and organized listings. Finding second-hand cars is made easy with filters by keyword, make, model, body type, condition, price range, and location. Tsikot's car finder in the Philippines can also be sorted by lowest to highest prices, lowest to highest mileage, vehicle year, newest posts, or most popular posts.
Tsikot also houses one of the biggest and most active local car forums[1] where Pinoy car enthusiasts discuss anything automotive, like car events, brand-specific topics, car advice, and more.
🚗 AutoDeal
Website: www.autodeal.com.ph
AutoDeal features brand-new and second-hand car listings from certified dealers and private sellers in the Philippines. It allows thorough search filtering from the make and model, location, and price range down to the engine size, fuel type, and the number of seats. Aside from used cars in the Philippines, you can also search for repossessed and certified pre-owned cars.
To help you make the right decision, AutoDeal has a nifty tool for comparing three second-hand cars at a time. The online tool compares prices, monthly payments, mileage, vehicle specs and features, and safety features. It also highlights the best second-hand cars to buy in the Philippines, with the lowest price, lowest mileage, and biggest engine.
Read more: Cars for Sale in the Philippines: Top Places to Score New Wheels
🚗 Philkotse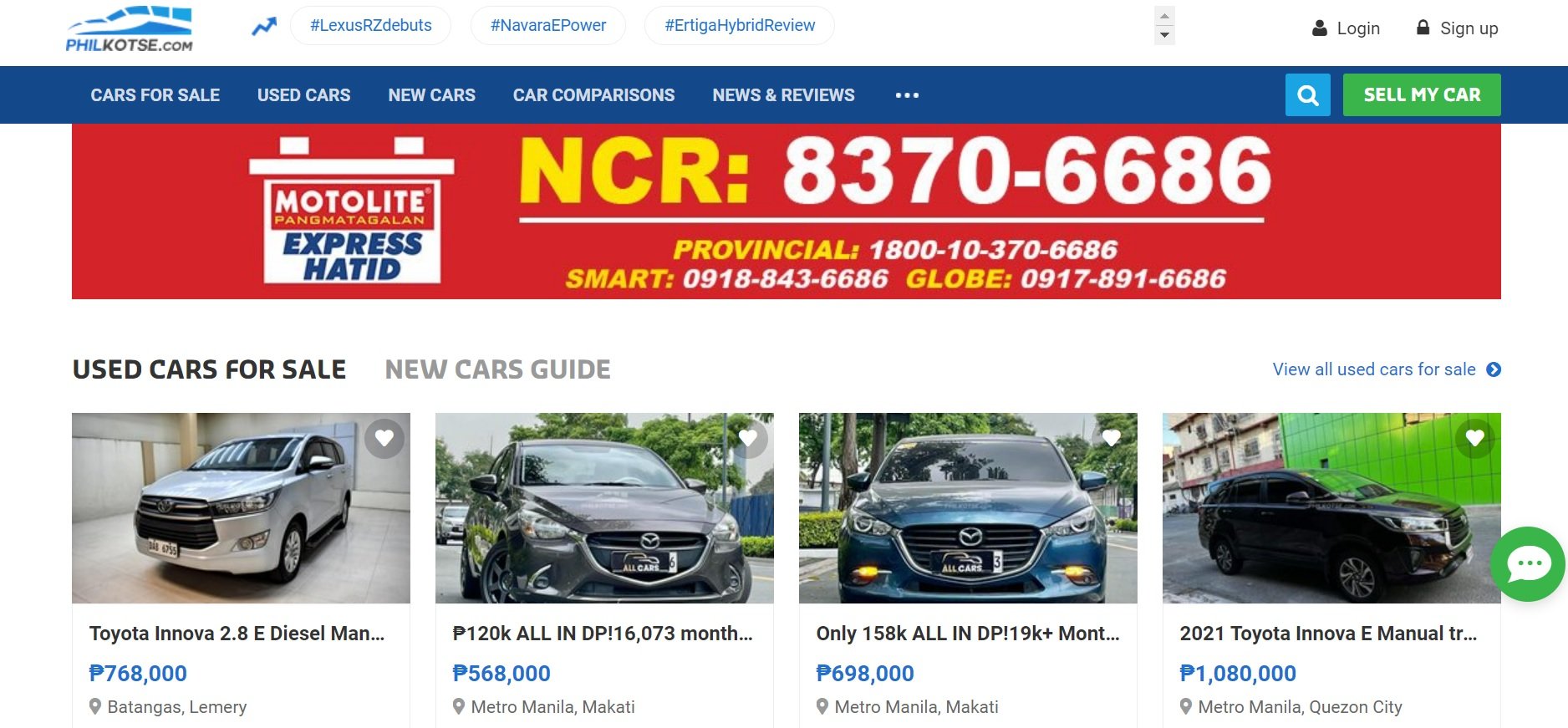 Website: www.philkotse.com
Philkotse has a comprehensive collection of vehicles for sale, with around a thousand new listings posted daily. Each used car listing includes a detailed description of the car, its current condition, and its history. It also shows information on payments (whether cash or bank financing), down payments, and monthly installments.
At the bottom of each used car listing page, you can view listings of cars with the same models and price range. These provide more options if you aren't satisfied with the current listing.
Philkotse also has a car comparison feature that allows you to check up to three vehicles according to price, monthly payments, condition, mileage, and specs. If you're still wondering where to buy second-hand cars, add Philkotse to your list of car websites.
🚗 PhilMotors
Website: www.philmotors.com
If you want a more no-nonsense approach to finding where to buy second-hand cars, then visit the PhilMotors website right now. Used cars for sale are listed according to city or town, so you can easily find a car near you.
You can refine your search by price, make, year, model, and type of fuel. PhilMotors also organizes its listings according to car brands and specific categories, like convertible, hybrid, 4x4, and even damaged cars.
It lacks the bells and whistles other websites have, but it's a lot more straightforward and convenient for those looking for more car variety. If you're looking to find the best used car website in the Philippines then PhilMotors is a safe bet.
🚗 Zigwheels Philippines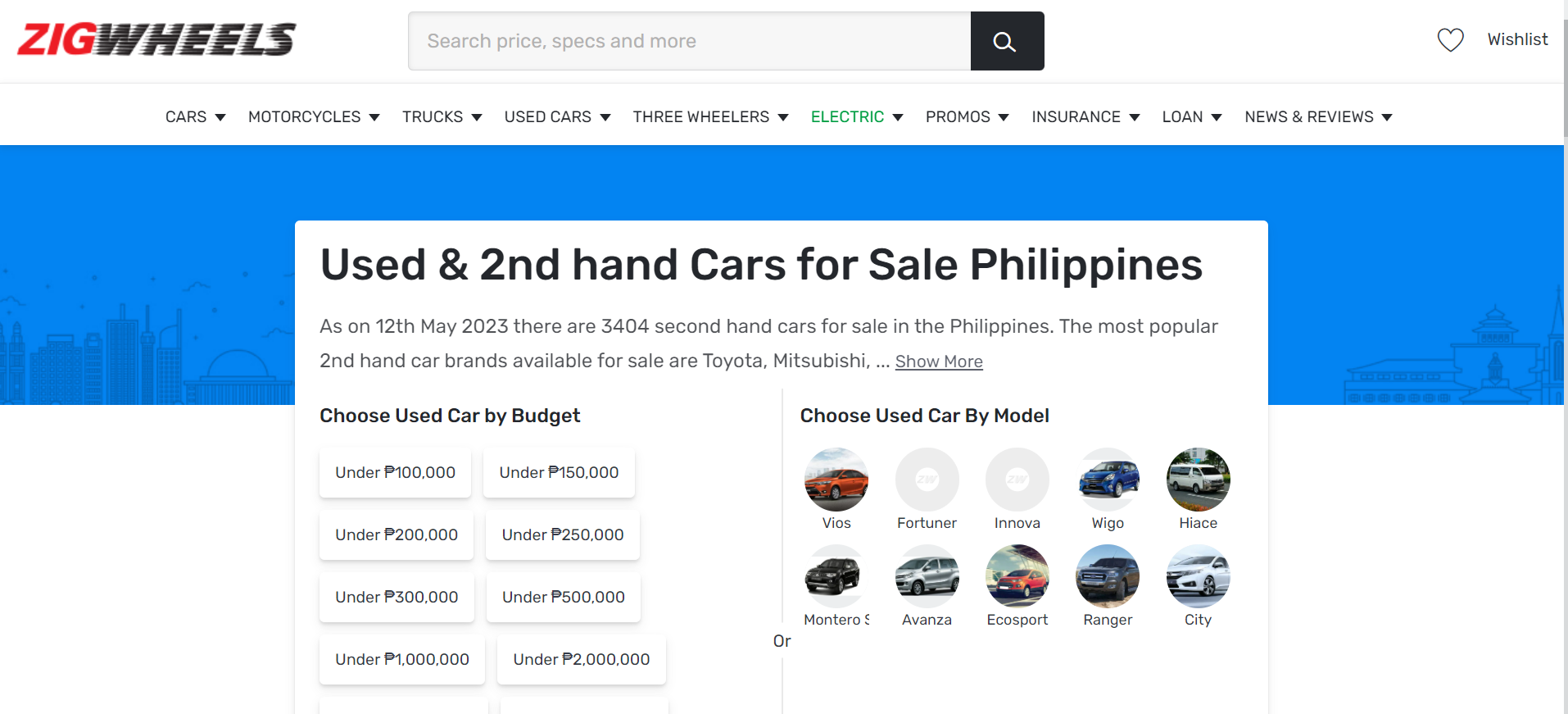 Website: www.zigwheels.ph
One of the newcomers in the online car-selling business, Zigwheels Philippines stands out for adding value to its car-selling platform. Aside from second-hand cars, it also lists used trucks and motorcycles and features related content to further educate car buyers.
But in terms of buying experience, Zigwheels isn't a slouch. When you visit its website, you can easily sort your search by price range, make, year, model, and vehicle type. You can also sort second-hand cars for sale through popular cities and towns in the Philippines and read user reviews for popular car models.
🚗 Automobilico
Website: www.automobilico.com
From a small used car dealership with a capital of less than ₱30,000 to one of the biggest pre-owned car buyers and sellers in the country today, Automobilico certainly has a lot to be proud of. Hailed as the first CASA for used vehicles in the Philippines, Automobilico now has around 300 vehicles in its showrooms, the biggest of which is in SM Bicutan.
To find second-hand cars on its site, just click on the Buy tab and type in the car you want. You can also select from the drop-down menu for cars, commercial vehicles, and motorcycles.
If you find a second-hand car that you like, click on its photo and you'll also see the computation based on the down payment amount (10% to 40%) and the monthly amortization (for 12 to 48 months).
At Automobilico, you can also sell your cars, trucks, and motorcycles. It accepts trade-ins, with most of the big-name car brands in the Philippines as its trade-in partners.
Read more: Is It Better To Buy Car Parts Online?
🚗 Carmax
Website: www.carmax.com.ph
For Carmax, the promise to sell pre-owned cars that look and feel brand-new without the hefty new car price is its top priority. In fact, it even offers a seven-day money-back guarantee, proof of its confidence in the excellent quality and top-notch maintenance service it provides to its vehicles.
If you're interested in buying a car, you can book an appointment for a test drive and vehicle inspection at its Carmona showroom. But if you prefer to just purchase a car, you can do so online as well.
To shop for second-hand cars on the site, just click Shop Cars and specify the make and model, as well as the body style, price, mileage, transmission, and fuel type. The listing includes an inspection report that details any issue on the interior, exterior, and other parts of the car. It also indicates if the unit has passed Carmax's inspection.
From there, you can find the price of second-hand cars in the Philippines and the estimated loan details. Click on the button to get pre-qualified. On the same listing, you have the option to make an offer or book a visit.
🚗 Carsome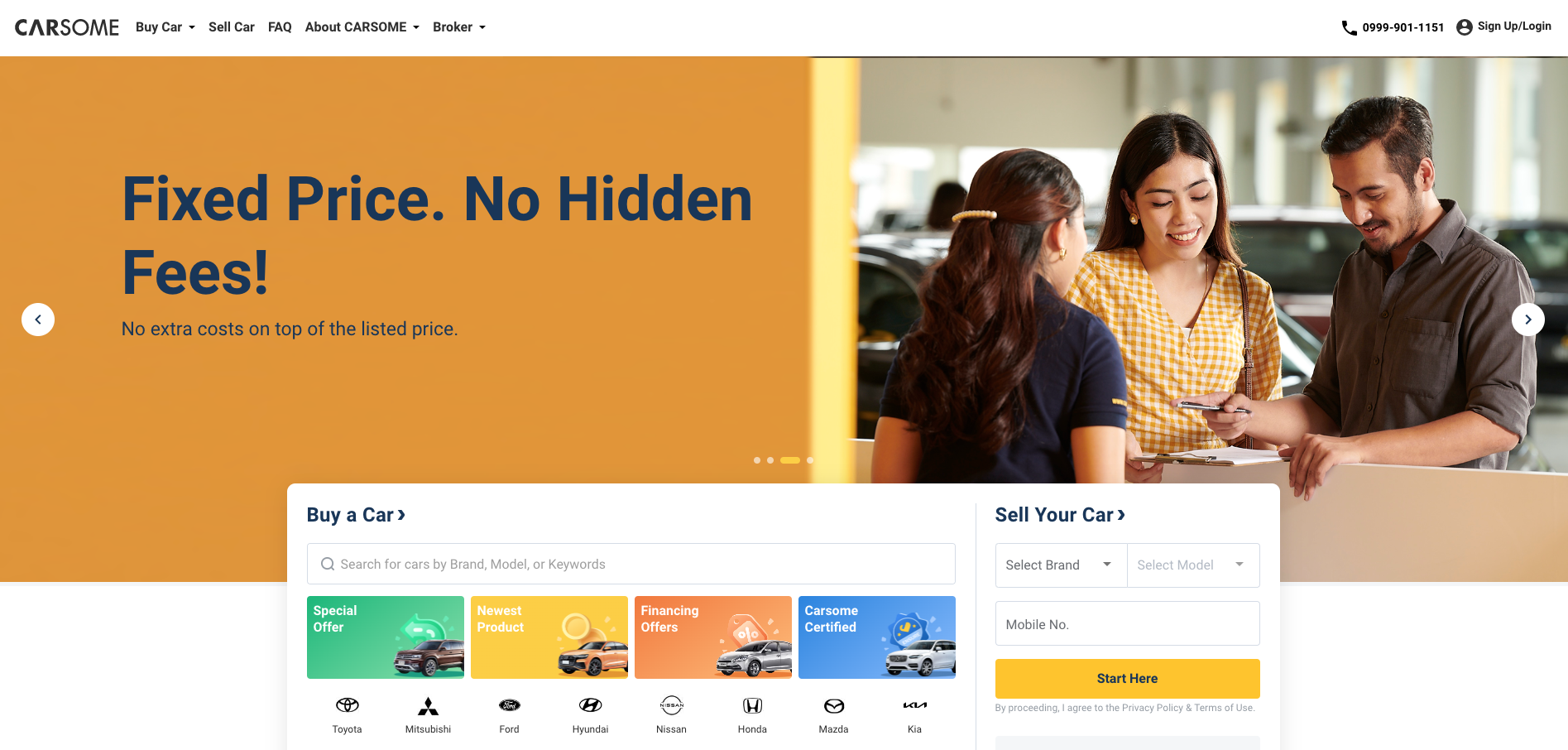 Website: www.carsome.ph
Carsome takes pride in being Southeast Asia's largest integrated car e-commerce platform. It operates not only in the Philippines but also in Malaysia, Thailand, Singapore, and Indonesia. With such a credential, one may consider Carsome to be one of the most reliable second-hand car dealers out there.
Carsome provides end-to-end solutions for both used car dealers and buyers. To ensure that only quality used cars are included in its roster, it employs an extensive 175-point inspection.
Checking cars on Carsome's website is easy. Each listing includes all the important details of the car, from fuel type and current mileage to registration type and registration date. There's also a loan calculator that will help you estimate your car mortgage.
Once a buyer decides to buy a used car and the sale is confirmed, Carsome will handle all the paperwork.
Truly one of the best second-hand car dealers in the Philippines, all Carsome-certified cars come with a one-year warranty and benefits from the company's insurance and financing partners.
🚗 Automart.ph
Website: www.automart.ph
Automart.ph is another trusted platform that sells high-quality used cars. Shopping on this website comes with a few outstanding benefits. For instance, ownership is easy, as the 30% down payment is payable for up to four years. You also receive assistance for paper transfer and plate number-related concerns.
Automart-certified vehicles undergo extensive inspection and repairs. They also come with a five-day/100-km Love It or Return It Policy, which gives you enough time to see if the car really suits your lifestyle. Gold Certified cars, on the other hand, have a one-year/10,000 km warranty.
Want to test-drive a car? All you need to do is give Automart your preferred address, date, and time, and they will bring the car to you.
🚗 Security Bank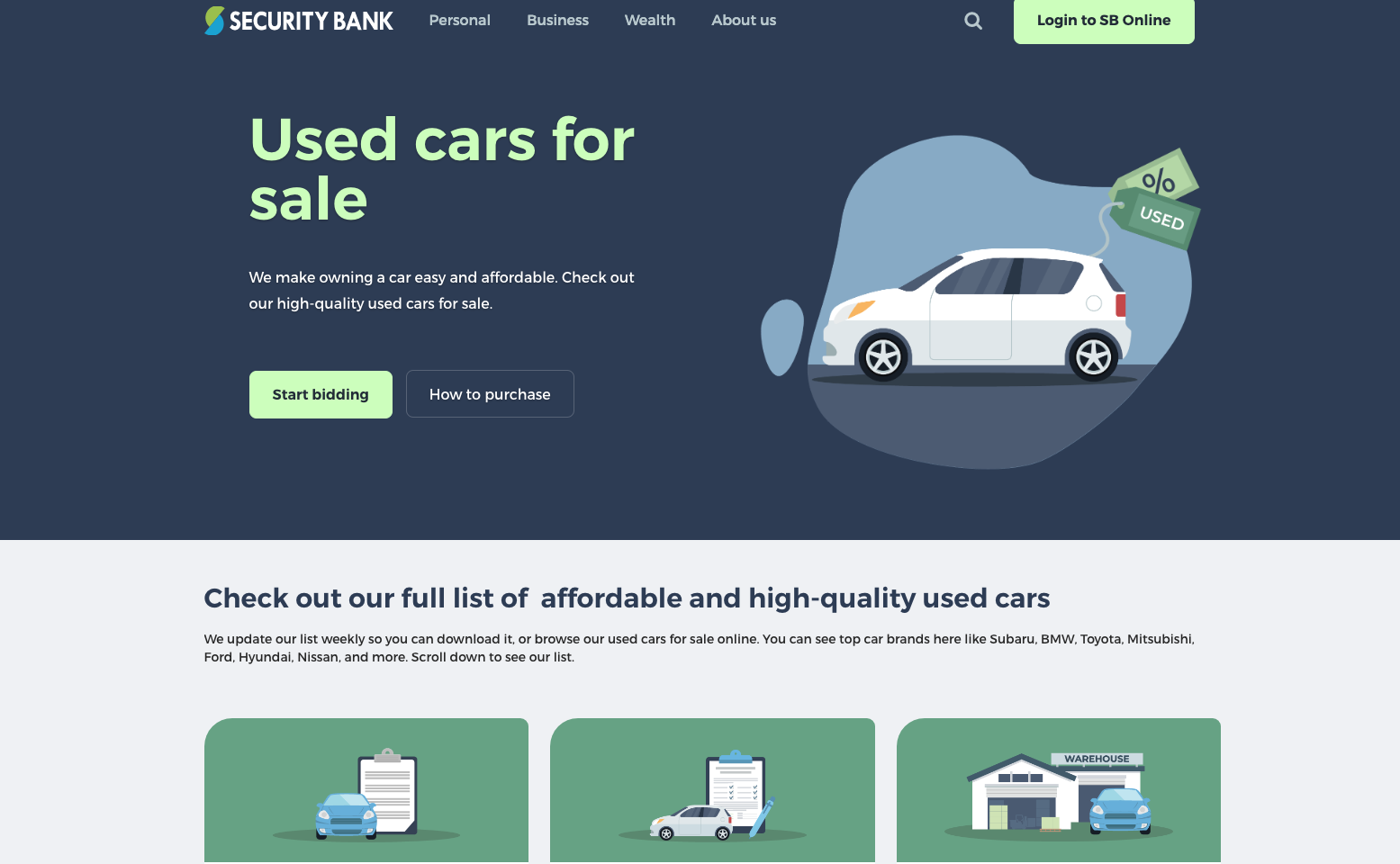 Website: www.securitybank.com
Where to buy used cars in the Philippines by placing a bid? Try banks.
Financial institutions like Security Bank are one of the best places to buy used cars. They have repossessed and used cars in their warehouses that need to be offloaded. After all, storing cars can be costly.
Security Bank houses top car brands, such as Ford, Hyundai, Nissan, BMW, Subaru, Mitsubishi, and more. If you want to purchase a second-hand unit from the said bank, here's what you need to do:
Browse Security Bank's list of used cars on their website. You may also visit one of their showrooms.
On the bank's website,[2] make an offer on the car that you want.
Wait for the result of the bid. Depending on the type of your offer, you may receive feedback within one to three banking days.
If you win the bidding, settle the payment.
🚗 RCBC
Website: www.rcbc.com
RCBC offers a wide array of second-hand cars, a lot of which are deemed affordable. To determine the next owners of these units, the bank employs sealed bidding.
Through sealed bidding, you'll be required to accomplish a bid form, seal it in a letter envelope, and submit it to the bank before the deadline. If you win the bidding, RCBC shall notify you via SMS, call, or email.
Interested in joining the bid? Here are some reminders to take note of:
RCBC sells the cars on an as-is-where-is basis.
Prior to the submission of your sealed bid, you'll need to inspect the car listed with RCBC and verify its condition with the Land Transportation Office (LTO). You have the option to go straight to RCBC's designated warehouses.
RCBC reserves the right to pull out any vehicle from the list when deemed necessary.
Inadvertent misprints shall neither modify the car's factual condition nor be considered a misrepresentation of the unit.
🚗 Carousell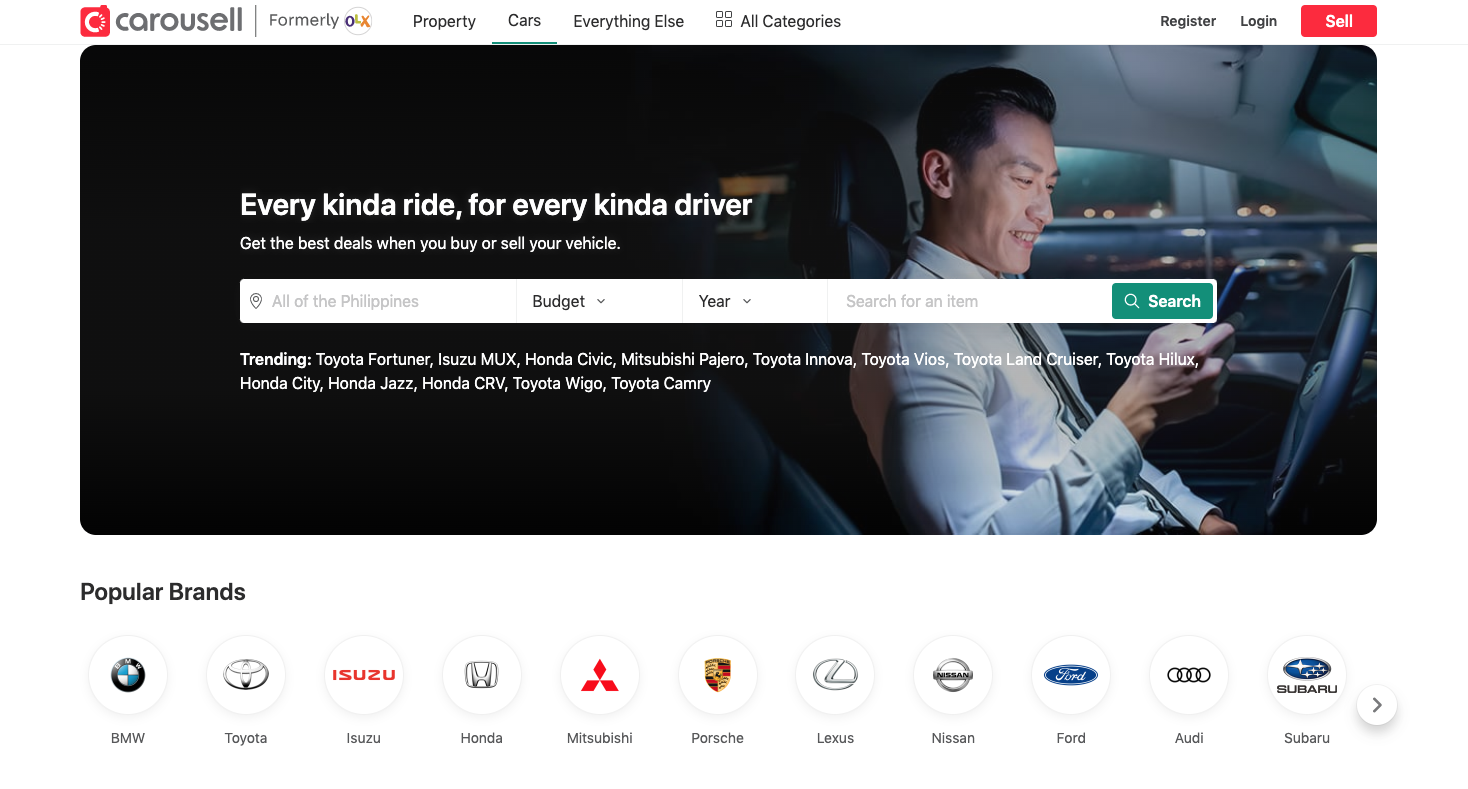 Website: www.carousell.ph
Carousell isn't only a popular platform for enterprising online sellers. It doubles as one of the top online used car dealers in the country.
Finding a car on Carousell is easy, with a search engine that has the following filters: location, budget, and year. The used car homepage is also already front-loaded with trending vehicles.
Among the mainstream brands that you can find on Carousell are Toyota, Honda, Hyundai, Mitsubishi, Suzuki, Kia, and Ford. High-end names, such as BMW, Mercedes Benz, Porsche, and Subaru, are also listed here.
🚗 Facebook Marketplace
Website: www.facebook.com
If you're wondering where to buy used cars in the Philippines with the closest dealers, Facebook Marketplace is worth exploring. It's a unique trading destination since it's sustained by Facebook users, some of whom may be living within your vicinity.
Narrow down your search by adjusting the location, price, and condition filters. Depending on the seller, the listing is written in less complicated language, making it easy for you to understand what you're getting into.
Got questions for the seller? You can message them quickly via the Messenger feature that is integrated into the listing.
Read more: Buying and Selling a Car in the Philippines: Tips to Remember for a Worry-Free Transaction
🚗 Toyota T-Sure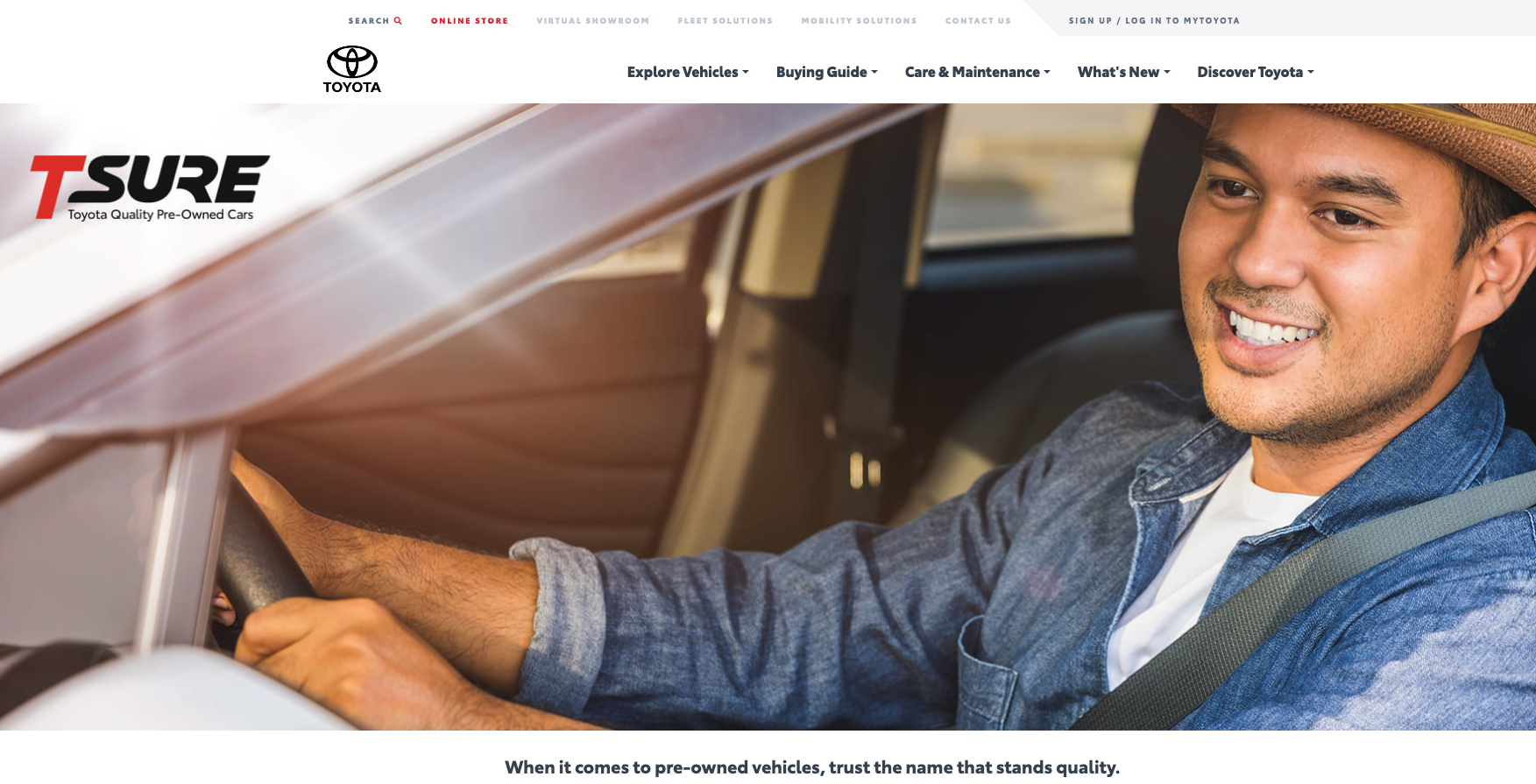 Website: www.toyota.com.ph/t-sure
Dealers: Toyota Alabang, Toyota Balintawak, Toyota Bicutan, Toyota Global City, Toyota Taytay, Toyota Bacoor, Toyota Santa Rosa, Toyota Cebu, Toyota Iloilo, Toyota Cagayan de Oro, etc.
Sometimes, the best place to buy used cars is from the carmaker itself. If you're a Toyota fan, you can always check second-hand cars on T-Sure.[3]
T-Sure is Toyota's official arm that handles the sale of pre-owned Toyota cars. You have the assurance that what you'll get is of top quality since each unit has undergone a 211-point inspection. The procedure operates transparently, with evaluators fully explaining the results of the inspection to the buyer.
T-Sure makes ownership easy and worry-free. It handles everything, from ownership transfer to LTO registration.
Final Thoughts
The platforms and shops are only some of the best used car dealers in the Philippines. They're cut above the rest in terms of accessibility and car range.
Remember that they act only as agents between used car buyers and sellers. You're still responsible for verifying the accuracy and legitimacy of the listings.
Now that you know where to buy second-hand cars in the Philippines, shop wisely! Looking for loan options so you can finally make that purchase? Check out personal loan options and apply via Moneymax:
Personal Loan Provider

Minimum Loan Amount

Maximum Loan Amount

Minimum Annual Income

Approval Time

Metrobank

₱20,000

₱1 million

₱350,000

7 days

BPI



₱

20,000

₱2 million

₱

300,000

5 to 7 banking days

EasyRFC

₱

10,000

₱150,000

₱

120,000

As fast as 24 hours

Maybank



₱

50,000

₱1 million

₱

300,000

Apply online in just a few clicks

RCBC



₱

50,000

₱1 million

₱

360,000

5 to 7 banking days

SB Finance




₱30,000

₱2 million

₱180,000

5 banking days

CIMB



₱

30,000

₱1 million

₱

180,000

24 hours

HSBC



₱

30,000

₱500,000 or 3x gross monthly salary, whichever is lower

₱

168,000

5 to 7 banking days

CTBC



₱2

0,000

₱1 million

₱

180,000

3 to 5 banking days
Sources: