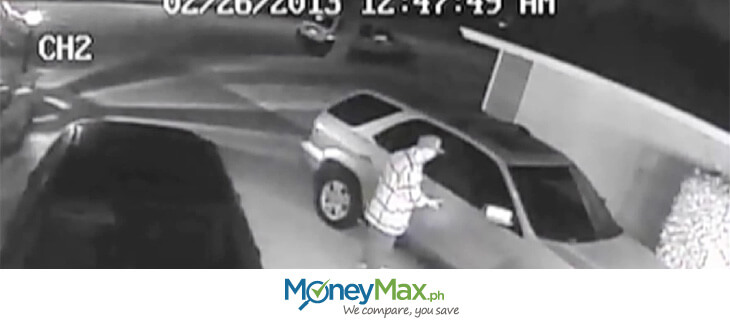 If you or someone you know owns a car, you've probably had the discussion of what you'd do if your car is stolen. You imagine how you'd feel: the crushing hopelessness, how surreal it all is, trying to scour the lot for clues, maybe even trying to check for surveillance feeds.
Lawmakers are seeking higher penalties for carnapping offenders, mostly owing to the fact 2014 saw a rise of 68.5% in cases.
In most cases, car owners will take extra precautions in order to ensure that their car is secured from the possibility of it being taken. That's anything from insurance to tracking software in their car. But do you know what to do if your car is stolen?
Make sure that it is gone
When you encounter busy days, details might slip your mind. You may have parked on a different level, or in a different section of the area. You can't immediately panic and assume that it's been stolen.
Think about where you parked as well: was it a proper parking zone? Could you have parked illegally? In most cases, people nearby may be able to tell you whether or not it was towed, or actually stolen. In the case of your vehicle being towed, you will want to ask for the number of a local towing or traffic management office.
If your car was towed and not stolen, here's what you should do. But if that's not what happened, move on to the next step.
Contact the authorities
When you've confirmed that your vehicle has been stolen, the first thing that you need to do is call the police. Giving them as much information as you can could help in its possible retrieval. You can be as detailed as possible, but the most important pieces of information you should give to the authorities are:
License plate number
Make and model of the car
Distinguishing features
Vehicle Identification Number (VIN)
The Highway Patrol Group estimates that 4-6 vehicles are stolen on a daily basis. As such, their response times are often determined by how quickly and accurately the information on a stolen vehicle reaches them.
Read more: Top 5 Metro Manila Cities with the Most Car Thefts
Let your insurance company know
Your motor vehicle insurance provider should be your next call after the authorities. If you've got a cover that protects against theft, you're covered for the car's fair market value plus a deductible.
You'll need to give the following information to your provider:
A copy of the police report or a notarized affidavit of the incident.
Copies of your Official Receipt, and Certificate of Registration
The sooner you let your provider know what has transpired, the sooner you can get your claim processed. Telling them that you have contacted the authorities and have officially reported the incident will speed up the process as it may take some time before your car is replaced.
Some insurance companies also provide glass etching, which places your plate number on top of your window. This makes it easier for police to find cars that have been stolen.
"Lots of providers ask for detailed information to avoid fraudulent activities. Ensure that your requests and documentation are as clear as possible and support the incident directly," according to MoneyMax.ph insurance specialist Rahul Maira. "Take photos where necessary and time stamp them for future reference. You can also look out for CCTV footage if any."
Track and disable
If your car came with a Global Positioning System unit, or if you had one installed, you can use it to figure out where your car is. If you happen to be with the authorities at the time, it will help you increase the odds that your car is retrieved sooner.
There are apps that also allow you to track your vehicle via mobile phone, and now's the time to use technology to your advantage. There are plenty of products that you can place in your cars electronics that can allow you to disable it.
Final Thoughts
Logic dictates that if you're threatened with violence, just give up the car. Your safety is always paramount. A car may be expensive, but can be replaced. You can never really say where it's safe these days, so a combination of vigilance and security for your car helps keep you and your property safe.
While most drivers rarely go beyond the CTPL, covers that protect against Own Damage and Theft allow you to ensure that you can recover your investment in a vehicle in the event that it's stolen.
These days, newer cars come with extensive anti-theft features, but even thieves learn to get with the times. When selecting a car, you'll want to pick one that gives you the most value for your money – and a set of security features that are definitely worth the price.