Has your car ever been towed? If you've never experienced it, consider yourself lucky. Getting your car towed could be very stressful and nerve-wracking, more so if your rights as a motorist are violated.
Illegal towing isn't uncommon in Metro Manila roads. Several times every day, the Metropolitan Manila Development Authority (MMDA) receives complaints about illegal towing activities, ranging from tow units with no license plates and rude behaviors of towing personnel to extortion and charging of high fees.
Protect yourself and your vehicle against unscrupulous tow truck companies by knowing the towing rules and regulations in the Philippines.
Towing Rules and Regulations in the Philippines
To prevent your car from getting hauled, you must avoid these three situations: illegal parking, vehicle breakdown, and road accident. MMDA or any of its accredited companies can tow your car under one of these circumstances.
Towing Due to Illegal Parking
Of the three reasons for car towing, illegal parking is the one you have the most control over. Even if it's difficult to find a parking spot, never park your car on the street, especially one with a "No Parking" sign. A mistake as simple as parking one's car in the wrong place can lead to a traumatic (and expensive!) experience.
According to MMDA, all national roads and the following areas in primary and secondary roads in Metro Manila are off-limits to anyone who wishes to park their vehicle:
Within 6 meters of any intersection or curved lane
Within 4 meters of driveways or entrances to any fire station, hospital, clinic, and other similar establishments
On the roadside of any legally parked vehicle
Within 4 meters of fire hydrants
On pedestrian lanes
In front of any authorized driveway
On the sidewalks, paths, and alleys not intended for parking
At the footbridges or near bridges
Any place tagged as No Parking Zone such as the Mabuhay Lanes[1]
Other No Parking Zones provided by law or ordinances
Towing Due to Vehicle Stalling or Accident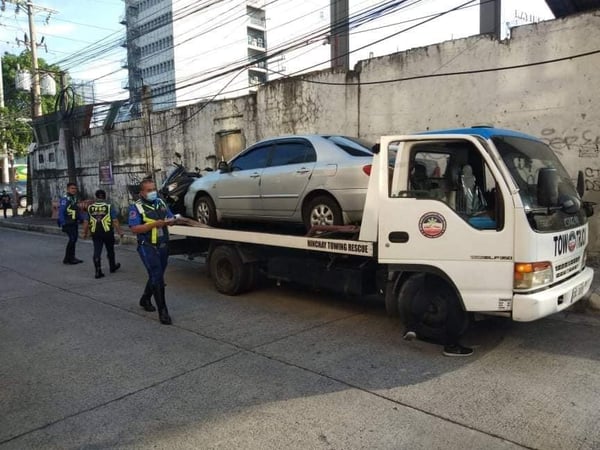 Engine overheating, flat tire, empty fuel tank, and other things that cause a car to stall out can lead to a traffic jam. So do vehicle collisions. To prevent the already bad traffic from getting worse, the MMDA has to tow stalled or crashed vehicles. Keep this situation from happening to you by checking your car before you hit the road.
Read more: 6 Traffic Laws to Remember When Driving in the Philippines
Who Can Tow Cars?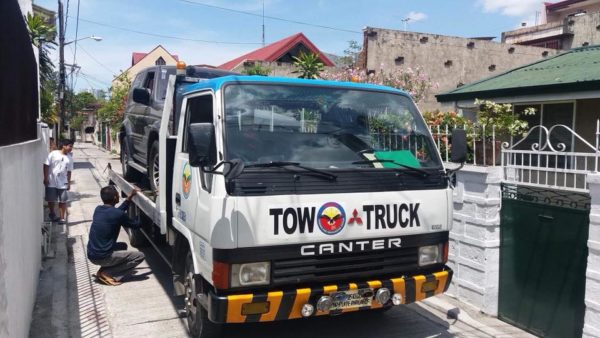 Only two kinds of trucks can tow vehicles. The MMDA Road Emergency Group tows cars that are stalled or involved in accidents. MMDA also authorizes 148 tow trucks from 35 private companies[2] to tow illegally parked cars in Metro Manila.
If the truck that towed your car isn't authorized by the MMDA to operate, the towing activity is considered illegal, and the company will be sued for colorum operation.
What's the Proper Towing Process?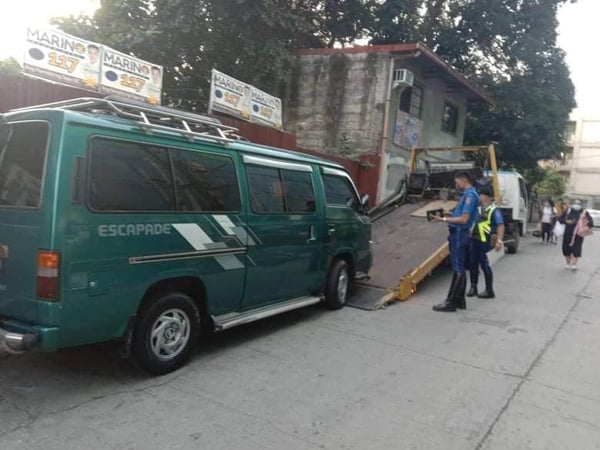 MMDA and its accredited towing services follow a strict procedure for towing illegally parked vehicles.
First of all, MMDA requires tow truck operators to alert the government agency's MetroBase if they will do a clamping or towing operation. They can't start towing cars until the MMDA gives them the go-signal.
The crew members must also wear the required uniforms and clearly display their IDs, aside from being courteous.
Not all cars parked illegally are automatically towed. In the MMDA's book, there are two types of illegally parked cars:
Attended: The driver is inside or near the car before the actual clamping of the vehicle to the tow truck. He or she is also willing and able to move the vehicle immediately.
Unattended: The driver isn't around when the towing takes place.
Before the car gets towed (if the owner is present), the tow truck personnel must issue a Technical Inspection Report that includes the following information about the car:
Owner's name
Plate number
Type and color
Accessories
Condition
No personnel is allowed to get in the car being towed when the driver is present. The erring driver will get a TVR at one of the MMDA's impounding areas in ULTRA along Julia Vargas Ave., Ortigas, Pasig City or in Tumana, Marikina City.
Towing Attended Illegally Parked Car
An attended illegally parked car won't be towed. An MMDA traffic enforcer will only issue a Traffic Violation Receipt (TVR) for illegal parking or obstruction.
Towing Unattended Illegally Parked Car
If the vehicle is unattended, it shouldn't be towed right away. The tow truck driver must first honk five times, and then another five times after one minute. This is to alert the owner and give them the chance to vacate the area. The vehicle will only be towed if the driver doesn't respond after 5 minutes.
Towing Stalled Vehicles
Stalled cars will be towed in the following situations:
Flat-tired car can't be moved to the emergency lane on its own (Changing flat tires on the road isn't allowed.)
Stalled car due to an empty fuel tank (towed to the nearest gas station) or due to an engine problem (can't be moved on its own or if the driver refuses to move it)
In all these cases, the MMDA issues a TVR to the driver.
Related reading: Huwag Kang Pasaway: 10 Driving Tips for Kamote Drivers
How Much are the Towing Fees?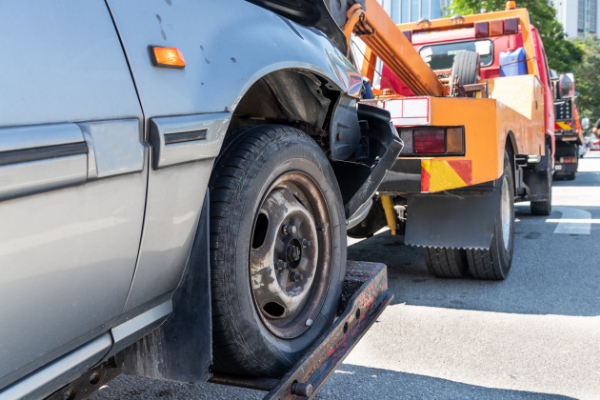 If the MMDA Road Emergency Group tows your car after a breakdown or accident, you don't need to pay for its services. The same goes for when your car insurance policy includes a free emergency towing service (subject to coverage limits) as a benefit.
The MMDA, however, imposes a fine of ₱1,000 to ₱2,000 for illegal parking plus storage fees. On top of the penalty, a standard towing fee[3] is charged.
Light vehicles (less than 4,500 kg.): ₱1,500
Medium vehicles (4,501 kg. to 7,500 kg.): ₱2,500
Heavy vehicles (more than 7,500 kg.): ₱4,500
Read more: MMDA Violation Code and Penalty Fee List for Motorists in Metro Manila
Who's Liable for Any Damage to the Towed Car?
Car insurance doesn't cover damage caused by towing due to illegal parking. Some insurance providers cover vehicles damaged by an accident, though. Any damage or missing parts incurred while towing the vehicle is the responsibility of the towing company, according to the MMDA.
Final Thoughts
Now that you're armed with knowledge about towing rules and regulations in the Philippines, assert your rights because you now know what to do when your car gets towed.
But as much as possible, try to keep a cool head and your emotions in check. Arguing with MMDA officers on-site won't help and will only hinder them from doing their job. If you feel your rights are violated, lodge a formal complaint with the MMDA via its hotline 136.

Sources: