Knowing that the public transport system in the Philippines is problematic is like knowing that the sun is hot—it's more than obvious. That's why a lot of us rely on transportation network vehicle service (TNVS) apps to get from point A to point B. It's also why a lot of commuters consider Grab their go-to app.
But it can be difficult to book a Grab car. This can be attributed to the increasing number of passengers now that more people are back in the office. Thus, the Land Transportation Franchising and Regulatory Board (LTFRB) released more TNVS slots early this year.[1]
While Grab may be the poster child of TNVS in the country, there are a few alternatives you may want to check out. Read on and you might just find your next favorite ride-hailing app in the Philippines.
Before You Book: Know the Standard Rates
Is your ride-hailing app in the Philippines charging fair rates? Arm yourself with knowledge and don't be a victim of overcharging. The Land Transportation and Franchising Regulatory Board (LTFRB) implements flag-down rates for transportation network companies (TNCs).
According to LTFRB's approved fare hike,[2] TNCs should charge only the following flag-down rates:
Hatchback -

₱35

Sedan -

₱45

AUV/SUV -

₱55
Alternatives to Grab: 6 Ride-Hailing Apps in the Philippines to Check Out
If you want to get from point A to point B quickly, it would be wise to install a secondary ride-hailing app in the Philippines. Some of these companies also offer other services, such as deliveries. These are your options:
👉 JoyRide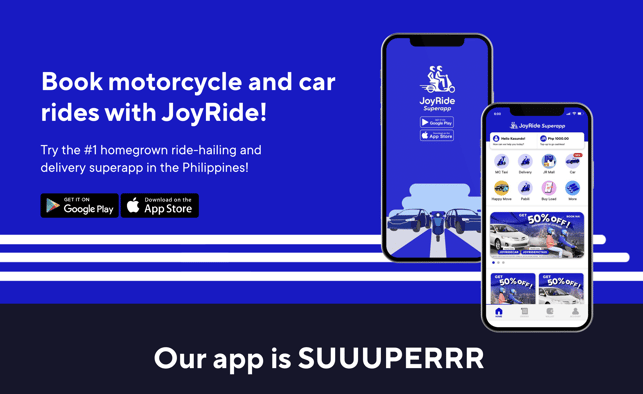 Services offered: Motorcycle service, car service, tricycle service, delivery, pabili, in-app mall, and mobile load purchase

Service areas:

Manila, Rizal, Cavite, Bulacan, Laguna, Cebu, and Baguio
With its increasing popularity, JoyRide makes a great Grab alternative in the Philippines.
Since December 2019, the company has onboarded more than 20,000 drivers. Less than three months after its launch, it already had over one million app downloads. Add to those impressive figures the company's highest number of bookings received in a day, which was 500,000.
JoyRide has departed from its motorcycle-hailing days, as it now offers new modes of transportation. This Grab alternative rolled out its car service last 2022.
What makes Joyride unique is that it also allows you to book a tricycle to get around the city. On top of these transportation services, you can shop and order food at the in-app marketplace called JR Mall.
👉 Angkas

Services offered:

Motorcycle service, courier service

Service areas:

Metro Manila and Metro Cebu
Online, Angkas is popular for its funny and relatable memes that often go viral. But that reputation doesn't overshadow its real essence: providing Filipinos with an accessible way to avoid traffic.
Angkas is one of the best Grab alternatives if you want to reach your destination more quickly. When you're riding a motorcycle, you can evade the gridlocks you'll inevitably encounter along the way. The company is also known for its professional bikers who undergo rigorous training for safety.
Angkas goes beyond motorcycle taxi services by offering Angkas Padala, a delivery service. Get any of your needs—such as food, documents, and clothes—delivered within Metro Manila and Cebu.
👉 TokTok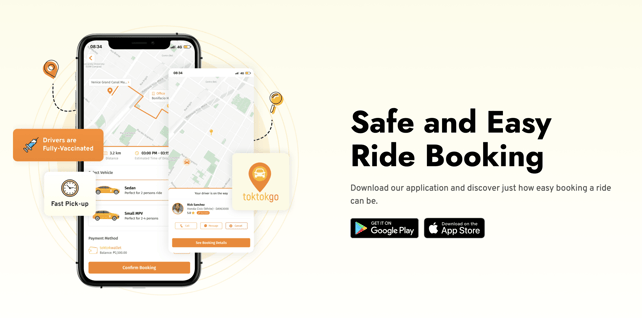 Services offered:

Delivery,

pabili

, in-app mall, mobile load purchase, and car service

Service areas:

Metro Manila and nearby locations
What started out as a humble delivery service has evolved into a super app that is now one of the most promising Grab alternatives. Toktok doubles as a car-hailing app in the Philippines through TokTokGo.
Toktok offers an assortment of services that'll help you accomplish a lot of things. Aside from deliveries and car services, you can avail of errand services through TokTok Pabili. Satisfy your food cravings through TokTokFood. And if you need to settle your bills, just use TokTokBills.
👉 AVIS Philippines

Services offered:

Car service

Service areas:

Presumably

key cities in the Philippines, as per the locations of their car rental services
Since 1972, AVIS has been a nationwide leader in car rental services. The company also branched out to TNVS with the launch of the AVIS app, making it one of the Grab competitors in the Philippines.
Perhaps the edge of the AVIS app lies in its capability to offer out-of-town transfers. For instance, you can book point-to-point transfers anywhere in Luzon using a van. You can use this particular service if you're planning to go on a vacation with your family or a business meeting outside the city.
Read more: Car for Rent: Find the Best and Most Affordable Deals in the Philippines
👉

ePickMeUp

Services offered:

Taxi booking, motorcycle booking, food delivery, parcel delivery, and

pabili

Service area:

Metro Manila
One of the many Grab competitors, ePickMeUp does more than passenger transport. This ride-hailing app in the Philippines offers 60 on-demand services, which include deliveries and even repairs. For the latter, ePickMe Up connects you with nearby providers, just like how it does with its taxi booking services.
If you want to reach your destination faster, this Grab alternative lets you book a motorcycle ride. Avail of the pabili service and get your food, groceries, and medicines delivered to your doorstep.
Read more:
👉 OWTO

Services offered:

Car service

Service areas:

Metro Manila, CAMANAVA, and select areas in Rizal, Cavite, and Bulacan
A wholly Filipino-owned TNVS company, OWTO uses private vehicles for its ride-hailing service. With this car-booking app in the Philippines, you can choose from a sedan, hatchback, subcompact, or SUV.
OWTO was one of the first TNVS companies in the Philippines to launch an in-app surveillance system for rider and driver protection. Bonus: get free ride credits when you refer your friends or participate in promos![3]
👉 Bonus: Tara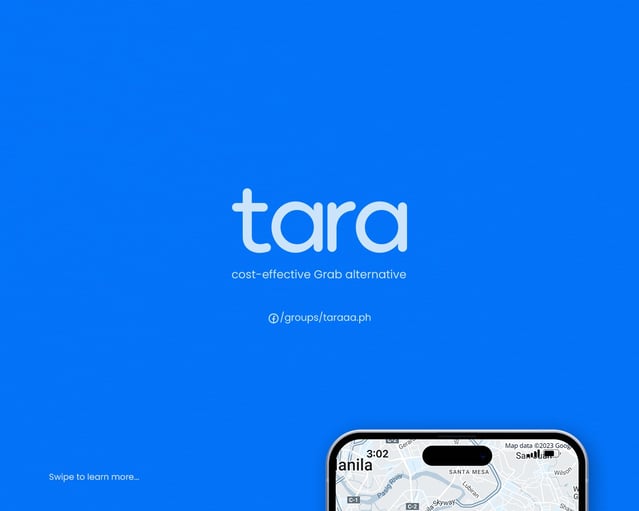 While this much-anticipated ride-hailing app has yet to be actually launched, Tara founder Erwin Dee shares that he aims to offer cheaper fares, impose 0% commission on its drivers, and provide promos for users and bonuses for top-performing drivers.[4]
No wonder commuters are excited! As of writing, however, Tara has yet to finalize the app and file an application as a TNC, as per the LTFRB.[5]
Final Thoughts
Saying that commuting in the Philippines is challenging is an understatement. Thankfully, services like Grab help lighten such a burden. However, it's wiser to rely on more than one ride-hailing app in the Philippines.
If you look around, you'll see that there are several Grab alternatives. A lot of them even offer value-added services to make your life easier.

Sources: