Getting your first car is a milestone. Finally, you'll be able to go on road trips with friends, your mom won't have to hail a trike or jeepney after grocery shopping, and you won't have to worry about going home late.
But not too fast! Your student permit won't get you far. You need to get a driver's license first.
To get a driver's license, you need to pass the LTO exam. Passing the test, however, won't only land you a license. The knowledge you'll acquire along the way will teach you to become a responsible driver who values the safety of everyone on the road.
If you want to increase your chances of passing the LTO exam, you're in the right place. Check out this guide we've put together for you.
The LTO Exam at a Glance
To manage your expectations, the LTO exam has two parts:
LTO Written Exam – This is a collection of multiple-choice questions testing your driving knowledge.
LTO Practical Driving Exam – An LTO assessor will evaluate your actual driving skills in a simulated public road environment.
LTO Written Exam Guide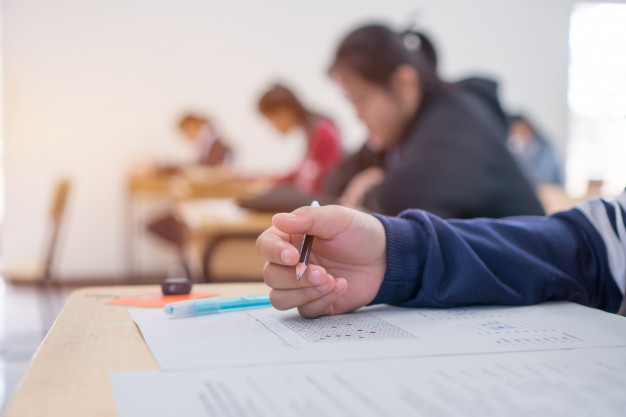 The LTO Written Exam is a computerized test measuring your understanding of important topics, such as road rules and regulations. If you're applying for a non-professional driver's license, you need a passing score of 30 out of 40 on your LTO non-pro exam. Meanwhile, the LTO exam passing score in 2023 for a professional license is 45 out of 60.
Sections covered are usually the following:
Basic driving knowledge
Parking
Driving emergencies
Handling and driving
Road signs and lane markings
Road position
Violations and penalties
How to Pass the LTO Written Exam
Think of the LTO written exam as your periodical test back when you were in school. Here are some simple, practical tips to help you ace it:
✔️ Use the Online Resources from LTO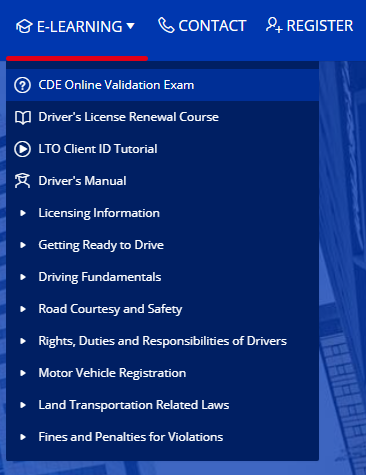 The best place to start is the Land Transportation Management System (LTMS) website, otherwise known as the LTO portal.[1] This facility provides an LTO exam reviewer through its E-Learning section. Even if you're not logged in to the portal, you can still access some of the online modules.
✔️ Use Third-Party Materials
Apart from LTMS' e-learning modules, third-party resources in the form of reviewers exist online. A lot of them are comprehensive enough, with mock tests that simulate the LTO exam. Pinoy Driver[2] is one popular LTO exam reviewer you may want to check out.
If you want to digest information much more easily, why not review using videos? On YouTube, Wander J[3] dishes out pointers on passing the test and even shares an exam reviewer. He also has a TikTok page where he posts bite-sized and easy-to-follow content.
✔️ Know Which Areas to Review
The test itself covers a wide variety of topics, but make sure to review the essentials, such as the following:
General information about driving – Watch the LTO portal reviewer about defensive driving, how to do it with proper techniques, road safety, stress management, and handling your car on the road during emergencies.
Information on road rules – Remember the traffic signs, signals, and pavement markings. You must know the meaning of the regulatory signs such as no U-turn, no right turn, or left turn. Learning regulatory signs and road rules won't only help you pass the exam, but also save your life while driving.
Rights, responsibilities, and duties of drivers – Review the rights of drivers when apprehended; responsibilities as a driver while on the road, such as making sure that your vehicle's documents and registration are up-to-date; common violations that cause traffic; and driver's apprehension.
New Driving Laws – The LTO exam may ask questions about the most recent driving rules and regulations. Take note of their scope and penalties.
Licenses – The test will definitely include driver's license-related questions. Read up on the differences between student permits, professional licenses, and non-professional licenses.
Vehicle Maintenance – Proper vehicle maintenance is another important topic that will appear in the LTO exam. As such, you should review the following: checking the oil level, the upkeep of major car parts, and knowing the indicators of common vehicle problems
✔️ Don't Rush the Test
You may feel compelled to finish the test quickly, so you can attend to other important things in your life. But remember that haste makes waste.
Take your time and read each question carefully. Don't feel pressured when others are already submitting their papers. After all, the goal is to pass the test, not to be the first person to submit it.
Before submitting your answers, go over them once more. Doing so will help you spot missed questions or wrong answers.
Read more: A Heads-Up for All Drivers: Complete List of LTO Branches in Metro Manila
LTO Practical Driving Exam
Photo: @DOTrPH (Facebook)
If you pass the written test, you'll proceed to the LTO practical driving test. The actual practical test happens faster (around 5 minutes or longer, depending on the driver) than the waiting time for the next step of getting a driver's license.
How do you take this exam in LTO? You need to make only one round on an obstacle course, which involves driving straight on a flat and elevated road, parking, and making tight turns.
You can choose to take the practical exam using an LTO vehicle, your own car, or your driving school's vehicle. You'll be graded based on these criteria: pre-driving check-up, driving skills, and observance of traffic rules.
What is the passing score in this LTO exam? It's 70/100, and normally your assessor will provide you with the feedback right after the exam.
How to Pass the LTO Practical Driving Exam
For many, the LTO practical driving exam is more challenging than the written test. This is due to the added pressure brought about by the evaluator's presence. But if you've prepared enough, you'll pull through. Here are some tips that may help you:
✔️ Practice Driving
Ace your practical exam through constant practice. Try various driving situations, such as changing lanes, parking in various locations, and driving along narrow streets. Don't forget to practice how to make U-turns properly.
It also helps to get intensive training first through organized driving lessons. Make sure that your driving school is legit and accredited by the LTO.
✔️ Bring Your Own Car
While driving your car to the nearest LTO office could be a bit of a hassle because of possible parking issues, it could help you pass the practical exam. It's easier to drive a vehicle you're already familiar and comfortable with.
Keep in mind that if you don't have your car or motorcycle with you, you'll be required to rent an LTO vehicle. This may be disadvantageous to you since you're not entirely familiar with the navigation and handling of whatever vehicle LTO will give you.
✔️ Ask for Firsthand Advice
Do you have a friend or relative who recently took the LTO exams? You can ask them about their experience, so you'll know what to expect when you get behind the wheel at the testing facility. They may even share with you some valuable tips.
✔️ Relax!
This may be a cliché, but it's worth remembering that a stressed mind may cause you to underperform. Do your best not to panic.[4] Just think of the evaluator as another passenger in your car.
Check out this quick guide to acing the LTO exam: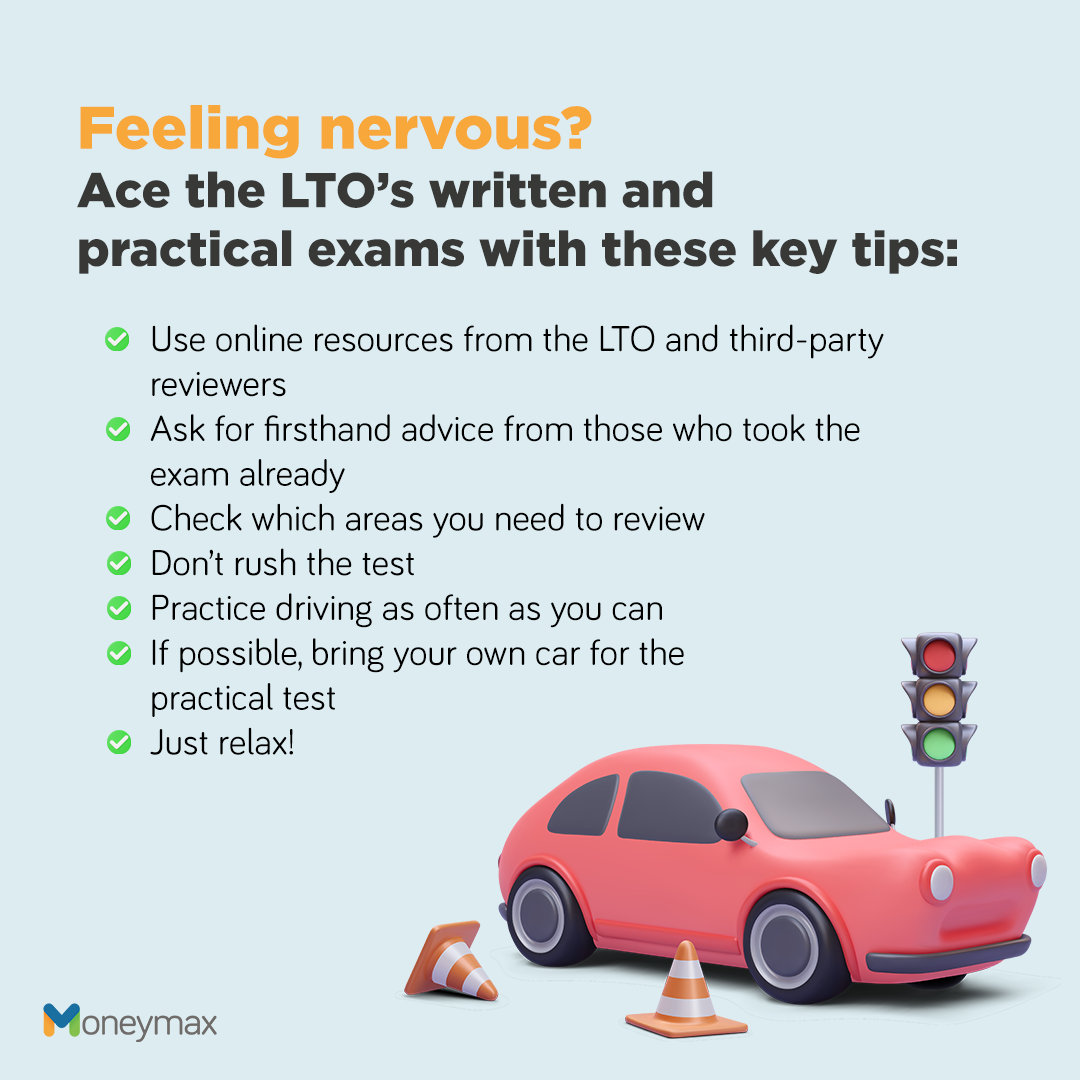 Taking the LTO CDE Online Validation Exam for Driver's License Renewal
Motorists renewing their expired driver's licenses have to pass the Comprehensive Driver's Education (CDE) program, which is composed of a refresher course and an examination. Once you pass this LTO online exam, you'll receive a renewal certificate, which you'll then bring to the LTO for your license renewal.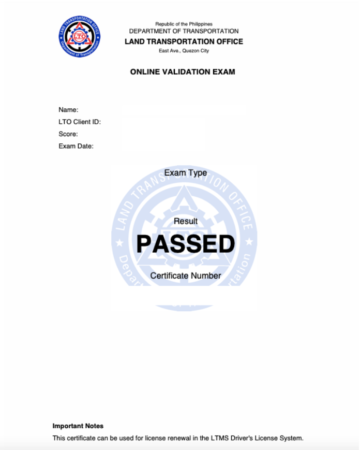 This LTO online exam has 25 questions. You'll need to get 13 correct answers or 50% to pass the exam. There's no time limit, so you don't have to rush the exam. If you fail, you can retake the LTO renewal exam until you get the renewal certificate.
Wondering how to take this LTO exam online? Here's how you can take the LTO portal exam this 2023: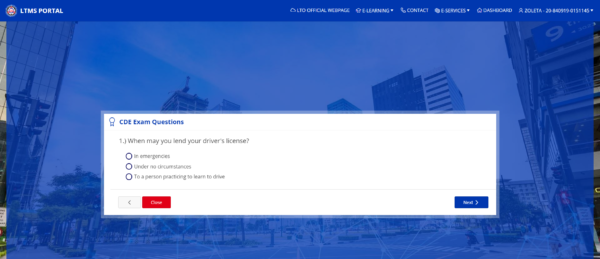 Log in to your LTO online account through the LTMS portal. Sign up if you don't have one.
Click the E-Learning tab on the homepage.
Click CDE Online Validation Exam.
Click Start Exam.
Select the language you're comfortable with.
Answer the questions. Since the questions follow a multiple-choice format, you'll just have to click the answer you believe is correct.
At the end of the test, the system will give you the result. If you pass the LTO portal exam, click the Print Certificate button to get your renewal certificate.
Read more: Applying for Your Driver's License Renewal? Read This Guide First

LTO Exam FAQs
A lot of scenarios may arise when you take your LTO exam, from failing it to new rules being implemented. If you have some questions about these things, you may find the answers in this section.
1. What happens if you fail an LTO exam?
After failing one or both the writing and practical exams, a driver's license applicant can retake the LTO exam as soon as the next working day or anytime at their convenience.
If you flunk on your second attempt, you can't retake the exam and apply for a driver's license within a year. Meanwhile, if you fail to pass the LTO exams on the third try, you'll have to wait for two years before you're allowed to retake the test and re-apply for a license.
If you really want to pass on your second attempt, here are some things you need to do:
Remember all the possible mistakes you committed on your first try.
Go over the LTO exam reviewer.
If you fail the LTO practical driving test, practice driving more. Be more observant of the common traffic and pedestrian signs.
On your next attempt, bring your own car since you're more comfortable with it.
Finally, make sure that you check with the LTO regarding the test guidelines. This is because the rules may change without prior notice, and it pays to get a head start before the actual exam.
2.
Am I required to take the exam if I convert my foreign driver's license into a Philippine license?
If you're a foreigner who has a valid driver's license issued by your home country, you can drive in the Philippines for up to 90 days or three months. Just make sure that the license is in English; otherwise, you'll need to provide an official English translation from your country's local embassy.
However, if you're planning to stay in the Philippines for more than 90 days, you'll need to convert your driver's license into a Philippine driver's license. To do that, you'll have to submit the pertinent documents. In case your foreign driver's license is already expired, you'll need to take both written and practical tests.
3.
Can I take the LTO exam online?
The only mandatory LTO exam you can take online is the CDE exam, which is accessible on the LTMS portal and available in English or Filipino. The LTO reviewer materials are free as well, and you can watch them on demand. You can also use the content as a theoretical driving course reviewer if you're applying for a license.
Final Thoughts
Taking the LTO exam is definitely reminiscent of your test days in school. You may even feel like you're taking a college entrance examination. But you shouldn't give in to the pressure. It's all part of a process that will turn you into a responsible motorist and prepare you for the road out there.
We hope that this guide has been helpful. We also wish you all the best as you prepare for your driver's license examination.
Need Car Insurance? Find the Best Deals at Moneymax!
Compare these car insurance options to know which provider has the coverage you need at the best price.
| | | | | | |
| --- | --- | --- | --- | --- | --- |
| Car Insurance Company | Maximum Total Sum Insured | CTPL Coverage | Own Damage & Theft Coverage | Acts of Nature Coverage | Death or Disablement Coverage |
| FPG Insurance | ₱4 million | ✔️ | ✔️ | ✔️ | |
| Malayan Insurance | ₱7.5 million | ✔️ | ✔️ | ✔️ | |
| The Mercantile Insurance Corporation | ₱5 million | | ✔️ | ✔️ | |
| OONA Insurance (formerly MAPFRE) | ₱5 million | ✔️ | ✔️ | ✔️ | ✔️ |
| PGA Insurance | ₱3 million | | | | ✔️ |
| SGI Philippines | ₱5 million | ✔️ | | ✔️ | ✔️ |
| Standard Insurance | ₱5 million | ✔️ | ✔️ | ✔️ | ✔️ |
| Stronghold Insurance | ₱3 million | | ✔️ | | |
Sources: