With millions of cars, motorcycles, and other vehicles hitting the Philippine roads every day, you can't help but wonder if all these drivers are actually licensed to drive. And it's easy to say that a lot of them are possibly illegitimate motorists, as seen in their kamote behavior and unwillingness to give way to other drivers and even pedestrians.
Of course, you don't want to be that driver―not just because you don't want a tarnished reputation, but because you're a considerate human being who values the safety of everyone.
If you're living by this virtue, make sure that your driving is duly vouched by the Land Transportation Office (LTO), which is ultimately represented by your driver's license. And for that to happen, you need to pass the LTO exam first. But more than passing the exam, the knowledge that you'll acquire along the way will be useful in many driving situations.
Check out this guide that may help increase your odds of passing the LTO exam. And in case you're renewing your license, we've also included a short primer on LTO's Comprehensive Education Program (CDEP).
LTO Written Exam Guide
What Happens During the LTO Written Exam?
During your driver's license application, taking the written exam is the next step after having your photo taken, creating a digital signature, and paying the applicable fees. The LTO written exam consists of 60 multiple-choice questions.
The LTO has made an LTO exam reviewer available to the public through its website. The Department of Transportation (DOTr) has directed the LTO to make the driver's license exam more inclusive by making it available in different regional languages other than English and Filipino.[1] This way, you can choose to take the test in the dialect you can easily comprehend and are most comfortable with.
The written exam for driver's license applicants has the following categories:
General driving knowledge
Parking
Driving emergencies
Handling and driving
Road signs and lane markings
Road position
Violations and penalties
What is the Passing Score in LTO Written Exam?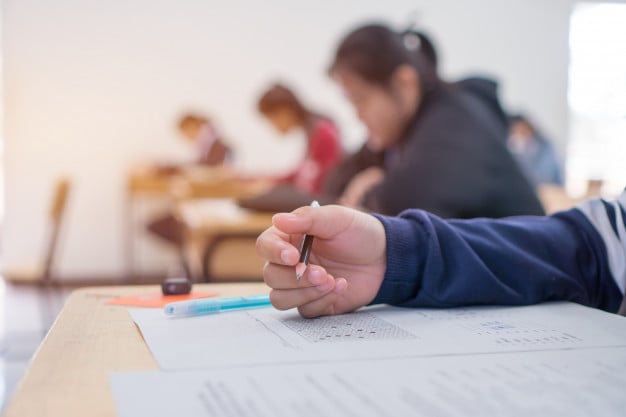 If you're applying for a driver's license, you need to get 48 correct answers out of 60 items to pass the written exam at the LTO office.
Examinees who passed will be called and asked to proceed to the waiting area to move on to the practical driving exam.
How to Pass the LTO Written Exam
Here are a few helpful tips to help you ace the written exam.
Enroll in a Driving School
Before you apply for a driver's license, it helps to get intensive training first through organized driving lessons. Make sure that your driving school is legit and accredited. You can easily check it with the LTO.[2]
Study the LTO Exam Reviewer Online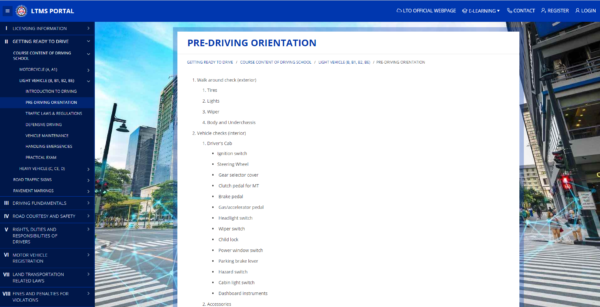 For those who want to apply for a driver's license, the best place to start is the Land Transportation Management System (LTMS) website, also known as the LTO online portal. The LTMS helps drivers manage and monitor all activities related to their LTO transactions such as getting a student permit, a driver's license, changing personal information, accessing driver's reviewer, and more.
There are reviewers for the LTO exam for both professional (for heavy and light vehicles) and non-professional drivers. You'll also find a questionnaire for conductors, a Tagalog mock exam, and a manual of road traffic signs and pavement markings.
How to Access LTO Exam Reviewers and E-Learning Modules
You can view the e-learning materials—all about fundamental driving, road safety, responsibilities of drivers, just to name a few, on the LTO online portal. Even if you're not logged in on the LTMS, you can start reviewing the topics to ace your LTO exam.
These online learning modules can help you review for the theoretical or written exam. The mock exam in the module is also timed, a smart feature that will help you deal with the time limit.
3 steps to access LTO exam reviewers on the LTO portal:
Visit the LTMS portal (portal.lto.gov.ph).[3]
Once you're on the homepage click the E-Learning tab. The dropdown menu will show you different links to different materials relevant to your goal, such as the following:

Driver's Renewal Course
Comprehensive Driver's Education Online Exam
LTO Client ID Tutorial
Driver's Manual

Licensing Information
Getting Ready to Drive
Driving Fundamentals
Road Courtesy and Safety
Rights Duties and Responsibilities of Drivers
Motor Vehicle Registration
Land Transportation Related Laws
Fines and Penalties for Violations

Click the relevant link, and you're good to go.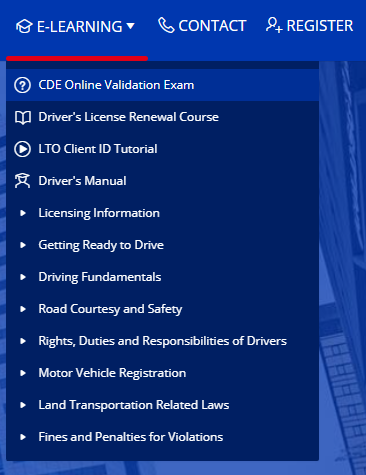 What to Review for the LTO Exam: 3 Areas to Focus on
If you feel there's too much to review (with so little time) on the LTO portal, you can focus on these topics so that you won't get overwhelmed and still be able to cover the essentials:
General information about driving - Watch the video about defensive driving, how to do it with proper techniques, road safety, stress management, and handling your car on the road during emergencies.
Information on road rules - Remember the traffic signs, signals, and pavement markings. You must know the meaning of the regulatory signs such as no U-turn, no right turn, or left-turn. Regulatory signs and road rules won't only save your life while driving but also help you pass the exam.
Rights, responsibilities, and duties of drivers - Review the rights of drivers when apprehended, responsibilities as a driver while on the road such as making sure that your vehicle's documents and registration are up-to-date, common violations that cause traffic, and driver's apprehension.
These are just some of the topics you should review, but you'll never know what you'll encounter on the exam, so be prepared before your big day.
LTO Practical Driving Exam Guide
What Happens During the Practical Driving Test?
The actual practical test happens quicker (around 5 minutes or longer, depending on the driver) than the waiting time for the next step of getting a driver's license. You need to make only one round on an obstacle course, which involves driving straight on a flat and elevated road, parking, and making tight turns.
You can choose to take the practical exam using an LTO vehicle, your own car, or your driving school's vehicle.
What is the Practical Exam Scoring System?
During the practical driving exam, the instructor will score you using a demerit point system. You'll begin with 100 points. Each time you commit an error, the examiner deducts a corresponding number of points from your score and logs them onto a road test score sheet.
3 Criteria for Practical Exam Scoring
1. Pre-driving check-up (Total of 10 points)
Checking tires and batteries
Checking/cleaning/adjusting mirrors, light, and windshield wiper
Use of seat belt or helmet
Checking hand and foot brake
Disengaging clutch when starting the engine
2. Driving skills (Total of 50 points)
Steering
Engine control
Use of brakes
Speed control
Turning
Backing
Parking
3. Observance of traffic rules (Total of 40 points)
Right of way to other vehicles
Stop lights, signals, and other
Right of way (for other vehicles, pedestrians, cyclists, etc.)
What is the Passing Score in LTO Driving Exam?
When you're done, the examiner will provide you with feedback and your test result. To pass the practical driving test, you need to get a score of at least 70.
How to Pass the LTO Practical Exam
Here are some tips for raising your chances of passing the practical exam.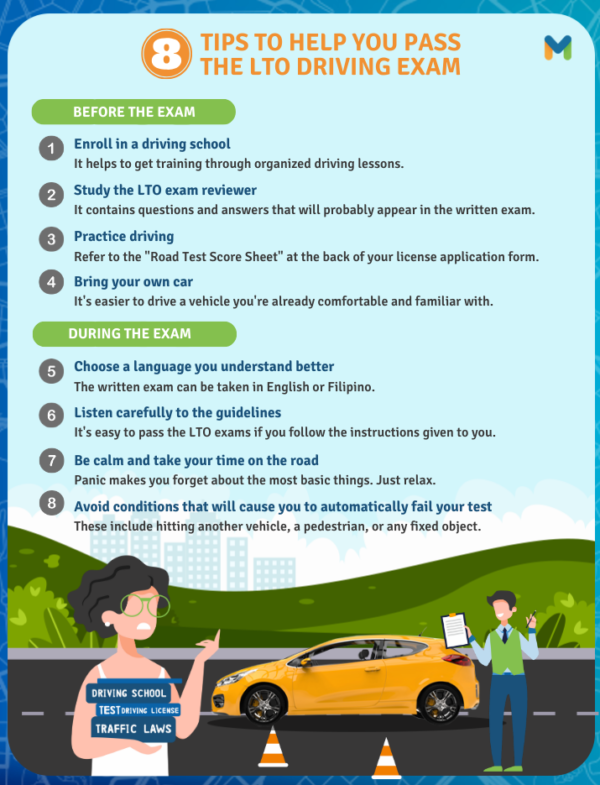 Practice Driving
Ace your practical exam through constant practice. To better prepare for the actual exam, refer to the "Road Test Score Sheet" page at the back of the LTO Application for Driver's License form before you start your practice driving. Try various driving situations, such as changing lanes, parking on various locations, and driving along narrow streets. Also, practice changing lanes and making a U-turn properly.
Bring Your Own Car
While driving your car to the nearest LTO office could be a bit of a hassle because of possible parking issues, it could help you pass the practical exam. It's easier to drive a vehicle you're already familiar and comfortable with.
Keep in mind that if you don't have your car or motorcycle with you, you'll be required to rent an LTO vehicle. This may be disadvantageous to you since you're not entirely familiar with the navigation and handling of whatever vehicle LTO will give you.
Ask for Firsthand Advice
Do you have a friend or family relative who has just recently taken the LTO exams? You can ask them about their experience, so you'll know what to expect when you get behind the wheel at the testing facility. They may even share with you some valuable tips.

LTO Comprehensive Driver's Education Guide
Motorists who will be renewing their expired driver's licenses will have to pass the Comprehensive Driver's Education (CDE) program, which is composed of a refresher seminar and an examination designed to make sure that only deserving applicants who have sufficient driving skills and are knowledgeable of road safety and proper road courtesy will have their licenses renewed.[5]
The CDE will be conducted for a maximum of 5 hours. You can take the course at the LTO Driver's Education Centers (DECs) for free. You can also take the CDE at LTO-accredited driving schools for a fee.
Nevertheless, the LTO also makes the seminar available online via the LTMS Portal. To access the course, visit the LTO's LTMS portal, click E-Learning and click Driver's License Renewal Course. The good thing about taking the CDE seminar is that you can watch the videos at your own pace.
Following the CDE seminar, you'll need to take another LTO test called the CDE Online Validation Exam. If you pass the said LTO exam online, you'll be issued a certificate that you'll have to present to the LTO during the actual license renewal procedure.
How to Take the CDE Online Validation Exam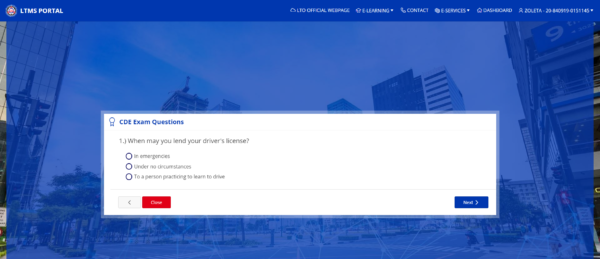 While the seminar is quite long and there are a lot of materials to review, the new LTO exam online is quite simple. The test has 25 questions and just requires a passing rate of 50% or 13 correct answers. This passing score applies to both professional and non-professional license holders.
The CDE exam is to be taken online via the LTO's LTMS portal. With that, you need to have an LTMS portal account for you to take the online validation exam.
Here's a simple walkthrough of the CDE exam:
Visit the LTO's LTMS portal.
Click the E-Learning tab. On the dropdown menu, click CDE Online Validation Exam.
If you have an LTMS portal account, click Log In. Otherwise, click Register Now.
Take the multiple choice exam.
At the end of the exam, you'll get your result. If you pass the exam, a prompt will tell you that you can print your CDE certificate right there and then. Nevertheless, the CDE certificate will also be sent to your email address.
One great thing about the CDE Online Validation Exam is that there's no time limit for answering the questions. The exam, however, relies on the examinees' honesty, so no kodigos please! Take your time reading the LTO exam reviewer. After all, your integrity is on the line.
The CDE exam is composed of a series of questions related to driving cars and a few about motorcycles. So, if you drive them both that would be an advantage for you—perhaps you can get a perfect score.
I've Passed the CDE Online Validation Exam for Renewal. What Should I Do?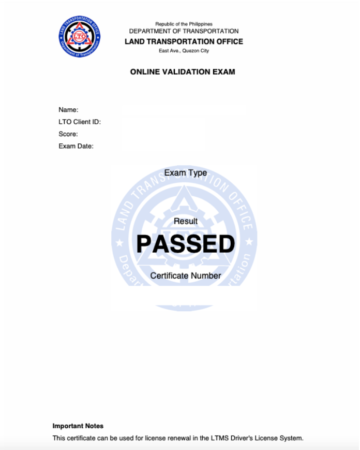 If you're renewing your driver's license, the process is much easier than that of new applicants.
You need to bring this certificate when renewing your driver's license. Otherwise, even if you visit the branch for your renewal, you'll still be required to take the online validation exam and show the result to the person in charge of your renewal.
To avoid wasting your time and to speed up the driver's license renewal process, take the exam before visiting the LTO branch.
I Failed the CDE Online Validation Exam. What Now?
There's nothing to worry about in case you fail the new LTO online exam. You can retake the exam until you pass it.
If you're worrying about the status of your existing license while you're reviewing for the CDE Online Validation Exam, the LTO says that its validity will be extended by two months.
What to Do During the LTO Exam
Choose Your Preferred Language
The written exam can be taken either in English or Filipino. Choose the one you can understand better. To get an idea of the difference between the two languages, check the English and Tagalog questionnaires of the LTO exam reviewer.
Listen Carefully to the Guidelines
Whether it's the written or practical test, the examiner will definitely share some tips or guidelines. Don't miss all these crucial details, so listen carefully and take down notes if necessary.
Read the Questions and Situations Carefully
A lot of questions will be about different road scenarios and situations. To give correct and appropriate responses, read and understand each situation carefully.
Most importantly, never rush the written exam. After all, the goal is to get as many correct answers as possible, not to be the examinee who finishes the fastest in the room.
Be Calm While on the Road
Panic makes you forget the basic things like wearing your seat belt before you begin driving. Just relax and have the presence of mind.
Avoid Conditions That Will Cause You to Automatically Fail
These include hitting another vehicle, a pedestrian, and the gutter or any fixed object. Any action that causes collision or near-collision with another car will also lead to failing the test.
LTO Exam FAQs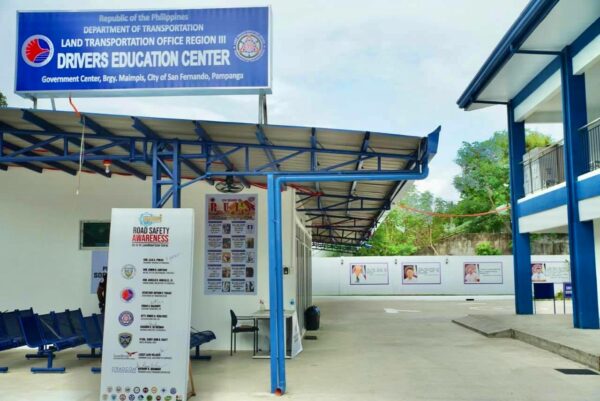 There are a lot of scenarios that may arise when you take your LTO exam, from failing it to new rules being implemented. If you have some questions about these things, you may find the answers in this section.
1. What happens if you fail an LTO exam?
After failing one or both the writing and practical exams, a driver's license applicant can retake the LTO exam as soon as the next working day or anytime at their convenience.
Flunking on the second attempt means you can't retake the exam and apply for a driver's license within a year. Finally, failure to pass the LTO exams on the third try will have you waiting for two years before you're allowed to retake the test and re-apply for a license.
If you really want to pass at your second attempt, here are some of the things that you need to do:
Remember all the possible mistakes that you committed on your first try.
Go over the exam reviewer.
If you fail the practical driving test, practice driving more. Be more observant of the common traffic and pedestrian signs.
On your next attempt, bring your own car since you're more comfortable with it.
Finally, make sure that you check with the LTO regarding the test guidelines. This is because the rules may change without prior notice, and it pays to get a head start before the actual exam.
2. Are student permit applicants required to take the written exam?
Yes. If you'll get a student driver's permit, you have to undergo a formal training (consisting of 15 hours of seminar completed in three days), pass the theoretical or written examination, and take the practical driving course at an LTO-accredited driving school. The training has four modules, each with a corresponding theoretical exam.
The same rule applies to people applying for a New Driver's License and Additional Restriction Code.
After passing the exams, you'll be issued a Theoretical Driving Course certificate of completion,[4] which is one of the student driver's license requirements in the Philippines.
3. Am I required to take the exam if I convert my foreign driver's license into a Philippine license?
If you have a valid foreign driver's license, you can convert it into a Philippine driver's license without having to take the LTO exam. However, if your foreign driver's license is expired, you'll need to take the written/practical exams.
4. I want to change my maiden name to my married name on my driver's license. What do I need to do?
If you want to have a valid ID with your married name, you must bring an original copy of your marriage certificate issued by the Philippine Statistics Authority and your driver's license. You need to visit the LTO branch since you'll have to update not just your name but also your biometrics.
5. Can I take the LTO exam online?
The only mandatory LTO exam you can take online is the CDE exam, which is accessible on the LTMS portal and available in English or Filipino. The reviewer's materials are free as well, and you can watch them on-demand. You can also use the content as a theoretical driving course reviewer if you're applying for a license.
Final Thoughts
That's it! You now have a better understanding of what to expect during the LTO written and practical exams.
Taking the LTO exam is definitely reminiscent of your test days in school. You may even feel like you're taking a college entrance examination. But you shouldn't give in to the pressure. It's all part of a process that will turn you into a responsible motorist and prepare you for the road out there.
We hope that this guide has been helpful, and we wish you all the best as you prepare for your driver's license examination. Remember, practice makes perfect, so be sure to do plenty of mock tests before tackling the real thing. And most importantly, drive safely on our roads.
And if you fail, so what? There's always a second or third chance. If that happens, at least this time around, you won't be starting with zero knowledge.
Need Car Insurance? Find the Best Deals at Moneymax!
Compare these car insurance options to know which provider has the coverage you need at the best price.
Car Insurance Company
Features
MAPFRE Insular



10 years of casa eligibility
366 accredited repair shops
PHP 5,000,000 maximum total sum insured
Overnight accommodation - Yes, up to PHP 3,000
Towing - Yes, up to PHP 5,000
Vehicle removal crane services - Yes, up to PHP 10,000

Malayan Insurance



3 years of casa eligibility
58 casa repair shops
PHP 7,500,000 maximum total sum insured
Overnight accommodation - Yes, up to PHP 1,000
Towing - Yes, up to PHP 4,000
Vehicle removal crane services - Yes, up to PHP 8,000

Prudential Guarantee



10 years of casa eligibility
PHP 3,000,000 maximum total sum insured
Overnight accommodation - Yes, up to PHP 2,000
Towing - Yes, up to PHP 5,500
Vehicle removal crane services - Yes, up to PHP 15,000

SGI Philippines



5 years of casa eligibility
36 accredited repair shops
PHP 5,000,000 maximum total sum insured
Overnight accommodation - Yes, up to PHP 2,000
Towing amount - Yes, up to PHP 5,000
Vehicle removal crane services - PHP 10,000

Stronghold Insurance



10 years of casa eligibility
167 accredited repair shops
PHP 3,000,000 maximum total sum insured

The Mercantile Insurance Corporation



10 years of casa eligibility
77 accredited repair shops
PHP 5,000,000 maximum total sum insured
Overnight accommodation - Yes, up to PHP 2,000
Towing - Yes, up to PHP 5,000
Vehicle removal crane services - Yes, up to PHP 10,000
Sources: