In a report shared by Statista in March 2022, 62.5% of survey respondents in the Philippines said they purchased a product or service online during the third quarter of 2021, while 10.4% used a buy now, pay later service.[1]
It's truly no surprise because online shopping is so easy and convenient, especially if you have the money to pay for everything in your shopping cart. But if you're in a difficult financial situation and need to make an important purchase, you can consider an installment loan like TendoPay.
An alternative to credit cards and bank loans, TendoPay offers affordable and convenient financing for cash-strapped Filipinos.
What is TendoPay and how can it help you with your major online purchases? Learn more about this installment loan and how to use it in this guide.
What is TendoPay and How Does It Work?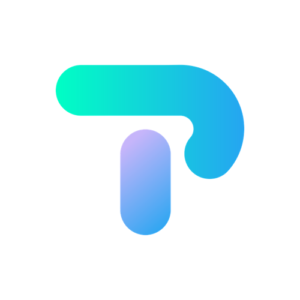 TendoPay[2] is a fintech brand that provides digital installment payment plans in the Philippines. It works like credit card installment plans but without using a card.
Through TendoPay, Filipino consumers without bank accounts or credit cards can shop online. Instead of making a larger upfront payment, customers can pay in more affordable monthly installments.
TendoPay Installment Loan Features
Loan amount: ₱2,000 to ₱30,000
Loan term: Two to 24 months
Interest rate: Starts at 2% per month
How to Apply for a TendoPay Loan
Before you can start using TendoPay to pay for your online purchases, you need to get approved for an account first. Here are the steps to take:
Review the TendoPay Requirements
Filipino citizens who are 18 years old and above, with a valid email address, and a valid mobile number
Any of the following valid IDs: SSS/UMID card, Driver's License, Passport, or PRC ID
Latest proof of address (not older than three months)

Electricity, water, mobile phone, landline, cable, or internet bill

A selfie with your government-issued ID
Latest proof of income (not older than two months):

Employed: Payslip or certificate of employment
Self-employed: Bank statement
How to Register in TendoPay
1. Create an account at app.tendopay.ph/register. You can sign up using your Facebook, Apple account, or email address.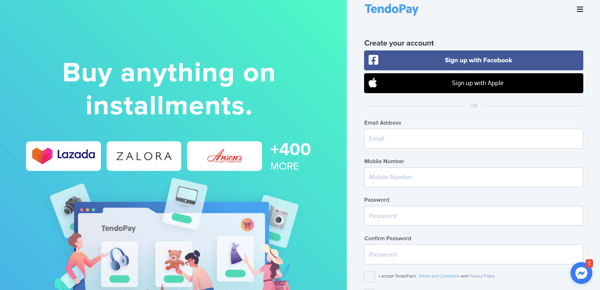 2. If you click the Sign Up button, provide the required information, including your valid email address, password, and mobile number. Once you've filled out the form, accept the terms and conditions and allow TendoPay to evaluate your application.
3. Verify your mobile number by providing the code sent by TendoPay.
4. Choose a way to access your account. You may opt for Touch ID or a four-digit passcode or pin code. If you choose to provide a pin code, enter the numbers on the box and then repeat to confirm.
5. Select your preferred language when using the app.
6. Provide other basic information about yourself.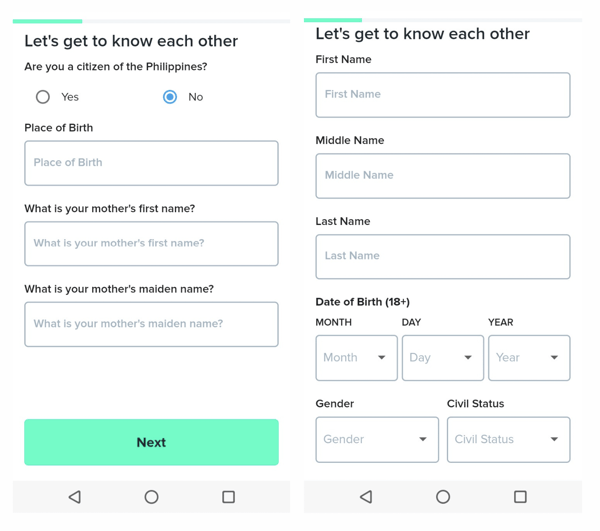 7. Share information about your employment status. Choose the option that applies:
Permanent Job (Private Sector)
Temporary Job (Private Sector)
Permanent Job (Government Sector)
Temporary Job (Government Sector)
Other
Business Owner
Freelance
Remittance Beneficiary
Take note that TendoPay will require more information about your employment status. If you choose the Permanent or Temporary Job option, you need to provide some basic information about your employer. And if you select the Freelance or Remittance Beneficiary option, you may need to submit remittance receipts and documents that prove your compensation.
8. Take a selfie holding the ID you submitted and then upload it
9. Upload a clear photo of your proof of income.
10. Answer a series of security questions.
11. Wait for an email message from TendoPay about your application status within one working day. If your application is approved, you can start paying for your online purchases.
How to Use TendoPay for Online Payments
Depending on the merchant where you're making the purchase, you can pay for it either by purchasing vouchers that can be redeemed for wallet credits or by choosing TendoPay as a payment option at checkout.
Where to Shop with TendoPay?
TendoPay has more than 400 partner merchants that accept vouchers as payment including:
Lazada
7 Eleven
Zalora
Today's Sports
Cherry Shop
Samsung
Vivo
Isetan Online Store
Elleana Cosmetics
The Playground Premium Outlet
Anson's
Warehouse Dad
Western Appliances
Aerophone
Poundit
Data Blitz
Nutrition Depot
Urban Athletics
Olympic Village United
Shark Bottle
Blanco Furniture
The Good Trade
Loop
Linen and Homes
Poppet
Pawsome Collections
Cadence Cycle Hub
Related reading: Get Cash When You Need It: Complete Guide to PondoPeso Loan Application
How to Use TendoPay on Lazada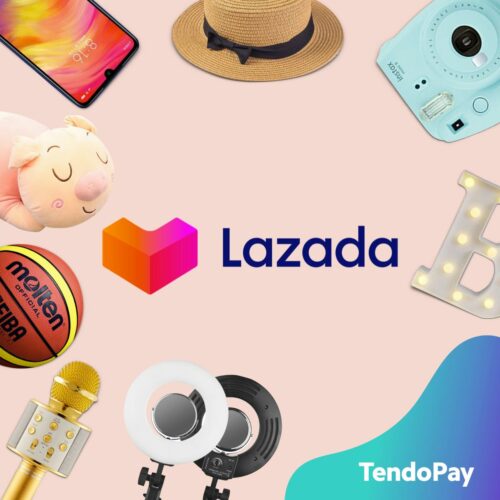 To use TendoPay on Lazada, create a TendoPay account first and follow the steps below.
Get approved for a TendoPay cash loan.
Create a Lazada account and activate your Lazada wallet. Make sure that the mobile number and email address you provided with both TendoPay and Lazada are the same.
Shop from Lazada then add to cart.
Go to your TendoPay account and choose a voucher amount. The voucher amount should be equal to or less than your total amount payable on Lazada.
Enter your voucher amount.
Wait for the requested funds to be credited to your Lazada wallet within 24 hours.
Related article: Lazada Loan: What Online Shoppers Need to Know
How to Use TendoPay for 7-Eleven Purchases
Download the 7-Eleven CLiQQ app, register for an account, and activate your CLiQQ PAY Wallet.
Go to the 7-Eleven merchant page on the TendoPay website.
Select a voucher amount in the dropdown. The amount must be less than the price of the item you'll buy at 7-Eleven.
Click the Purchase button. This will take you to the checkout page that shows your voucher order details.
Click the Place Order button.
Open the CLiQQ app on your smartphone.
Tap on "Open CLiQQ Wallet" > "Load Wallet" > "Redeem Code."
Enter your redemption code and tap the Confirm icon. You can now use your CLiQQ Wallet to pay for your in-store purchase at a 7-Eleven store.
When using TendoPay at 7-Eleven stores, remember that the CLiQQ credits can be used to pay for purchases offline at any 7-Eleven store.
However, these credits will not be applicable for bill payments. Also, your TendoPay voucher should be equal to or less than your total amount payable at 7-Eleven stores.
How to Pay for ZALORA Purchases Using TendoPay Voucher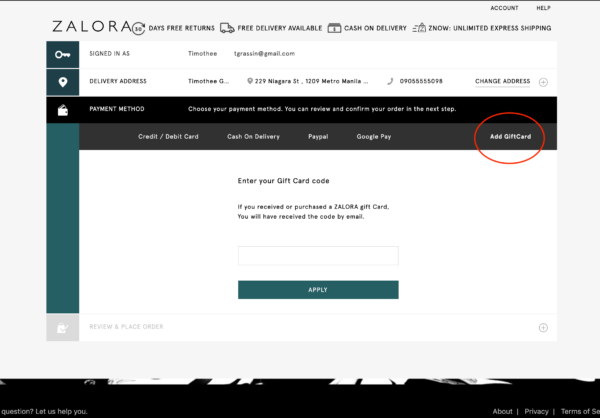 On the ZALORA website, find out the total cost of the item you'll buy, including the shipping fee.
Go to the ZALORA merchant page on the TendoPay website.
Select a voucher amount in the dropdown. The amount must be equal to or less than your ZALORA purchase value.
Click the Purchase button. This will take you to the checkout page that shows your voucher order details.
Click the Place Order button. You'll receive a ZALORA e-gift card in your email.
Complete your transaction on ZALORA. Under "Payment Method," select "Add Gift Card."
Enter the gift card code you received via email.
Click the Apply button.
How to Use TendoPay as a Checkout Option
Visit the online store of a TendoPay merchant.
Select the item/s you want to buy and add to cart.
Upon checkout, select TendoPay as your payment method.
Complete your online transaction.
You'll be directed to the login page where you'll enter your email address and password to sign in to your account.
Choose the number of months by which you prefer to complete your repayments.
Read and agree with the Terms and Conditions.
Click the Confirm Purchase button. You'll receive a confirmation about your successful payment processing.

How Do I Pay My TendoPay Loan?
You have plenty of options when it comes to payment of TendoPay installments:
Mobile payment apps: GCash, GrabPay, and PayMaya
Bills payment centers: 7-Eleven, Bayad Center, Cebuana Lhuillier, LBC, M Lhuillier, Robinsons Department Store, and SM Department Store/Supermarket/Hypermarket/Savemore
How to Pay TendoPay Loan via GCash
Follow these steps to use GCash in paying your Tendo installments.
Log in to your TendoPay account.
Under the Repayment option, select "Make a Payment."
Choose GCash as your mode of payment.
Fill out the desired amount to pay, then tap Pay.
You'll be redirected to your GCash account login page.
Enter the One-Time Password (OTP) sent to your mobile number and your GCash four-digit MPIN.
Verify the transaction. Check the amount and then confirm.
Wait for the prompt indicating the transaction is successful.
How to Pay TendoPay Loan via PayMaya
You can easily pay your TendoPay Loan through your PayMaya account as well. Here's how:
Log in to your PayMaya account.
Select Bank Transfer
Choose "BDO Unibank Inc"
Enter the details below:
Account Number: 007420044365
First Name: TendoPay
Last Name: Inc.
Purpose: Your TendoPay account number (example: TPXXXXXX)
Your PayMaya account will inform you that the payment is successful. But this won't be automatically posted on your TendoPay account.
In order for the payment to be acknowledged by TendoPay, email a copy of the deposit slip or payment receipt to pay@tendopay.ph. Make sure to indicate your TendoPay account number in the email.
Wait for a confirmation response from TendoPay.
How to Pay TendoPay Loan via GrabPay
You can also use your GrabPay credits to settle your TendoPay cash loan monthly repayments:
Log in to your TendoPay account.
Under the repayment section, choose 'Make a Payment'.
Choose GrabPay as the method of payment.
Provide the mobile number registered with your GrabPay account.
Enter the six-digit authentication code sent to your mobile number.
Confirm the payment by clicking OK.
Enter your Grab PIN and then confirm your payment.
You'll be redirected to the Check Out with Grab page. Choose Pay.
A prompt will appear that your payment has been submitted.
Payment via a Bills Payment Center
This procedure applies to all bill payment partners, except for 7-Eleven which has a different payment procedure.
Tell the staff that you'll be making a bill payment (not remittance) so that you'll be given the correct form to fill out.
Accomplish the provided form. Make sure to indicate "Dragonpay" as the biller or receiver on the form.
Give the accomplished form and cash payment to the cashier.
Payment via 7-Eleven
Go to the CLiQQ touchscreen kiosk.
Select "Bills Payment" > "More Bills" > "Loans" > "DRAGONLOANS."
Enter the required details.
Get the machine-generated receipt.
Approach the cashier at the counter and pay for your installment.
FAQs on TendoPay Cash Loan Installments
1. Is TendoPay legit and safe?
Templetech Finance Corp., which owns the TendoPay brand, is licensed as a financing company by the Securities and Exchange Commission (SEC). This means the company is legitimate and compliant with government regulations in the Philippines, so it's authorized to provide installment loans to eligible Filipinos.
Several safeguards are in place to protect customer data. According to TendoPay, it encrypts all sensitive personal information and doesn't sell, rent, or share it with third parties. It also uses data security technologies as banks do.
2. What are the available TendoPay merchants?
You may use TendoPay when buying at any 7-Eleven store, Lazada, and Zalora. It's also accepted as a payment method on e-commerce stores built on the Shopify platform.
You can check if your favorite online store allows TendoPay installments. See the full list of merchants at tendopay.ph/merchants.
3. Can I use TendoPay to pay for Shopee installments?
No. As of this writing, Shopee doesn't offer an option to pay in installments using TendoPay yet.
4. What will happen if I miss my installment payment?
If you miss one monthly payment, your account will be blocked, which means you won't be able to use it for online shopping. Until you settle your outstanding balance, your account will remain blocked, and you'll receive payment reminders.
5. How long should I wait for TendoPay approval?
Borrowers need to wait for loan approval within 24 hours. However, applications submitted after 6 p.m. will be processed the next day. Applications submitted on a Sunday will be processed on the following Monday and approval will be sent to you the next day.
6. How do I increase my TendoPay credit limit?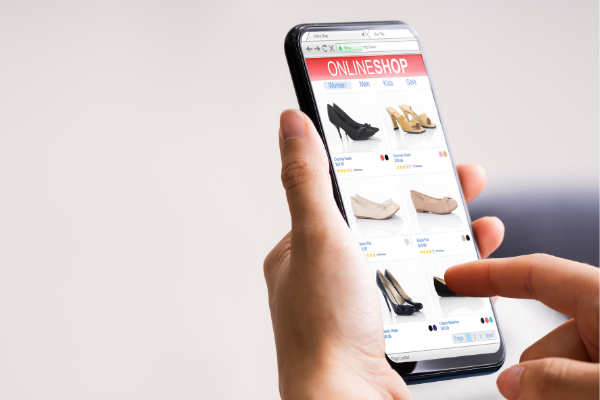 You can increase your TendoPay credit limit if you pay on time and consistently purchase online with a TendoPay cash loan.
7. How do I get a refund for my TendoPay cash loan?
A refund is initiated by TendoPay once the merchant cancels your payment and the purchased goods are returned accordingly.
8. TendoPay vs Billease, which is better?
It really depends on whether you're looking for a higher loan amount or a lower interest rate. When it comes to requirements and application, TendoPay and Billease have almost the same requirements and application steps.
TendoPay offers loans of ₱2,000 to ₱30,000 payable for up to 24 months. The interest rate starts at 2% per month.
Billease offers a higher credit line of up to ₱40,000 payable in 30 days up to 12 months (up to 24 months for repeat customers). But it also has a higher monthly interest rate starting at 3.49% per month.
Read more:
Final Thoughts
TendoPay makes a great choice for those who are trying to manage their finances by making installment payments on their purchase—as long as it's both important and urgent. Before signing up for such an installment loan, make sure that you can pay back what you owe within your chosen repayment term.

Sources: