Everyone shops online now—that's a fact of life! You can cop the newest kicks on your laptop, purchase flight tickets on your tablet computer, and even buy groceries on your smartphone.
The best thing about doing online shopping these days? Some platforms have a loan facility at the ready! This means that you can now shop without a credit or debit card. You also don't have to worry about where you should find cash in case you choose COD as your payment option.
Lazada, one of the biggest online shopping platforms in the Philippines, offers a short-term lending program called Lazada Loans. Essentially, this is a buy now, pay later payment option that cash-strapped shoppers can use in case they need to purchase something right away.
Want to learn more about this program? Here's a comprehensive Lazada Loan review that will help you decide whether this financing scheme is right for you.
What is a Lazada Loan?

Launched in 2019,[1] Lazada Loans provide shoppers with an alternative way to pay for their online shopping, may it be for gadgets or grocery items. Lazada partners with accredited mobile lenders to make this feature possible.
A Lazada Loan allows shoppers to buy now and pay later with easy installment plans minus the credit card requirement. You can apply for a loan directly through the Lazada website or app and get your application approved within the same day. Once approved, you can use the loan amount to buy items from Lazada or pay your bills within the app.
The minimum loanable amount is ₱500 and the maximum loanable amount is ₱50,000. Depending on various factors, your first-time Lazada Loan amount can be as high as ₱4,000 up to a maximum of ₱20,000.
Lazada Loan Review: Advantages and Disadvantages
There are many reasons a Lazada Loan makes a good financing scheme. Here are some of them:
👍 Easy Application
The entire process happens online. There's no need to visit any physical shop, fall in line, and fill out forms. You can also apply for a Lazada Loan anytime, anywhere.
👍 Low Interest Rate
Lazada has installment partners that offer a 0% interest loan for first-time lenders. Succeeding loans, on the other hand, will be subject to normal interest rates, usually from 2% to 4%.
👍 Fast Approval
The loan application process is purely digital. Given that, Lazada says that the approval lead time can be as quick as instant to as long as 24 hours.
👍 Accredited Lenders
Lenders are thoroughly vetted by Lazada, so you have every assurance that you won't be scammed. Each lender has its own advantages, which you must check to land the provider that suits you best.
👍 Flexible Installment Plan
You can either choose to pay in as early as 15 days or go for a 24-month term. With these options, it's possible to pick a payment term that won't put a strain on your cash flow.
👍 No Need for a Guarantor
You don't need someone to financially back you up for this kind of loan. This means you don't have to deal with complicated paperwork.
👍 No Need for a Collateral
Likewise, you won't need to surrender any asset to apply for a Lazada loan. Your jewelry, gadgets, or luxury handbags are safe.
However, a Lazada Loan is not without its share of drawbacks. A loan is still a loan, and if you're not responsible enough, you may wind up in a spiral of financial problems. So before you apply, consider the following scenarios.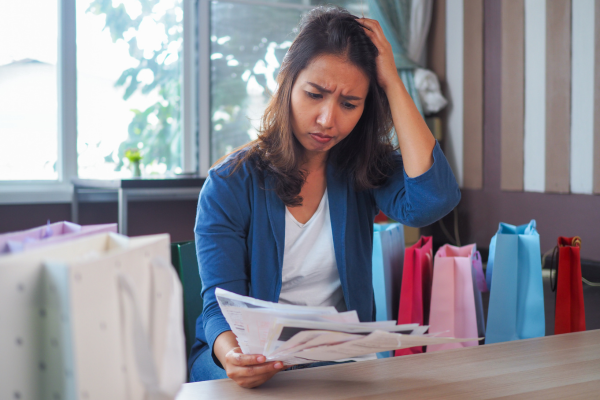 👎

Unnecessary Debts
The allure of online shopping is irresistible. Combine big discounts with a high credit limit and impulsive shopping habits, and you'll be well on your way to accumulating overwhelming debts. The only thing that can help you deal with it is self-control.
👎 Other Fees to Cover
While some interest rates may be considerably low, you'll still find yourself covering the processing fees. You must also watch out for penalties. Factor in these costs when you're computing your repayments.
👎 Smaller Budget for Other Loans
The money that could have gone to your house mortgage and other financial obligations will have to be put toward your online shopping loans. This is a likely scenario if you apply for multiple Lazada Loans.
👎 Overwhelming Choices
The variety of lenders on Lazada may be a plus. But it can also be a disadvantage, especially if you're in a hurry. Instead of just using one unified loan, you'll find yourself reviewing and comparing the accredited lenders to find the best deal.
Related reading: Atome Philippines Beginner's Guide: A New Way to Buy Now, Pay Later
Lazada Loan Review: What Customers Are Saying
It's honestly tricky to come up with a Lazada Loan review that will analyze the financing scheme as a whole. This is because Lazada Loans are a collection of financing products offered by various online lenders.

Instead, this review will take a closer look at the strengths and weaknesses of some of Lazada's partner lenders:
🛒 LazPayLater
One of the biggest draws of Lazada's flagship loan product is the ease of application and low interest rates. You also don't need to leave the app to process your application.
However, one reviewer says that getting approved is challenging despite providing all the necessary requirements. This leads to repeated applications. The same reviewer attributes this to Lazada's strict screening process.
🛒 BillEase
BillEase's Lazada Loan program is convenient, thanks to its easy and quick approval. However, some features are limited to first-time borrowers.
For instance, newbies aren't allowed to apply for a 12- and 24-month loan term. This privilege is only reserved for repeat customers. The best a first-timer can get is a term of up to six months.
On top of that, customers may find BillEase's constant stream of notifications bothersome.
🛒 TendoPay
TendoPay is a great Lazada Loan option for those who want to get their shopping credits quickly, as this lender's turnaround time is 24 hours. The interest rate is relatively low at 2%, but some borrowers are quick to point out that this lender requires a 20% downpayment.
Moreover, you'll need to make sure that the amount should be at least equal to the price of the item. This is because you won't be getting any change.
🛒 UnaCash
One of the most impressive things about Lazada's partnership with UnaCash is that you can borrow up to ₱50,000. This makes a good option if you're buying big-ticket items, such as gadgets.
Despite that, the payment terms are quite short, ranging from two to six months. So if you borrow ₱50,000, you'll need to pay it for up to six months only, which may be challenging if you have cash flow problems.
One advantage of using UnaCash may become your disadvantage. Your credit replenishes automatically once you make a repayment. This gives you unlimited shopping credits, but if you're not disciplined enough, this will trap you in a vicious cycle of debt.
🛒 JuanHand
JuanHand also offers convenience when you shop at Lazada, as the application process is easy and approvals are quick. But just like with other online lenders, your starting loan amount is small. Another drawback of this financing option is its relatively high interest rate.
🛒 Cashalo
For many borrowers, Cashalo's service is satisfactory. Processing time is quick and the loan proceeds are disbursed as soon as possible. Moreover, new Cashalo users can enjoy 0% interest on Lazada Loans.
On the other hand, the company's aggressive approach to reminding you of your due date may be a turn-off for some.
🛒 InvestEd
InvestED offers loans up to ₱40,000. You can use the loan proceeds to purchase school-related items on Lazada, such as supplies, books, and even gadgets. However, this loan is limited to students only.

Lazada Loan Requirements
Applying for a Lazada Loan is easy. Generally, all you need are a smartphone or computer connected to the internet and the requirements below. Keep in mind, though, that borrower requirements may vary from lender to lender.
Valid government-issued ID (passport, driver's license, UMID, etc.)
Proof of income
Proof of billing (depending on the lender)
A Lazada account with an activated Lazada Wallet
🔹 How to Activate Your Lazada Wallet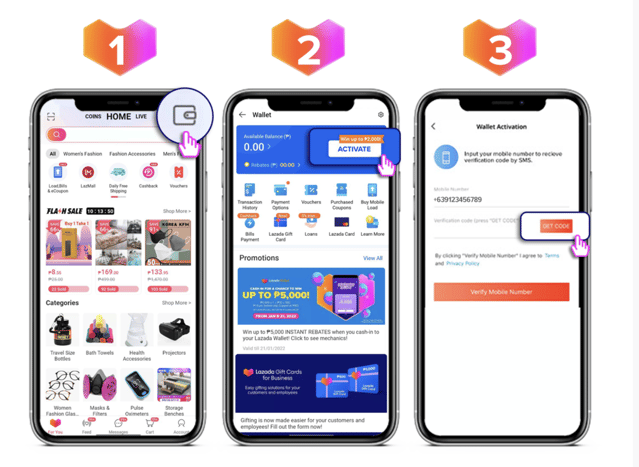 Activating your Lazada Wallet should be a priority, as this is where the loan proceeds will be credited after your application has been approved. It won't take much of your time. Just follow these steps:
Open the Lazada app and log in to your account.
Tap the Wallet icon on the upper right corner of the page.
Tap Activate.
Double-check your phone number and tap Get Code.
Input the OTP you've received through text and tap Verify Mobile Number.
Once your number is verified, you'll be redirected to your Lazada Wallet.
How to Apply for a Lazada Loan
Go to the Lazada Loans page.[2] From there, choose an accredited lender. Note that each lender offers different loan amounts and some might ask for additional requirements.
As these Lazada Loan partners have different terms and conditions, it would be wise to compare them to find the one that perfectly suits your needs. Check out the following details, so you can find the best Lazada loan partner.
🛒 LazPayLater
LazPayLater is Lazada's credit payment method that allows you to shop and pay for your purchases up to 45 days later with a low interest rate. You may also avail of the installment plan of up to 12 months. The catch is that this is only open to pre-qualified users.
LazPayLater Loan Features
Loan amount: Up to ₱15,000
Loan terms: 45 days to 12 months
Interest rate: Depends on the installment term
Lazada LazPayLater Application Requirement
LazPayLater requires only one valid government-issued ID, such as a passport, driver's license, UMID card, or SSS ID.
LazPayLater Loan Application Steps
On your Lazada app, go to LazPayLater application page.
Agree to the Terms and Conditions and Privacy Policy. Then tap Apply Now.
Key in the OTP.
Take a picture of your valid ID.
Take a selfie.
Fill out the application form.
Submit your application.
🛒 Billease

Operating under the fintech company First Digital Finance Corporation, BillEase is a Buy Now, Pay Later service offering credit limits that can be used at its more than 3,000 partner merchants, including Lazada. If you're a repeat customer, you can enjoy an extended Billease loan term.
Billease Features
Loan amount: ₱2,000 to ₱40,000
Loan terms: 1 to 3 months
Interest rate: 3.49% per month
Billease Loan Application Requirements
Must be at least 18 years old
Must have a stable source of income
Valid government-issued ID
Proof of billing
Proof of income
Billease Loan Application Steps
From the Lazada Loans page, tap Billease.
Choose your loan amount and repayment terms before tapping Apply Now.
Submit your personal information and upload your requirements.
Wait for approval. It will take at least one banking day.
Once approved, your proceeds will be credited to your Lazada Wallet.
🛒 Tendopay
One of the top Lazada loan partners, Tendopay provides online shoppers with a convenient installment plan through online vouchers. As noted above, you should purchase a voucher that's equal to the amount of the item price since there will be no change provided.
Tendopay Features
Loan amount: ₱2,000 to ₱30,000 (will depend on the assessment of your application)
Loan terms: 2 to 24 months
Interest rate: Starts at 2% per month; will depend on the amount and term of the loan
Tendopay Loan Application Requirements
Must be at least 18 years old
A valid government-issued ID
A selfie with your government-issued ID
Proof of income
Employee number
Tendopay Loan Application Steps
Download TendoPay and create an account.
Click Merchants and choose Lazada.
Select voucher value. Tap Purchase.
Follow the succeeding prompts. Pay the downpayment with your preferred e-wallet.
Wait for the crediting of loan credits to your Lazada Wallet.
🛒

UnaCash
UnaCash offers buy-now-pay-later plans to online shoppers at Lazada. It's an ideal option if you're buying a high-ticket item since it can lend up to ₱50,000.
UnaCash

Features
Loan amount: Up to ₱50,000
Loan terms: 2 to 6 months
Interest rate: Not specified; presumably between 2% and 4%, based on Lazada Loans' usual interest rates
UnaCash

Loan Application Requirements
Must be at least 18 years old
A valid government-issued ID
Proof of income
Proof of billing
UnaCash

Loan Application Steps
To start your application, visit UnaCash's homepage. There, you'll be required to get the app.
File your application with one valid ID and proof of income
Wait for the confirmation of your application. Once approved, convert your loan credits to Lazada Loan via the app and enter your Lazada Wallet credit number.
🛒 JuanHand
JuanHand is one of the leading fintech platforms in the Philippines offering cash loans. It also partners with Lazada to provide spending credits for online shoppers.
JuanHand Features
Loan amount: Up to ₱25,000
Loan terms: Up to 3 months
Interest rate: Not specified; presumably between 2% and 4%, based on Lazada Loans' usual interest rates
JuanHand Loan Application Requirements
The requirements aren't specified, but generally, you can assume that you must be between 20 to 60 years old. Prepare the following as well:
Valid ID
Proof of income
Proof of billing
JuanHand Application Steps
Register with your mobile number.
Input the required information.
Choose a branch and input the loan amount.
Select your cash-out channel.
Wait for the disbursement of your loan.
Related reading: Using the Plentina Loan App: Guide to Registration, Payments, and More
🛒 Cashalo

Cashalo is undoubtedly one of the most popular players in the Buy Now, Pay Later industry. This is the best Lazada Loan partner if you don't want to spend big on shopping. This is because this loan will only allow you to fund your Lazada Wallet with up to ₱5,000.[3]
Plus, the application requirement isn't complicated.
Cashalo Features
Loan amount: Up to ₱5,000
Loan terms: Up to 90 days
Interest rate: 0% for new Cashalo users
Cashalo Loan Application Requirements
The only requirement that Cashalo will ask from you is to complete your user profile in the Cashalo app. While you're at it, make sure that the email address and mobile address match the ones you registered with Lazada.
Cashalo Loan Application Steps
Register for a Cashalo account with your email address and mobile number. Make sure that these details are the same as the ones enrolled in your Lazada account.
Download the Cashalo app and log in.
Tap Lazada Loan under Pay with Cashalo. Complete your profile.
Select your desired loan amount and payment terms.
Once your application is approved, the loan proceeds will be credited to your Lazada Wallet in one to three business days.
🛒 InvestEd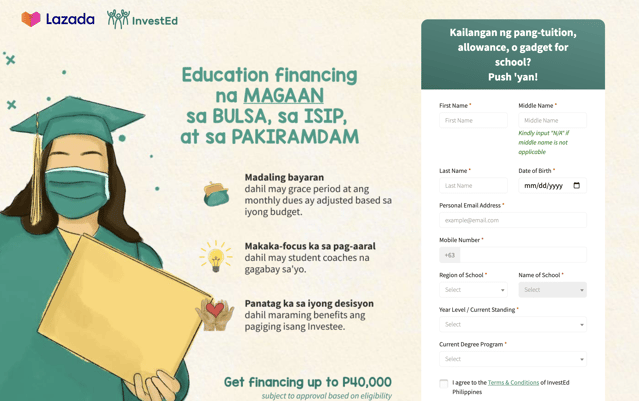 InvestED is the best Lazada Loan partner if you're a student. This is because InvesTED is a lending company that specializes in education. It lends money that students can use for tuition, allowance, and gadgets.
InvestEd Features
Loan amount: Up to ₱40,000
Loan terms: Not specified
Interest rate: Not specified; presumably, between 2% and 4%, based on Lazada Loans' usual interest rates
InvestEd Loan Application Requirements
Not specified, but it would be safe to prepare the following:
Documents proving that you're 18 years old and above (e.g. PSA-certified Birth Certificate)
Documents proving that you're enrolled in an undergraduate or postgraduate degree
Valid government-issued ID
InvestEd Loan Application Steps
Complete and submit the application form on the InvestED website.
Wait for the approval within two to seven days.
An InvestEd loan officer will contact you if you qualify for the loan. They will verify your information and provide you with a sample breakdown of your loan.
Submit the documentary requirements.
Lazada Loan Review: FAQs
Now that you know the features and benefits of various Lazada loan partners, you're ready to apply. However, if you still have some concerns, you may want to stop for a moment and read through the following.
1. Where will I get the cash?
Remember that Lazada Loans aren't cash loans. The proceeds of the loan come in the form of Lazada Wallet credits, which ensure that the money can only be spent on Lazada purchases. So, beware of agents calling or messaging you that you can pick up your loan proceeds in person.
2. Will the loan be credited in full or in installments?
The proceeds of your Lazada loan will be credited to your Lazada Wallet in full. That way, you can purchase whatever you need or want on the platform. Remember that Lazada Loans in the Philippines are essentially a Buy Now, Pay Later service, meaning that the repayment will be in monthly installments.
3. Do Lazada Wallet credits expire?
Lazada Wallet credits from a Lazada Loan don't expire, meaning you can shop whenever you feel like it. If you want, you can save the credits for a bigger purchase. This is something that you can do by topping up or applying for a second loan.
4. How can I repay my Lazada Loan?
The loan agreement is exclusive between you and your chosen lender, so you will make the repayments directly to the lender. Most lenders have payment channels, including bank-to-bank transfers and bills payment centers. Make sure you read the loan contract with your respective lender carefully to avoid confusion.
5. My application is denied. Can I apply for a Lazada Loan with another lender?
Yes! The Buy Now Pay Later system on Lazada allows you to apply with another lender if your first choice doesn't approve your application. You can even apply for multiple loans with different lenders in case you need a higher amount.
6. Are Lazada Loans processed only via the app?
No. You can apply for a Lazada loan via the app or desktop. However, take into account the convenience when it comes to uploading the documentary requirements. If you already have the files on your phone, it only makes sense to process your application via the app.
7. Do I still have to pay off the loan even if I don't use my credits?
Yes. Your loan has been approved and the proceeds have been credited to your account. So regardless of whether you use them or not, you'll need to repay the lender according to schedule.
Final Thoughts
Gone are the days when online shopping was a convenience that only credit or debit card owners could afford. Although cash on delivery proves to be a practical option, it can be problematic, especially when the schedule of the delivery coincides with petsa de peligro or similar cash-strapped times.
The Buy Now, Pay Later system on Lazada is a great alternative for those who don't have the means to purchase a necessary item. It's also a practical option for those who don't want to put a dent in their savings or disrupt their cash flow with one big spend.
Before you apply for a Lazada loan, check the features thoroughly. That way, you'll be able to pick a loan with manageable repayment terms. It would also help to come back to this Lazada Loan review if you want to check a lender's advantages and disadvantages.
Compare Other Personal Loan Options
Looking for a cash loan that will supplement the payment for your online purchases? Take a look at this list of personal loans in the Philippines and their features. Compare your options and apply through Moneymax today!
Personal Loan Provider

Minimum Loan Amount

Maximum Loan Amount

Minimum Annual Income

Approval Time

Metrobank

₱20,000

₱1 million

₱350,000

7 days

BPI



₱

20,000

₱2 million

₱

300,000

5 to 7 banking days

EasyRFC

₱

10,000

₱150,000

₱

120,000

As fast as 24 hours

Maybank



₱

50,000

₱1 million

₱

300,000

Apply online in just a few clicks

RCBC



₱

50,000

₱1 million

₱

360,000

5 to 7 banking days

SB Finance




₱30,000

₱2 million

₱180,000

5 banking days

CIMB



₱

30,000

₱1 million

₱

180,000

24 hours

HSBC



₱

30,000

₱500,000 or 3x gross monthly salary, whichever is lower

₱

168,000

5 to 7 banking days

CTBC



₱2

0,000

₱1 million

₱

180,000

3 to 5 banking days
Sources: