9. Be a Disciplined Borrower
Financial institutions also decide in favor of borrowers with multiple forms of credit that they repay regularly.
For example, you have three credit cards and a car loan. You pay all your credit card balances and loan amortization on time every month. It shows you can maintain a good credit standing while managing to pay multiple forms of credit.
However, don't borrow more than you can afford. If you already have multiple forms of credit, but you can barely pay for them, getting a personal loan may not be the best idea.
10. Use the Lender's Loan Calculator
To find out your possible loan interest, monthly installment amount, and fees, use the lender's loan calculator on its official website.
Here's a sample from Security Bank's online loan calculator:[2]
First, enter the amount you wish to borrow. Remember, don't borrow an amount you can't afford to pay or don't need. It's not practical to pay a loan you won't even use for your financial need.
Next, choose how long you want to pay for your loan. The loan duration or tenor plays an important role in determining the cost of your personal loan.
Lastly, check your estimated monthly installment.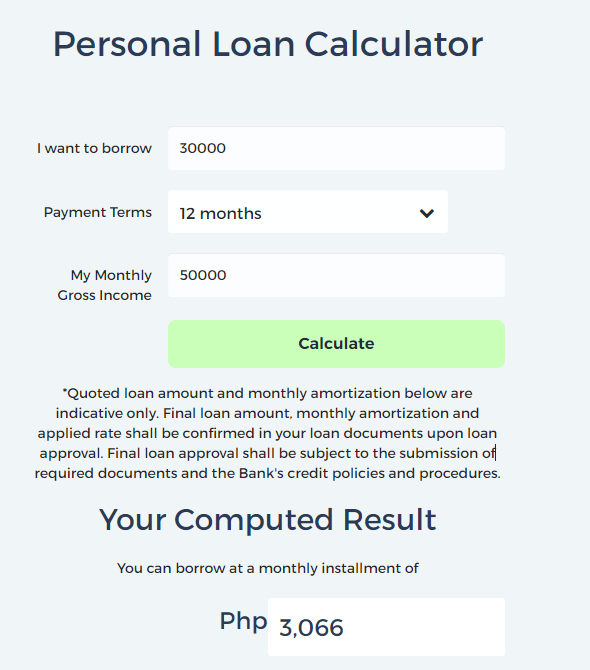 This loan calculator will show you how much your expected monthly repayment will be. So for this example, you'll be paying ₱3,066 every month for 12 months for the loan amount of ₱30,000.
At a glance, you can also find out the interest that your loan will incur for one year.
₱3,066 x 12 = ₱36,792
₱36,792 - ₱30,000 (principal amount) = ₱6,792
In the computation above, you can see that the loan will incur an interest amount of ₱6,792 for one year (or ₱566 each month). This doesn't include late payment fees and other personal loan fees.
11. Improve Your Relationship with the Bank
Having a good relationship with your bank can help it evaluate your creditworthiness. Being a credit cardholder can help, but so can being a long-time client with several bank accounts.
Some banks don't even look at how much you currently have in your accounts. More often, banks will check how long your accounts have been active and in good standing.
12. Know the Difference Between Good Debt and Bad Debt
Making a personal loan means being in debt to the loan provider. As a borrower, check whether you're signing up for good debt or bad debt.
Good debt involves taking out a loan to fund something that will potentially grow your assets[3] in the long term. Examples of good debts are money spent on tuition fees, career advancement, home renovation, or business capital.
In contrast, bad debt involves borrowing money for something that will potentially reduce or prevent your asset growth. These things depreciate over time, like vehicles, shopping sprees, and unplanned purchases.
So know your goal before taking out a personal loan. This will determine whether it's a good or bad debt. Borrowing money for something that will not help you gain financially is not practical and may lead to unpaid debt for years.
Personal Loan Tips to Speed Up Your Application
Personal loan approval time varies per provider and depends on various factors. Although you can't control the entire approval process, you can still follow these personal loan tips to avoid delays in the approval and disbursement.
Check your credit score. Before applying for a personal loan, check whether you have a good credit rating. This will give you enough time to improve your score or fix errors if there are any.
Know how you can receive the loan proceeds. Can you pick up the check from the lender's office or have the loan proceeds deposited into your bank or e-wallet account?
Prepare all your financial documents. Make sure you have updated documents as proof of your capacity to pay. Your latest ITR, valid IDs, and correctly filled out personal loan application form can help speed up the process.
Find a willing guarantor or co-borrower. A guarantor or co-borrower should voluntarily sign the loan application with you. This is applicable if you apply for an unsecured loan with no collateral or if required by the lender. The guarantor or co-borrower should also prepare the same documents required from the principal borrower.
Plan your payments. Having a plan to pay the loan even before applying for it is a good start. One of the most important loan repayment tips to keep in mind is to find another source of income. This way, should there be a change in your current salary, you'll still have enough to cover your new debt.
What to Do When Your Loan Application is Denied
If your loan application isn't approved, here are additional personal loan tips to help improve your chances when you apply again:
Pay off your debts. Make it a priority when you receive a lump sum of money, such as a bonus or 13h month pay.
Apply for a secured loan if you have collateral to offer.
Inquire about other types of available loans you may be eligible for.
Check out loans from other lenders.
Review the documents you've submitted.
Find ways to increase your income through side hustles and other means.
Final Thoughts
Getting approved for a personal loan with low interest rate in the Philippines and convenient payment terms is a privilege. But it takes a while to build a good credit record to show lenders that you deserve a chance to borrow. It's a process that requires discipline.
You can start by following the personal loan tips we shared in this article. And once your loan application is approved, ensure you have an efficient budgeting and repayment plan to pay down the debt and be eligible for bigger financial opportunities in the future.

Sources: