Doing the hard work before and during a loan application process won't let money come so easily sometimes. As a result, borrowing from banks and other lending institutions has become a disappointment for Filipinos who have been declined several times already.
This is not the time to give up, though. We've listed down some useful personal loan tips to improve your chances of getting approved and what to do when you get rejected for a loan.
12 Personal Loan Tips to Help Improve Your Application in the Philippines
Want to know how to get approved for a personal loan? Check this list first before submitting that application.
1. Be Realistic with Your Numbers
Make sure you're borrowing an amount you can realistically pay. You can use the debt-to-income ratio to measure how much of your salary should go to loan repayments.
The debt-to-income ratio compares an individual's monthly debt payment to his or her monthly gross income.[1]
How to Compute Debt-to-Income Ratio
To calculate your debt-to-income ratio, simply divide your monthly total debt payment by your monthly gross income and then multiply the amount by 100.
Debt-to-income ratio = (Monthly total debt payment ÷ Monthly gross income) x 100
For example, if your monthly gross income is ₱25,000, and your monthly total debt payment is ₱10,000, your debt-to-income ratio is 40%. This means you spend 40% of your salary on monthly debt payments.
It's best to keep your debt-to-income low because lenders may not approve your loan application if the ratio is too high. This is one of the top personal loan tips to keep in mind when getting a personal loan.
2. Understand the Types of Personal Loans Available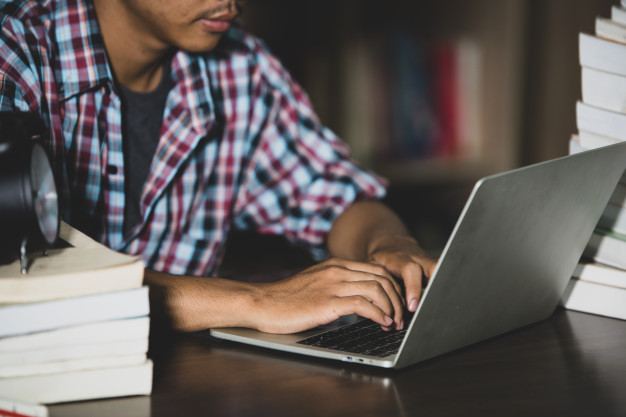 Learn about the types of personal loans in the market. You can get a secured or an unsecured personal loan, but what is the difference?
A secured loan uses one of your assets as collateral. If you can't repay the loan, your lender has the right to seize your asset, which may be your vehicle or property. Moreover, the lender may sell it to cover the money you owed.
The amount you can borrow with a secured loan is typically higher than with an unsecured loan. The interest rates tend to be lower as well.
With an unsecured loan, you don't have to put up collateral. If you miss repayments or default, your lender cannot take any of your assets to settle your debts.
Also, the amount you can borrow with an unsecured loan is smaller. The interest rates may be higher as well. However, it doesn't mean defaulting on an unsecured loan has no consequences. Your credit history will be affected if you don't pay your loan.
3. Compare Personal Loans
Many financial institutions in the Philippines offer personal loans, so it can get overwhelming. Do your research first, so you know your options—this is one of the most important personal loan tips.
According to the Bangko Sentral ng Pilipinas, borrowers consider the interest rate, loan amount, repayment period, and easy loan application when applying for a loan. Consider these factors as well when comparing loan products.
Apart from these, consider your loan needs and how much you can afford. Banks won't loan you an amount you can't pay. So, when comparing different loan providers, ensure that the interest rate, processing fees, and loan term are realistic in relation to your financial standing.
Read more: How to Compare Personal Loans
Check Out Personal Loans from Top Providers in the Philippines
Personal Loan Provider

Minimum Loan Amount

Maximum Loan Amount

Minimum Annual Income

Approval Time

Metrobank

₱20,000

₱1 million

₱350,000

7 days

Citibank

₱2

0,000

₱2 million

₱

250,000

As fast as 24 hours

Note: This product is sold by Union Bank of the Philippines, using certain trademarks temporarily under license from Citigroup Inc. and related group entities.

BPI



₱

20,000

₱2 million

₱

300,000

5 to 7 banking days

EasyRFC

₱

10,000

₱150,000

₱

120,000

As fast as 24 hours

Maybank



₱

50,000

₱1 million

₱

300,000

Apply online in just a few clicks

RCBC



₱

50,000

₱1 million

₱

360,000

5 to 7 banking days

SB Finance




₱30,000

₱2 million

₱180,000

5 banking days

CIMB



₱

30,000

₱1 million

₱

180,000

24 hours

HSBC



₱

30,000

₱500,000 or 3x gross monthly salary, whichever is lower

₱

168,000

5 to 7 banking days

CTBC



₱2

0,000

₱1 million

₱

180,000

3 to 5 banking days
4. Talk to Various Lenders
Get in touch with lenders to know more about their loan products. You may call their customer service hotlines or inquire via email.
You can also head to your local bank and ask questions about the personal loan application process, time frame, terms, additional fees, and repayment schemes. This will help you fully understand the loan you're trying to apply for.
Too busy to call or visit multiple lenders? Make your search for the best personal loan in the Philippines a lot easier through Moneymax. Our free comparison platform not only enables you to compare different personal loans but also conveniently apply for a loan.
5. Have Your Personal Loan Application Documents Ready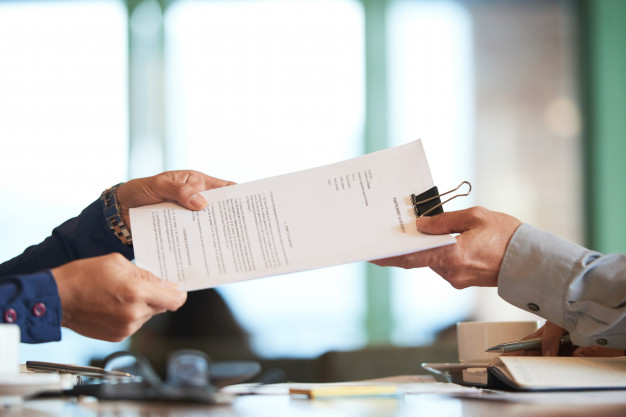 Before starting the personal loan application process, prepare all the documentation you'll need. Different financial institutions may have different requirements, so contact your preferred lender ahead of time to get a checklist of the items you need to submit.
You have to submit a fully accomplished personal loan application form, a photocopy of your valid ID, and proof of income. You may have to submit additional document requirements, depending on your lender.
Check your lender's eligibility requirements as well. Typically, those who are at least 21 years old and Filipino citizens or foreigners permanently residing in the Philippines are eligible for a personal loan. Some lenders may require a minimum gross monthly income for loan applications.
6. Check Your Assets and Liabilities
Assets are things you own such as properties, vehicles, and other investments. Liabilities, on the other hand, are your financial obligations, such as credit cards and mortgages. Lenders may look at these factors when you apply for a loan.
So before applying for a personal loan, check your outstanding liabilities. Having unpaid debt can impact your credit history, affecting how much you can borrow.
7. Improve Your Credit History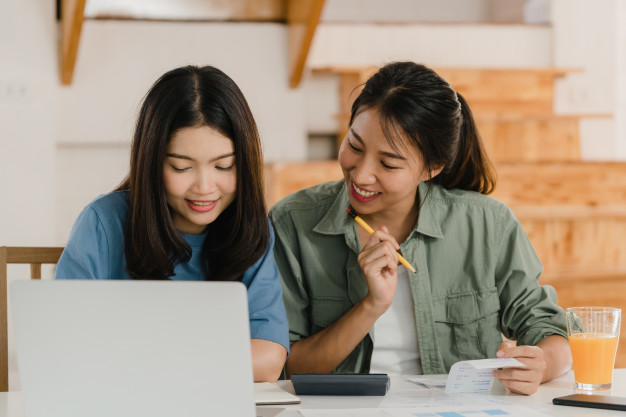 Financial institutions look at your credit history to determine whether you are a trusted and disciplined lender. If you pay your credit card balances on time every month, this shows that you can make the monthly payments on your loans.
If you have maintained a credit card with good standing, this shows that you have the discipline to pay off personal loans spanning two or three years.
Here are some ways you can improve your credit history for your personal loan application:
Pay your bills on time
Pay your bills in full
Spend less than your credit limit amount
Keep old accounts (longevity counts)
Avoid external factors that impact your history negatively (e.g. foreclosure, bankruptcy, etc.)
8. Make Sure You Have Proof of Income
You have a better chance of loan approval if you're employed than if you're a freelancer. The risk for banks is lower because you have a steady flow of income, which means you're financially capable of repaying your loan.
If you're self-employed, your lender may ask you to provide the following documents:
A copy of your Income Tax Return (ITR)
Your audited financial statements for the past years
Necessary licenses or permits such as a DTI registration certificate or an SEC registration
These documents show that you have a history of earning and paying taxes. Take note of these personal loan tips, whether you're an employee or a self-employed individual.
See also: Loan Options and Approval Tips for Freelancers in the Philippines

9. Be a Disciplined Borrower
Financial institutions also decide in favor of borrowers with multiple forms of credit that they repay regularly.
For example, you have three credit cards and a car loan. You pay all your credit card balances and loan amortization on time every month. It shows you can maintain a good credit standing while managing to pay multiple forms of credit.
However, don't borrow more than you can afford. If you already have multiple forms of credit, but you can barely pay for them, getting a personal loan may not be the best idea.
10. Use the Lender's Loan Calculator
To find out your possible loan interest, monthly installment amount, and fees, use the lender's loan calculator on its official website.
Here's a sample from Security Bank's online loan calculator:[2]
First, enter the amount you wish to borrow. Remember, don't borrow an amount you can't afford to pay or don't need. It's not practical to pay a loan you won't even use for your financial need.
Next, choose how long you want to pay for your loan. The loan duration or tenor plays an important role in determining the cost of your personal loan.
Lastly, check your estimated monthly installment.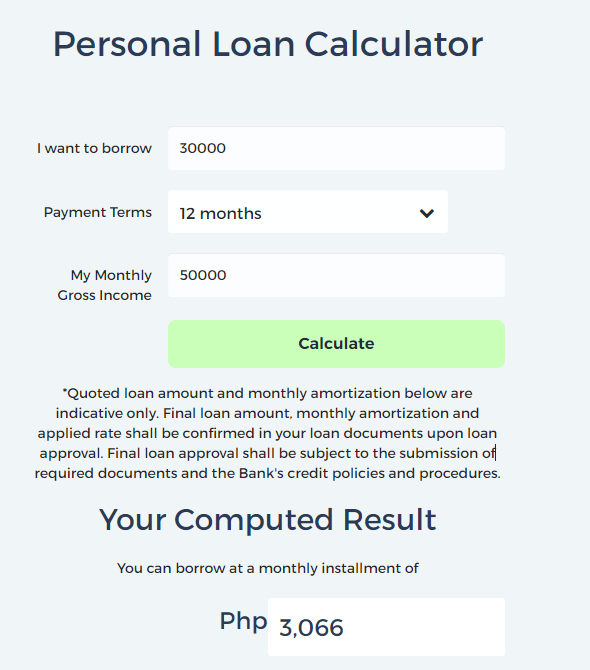 This loan calculator will show you how much your expected monthly repayment will be. So for this example, you'll be paying ₱3,066 every month for 12 months for the loan amount of ₱30,000.
At a glance, you can also find out the interest that your loan will incur for one year.
₱3,066 x 12 = ₱36,792
₱36,792 - ₱30,000 (principal amount) = ₱6,792
In the computation above, you can see that the loan will incur an interest amount of ₱6,792 for one year (or ₱566 each month). This doesn't include late payment fees and other personal loan fees.
11. Improve Your Relationship with the Bank
Having a good relationship with your bank can help it evaluate your creditworthiness. Being a credit cardholder can help, but so can being a long-time client with several bank accounts.
Some banks don't even look at how much you currently have in your accounts. More often, banks will check how long your accounts have been active and in good standing.
12. Know the Difference Between Good Debt and Bad Debt
Making a personal loan means being in debt to the loan provider. As a borrower, check whether you're signing up for good debt or bad debt.
Good debt involves taking out a loan to fund something that will potentially grow your assets[3] in the long term. Examples of good debts are money spent on tuition fees, career advancement, home renovation, or business capital.
In contrast, bad debt involves borrowing money for something that will potentially reduce or prevent your asset growth. These things depreciate over time, like vehicles, shopping sprees, and unplanned purchases.
So know your goal before taking out a personal loan. This will determine whether it's a good or bad debt. Borrowing money for something that will not help you gain financially is not practical and may lead to unpaid debt for years.
Personal Loan Tips to Speed Up Your Application
Personal loan approval time varies per provider and depends on various factors. Although you can't control the entire approval process, you can still follow these personal loan tips to avoid delays in the approval and disbursement.
Check your credit score. Before applying for a personal loan, check whether you have a good credit rating. This will give you enough time to improve your score or fix errors if there are any.
Know how you can receive the loan proceeds. Can you pick up the check from the lender's office or have the loan proceeds deposited into your bank or e-wallet account?
Prepare all your financial documents. Make sure you have updated documents as proof of your capacity to pay. Your latest ITR, valid IDs, and correctly filled out personal loan application form can help speed up the process.
Find a willing guarantor or co-borrower. A guarantor or co-borrower should voluntarily sign the loan application with you. This is applicable if you apply for an unsecured loan with no collateral or if required by the lender. The guarantor or co-borrower should also prepare the same documents required from the principal borrower.
Plan your payments. Having a plan to pay the loan even before applying for it is a good start. One of the most important loan repayment tips to keep in mind is to find another source of income. This way, should there be a change in your current salary, you'll still have enough to cover your new debt.
What to Do When Your Loan Application is Denied
If your loan application isn't approved, here are additional personal loan tips to help improve your chances when you apply again:
Pay off your debts. Make it a priority when you receive a lump sum of money, such as a bonus or 13h month pay.
Apply for a secured loan if you have collateral to offer.
Inquire about other types of available loans you may be eligible for.
Check out loans from other lenders.
Review the documents you've submitted.
Find ways to increase your income through side hustles and other means.
Final Thoughts
Getting approved for a personal loan with low interest rate in the Philippines and convenient payment terms is a privilege. But it takes a while to build a good credit record to show lenders that you deserve a chance to borrow. It's a process that requires discipline.
You can start by following the personal loan tips we shared in this article. And once your loan application is approved, ensure you have an efficient budgeting and repayment plan to pay down the debt and be eligible for bigger financial opportunities in the future.

Sources: