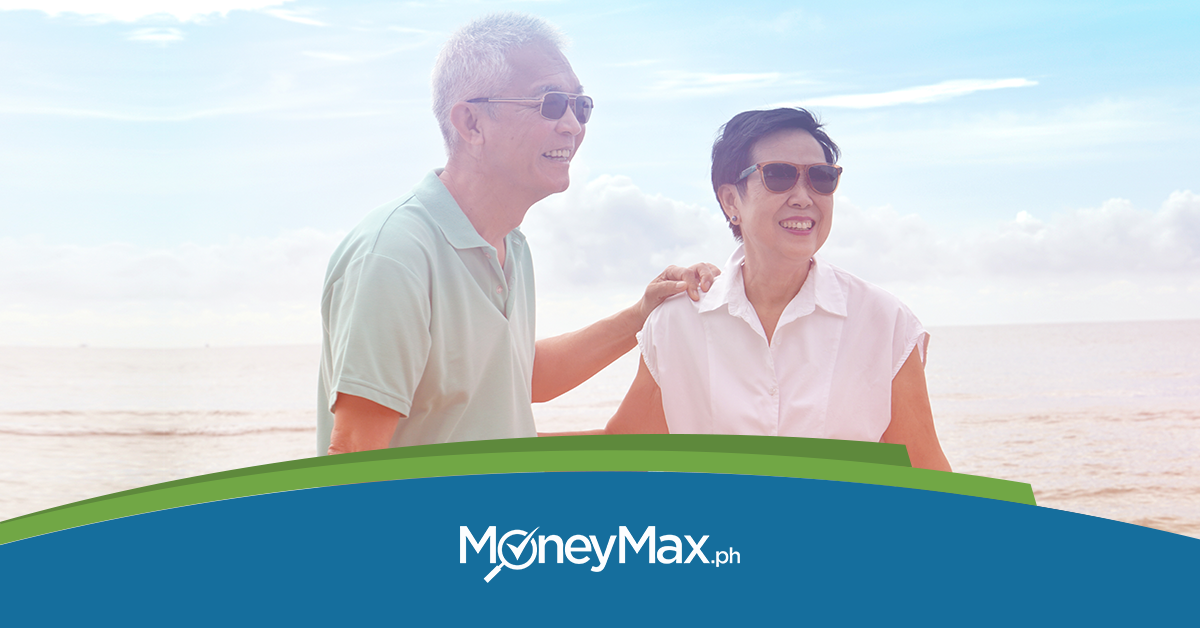 What usually comes to mind when you hear the term "Filipino pride"? Do a quick online search, and names like Manny Pacquiao, Lea Salonga, and Pia Wurtzbach would pop up. Also, a great source of pride is world-famous Philippine beach destinations like Boracay, Palawan, Bohol, and more. And, of course, the Pinoys' cheerful nature puts the Philippines on the map of the world's happiest countries.
Did you know that the Philippines is also one of the best Asian countries to live in for retirees? Its low cost of living makes it a top choice of foreigners and global Filipinos who want to retire comfortably at affordable costs.
It's more fun—to retire—in the Philippines
Food, transportation, utilities, healthcare, housing, and other living expenses are generally cheaper in the Philippines compared to many of its Asian neighbors.
Data from Number show that as of mid-2017, the country has the lowest cost of living index in Southeast Asia. It ranks 11th in Asia and 24th in the world. The cost of living index measures the difference in living costs (in percentage) between a location and another.
Cost of Living Index by Country in Asia (ranked from lowest to highest)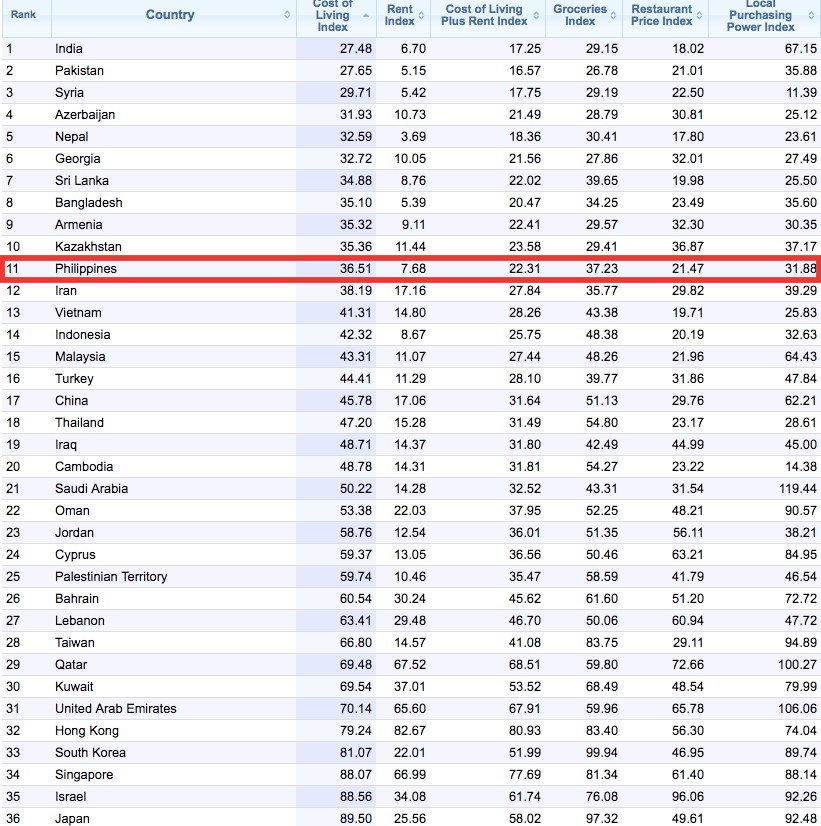 Cost of Living Index by Country in Southeast Asia (ranked from lowest to highest)

Living in the Philippines is 58% cheaper than in Japan, the most expensive Asian country. On the other hand, it's 35% more expensive to retire in the Philippines than India, the top low-cost country in Asia.
In the 2017 Annual Global Retirement Index, the Philippines ranks 19th as a favorite retirement destination in the world. It's one of the only four Asian countries (including Malaysia, Thailand, and Cambodia) to make it to the list.
Potential foreign retirees will find that their home currency has a greater purchasing power in the Philippines compared to their native country. In fact, living in the Philippines is 51% cheaper than in the United States, according to Number figures. For instance, a McDonald's meal in Manila can cost half the price in the same fast food restaurant in New York.
Depending on the city or town an expat chooses to retire in the Philippines, a monthly income of PHP 15,000 (USD 300) to PHP 60,000 (USD 1,200) would suffice.
Read More: How to Give Back to Your Parents without Becoming Their Retirement Plan
What does it mean for Filipinos?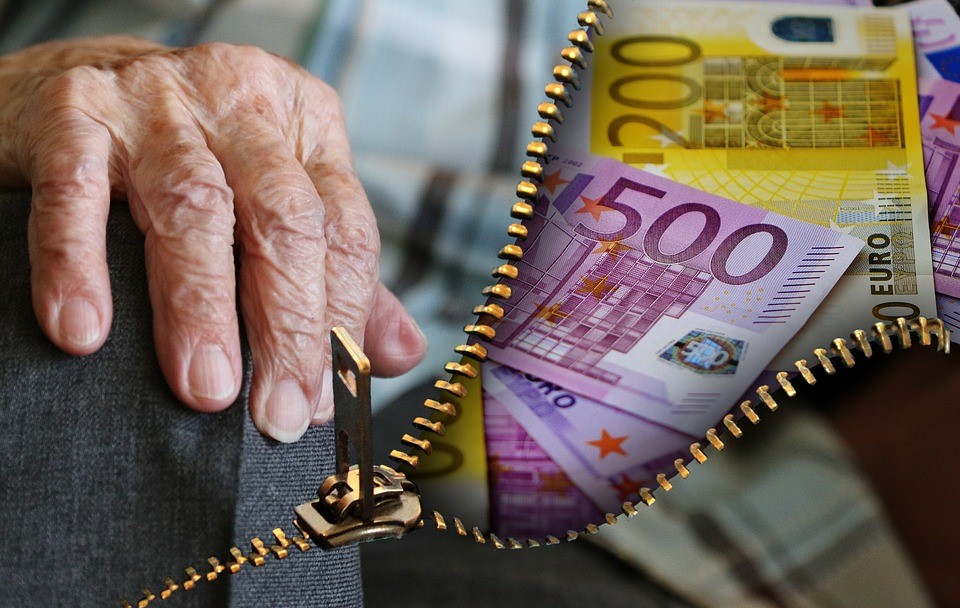 More foreigners retiring in the Philippines mean more investments for the country, according to the Philippine Retirement Agency (PRA)[1], a government agency under the Department of Tourism that promotes the country as a significant retirement destination for the world's elderly.
More investments coming in are good for the economy, as they generate more income and jobs. For instance, PRA's top international retiree, Japanese entrepreneur Kazuo Okada, employs some 20,000 Filipinos in his casino business in Parañaque City. According to the PRA, close to 60,000 foreign retirees live in various parts of the Philippines (as of August 2017) and contribute to the country's economic development. Most of them come from China, Korea, Taiwan, India, Japan, United States, Hong Kong, United Kingdom, Germany, and Australia.
Final Thoughts
Now that you know why the Philippines is a favorite retirement haven in Asia, you can help—in your own simple ways—to make it a better place for retirees and contribute to the economy.
Problems like traffic congestion along Manila's main roads and safety concerns about the government's campaign against illegal drugs cause some potential retirees to think twice about living in the Philippines for good. While you don't have the power to instantly reverse these issues, changing some Pinoy bad habits is a good start.
Discipline can make a great impact—when you're driving, crossing the street, or even in things as simple as disposing of your trash properly. Financial discipline is also important, especially if you're employed by a foreign retiree or a relative of someone who's married to one. Many Filipinos perceive foreigners as rich guys (they're probably not—it just so happens that their foreign currencies can buy so much here). And so, Pinoys tend to rely on them financially.
To develop discipline in managing your finances, use online financial tools like MoneyMax.ph to compare credit cards, car insurance policies, or personal loans to decide which product suits your needs. Instead of borrowing money from a foreign retiree-friend to start a business, it's wiser to get a business loan.
Lastly, keep up the warm hospitality that Filipinos are well known for. Being welcoming to foreigners is a unique trait that's truly a Filipino pride.
Need car insurance? A credit card? Or a loan? Moneymax got you covered. Check our products to know more.
Source: