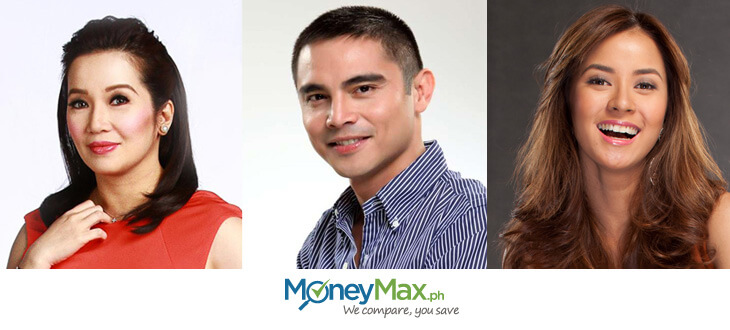 When we think of celebrities, we think of extravagant lifestyles and high-maintenance people.
This is partly true because their profession requires more branding and image building. However, this doesn't mean that all celebrities do not apply practical money practices to their lives. You'd think they have an unlimited supply of money because of their fame but in reality, being a celebrity is also a job and one needs to be financially smart to truly reap long-term benefits from this profession.
Here are some money lessons that you can learn from Filipino celebrities.
---
Kris Aquino - Don't depend on just one source of income.
Kris Aquino is part of the prominent Cojuangco and Aquino clans, so one would think that she is a woman of leisure. She tells us otherwise in her social media posts when she announced her hiatus from TV appearances 8 months ago. A memorable quote that she posted on her Instagram account after her hiatus was:
"I need to continue being a WORKING MOM since I am the SOLE PROVIDER for my sons, but for now I will away from the stress of the limelight."
Aside from being a celebrity, Kris Aquino is also a businesswoman who owns franchises of food establishments she endorses.
Key Takeaway:
Kris Aquino is already a pillar of the entertainment industry but she did not rest her laurels on earning money. She could have just been a full-time celebrity with no other sources of income but she chose to have multiple streams of income to secure the future of her kids.
You can also do the same with your income. Saving is a fundamental pillar in achieving financial freedom but you cannot save what you do not earn. Find ways to earn more money and never be complacent on building your income streams.
---
Bianca Gonzales - Developing a good work ethic can help you build your finances.
After giving birth, Bianca Gonzales - Intal immediately went back to her hosting gigs and went on pre-existing and new projects. Being well-known as a go-getter, this is not a surprise. She even cited this at a past Instagram post after giving birth to Lucia:
I need to get back to work so I can provide for my daughter. I am thankful for all the trust that the brands I endorse and the producers of the shows I'm in are giving me.**
Key Takeaway:
Earning money will never be easy but with the right work ethic, you can get the results you want. Keep the right mindset and get work done so you will reap the financial fruits of your labor.
---
Marvin Agustin - You can turn your passion into an income stream.
Marvin Agustin has ventured into several businesses when he stopped being active in showbiz. Some of the food businesses he co-owns are Sumo Sam, John and Yoko, Akira, Mr. Kurosawa, Robotosan, and Banzai.
At first, it seemed unlikely for Marvin Agustin to be a restaurateur. He revealed the reason he chose food businesses at his interview with MoneySense Magazine.
It seemed that his path would eventually lead him to put up his own food business. "I grew up with people working in restaurants. My sister was with Shakey's, my other sister was with Dunkin Donuts. My family? We all love to eat!"

Marvin shares that both his mom and dad love to cook. "As early as seven years old, taga-saing na ako. We live in a small house wherein wherever you are, you see the kitchen, you see what's going on, smell what's cooking. So naging blessing in disguise s'ya for me dahil natutunan ko ang pagluluto at naging passion ko."

Thus, when he was able to save up enough money to enter into business for his family and himself, Marvin chose to put up a restaurant.
Key Takeaway:
Many digital nomads and digital entrepreneurs suggest that you can get out of the usual 9-to-5 job routine to pursue your passions or hobbies into your income source. This sounds very idealistic on the surface but if you plan to pursue this, there would be more obstacles than staying at a conventional job.
Marvin pursued this line of businesses because he grew up in a family that worked in the food sector for so long. He knows how to do the dirty work of what it takes to operate a restaurant. This could also be an explanation why he is mainly in charge of restaurant operations for their ventures.
---
Robi Domingo - Measure everything, even the smallest expenses.
In a slideshow of ABS-CBN News featuring their top talents and money tips they shared, Robi Domingo shared this with his fans:
In an interview with ANC's "On The Money," Domingo said that before exploring investment opportunities, one has to learn how to manage his assets first. Domingo then revealed that he keeps an excel file of his expenses. Therefore, at the end of the day, he can easily monitor if he is going beyond his personal budget.
Key Takeaway:
Do you know what you ate for dinner exactly 3 weeks ago and how much you paid for it?
You will not know where your money is going if you do not list it down. It is a common mistake to rely on our memory when dealing with our finances.
Find a budgeting system that works for you to improve your finances. You can start with listing down all expenses in a notebook or downloading a budgeting app such as Expense Tracker, Wally, and Mint if you find dealing with an Excel sheet too tedious. Assess what you've taken down for a month and you can tell which expenses you can cut down on and allocate the excess money on other important expenses.
---
James Reid - Having the financial capacity doesn't mean always getting the expensive option.
James Reid is one of the hottest celebrities now, and with his countless endorsements, you'd think that he always wears designer clothes. In the photo above from his Instagram account, he says so otherwise:
Bought this jacket on the street for 200pesos #steal #itaewon
Key Takeaway:
Most of us take pride when we buy branded items such as clothes and gadgets but the truth is, we can find cheaper alternatives that are almost half the price but can still perform the function that I'm looking for.
You can search for non-branded items or secondhand items that suit your needs so you can cut costs. You'd be surprised to find out that cheaper alternatives can be as good as their expensive counterparts.
---
Piolo Pascual - Know your financial priorities.
In an article at Brighter Life Philippines, Piolo Pascual shared his financial journey and why he is working so hard for his family:
Early on, Piolo knew that his family and son would always come first, especially with regards to his finances. Today, he can confidently say that Inigo's future is safe and secure, thanks to his foresight.
Key Takeaway:
Saving and working hard for money without a purpose is like sailing a ship with no destination. Be clear on your financial goals and list them down. It will also help if you make a mood board that you will place visibly in your room so that you can get inspired every time before you leave the house or return home after a long day.
---
Cheska and Doug Kramer - Invest on health insurance for your kids and for yourself because that's going to give you big savings in case any of you gets sick.
Government benefits are underrated and underutilized for the Filipino worker. There are many instances when we take them for granted because we'd rather skip the long paperwork that comes with it.
You'd be surprised at what Cheska Kramer mentioned in an interview with MoneySense Magazine when their daughter got admitted in the hospital:
Kendra got pneumonia last year and our hospital bill was around P80,000 but I only ended up paying around P4,000 because of the health card. So that's an important thing. Philhealth, malaking bagay din yun!
Key Takeaway:
Aside from PhilHealth, did you know that PAG-IBIG now has a Loyalty Card that can give you discounts to many partner establishments? Or that you can avoid the hassle of falling in line at the SSS office by applying for a salary loan online and having the cheque delivered at your office? It can be a big help to your finances if you find out about the government benefits you are contributing to all the time. find out about the government benefits you are contributing to all the time.
---
Final Thoughts
More than watching out for their latest soap operas and TV commercials, we can also get inspiration from our favorite celebrities on how we can deal with finances.
Despite their hectic schedules and disposable income, many of them are still hands-on when managing their finances. How about you? Are you ready to put these lessons into practical use?
Need car insurance? A credit card? Or a loan? Moneymax got you covered. Check our products to know more.