Fiber Internet is on the rise globally. Boasting superior speed and reliability, it isn't surprising that it attracts the attention of Internet-savvy people. So what exactly is fiber Internet and where does the Philippines currently stand regarding it?
What's the Technique Behind Fiber Internet?
First off, let's delve into the technique behind fiber Internet. Instead of relying on more conventional techniques such as copper cables, fiber Internet functions through cables made of fiber: fiber-optics. The basic idea behind fiber-optics is that light is being guided through long fibers of extremely bright and thin glass, which allows the reliable transmission of signals over long distances. As the fibers themselves aren't thicker than a human hair, the light being guided through them makes extremely sharp angles hitting the outside of the fiber. Because of this, reflection is guaranteed and the light stays inside the fiber through internal reflection.
photo credit: X-Tine, resized Flickr CC photo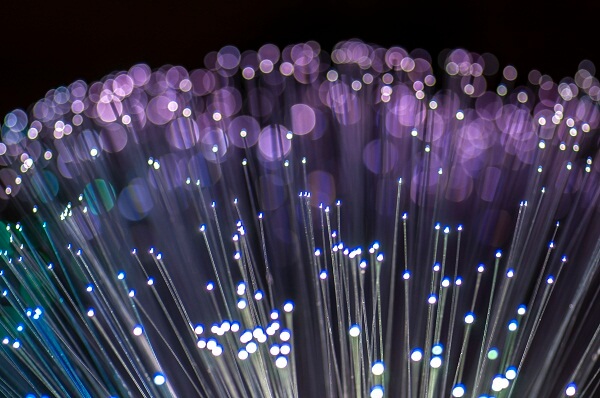 Fiber-optic communication systems were invented as early as the 1970s. Ever since, the technique has revolutionized telecommunications, and been paramount in facilitating the rapid development of the Information Age. Besides telecommunications, the technique has slowly been gaining ground when it comes to Internet penetration. This is because next to speed, a big advantage of a fiber-optics powered network is its reliability. Whereas the speed of conventional Internet may vary according to the amount of people using it (with many people at the same time severely slowing down the connection), with fiber optics it's unlikely that you'll encounter slowdowns due to heavy usage.
Getting Fiber Internet in the Philippines
Currently, the providers offering fiber-optic Internet in the Philippines are PLDT, Globe Tattoo, and Sky Broadband. Though, over the last years, the prices of fiber Internet have dropped significantly worldwide, getting fiber Internet in the Philippines is still a very pricy affair. Comparing the costs to, for instance, cable Internet, you'll notice that the fiber Internet plans are considerably more expensive. Besides, at the moment, fiber Internet has still a rather limited availability in the Philippines—it's mostly only available within certain areas of the Metro Manila area.
Still, due to the high quality of the technique and fiber cable rollout costs to houses becoming lower and lower (in some places in the world, this—at the moment—is a more cost-effective than rolling out a copper based network), you can expect this to change significantly over the years to come. As such, it'll definitely be worthwhile keeping fiber Internet plans in mind when choosing your broadband plan.
People who read this also liked: