So, you've secured the required permits and licenses for operating your new business. What's next, you ask? If you'll build a team, you need to know how to register your employees with the appropriate government agencies.
Each time you hire people, you need to report them to the BIR, SSS, Pag-IBIG Fund, and PhilHealth. New employee registration entails updating their employment status at each government agency. It's a must-do for every registered company and household employer in the Philippines.
Why Register Your New Employees?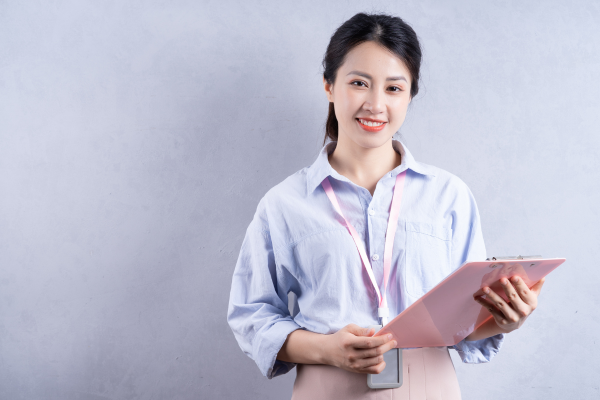 First, the law mandates it. Employees in the Philippines need to be registered so that they can pay their taxes and government-mandated contributions that entitle them to receive benefits under the Labor Code.
If your employees can enjoy their benefits, their morale and motivation to do their job well go up. Plus, they're more likely to stay longer with your company.
Second, new employee registration allows you to record your workers' salaries as your business' deductible expense.
Before you can register your new hires, you need to register as an employer with the SSS, Pag-IBIG, and PhilHealth.
Done with your employer registration? You can proceed with enrolling your new employees. Keep reading to learn how to register a new employee in SSS, PhilHealth, Pag-IBIG, and BIR.
How to Register Your New Employees in BIR
📄 Registration for Employees Without a TIN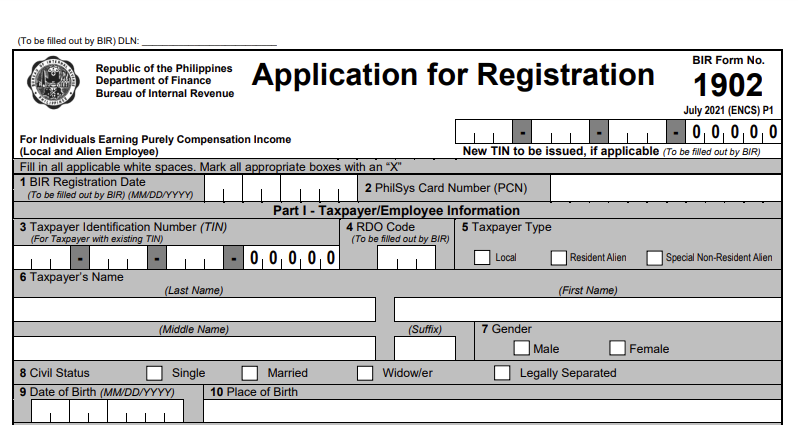 Ask your employees who don't have a tax identification number (TIN) yet to fill out the BIR Form 1902 (Application for Registration For Individuals Earning Purely Compensation Income).[1] Then submit the accomplished form to the revenue district office (RDO) where your business is registered.
They also must submit a photocopy of the following documents for their TIN application:
Birth certificate or any valid ID that shows the applicant's complete name, birth date, address, and signature
Marriage certificate (for married applicants)
Birth certificates of dependents, if applicable
Company ID or certificate of employment, if available
📄 Registration for Employees with TIN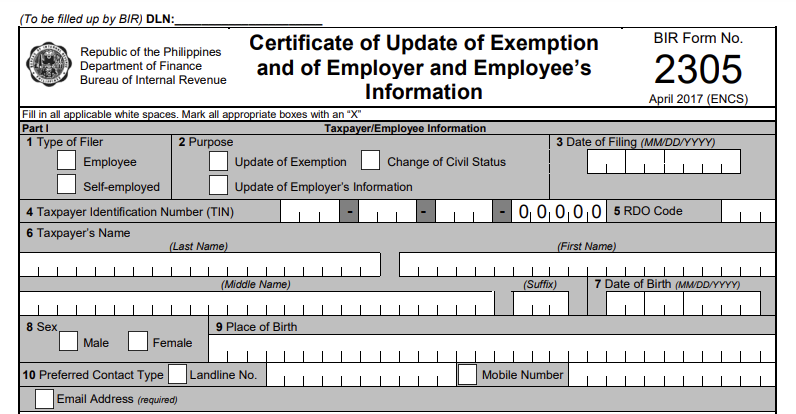 👉 If the employees' previous employer is registered in the same RDO as yours: Update your employees' information by having an HR officer or your concerned employees file an accomplished BIR Form 2305 (Certificate of Update of Exemption and of Employer and Employee's Information)[2] at your RDO.
👉 If the employees' previous employer is in a different RDO: Have your concerned employees submit an accomplished BIR Form 1905 (Application for Registration Information Update/Correction/Cancellation)[3] to the RDO where their previous employer is registered. This will transfer your employees' home RDO to your company's RDO.
How to Register Your New Employees in SSS
Require your employees without an SSS number to register for membership in an SSS branch, so they can secure an SSS number.
Get the SSS number, birth date, employment date, monthly salary, and job title of your new hires. Then fill out the SSS Form R1A (Employment Report)[4] using the details you collected.
Submit two copies of the accomplished form along with a valid primary ID or two secondary IDs to the SSS branch where your business is registered.
Read more: SSS Online Registration: How to Make an Account via My.SSS Portal
How to Register Your New Employees in PhilHealth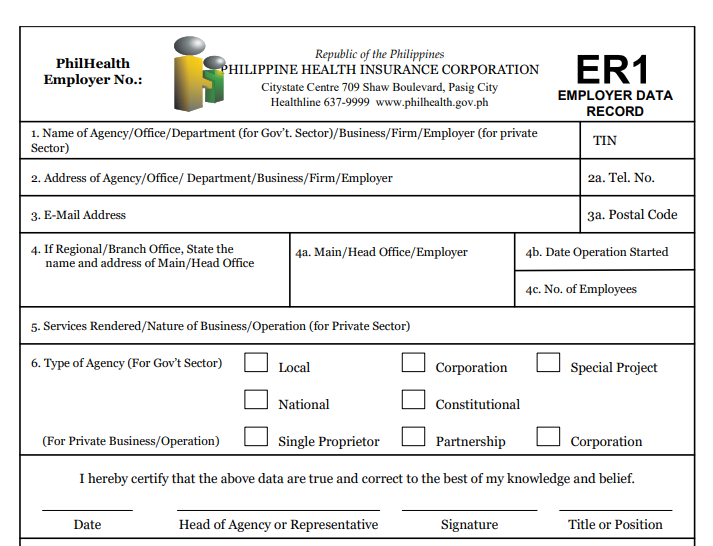 Have your new hires fill out two copies of the PhilHealth Member Registration Form (PMRF),[5] whether they're already PhilHealth members or not. Submit your employees' PMRFs along with two copies of your accomplished ER1 Form[6] within 30 days from the hiring date to the PhilHealth branch where your business is registered.
Once your registration for new employees is processed, PhilHealth will issue the following information and documents:
PhilHealth Employer Number (PEN)
Certificate of Registration
PhilHealth Identification Number (PIN) and Member Data Record (MDR) of your registered employees
Note: Employers are required to display the PhilHealth Certificate of Registration in a prominent area of their offices.
How to Register Your New Employees in Pag-IBIG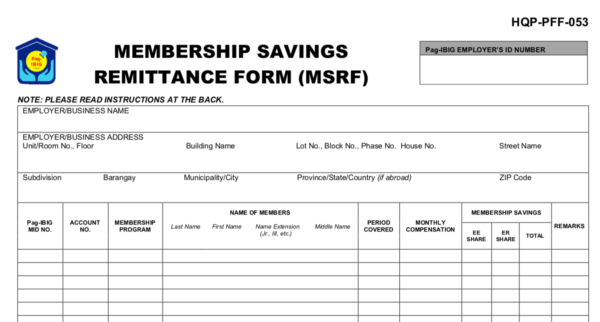 The Pag-IBIG employee registration process is pretty simple. Ask your new employees who don't have a Pag-IBIG Membership ID (MID) Number yet to register as members of the Pag-IBIG Fund.
Employees can register for Pag-IBIG membership online through Virtual Pag-IBIG (Simply select "Be a Member" and "Register"). Alternatively, one can get a MID number manually by submitting an accomplished Member's Data Form (MDF)[7] to any Pag-IBIG Fund branch.
Once they're done, get the Pag-IBIG MID numbers of your new employees. When you file your next monthly HDMF contribution remittance, add their names and other details on the Membership Savings Remittance Form (MSRF).[8]
Under the Remarks column, write N and the hiring date (in MM/DD/YYYY format) of each new hire (e.g., N: 07/01/2023).
See also: Pag-IBIG Online Registration: How to Become a Member Without the Hassle
New Employee Registration FAQs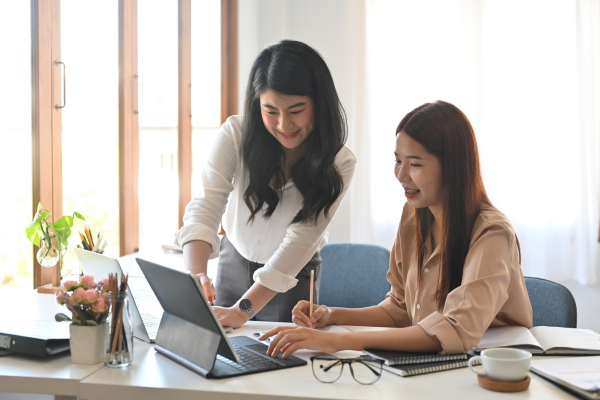 1. How to register employees in PhilHealth online?
As of this writing, there is no facility yet for PhilHealth online registration for new employees. Thus, employers will have to visit the PhilHealth branch where they're registered to submit duplicate copies of accomplished PMRFs (per employee) and ER1 Form.
2. How to add a new employee in Pag-IBIG online?
You can register your new employees in Pag-IBIG online using the Electronic Submission of Remittance Schedule (eSRS). Aside from adding new employees, employers can also tag and delete resigned and retired employees through the eSRS.
Note that this online Pag-IBIG service is available only to employers or businesses with 30 employees or less. You'll also have to enroll in the eSRS by submitting an accomplished Employer Enrollment Form[9] to the Pag-IBIG Fund branch that services your employer's account.
3. What are the Pag-IBIG registration requirements for a new employee?
To be able to use the Pag-IBIG eSRS for enrolling new employees and other purposes, employers are required to provide the following:
Pag-IBIG MID number of all employees
Employer Identification (ERID) Number
Completed Employer Enrollment Form
At least one Pag-IBIG remittance payment made before the eSRS enrollment
4. How to register a new employee in SSS online?
You can process the SSS employee registration online through the My.SSS Employer Portal. Just follow these easy steps:
Go to employer.sss.gov.ph.
Log in to your employer account.
Select the E-Services > Submit Employment Report (R1a).
Enter your new employee's SSS number as well as personal and employment information.
Click the Add button and then the Submit button. You'll see a notification on the successful submission of your Employment Report (R1A) to the SSS with a transaction number.
5. How to register employees in BIR online?
If you're enrolled online as an employer in the BIR eREG[10] and an active Withholding Tax Agent for Compensation Earners, you can issue TIN to your employees through the eTIN, a module within the eREG system.
Final Thoughts
Apart from registering new employees, you also have to update the government agencies each time an employee leaves your company. In doing so, you avoid getting penalties from these government agencies for failure to report your resigned, terminated, or deceased employees.

Sources: