As an entrepreneur, HR officer, or someone who employs household workers, you know how tedious it can be to transact with multiple government agencies. So many reports to process and submit, so little time. Good thing, the Social Security System (SSS) has an online facility that literally does away with the paperwork for busy employers in the Philippines. All you have to do is to go to their official website for an SSS online employer registration.
Keep on reading to learn more about SSS's online portal and how you can register as an employer.
What is My.SSS?
My.SSS is an online portal that allows SSS members to access contributions and membership records. Through the website, members and employers can make online transactions, set appointments with their SSS servicing branch, and request copies of records.
Members and employers are required to register for a My.SSS account to ensure that their information is secured, preventing identity theft. The following can register for a My.SSS account:
Regular employers
Employed members who have been reported by an employer for coverage to the SSS
Paying members such as those self-employed, non-working spouses, and OFW
Household employers
Household helpers or employees
Other voluntary members who have at least one month of posted contribution
If you want to get a My.SSS account, you need to create a username, activate your account, and provide your preferred password. For SSS employer registration, you need to create your own username upon registration. An initial system-generation password will also be sent to you via email upon successful registration.
Benefits of My.SSS for Employers
For companies, employers, and HR officers, My.SSS offers a wide range of benefits, making transactions with the SSS a lot more convenient and cost-efficient.
Without having to leave your office or having someone to transact on your behalf, you can access your SSS employer records and submit multiple reports in a matter of clicks and keystrokes.
If you're registered at My.SSS as an employer, you'll be able to do the following:
View your SSS employer-membership information, SSS contribution payments, loan repayment remittances, and maternity and sickness benefit claims
Certify your employees' SSS salary loan applications
Submit employment report (SS Form R-1A), contribution-collection list (SS Form R3), and loans collection list (Form ML-2)
Read more:
What is an SSS Employer ID Number and Why Do You Need One?
Before proceeding with an SSS online employer registration, you need to get an SSS employer ID number.
You might wonder why you still need to get an employer number when you're already registered with SSS as an employee. It's because a personal SSS number is assigned to individuals who are not running a business and don't employ the services of others.
Every business owner who hires individuals needs to have an employer number from the SSS. This is usually a 10-digit number that you can use in all transactions with the agency. Normally, you need to register with the SSS and receive an employer ID number required to set up an online account. If the online account is not set up, registered employers still cannot transact online.
Thus, employers should not stop the process once they receive their IDs because they still need to create an online account to facilitate transactions like the following:
Processing of contributions
Remittance of loan payments
Applying for salary loans
Claims submission
Information update
Sickness reimbursement
Maternity reimbursement
Access to short-term loan history of employees
SSS online employer registration is an important step to make sure you comply with the law, and you fulfill your obligations to those who work for you.
Related article: Useful SSS Benefits Filipinos Might Not Know
What is the Difference Between Employer ID Number in SSS and CRN in UMID?
A lot of people make the mistake of using the Common Reference Number (CRN) found on the UMID as a substitute to the Employer SSS ID Number when registering online. Using the CRN for employer's online registration at My.SSS doesn't work for the following practical reasons:
The CRN is composed of 12 digits while the Employer SSS ID Number consists of 10 digits only. The online registration form is asking for the 10-digit SSS ER number.
The CRN is issued to members of SSS but is a universal identification number that represents your membership with other government agencies like PhilHealth and PagIBIG. On the other hand, the Employer SSS ID number is exclusively for registered SSS employer-members only.
The CRN can be used by individuals who register online. Since no CRN is issued to companies or businesses, it cannot be used by anyone to process employer SSS registration online.
Individual contributors and employees, however, can use their online accounts to generate their CRN.
How to Get SSS Employer ID Number for Household Employers
A long time ago, household employers or those who hire household help like kasambahay or personal drivers didn't have to secure an Employer (ER) number. Household employers used their personal SSS numbers when transacting with the agency. However, with the newly-signed Kasambahay Law,[1] household employers are now mandated to get an ER number.
If you're a household employer and you've been paying your kasambahay's SSS contributions using your personal SSS number, you can continue doing it until the SSS issues a new ER number for you.
However, new household employers should fill out and submit the SSS Form R-1 or Employer Registration Form to the nearest branch. Once the ER number is issued to you, you need to submit the SSS Form R-1A or Employment Report so that your household employees can be registered to the SSS system, too.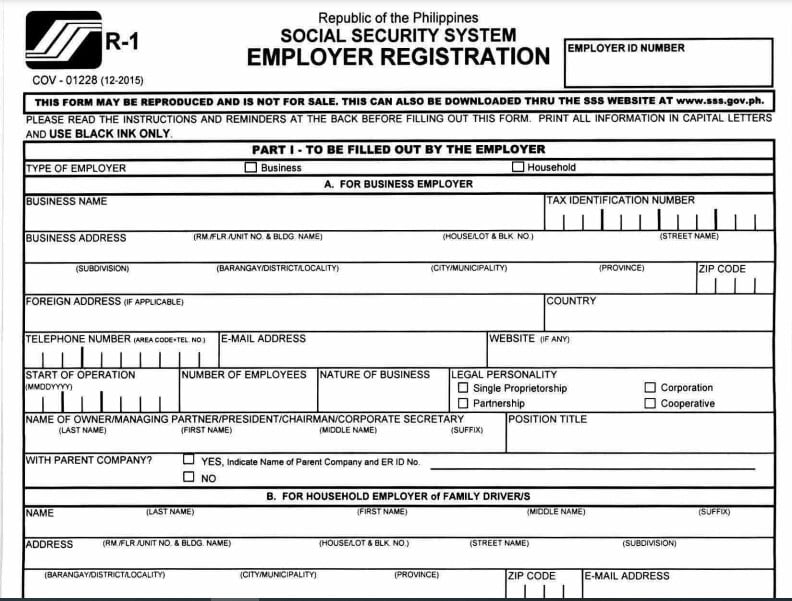 The SSS also reminds household employees that their obligations don't end after paying the contributions. The SS Form R-3 has to be filled out and submitted quarterly so that the agency knows to whom the contributions will be credited.
How Can Employers Register with SSS?
Typically, you will get your employer ID when you register with SSS. This registration is different from your SSS online employer registration. When you create an account with My.SSS as an employer, you're getting access to the website's features. Your employer number is required during registration.
Why Do Employers Need to Register with SSS?
Registering with SSS is your obligation as an employer. It ensures that your employees' contributions are paid accurately and on time. Any delays in payment would cause your employee's loan applications to be denied.
Non-registration or non-payment of contributions for a long time means violating the Social Security law,[2] and you may be fined up to PHP 20,000 or may be imprisoned for six to 12 years.
You may also be asked by the agency to pay the SSS benefits of employees when they get sick, become disabled, die or reach the retirement age upon recognition of your violations. You may also be slapped with a penalty of 3% of all the unpaid contributions.
What are the Requirements for SSS Employer Registration?
To register your company with the SSS, you may need to submit the following documents:
Approved Articles of Partnership from Incorporation from the Securities and Exchange Commission (SEC)
Approved Articles of Incorporation from SEC
Approved Articles of Incorporation from SEC; and
License to Transact Business in the Philippines from SEC
Approved Articles of Incorporation from SEC; and
Agency Agreement between the manning agency and foreign principal
Approved Articles of Cooperation from the Cooperative Development Authority (CDA)
Articles of Cooperation from CDA; and
Accreditation from the Department of Labor and Employment (DOLE)
You need to go to your company's nearest SSS branch to register. Fill out the Employer Registration Form (SS Form R-1) and the Specimen Signature Card (SS Form L-501) and the original and photocopy of the required documents.

What are the SSS Employer Online Registration Requirements?
Once you have registered with the SSS and an Employer ID number is issued to you, it will be easier to create your company's online account. You may no longer need to submit any other document, but you need to provide the following:
10-digit Employer SSS Number - Make sure this is entered correctly without spaces or dash
Address 1 - Refers to the house number and the street name or number
Address 2 - Refers to the barangay or subdivision and the municipality
City and Postal Code
Contact number - You need to provide the contact number used when you registered with SSS.
Email address - Preferably the business email address so that all transaction receipts and notifications from SSS will be centralized in one email.
Always make sure that the information provided to the SSS during the initial registration should be the same as the information you'll be using online. Once the system finds discrepancies, your online account creation will be denied.
SSS Online Employer Registration Steps
Now that you have registered to SSS as an employer and have gotten your employer ID. It's time to get a My.SSS account. Here are the steps:
Step 1: Accomplish the online employer registration form
Go to the SSS Online Employer User ID Registration page. It's best to use Internet Explorer (IE) 11 when accessing the SSS website.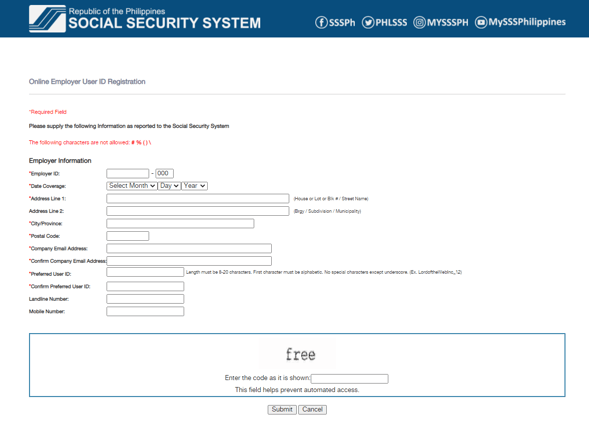 Fill out properly all the required fields on this online form. The second field, which is the "Date Coverage," refers to the date when you hired your first employee/s. You can find this data on your SS Form R-1 (Employer Registration Form) or Registration Plate.
To avoid issues and delays in your SSS online employer registration, double-check the details you've provided and made sure they match your SSS records.
When you're done, enter the captcha code and click Submit.
Your registration info submission is successful if all the details you provided are correct and match your SSS records. You will then receive a message that an account activation email has been delivered to your company email address. Proceed to the next step.
However, if you can't send your My.SSS registration info and you get an error message, that may mean you already have a pending registration for SSS validation or you have a previously approved registration. In this case, you can call the SSS Hotline 1455 for assistance.
Step 2: Verify your SSS online employer account
Check your inbox for an email from SSS that contains a link for verifying your My.SSS account (if you can't find the message, try checking your Spam folder.) Click on that link to access another online form where you'll provide your data as an employer or your authorized signatory:
Personal SSS number
Full name
Email address
Have you already created an SSS online account as a member? To avoid problems with your online employer account registration, be sure to use the information you supplied to that account.
When you've completed this step, you'll get a message that your registration has been submitted to SSS for verification. You'll know the results via email.
Step 3: Wait for a confirmation email from SSS
After submitting your online employer registration information, your SSS servicing branch will check if your signatory appears on your company's Specimen Signature Card (SS Form L-501). Once the SSS branch approves or confirms your employer authorized signatory, SSS will send a message with your company user ID and password to your company email address.
As soon as you receive the user ID and password, you can already use them to access your My.SSS account. Make sure to log in to the Employer Login section, which is separate from Member Login.
Useful Tips on SSS Web Registration for Employers
The SSS online employer registration may seem difficult for traditional employers or for those who have processed business transactions manually. Since online registration is a means to fulfilling your obligation to your employees, it's either you start learning how online access works, or you employ an accountant or an assistant to do the registration for you.
If these options are not possible, SSS branches have dedicated e-centers[] that allow employers to use internet-connected computers to access the SSS website and transact through the My.SSS Portal. You can plan a visit to any SSS branch and seek technical assistance from any SSS member service representative (MSR).
You also need to make sure that all documents submitted during the initial registration with the SSS are valid and correct at the time of application. SSS may need to verify these and any mismatch can result in denial of your application.
SSS Online Employer Registration FAQs
1. Is there a fee for the employer registration via My.SSS?
None. Registration at My.SSS is free, so you don't have to pay for anything.
2. Is My.SSS Secured?
Online SSS employer registration is secured. In addition, once you log in to the My.SSS website, the communication link is protected via a secure HTTP communications protocol.
3. What if I registered a user ID or email address that already exists?
For your SSS web employer registration, select a different user ID and email address in case the ones you submitted already exist.
4. What should I do if my online registration fails?
If your SSS servicing branch doesn't approve your authorized signatory, you'll be informed about the unsuccessful registration and the reason for rejection via email. In such a case, contact SSS for assistance through these channels:
SSS Hotline 1455 (if calling through a mobile phone) or 81455 (if calling through a landline phone)
Email: member_relations@sss.gov.ph
SSS Facebook page: https://www.facebook.com/SSSPh
Nearest SSS branch office
You can also reach SSS via those channels if you haven't heard from them since you've submitted your registration and you want to verify its status.
5. Will I receive proof of transactions made through My.SSS?
You'll get a transaction number as proof of transactions or reports are done online. You can copy the transaction number, print the acknowledgment page itself, or forward the email sent to you.
6. Can I get a PRN and a Contribution Collection List online?
Yes, you can. Simply log on to your Employer account. In the main menu, select " Payment Reference Number" to access the Accounts Management System - Contribution Collection List (AMS-CCL) module. You can use the PRN and CCL when paying for your employees' contributions.
7. What should I do if I need to change my company's registered email address or authorized signatory?
To change your registered email address, send scanned copies of the following document to onlineserviceassitance@sss.gov.ph:
Letter requesting for change of User ID, company email address
If changing authorized signatory, the letter must indicate the full name, SSS number, and personal email address of the designated signatory
The letter should also be signed by the person granting authority, appearing in Specimen Signature Card (SS Form L-501)
Two valid IDs of the designated signatory
Valid SS Form L-501, with one-year validity from receipt date of SSS branch
Stamped-received by your SSS servicing branch
8. How can I change other details as an employer?
You must immediately report any changes in your data or status of business operations to the nearest SSS office. You also have to accomplish an Employer Data Change Request (SS Form R-8), duly signed by your company's authorized signatory. The document must be duly notarized, except it is in change/addition of address, email address, or telephone number.
Final Thoughts
Government agencies like the SSS have made transacting with them a lot easier and faster, thanks to the internet. In this time of health crisis, you can take advantage of the convenience and speed of using your own SSS online employer account to fulfill your obligations to your employees. Start by signing up for a My.SSS account now, secure your SSS employer ID number, and save your business against penalties and sanctions imposed by the agency for non-compliance and violations.

Sources: