"How much can I earn with Airbnb?" You probably have this question in mind while deciding if you should start hosting on the online home-sharing platform.
Of course, you want to make sure it will be worth the time, money, and effort you'll be investing. So take your time in evaluating if becoming an Airbnb host will be a lucrative online business for you.
Here's everything you need to know about how to make money with Airbnb (and how to maximize your profit) in the Philippines.
Is Airbnb Profitable?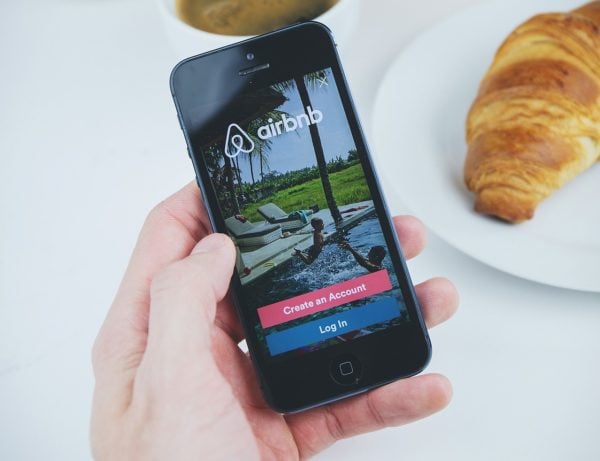 Good news—the Airbnb potential income looks promising for enterprising people who have a property to lease out. Airbnb hosting is a good opportunity to earn passive income, especially for OFWs, retirees, and millennials.
First, there's a high demand for short-term rentals in the Philippines. Property consultancy Colliers International notes the current trend of foreign and domestic tourists, millennials, families, expats, and the staycation market seeking vacation homes for shorter periods (1). With Airbnb, listings can go monthly or weekly, or even as short as daily.
Another factor that makes Airbnb hosting profitable is the affordability of property prices in the country. In fact, the Philippines is one of the Asian countries with the cheapest real estate prices (2).
The yield is even higher if you have an existing space to lease out. To earn money on Airbnb, you don't have to buy a new property. If you have an extra room in your home, you can have it listed on the home-sharing app and start earning income from it.
Read more: 8 Great Ideas to Make Your Home Profitable
How Much Can I Earn with Airbnb?
No study or survey has been done yet on Airbnb potential income in the Philippines. There are a few anecdotal accounts, like a Pinay Airbnb Superhost who makes around PHP 40,000 to PHP 50,000 monthly after listing her studio-type condo unit in Baguio City (3).
However, your own Airbnb earning potential may be different, depending on many factors including your property's location and type.
You can calculate your potential monthly income for free using the online calculator on the Airbnb website.
How to Use the Airbnb Calculator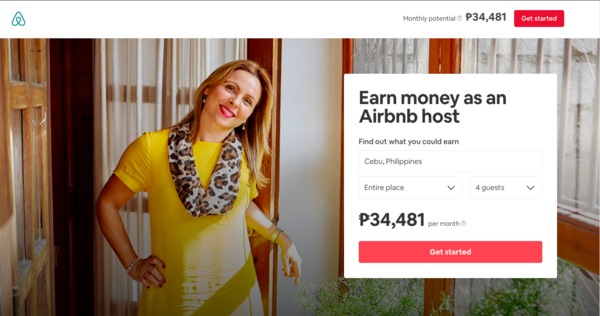 Using the online calculator to get an estimate of your Airbnb potential income is simple. Just follow these steps:
Enter the city or town where your property is located.
Choose the accommodation type you can offer to guests. There are three options available:

Entire place - Guests will have access to the entire home and all its amenities such as bedroom, kitchen, and bathroom. They don't share them with others.
Private room - Guests will have their own bedroom, but they'll share other areas.
Shared room - Guests will sleep in a bedroom or common area shared with others.

Choose the maximum number of guests your space can accommodate.
Airbnb will then show you a monthly earnings estimate, assuming that you have 15 nights booked every month. This ballpark figure is based on average prices for Airbnb listings with the same type, guest capacity, and location.
For example, here's the estimated potential income for properties, which can accommodate up to four guests, in five of the most sought-after destinations for the Airbnb market in the Philippines.
Monthly Airbnb Potential Income (4 guests, 15 nights booked)*
| Location | Entire Place | Private Room | Shared Room |
| --- | --- | --- | --- |
| Metro Manila | PHP 28,933 | PHP 13,840 | PHP 9,269 |
| Baguio | PHP 57,421 | PHP 30,040 | PHP 25,826 |
| Cebu | PHP 34,481 | PHP 16,385 | PHP 10,200 |
| Davao | PHP 38,256 | PHP 19,130 | PHP 11,897 |
| Tagaytay | PHP 38,802 | PHP 23,341 | PHP 33,502 |
*Rates accurate as of December 3, 2019 and may change anytime.
Your actual Airbnb income will, of course, be different. It will depend on factors such as your pricing, actual occupancy rate, season, demand, and how often you'll make your listing available.

How Does Airbnb Pricing Work?
Aside from the potential income, it's also important to understand how the platform's pricing works before you decide to start hosting on Airbnb.
Each Airbnb host receives a payout consisting of the nightly rate (the base price of listing the property per night) minus a 3% to 5% host service fee per booking. On top of the nightly rates, hosts may charge extra fees for additional guests, security deposit, covering cleaning costs of the space, and extra services.
Several factors may drive an Airbnb host's payout up or down, such as the host's weekly/monthly discounts offered to guests, weekend pricing, and custom pricing.
When you create a listing on Airbnb, you'll get a nightly rate suggestion for your property, based on its location, number of rooms, amenities, and other considerations like the standard cost of living in your area. Airbnb will keep on suggesting base prices even after you've set your price and published your listing. The suggestions are based on changes in demand and any updates you make on your listing's amenities and other features.
How Much Should I Charge for My Airbnb Listing?
One of the best things about being an Airbnb host is that you're free to set your own price. If you're clueless about how to price it right (maximizing your profit while keeping your guests happy), here are five tips to keep in mind:
1. Determine Your Nightly Cost
Start with computing how much you should charge per night. List down all the monthly fixed expenses involved in running your future Airbnb business. These costs may include the property's mortgage, electricity and water bills, and internet plan. Get the total monthly expenses and divide it by 30 to determine the nightly cost.
Once you find out your nightly cost, set a price that's higher than this figure to make a profit from Airbnb hosting. For example, if your nightly cost is PHP 1,000, you should not set your nightly rate or base price lower than this amount.
2. Check Your Competitors' Pricing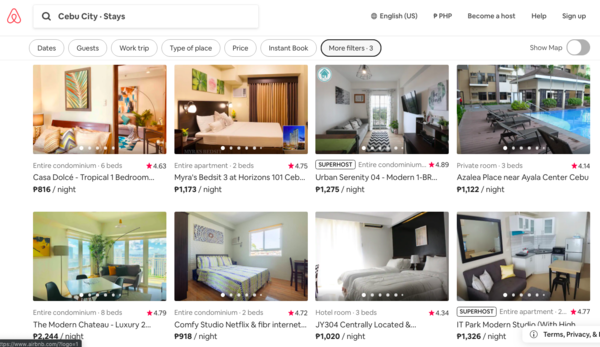 How much are Airbnb hosts with similar listings charging?
Besides your nightly costs, the prices of comparable listings in your property's location will influence your rates.
Using the Airbnb website, you can search for homes in your city or neighborhood that are similar to yours in terms of amenities, number of bedrooms, accessibility (distance to convenience stores, malls, major roads, etc.), and other factors. Doing so will give you an idea of how to price your Airbnb listing.
3. Charge Extra Fees as Needed
Of course, Airbnb hosting is a business, so if your guests request an extra bed or bring an additional guest, you can charge extra fees for that.
Here are some of the charges you can add to your pricing settings on Airbnb:
Cleaning fee
Fee for every additional guest/bed
Late check-in fee
Pet fee
Extra fee for borrowing bike or any equipment
Tour guide fee
4. Use Airbnb's Smart Pricing Tool
Need help in setting your prices? Use the Airbnb Smart Pricing tool to your advantage. You can pick a price range and set rules on how you want the prices to adjust based on different factors.
If turned on, Smart Pricing automatically raises or lowers prices depending on the season, day of the week, and changes in demand in your location.
5. Consider Your Property's Features and Amenities
When deciding how much to charge your guests on Airbnb, take into account factors such as the size of your home and any special amenities that similar properties in your area don't offer (like a jacuzzi, proximity to the beach, etc). These things can make a difference in the guests' overall experience, as well as the pricing of your listing.
Final Thoughts
How much can I earn with Airbnb? you ask. Hope we answered your question. Visit the Airbnb website so you can get more information on making money through the home-sharing platform.
This article was created in partnership with Airbnb. Sign up as an Airbnb host or visit their website at www.airbnb.com to learn more!

Sources: