"How much can I earn with Airbnb?" You're probably mulling over this question while deciding if you should start hosting on the online home-sharing platform.
But before you do, you want to ensure it will be worth the time, money, and effort. Take your time evaluating if becoming an Airbnb host will be a lucrative online business.
Here's everything you need to know about maximizing Airbnb income in the Philippines.
How Does Airbnb Work

?

What is Airbnb in the Philippines? Airbnb is an online marketplace connecting people who want to rent out their homes to those looking for accommodations in specific locales.[1]
In 2008, its co-founders came up with the idea of hosting travelers for a fee. Now, Airbnb has over six million listings in over 100,000 cities in more than 220 countries.
Read more:
Can You Earn Airbnb Income in the Philippines?
Enterprising people with a property to lease out can earn income from Airbnb. It's an excellent opportunity to earn passive income, especially for retirees and millennials.
So is Airbnb a good source of income? Is Airbnb profitable in the Philippines? Yes, mainly because there's a high demand for short-term rentals in the Philippines. With Airbnb, listings can go monthly, weekly, or even as short as daily.
Another factor that makes Airbnb hosting profitable is the relative affordability of property prices in the country. The Philippines is one of the Asian countries with the cheapest real estate prices.[2]
The yield is even higher if you have an existing space to lease out. You don't have to buy a new property to earn money on Airbnb. If you have an extra room in your home, you can list it on the home-sharing app and earn income.

How Much Can I Earn with Airbnb?
No study or survey has been done yet on Airbnb hosts' potential income in the Philippines. However, there are a few anecdotal accounts, like a Pinay Airbnb Superhost who makes around ₱40,000 to ₱50,000 monthly with her studio-type condo unit in Baguio City.[3]
A new survey also showed that Airbnb income has helped hosts in the Philippines navigate economic challenges such as inflation, with almost half saying that it helps cover the rising cost of living.[4]
Your own Airbnb earning potential may differ depending on many factors, including your property's location and type. Learn how to calculate your Airbnb income using the online calculator on the Airbnb website.[5]
🔢 How to Use the

Airbnb Calculator in the Philippines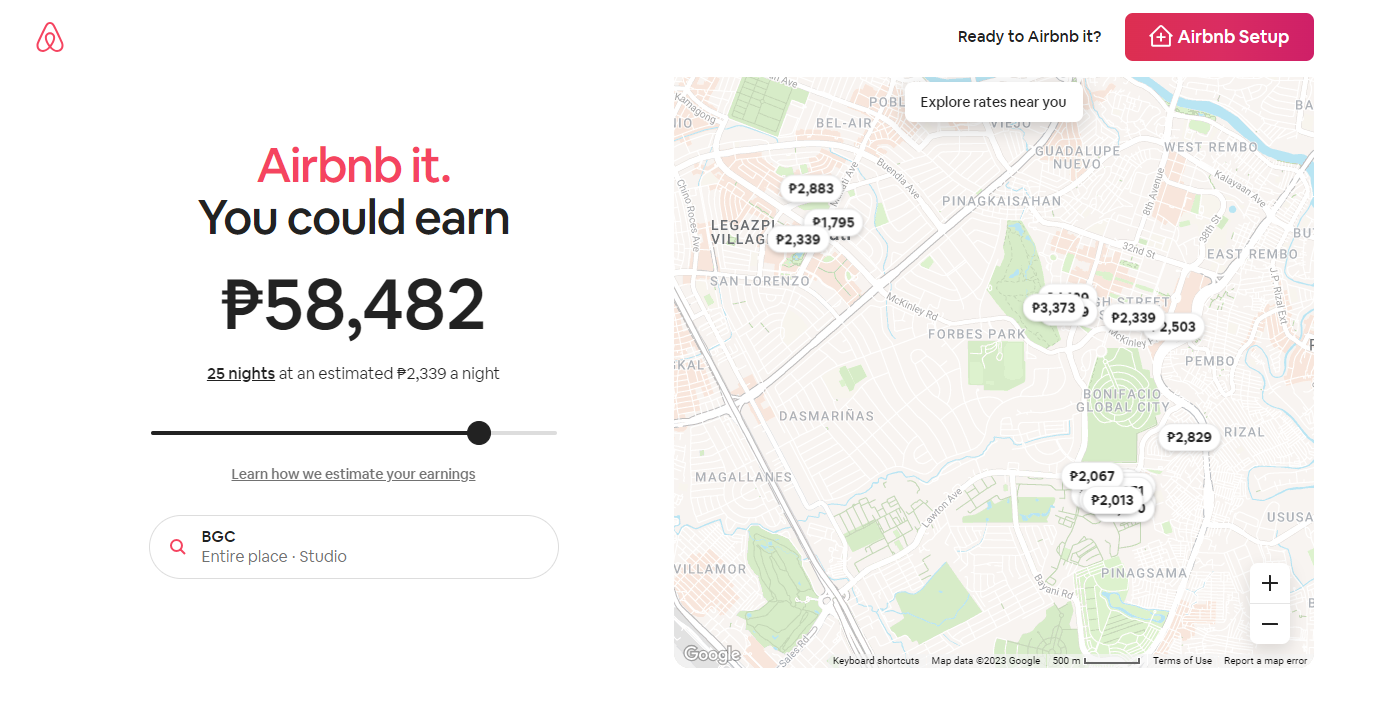 To estimate your Airbnb potential income using the online calculator, follow these steps:
Enter the city or town where your property is located. For this example, let's use BGC in Taguig.
Choose the accommodation type you can offer to guests. There are two options available:
Entire place - Guests will have access to the home and all its amenities, such as the bedroom, kitchen, and bathroom. They don't share them with others.
Private room - Guests will have their own bedroom, but they'll share other areas.
Select the number of bedrooms. For this example, we'll be renting out a studio unit.
If you want your place booked all month, choose 25 nights to get your average Airbnb income per month.
Update your estimate. Airbnb will then show you a monthly earnings estimate, assuming you have 25 nights booked monthly. This ballpark figure is based on average prices for Airbnb listings with the same type, guest capacity, and location.
🔢 Potential Monthly

Airbnb Income

(25 Nights Booked)*
For example, here's the estimated potential income for properties in the top five most searched cities by Filipino travelers from March 1 to April 30, 2023.[6]
| | | |
| --- | --- | --- |
| Location | Entire Place (2 Bedrooms) | Private Room |
| Santa Maria, Bulacan | ₱62,563 | ₱39,442 |
| Boracay Island, Malay, Aklan | ₱168,647 | ₱65,283 |
| Baguio City | ₱87,044 | ₱51,682 |
| Cebu City | ₱68,003 | ₱28,561 |
| Pasay City | ₱93,844 | ₱44,882 |
*Rates are accurate as of July 18, 2023, and may change anytime.
Your actual Airbnb income will, of course, differ. It will depend on your pricing, occupancy rate, season, demand, and how often you'll make your listing available.
Related reading: Is Buying a Condo a Good Investment in the Philippines?
🔢 How Does Airbnb Pricing Work?
Aside from the potential income, it's crucial to understand how the platform's pricing works before you decide to start hosting on Airbnb.
Airbnb deducts a flat service fee of 3% on the booking subtotal, which consists of the nightly rate (the base price of listing the property per night) and extra fees that hosts may charge. These include fees for pets, additional guests, and cleaning. There may also be a security deposit and other fees for other extra services.
Several factors may drive an Airbnb host's payout up or down, such as the host's weekly/monthly discounts offered to guests, weekend pricing, and custom pricing.
When you create a listing on Airbnb, you'll get a nightly rate suggestion for your property based on its location, number of rooms, amenities, and other considerations, such as the standard cost of living in your area.
Airbnb will keep suggesting base prices even after you've set your price and published your listing. The suggestions are based on changes in demand and any updates you make on your listing's amenities and other features.
How Much Should I Charge for My Airbnb Listing?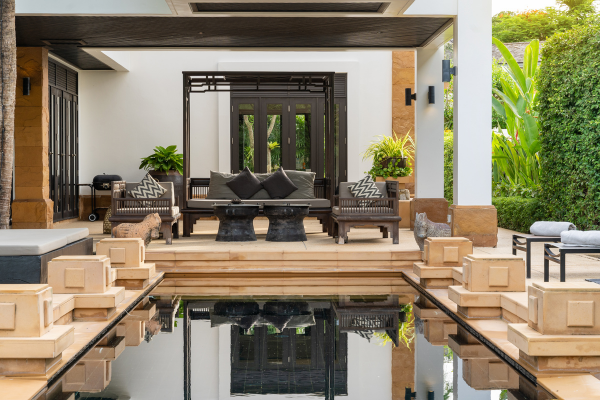 One of the best things about being an Airbnb host is that you can set your price. If you're clueless about how to earn in Airbnb (maximizing your profit while keeping your guests happy), here are five tips to keep in mind:
✔️ Determine Your Nightly Cost
Start with computing how much you should charge per night. List all the monthly fixed expenses in running your future Airbnb business. These costs may include the property's mortgage, electricity/water bill, and internet plan. Divide the total monthly expenses by 30 to determine the nightly cost.
Once you find out your nightly cost, set a higher price than this figure to profit from Airbnb hosting. For example, if your nightly cost is ₱1,000, you should not set your nightly rate or base price lower than this amount.
✔️ Check Your Competitors' Pricing
How much are Airbnb hosts with similar listings charging? Besides your nightly costs, the prices of comparable listings in your property's location will influence your rates.
Using the Airbnb website, search for homes in your city or neighborhood similar to yours in terms of amenities, number of bedrooms, accessibility (distance to convenience stores, malls, major roads, etc.), and other factors. Doing so will give you an idea of how to price your Airbnb listing.
✔️ Charge Extra Fees as Needed
Airbnb hosting is a business. So if your guests request an extra bed or bring an additional guest, you can charge additional fees.
Here are some of the charges you can add to your pricing settings on Airbnb:
Cleaning fee
Fee for every additional guest/bed
Late check-in fee
Pet fee
Extra fee for borrowing bike or any equipment
Tour guide fee
✔️ Use Airbnb's Smart Pricing Tool
Need help setting your prices? Use the Airbnb Smart Pricing tool to pick a price range and set rules for adjusting the prices based on different factors.
Smart Pricing automatically raises or lowers prices depending on the season, day of the week, and changes in demand in your location.
✔️ Consider Your Property's Features and Amenities
When deciding how much to charge your guests on Airbnb, consider factors such as the size of your home and any unique amenities that similar properties in your area don't offer (like a jacuzzi, proximity to the beach, etc). These things can make a difference in the guests' overall experience and the pricing of your listing.
Airbnb Income in the Philippines: FAQs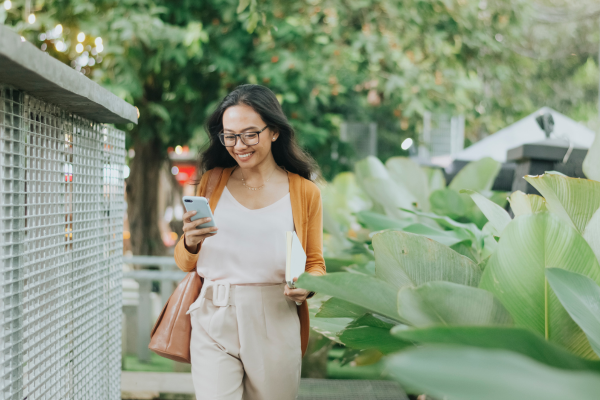 1. Is Airbnb legal in the Philippines?
Yes, Airbnb is legal. But to operate like any legitimate business in the Philippines, you need to get your business registration as an Airbnb host from the Department of Trade and Industry or the Securities and Exchange Commission.
Moreover, you'll need to obtain permits from your local government unit, depending on where your Airbnb property is located. You must secure a barangay clearance, Mayor's Permit, occupancy permit, sanitary permit, and plumbing/electrical permit.
2. Do you have to pay taxes on Airbnb income?
You're self-employed if you're running an Airbnb business in the Philippines with all the necessary permits, clearances, and certifications. As a self-employed individual, you must also obtain your registration from the Bureau of Internal Revenue and pay taxes on your Airbnb income.[7]
3. Aside from becoming a host, how can I earn money on Airbnb?
Don't have a property or spare room you can list on Airbnb?
You can still earn through rental arbitrage. Airbnb rental arbitrage in the Philippines is much like house hacking: you rent a room, apartment, townhouse, or condo unit and then sublet it on Airbnb. You don't need to own the house you're going to sublet, but you do need the owner's consent.
Or if you know anyone who has the property but doesn't have the time, you can also be an Airbnb co-host. As a co-host, some of your responsibilities include updating the listing descriptions, photos, and prices and communicating with guests to ensure they have the best stay.
You can even join the Airbnb community as a Host of Experiences and lead fun activities that immerse guests in the local culture!
Final Thoughts
Your Airbnb income in the Philippines will depend on many factors. But you can boost your income and connect with more users by providing excellent service and earning great reviews.
If you need a little cash boost to set up your new Airbnb business, consider a personal loan. Compare your options and apply easily through Moneymax:
Personal Loan Provider

Minimum Loan Amount

Maximum Loan Amount

Minimum Annual Income

Approval Time

Metrobank

₱20,000

₱1 million

₱350,000

7 days

BPI



₱

20,000

₱2 million

₱

300,000

5 to 7 banking days

EasyRFC

₱

10,000

₱150,000

₱

120,000

As fast as 24 hours

Maybank



₱

50,000

₱1 million

₱

300,000

Apply online in just a few clicks

RCBC



₱

50,000

₱1 million

₱

360,000

5 to 7 banking days

SB Finance




₱30,000

₱2 million

₱180,000

5 banking days

CIMB



₱

30,000

₱1 million

₱

180,000

24 hours

HSBC



₱

30,000

₱500,000 or 3x gross monthly salary, whichever is lower

₱

168,000

5 to 7 banking days

CTBC



₱2

0,000

₱1 million

₱

180,000

3 to 5 banking days
Sources: