The real estate and tourism industries in the Philippines are booming—and what better way to take advantage of this than by offering your property on home-sharing platforms such as Airbnb? If you don't know how Airbnb works in the Philippines, it's an online marketplace that connects travelers seeking accommodations and hosts looking to list their properties.
The company has seen tremendous growth in the Philippine market in recent years. Plenty of users now prefer booking Airbnb accommodations over hotels, since the former offer cheaper rates and more personalized experiences.
You can easily earn extra income when you become an Airbnb host. Got a property in a great location? This guide will show you how to start an Airbnb business in the Philippines.
7 Questions to Ask Yourself Before Hosting on Airbnb
While making extra money from Airbnb sounds like a good idea, you have to make sure it's the right decision before you dive in. Here are several questions you must ask yourself before hosting on Airbnb.
💭 Do I Really Want to Start a Business?
When it comes down to the basics, an Airbnb host is no different from an entrepreneur. You must put in the effort, time, and money to make it profitable and worth your investment.
Just like setting up any business, you must take crucial steps, like conducting market research and creating a business plan, to ensure you're starting on the right foot.
Related reading: Is Buying a Condo a Good Investment in the Philippines?
💭 What are My Financial Goals?
So you want to earn extra income from listing your space on Airbnb. First, must make your financial goal SMART: specific, measurable, achievable, relevant, and time-bound.[1]
Are you looking to turn it into a full-time business that earns a steady income? Or do you just want to make some money on the side? Your goals will determine how much time and capital you need.
If you want to turn your real estate investment into a steady income stream, then an Airbnb business might be right for you.
💭 Do I Have the Time for It?
Don't underestimate the time you need to run an Airbnb business, especially in the beginning. You'll have to manage listings and bookings, prepare your property for guest arrivals, and handle maintenance hands-on.
These tasks alone can take a great deal of time. And once you've got everything down pat, you still need to be available to your guests for any emergency.
Is your schedule flexible enough for you to perform all your duties as an Airbnb host? If you need help, can you trust someone to handle your responsibilities?
💭 Is There Demand for Airbnbs in My Property's Location?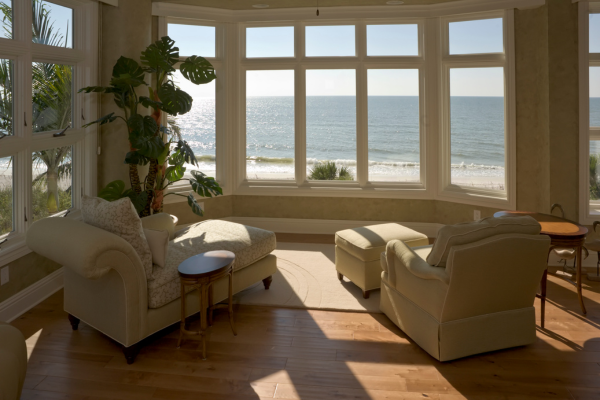 Location is everything in any real estate business. The same goes for Airbnb.
Demand is high in popular tourist destinations in the Philippines, including Manila, Baguio, Boracay, Cebu, Davao, and Tagaytay. When performing market research, check if there's a demand for online short-term rentals in your prospective area.
Related reading: How Can I Find Out How Much My Property Is Worth?
💭 How Much Will I Earn from Airbnb Hosting?
Of course, money is the most significant consideration when starting an Airbnb business. You want to ensure it will pay off financially before you invest your time and resources.
To find out how much you can earn as an Airbnb host, use Airbnb's online calculator,[2] which provides a free estimate of your potential income. Enter your property's location and type. The Airbnb calculator will then show the amount you can earn monthly, depending on the number of nights you selected to have your property booked.
Your earnings will still depend on many other factors, such as your pricing, the demand for Airbnb in your area, the season, and the occupancy rate. Still, the financial projection will give you an idea of whether listing your property will indeed earn profit.
💭 How Much Will It Cost to Become an Airbnb Host?
Aside from your potential earnings, consider the costs of starting and running your Airbnb business. Take the time to list down and compute the following expenses:
Cleaning, repair, and other maintenance services
Supplies (towels, linens, toiletries, etc.)
Appliances (TV, hairdryer, refrigerator, electric kettle, etc.)
Airbnb host service fee (typically 3% of the price per booking)
Bank transfer fee or any applicable processing fee for the payout
Income tax
💭 Can I Meet the Airbnb Hosting Standards?
To ensure high-quality service for guests, Airbnb asks all hosts to meet basic requirements:
Reservation commitment (no cancellations and reliable guest check-in experience)
Responding to inquiries and reservations within three days (if the stay is only five days away),
Responding close to check-in time and during the stay
Making sure the Airbnb listing is accurate
Ensuring the property is clean and safe from health and security hazards
How to Be an Airbnb Host in the Philippines
Whether you want to know how to Airbnb your condo or house in the Philippines, here's a walk-through of how to start an Airbnb business.
Step 1: Sign Up for an Airbnb Account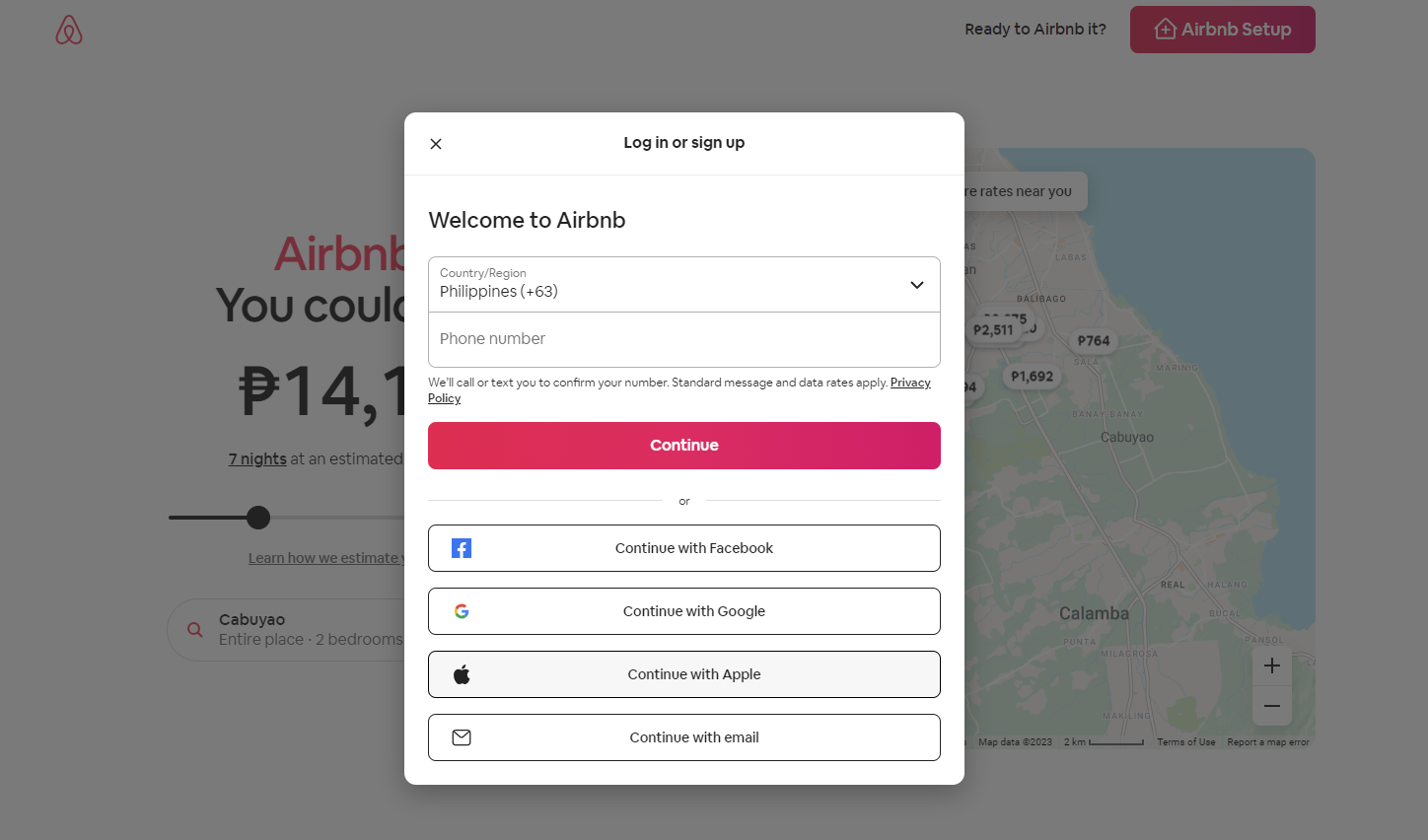 To list your property on Airbnb and accept bookings, register an account with the home-sharing platform first.
Not sure how to register in Airbnb Philippines? Go to the Airbnb host login page[3] and click Airbnb Setup. Sign up using your phone number or your Facebook, Google, Apple, or email address. After creating your password, you can log in to your new Airbnb account.
🏡 Prepare the

Airbnb Registration Requirements in the Philippines
Do you need a business permit for Airbnbs in the Philippines? Yes. Airbnb hosts must get a business registration from national and local governments (depending on the municipality, city, or province).
You may be required to secure the following permits from your LGU:
Barangay Clearance
Mayor's Permit
Sanitary Permit
Plumbing and Electrical Permits
Occupancy Permit
Fire Safety Insurance Certificate
Step 2: Create a Listing
After creating an Airbnb account, start listing your property. Provide information such as the location and the number of guests that can stay.
🏡 How to List Your Space on Airbnb
To create a listing on Airbnb, just follow these steps:
Provide Your Property Details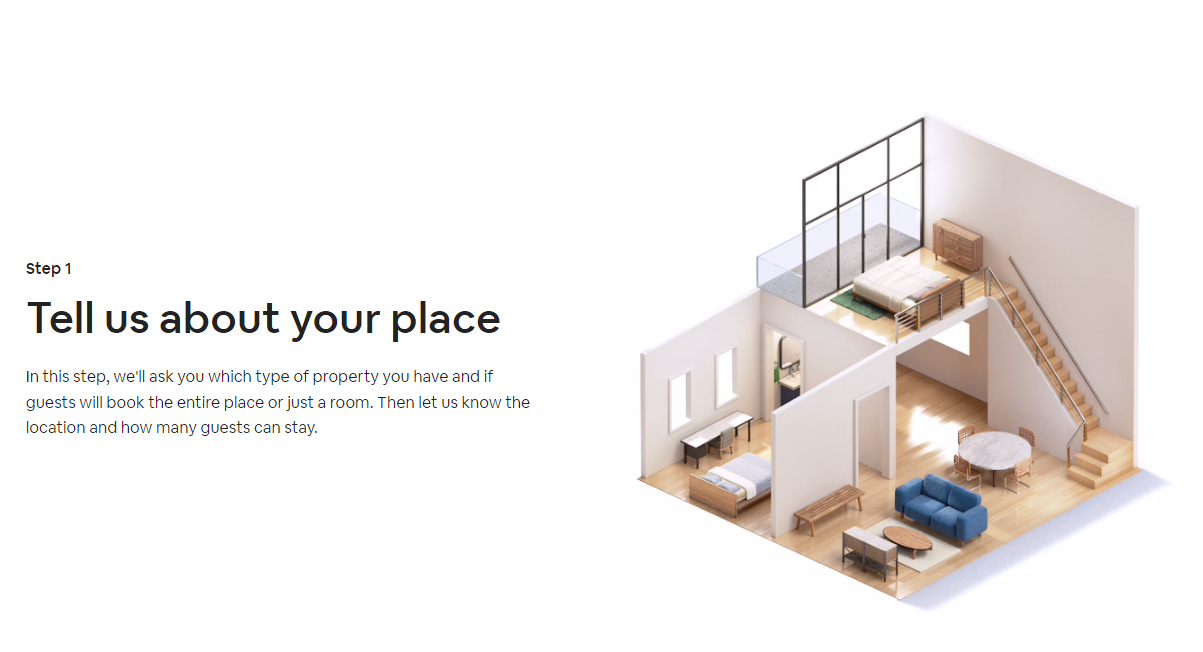 Enter and confirm the address of your property. Check that the pin is in the right spot.
Then choose the options that best describe your home (house, apartment, cabin, farm, tiny home, etc.) and the type of place (entire place, a room, or shared room). Share some basics about your place, such as how many guests it can accommodate and the number of rooms, beds, and bathrooms.
Your Airbnb listing description should be accurate and complete. The accuracy of your listing affects guest rankings—if guests find out that the actual place is not as described in the listing, they will undoubtedly mention that in their reviews.
Write a Standout Description
Highlight your property's best features on Airbnb. Briefly summarize your property, describing the place and emphasizing its advantages and unique features.
Let your guests know what your property has to offer. Does it have Wi-Fi, a TV, a washer, air conditioning, a kitchen, free/paid parking, or a dedicated workspace? Are there special amenities like a pool, hot tub, fire pit, bbq grill, or piano? Does it offer lake or beach access?
You want your guests to know it's safe to stay on your property, too, so make sure to mention if it has a smoke alarm, carbon monoxide alarm, fire extinguisher, and first aid kit.
Add Photos of Your Place
The first thing people see on the Airbnb app are the photos of properties—they make that lasting first impression. Choose the best pictures of your property and upload at least five of them on Airbnb.
Provide high-resolution images, including wide-angle shots, to show what your place looks like. You can even avail of professional photography services to highlight the unique aspects of your property.
If your property is far from picture-perfect, don't Photoshop your images! You'll be setting unrealistic expectations for potential guests, which might lead to bad reviews. Don't worry because you'll still attract many budget travelers who are just looking for a decent place to sleep.
Give Your Property a Title
Is it located near the beach? Does it offer a stunning sea, mountain, or city view? Is it near malls, restaurants, or the airport? Travelers love accessibility, so include such information in the property's title on the Airbnb app.
Choose up to two highlights to help write your property description (peaceful, unique, family-friendly, stylish, central, and spacious). Some samples you can try include "Charming Secluded Cottage with Oceanside View," "Brand-New Studio Unit near MOA Arena," or "2-Bedroom Beach House with Beach Access." Make it as descriptive, catchy, and accurate as possible.
Step 3: Publish Your Airbnb Listing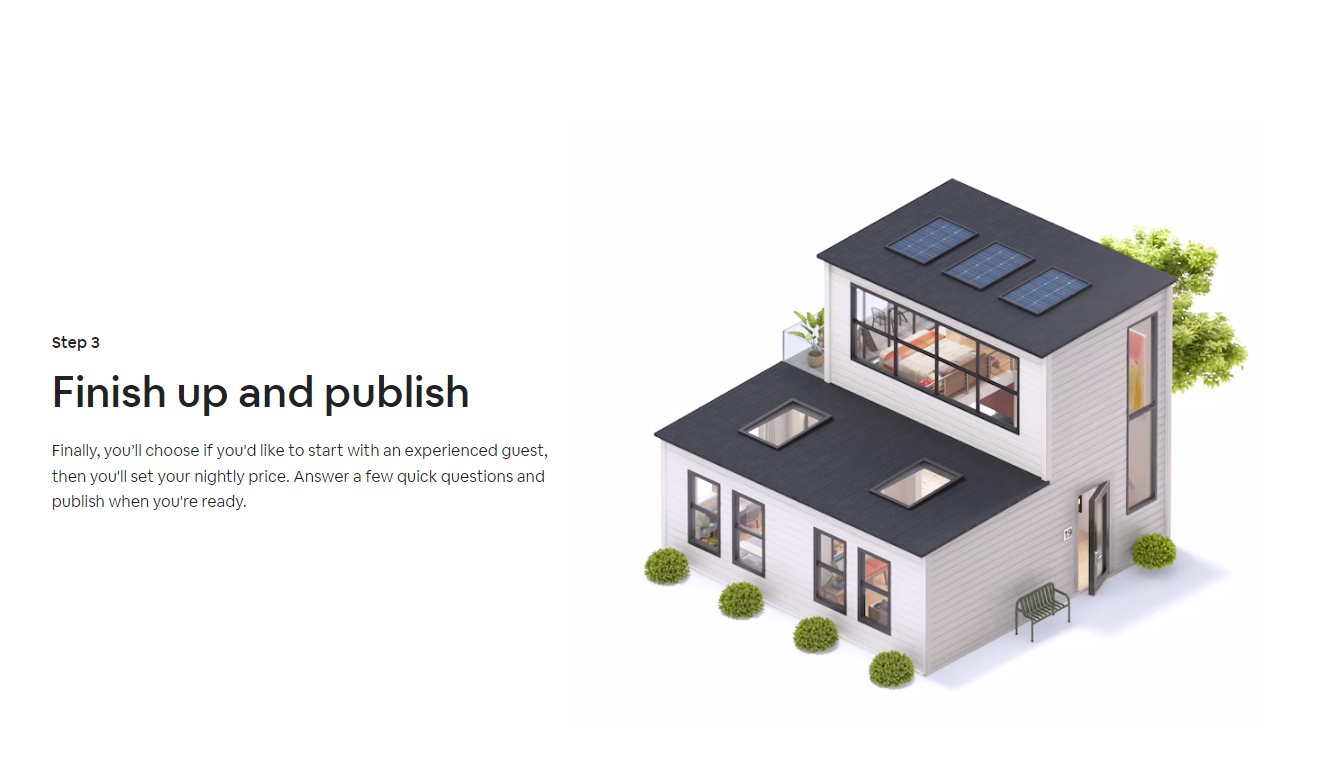 Before you hit publish, do the following:
📌 Choose The Type of First Guest You'd Like to Host
For your first reservation, pick between an Airbnb Guest (simply anyone with an Airbnb account) or an Experienced Guest (someone who already knows how Airbnb hosting works and what to expect from Hosts).
📌 Set Your Price
Set your price, which you can also change anytime. You'll see the base price, the guest service fee, the guest price before taxes, and how much you'll earn.
As a first-time Airbnb host, start low. Check how much your competitors are charging in your location. You might have to initially offer your home at a price below its market value.
Add discounts so your property gets booked faster. As a new listing promotion, offer a 20% discount for your first three bookings, a 10% weekly discount for guests who book at least seven nights, or a 25% monthly discount for stays of more than 28 nights.
📌 Adjust the Current Settings
Customize your booking settings (turn Instant Book on or off), available dates, cancellation policy, house rules, and special promotions.
Review your listing and agree to the terms of service, payment terms of service, and privacy policy before publishing.
📌 Verify Your Identity
Verify your identity with a valid government ID, which proves to prospective guests that you aren't a scammer. Upload it and take a photo with your webcam if you're on your computer or with the Airbnb mobile app if you're on your smartphone.
Once you submit it, your photo will undergo review. After which, you can go ahead and click the Publish Listing button.
Step 4: Wait for Your First Reservation Request/Booking Inquiry
After your listing is published, it may take up to 24 hours to appear in Airbnb's search results. All you have to do is wait for interested people to contact you via an inquiry or a booking request.
If several days have passed and nobody has shown interest in your property, you might need to adjust your listing to attract guests. You can, for example, offer more discounts and/or add better photos of your space.
Once a guest sends you a message to inquire about your property, respond promptly. You may even ask the guest some questions to verify their background, like where they're from and their purpose of stay.
If you receive a reservation request, you have 24 hours to accept or decline it. Otherwise, the request will expire.
Accepting a reservation will automatically update your calendar. If you decline, update your calendar to avoid getting bookings for the same dates.
You can cancel a reservation, but it can lead to penalties. Airbnb deducts cancellation fees from the payout, and guests may leave a negative review when you cancel on the check-in date. Over three cancellations in a year will lead to deactivation of your listing.
Step 5: Carry Out Your Airbnb Hosting Duties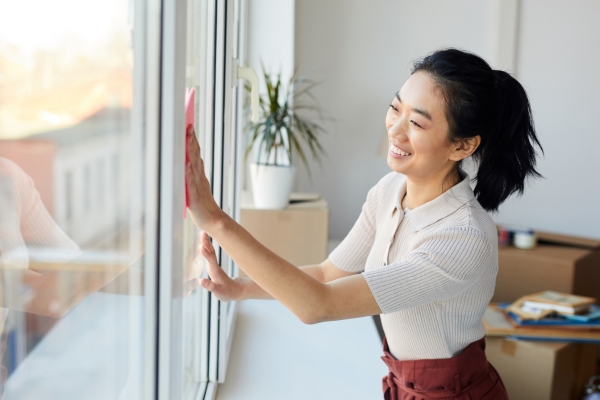 Got your first booking? Congratulations! Now give your guests the most pleasant experience possible.
But you don't want to stress yourself out with last-minute preparations. Here's a checklist to help ensure everything's in place the moment guests arrive at your property:
Well-functioning appliances: Make sure the aircon, TV (the remote shouldn't be missing!), cable, refrigerator, stove, and other appliances are working.
Basic amenities: Provide clean linens, towels, toiletries, etc.
Must-know information for guests: Provide information such as a vicinity map that includes the nearest malls, shops, and restaurants; transportation tips; and fun things to do in the location. Print the document and hang it somewhere noticeable.
Internet: Check your broadband connection and contact your service provider if something's wrong.
Cleaning services: Hire and schedule a housekeeper or a cleaning service provider to maintain your unit's cleanliness every after use.
Property maintenance and renovation: Hire a repairman, electrician, carpenter, plumber, and other home maintenance workers to keep your listing in good condition.
Point person for emergencies: If you're working or traveling abroad, assign someone to attend to guests' concerns on your behalf.
Access to your property: Determine how you'll give the key to the guests and how they'll return it to you. To make things easier, consider investing in a smart digital lock.
Use a third-party host management service if you're a full-time employee or an entrepreneur who can't always manage your Airbnb business hands-on. Airbnb host management companies in the Philippines can help you out with various hosting duties. Airbnb can match you with its hosting partners, or you can look for a service provider yourself.
Whether you manage everything yourself or rely on a third-party provider, provide only excellent service to your guests. That way, you'll receive positive reviews and ratings and even reach Superhost status,[4] increasing your chances of getting booked.
Airbnb awards Superhost status to hosts who achieve the following:
At least a 4.8 overall rating
90% response rate
At least 10 stays hosted a year
Less than 1% cancellation rate
Step 6: Receive Your Payout
Airbnb hosts typically get paid within 24 hours after the guest's check-in time. For a monthly stay, Airbnb will release the first payout approximately 24 hours after the guest checks in. Any following payouts will be released monthly.
To check your payout status, view your transaction history on Airbnb. You'll see a Payout item for each corresponding reservation. However, if you have a set minimum payout amount, you won't receive your payout until you've reached this amount.
💸 Payout Methods for Airbnb Hosts in the Philippines
| | | |
| --- | --- | --- |
| Airbnb Payout Method | Currency | Average Processing Time |
| Bank transfer | PHP | 3 to 5 business days |
| PayPal | USD | 3 to 4 hours (Plus 2 to 3 business days to transfer funds from PayPal to your bank account) |
| Payoneer Prepaid Debit Mastercard | USD | Within 24 hours |
How long payout processing takes depends on your chosen payout method. In the Philippines, Airbnb hosts can get paid via direct transfer to their bank account, Payoneer Prepaid Debit Mastercard, or PayPal.
For payout methods that release funds in US dollars, your bank may deduct a fee. Make sure to provide your bank's SWIFT and bank codes when setting up your payout method.
Step 7: Show Guests Your Appreciation
Even the smallest act of appreciation makes your guests feel valued and encourages them to book again or recommend you to their friends.
Here are some ideas to thank guests for their business:
Leave a thank-you note and a simple token.
Provide complimentary breakfast and coffee for one morning.
Offer a free guided walking tour around the neighborhood.
Leave a review on your guests' profile. It will encourage them to review you.
Thank them for their feedback.
Final Thoughts
If you know all the steps and requirements, the process of how to start an Airbnb business in the Philippines is quick and easy. The challenging part is preparing your property and making it a suitable place guests will love.
Work doubly hard to meet guests' expectations so you can earn positive reviews and get more bookings. Contact Airbnb's 24/7 customer service team via phone, email, or live chat if there's any issue or concern about your listing and guests.

Sources: