That Beep card in your wallet is more powerful than it seems.
What started as a stored value card for exclusive use in LRT and MRT has evolved into a tap-and-go payment card in more places—from bus terminals to convenience stores and even cinemas.
If you're using that blue card only as a train ticket, you're missing out on the convenience it brings. Like a contactless credit card, the beep™ card eliminates the hassles of cash payments. No more awkward moments with the cashier after handing a 1,000-peso bill. No need to fumble for coins.
How else can you use a Beep card? Let's count the ways.
1. Pay Fares in Select Bus Lines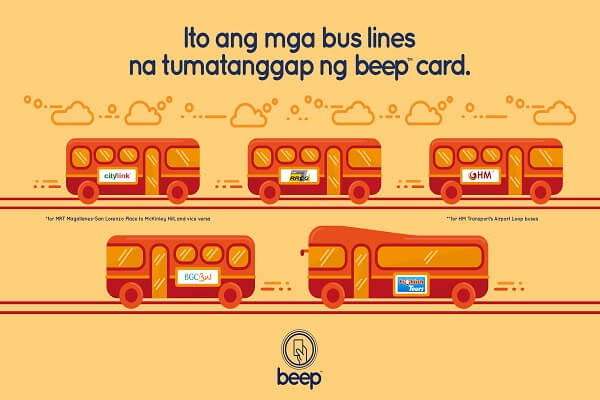 Similar to Hong Kong's Octopus card and Singapore's EZ-Link card, the Philippines' Beep card is made for seamless commutes in the Greater Manila Area. Getting around the city is easier with this reloadable card.
Bus Lines That Accept Beep Card Payments
Many bus lines—including P2P buses, BGC Bus, Citylink buses, and Airport Loop buses—accept fare payment with Beep cards. They typically have the beep™ logo on their windshield or side window.
Here's a list of buses where you can tap your Beep card to pay fares:
Bus Lines
Routes
BGC Bus
All routes within BGC
Citylink Coach Services

McKinley Hill to San Lorenzo Place and vice-versa
McKinley Hill to MRT Guadalupe and vice-versa
Newport City to Eastwood City and vice-versa

DNS P2P Buses

U.P. Town Center to Glorietta 3 and vice-versa
Lake Front to Glorietta 3 and vice-versa

Froehlich P2P Buses

Glorietta 5 to Trinoma and vice-versa
SM North EDSA to Glorietta 5 and vice-versa
SM Megamall to SM North EDSA and vice-versa

HM Transport

Baclaran to NAIA Terminal 3 (Airport Loop)
Alabang Town Center to Market! Market! (P2P)

RRCG P2P Buses

Alabang Town Center to Greenbelt 1 and vice-versa
Ayala Malls South Park to Greenbelt 5 and vice-versa
Starmall Alabang to Starmall EDSA-Shaw
Alabang Town Center to Ayala Malls The 30th and vice-versa
Robinsons Place Antipolo to Robinsons Galleria and vice-versa
SM City Masinag to Greenbelt 5 and vice-versa

TAS Trans P2P Buses

Robinsons Sta. Rosa to Glorietta 2 and vice-versa
Ayala Malls Solenad to Circuit Makati
Aside from the standard blue card, the bus lines listed above also accept other reloadable prepaid cards in the Philippines such as Globe GCash Mastercard, BPI-Ayala Malls Amore prepaid card, and PayMaya beep card.
Read more: P2P Bus Routes and Schedule for Commuters in GCQ
How to Pay for Your Bus Fare Using a Beep Card
Tap your card on the card reader of the beep™ Bus Validator found in the bus terminal or near the driver inside the bus. (Beep payments for RRCG bus fares are accepted at the controller's booth.)
Wait for the light to turn green and the beep sound.
Check your balance and fare deduction on the screen display. When you see your card details, it means your transaction is complete.
2. Pay Toll Fees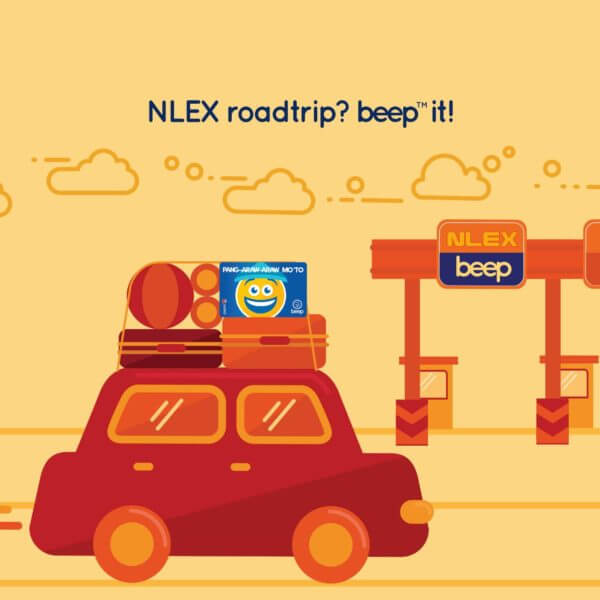 If you always drive along the busy expressways, you know how long the lines at the toll gates could get. Cut your waiting time by paying toll fees with your Beep card[1]! Just look for toll booths with a beep™ signage at NLEX, CAVITEX, Coastal Road, or SCTEX.
3. Pay for Purchases at Convenience Stores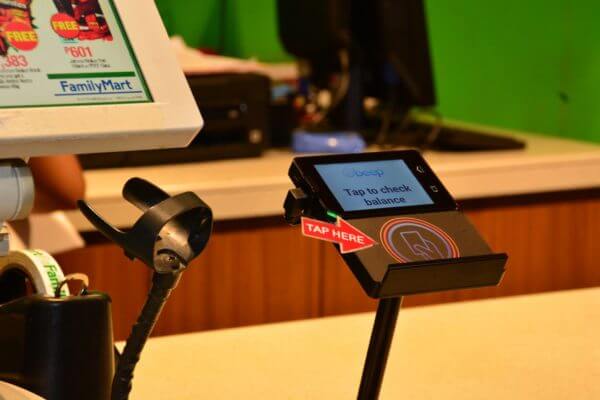 Did you know that you could also pay for items with your Beep card—aside from reloading it—in some convenience stores?
Beep cards are accepted as a payment mode at Circle K and all FamilyMart branches in Metro Manila[2]. You can also tap to pay at select 7-Eleven branches (McKinley Hill BGC, Net Cube BGC, BSA Tower Makati, Buendia Makati, and Columbia Tower Mandaluyong).
A convenience store branch accepts Beep card payments if it has the beep™ logo on its door and a card reader at the counter.
4. Order Meals at Fast Food Joints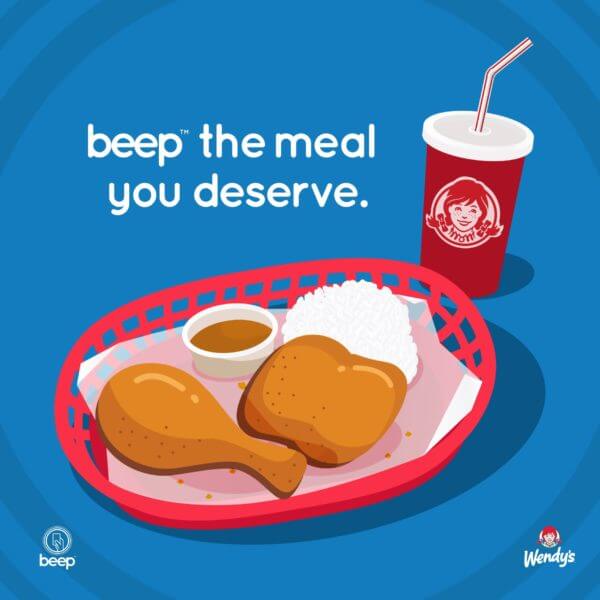 Need to grab a quick bite to survive those stressful MRT commutes? Your Beep card is here to save the day!
Tap your card to order meals faster at select branches of Wendy's. You may also use it at select branches of Binalot and Auntie Anne's.
Binalot:
Amaia Steps, Parañaque
California Garden Square, Mandaluyong
Greenbelt 1
Hanston, Pasig
Robinsons Metro East, Pasig
Robinsons Otis, Manila
Auntie Anne's:
Gateway Mall
Paseo Center, Makati
SM Manila
SM Makati
U.P. Town Center
5. Buy Movie Tickets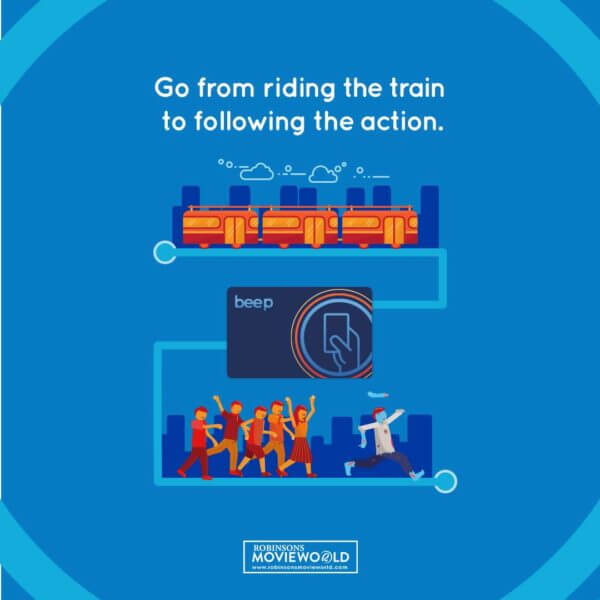 No spare cash to purchase movie tickets for the last full show? Your Beep card got you covered. Just tap to pay for Robinsons Movieworld tickets at one of these branches: Galleria, Manila, Magnolia, Forum, and Metro East. Most of these Robinsons Malls are accessible to MRT and LRT stations, so you can use your card again on your train ride home after your movie date.
6. Shop for Clothing and Accessories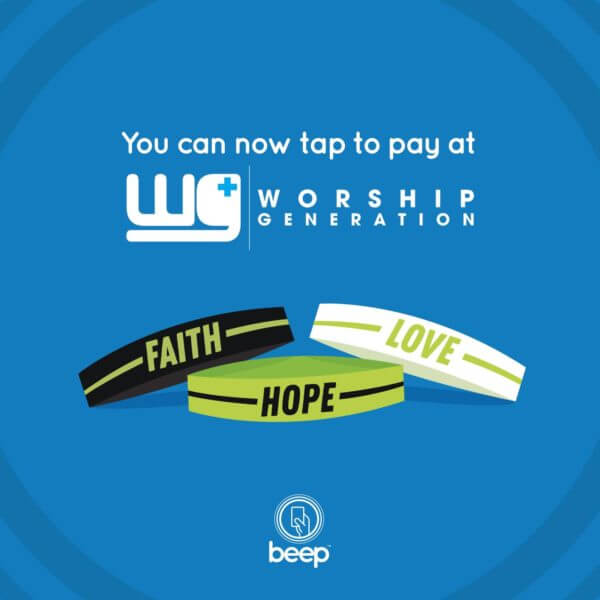 Major fashion retailers don't accept Beep transactions just yet. But Beep has recently partnered with Worship Generation, a Christian merchandise brand. This means you can buy clothing and accessories from this merchant by tapping your Beep card at the cashier.
Final Thoughts
The Beep card may not be widely accepted in the Philippines as a payment mode today. But soon, it will expand to include more retail partners. Who knows, it might become an all-in-one payment card someday.
To get updates on new establishments where you can use your tap-and-go card, follow beep™ card on Facebook and Twitter.

Source: