4. Create Your Car Wash Business Plan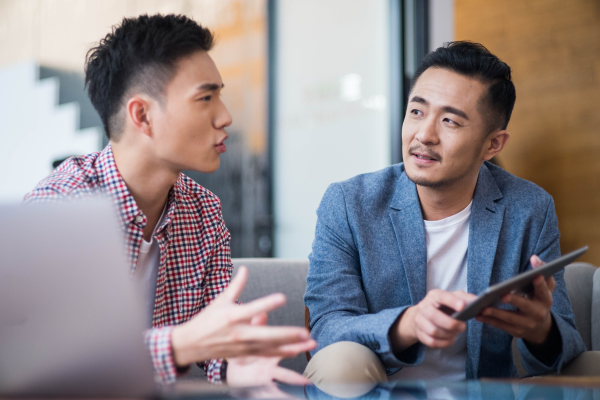 A business plan is a document that shows your car wash shop's feasibility and profit potential. Think of it as the blueprint of your venture. You'll need it to convince your business partners and lenders that the car wash can actually come to life.
Your car wash business plan in the Philippines should include the following details, which are included in the template developed by the Department of Trade and Industry (DTI):[2]
Executive summary – Include a brief description of your business, your profile, and the contribution of your business to the community and the economy.
Marketing plan – Include the description of your car wash service and where it stands in the competition. You'll also need to cover your target market, marketing strategy, and marketing budget.
Operational plan – Detail how your car wash shop's operations will work. Include your sources of equipment, labor availability, and labor cost, among others.
Financial plan – Discuss the cost of the business, financing plan, return on investment (ROI), break-even point (BEP), and loan requirements.
Organizational plan – Explain the business structure of the shop and the qualifications of the owner. Give a breakdown of the following expenses: pre-operating expenses, post-operating expenses, and administrative expenses.
Read more: How to Make a Business Plan Like a Pro: Step-by-Step Guide and Samples
5. Choose a Business Name
Coming up with a business name is something you shouldn't overlook. Spend some time crafting a brand that people will remember.
Here are some tips to help you formulate car wash name ideas:
Pick a name that tells a story. It could be something personal, such as the name of your dad, brother, or best friend.
Don't choose names that are difficult to spell or pronounce.
Resort to puns if you want to inject your fun personality into the brand. However, keep in mind that some people may not take your business seriously.
Make sure your business name can adjust to your future plans. If you started with "Manny's Car Wash" and suddenly decide to add detailing services, you can change the name to "Manny's Auto Detailing" to encompass both services.
Get car wash name ideas by using business name generators.[3]
6. Register Your Car Wash Business
You can't run a business without the right permits. Make sure your car wash business in the Philippines is registered with the proper authorities.
Register your business with the DTI first. Then register it with the Bureau of Internal Revenue (BIR) for tax purposes.
These may seem like a hassle, but they're necessary. Ultimately, a duly registered business allows you to confidently advertise your services and foster relationships with customers and suppliers.
7. Source the Necessary Equipment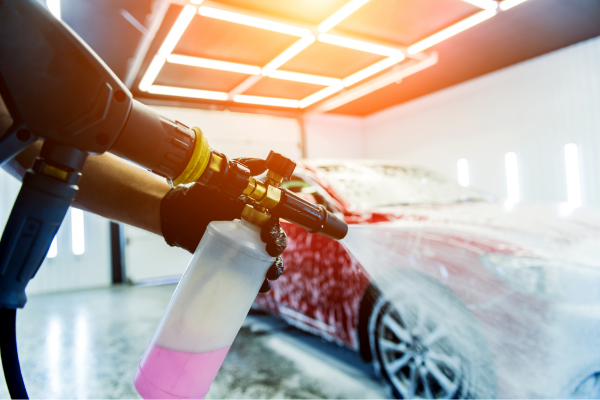 You can source some of your equipment for car wash from hardware stores and even online shops, such as Lazada and Shopee. Your car wash equipment list should include the following:
High-pressure washers
Water hoses
Foam cannon
Buckets
Car wash brushes
Car sponge
Wheel and tire brushes
Car shampoo
Microfiber cloth
Drying towels and rags
Air blower
Glass cleaners
Vacuum cleaners
Upholstery cleaners
Two-step ladders
Car polisher
Car wax
Car wax applicator
8. Hire the Right People
Build an amazing team by hiring the right people. You can hire newbies if you have the resources to train them.
Since this business is labor-intensive, hire people who have the physical capacity and stamina. If you're offering more technical services, such as detailing and automatic cleaning, look for employees with experience and expertise.
Attract the right people with competitive wages and benefits. On top of that, foster a healthy workplace culture. All of these will help prevent employee turnover.
9. Offer Value-Added Services
As a car wash owner, you'll eventually find that your customers have needs other than having their cars cleaned. This is an opportunity to offer them value-added services that will keep them coming back to your shop.
Here are some ideas:
Free Wi-Fi – Connect your customers to the internet, so they can kill time on their own terms. While they wait for the cleaning to finish, they can surf the web, connect with their friends, and even catch up on work.
Auto detailing – If you're operating a basic car wash and planning to expand the business in the future, auto detailing services in the Philippines are something to consider. As mentioned, detailing is all about restoring a car's finish from its interior to its exterior.
Café or restaurant – Customers can fill their tummies as they wait for their cars to get cleaned. A café, a

milk tea shop

, or a small eatery also provides your patrons with a cozy place to lounge at.
Mini grocery – For many, a car wash is part of their list of errands. Set up a mini grocery where your customers can do their shopping. You may also offer bills payment and remittance services.
Pet wash – Car owners who have pets can hit two birds with one stone when they visit your car wash.
Laundry shop – Since water is your car wash's main resource, it just makes sense to set up a

laundry shop

.
Barber shop and salon – Customers can have their hair cut and done while their cars are being cleaned.
10. Create a Marketing Strategy
Your car wash business in the Philippines can attract more clients with the right marketing strategies. Flyers and posters are a given, but if you want to up your tactics, consider the following:
Free or discounted car wash – For your launch, offer a free or discounted car wash, so people can see the quality of your service.
Social media – Start a social media page for your car wash. This works both as a marketing medium and a customer service channel. For the latter, you can use the page to answer customer inquiries and pencil book appointments.
Loyalty program – This may come in the form of a small booklet that collects stamps every time a customer visits your shop. If the customer completes all the stamps, they will get a reward, such as a free car wash or vouchers.
Sponsorships – If you're serious about increasing your shop's local presence, sponsor events and hold fundraisers.
Read more: What Small Business Ideas Can You Start in the Philippines?
Final Thoughts
Starting a car wash business in the Philippines is a feasible and lucrative venture since there will always be someone who needs their car cleaned. Setting it up, however, comes with challenges. You'll need a big space, technical expertise, and manpower.
Minimize risks and increase your odds of success with a well-thought-out plan. Start with the pointers above, but don't forget to talk to seasoned business owners.

Sources: