These days, there are countless choices of loans and financial services that offer quick cash to those who need it. Some use their credit cards as a cash substitute while others go for salary loans. However, these options can only offer so much, and they may not be the best routes in case you need a large amount of cash.
If you own a car, you may consider a car collateral loan in the Philippines. In this guide, we'll share with you all the important things you need to know about this particular type of loan.
What is a Car Collateral Loan?
A car collateral loan, also known as OR/CR sangla or car title loan, is usually a secured loan,[1] which means that you'll need to put something as collateral before you can borrow cash from the lender. In this case, the collateral will be your car's OR/CR or the LTO Official Receipt and Certificate of Registration.
On the other hand, some car title loans are unsecured. Instead of using the OR/CR as collateral, the borrower just submits it to the lending company for safekeeping. In such a case, the lender doesn't encumber the car title.
The money borrowed through a car title loan can be used for a variety of purposes, such as medical bills, home repairs or renovation, and tuition.
Related article: Complete Guide to LTO Car Registration and Renewal
How Does a Car Title Loan Work?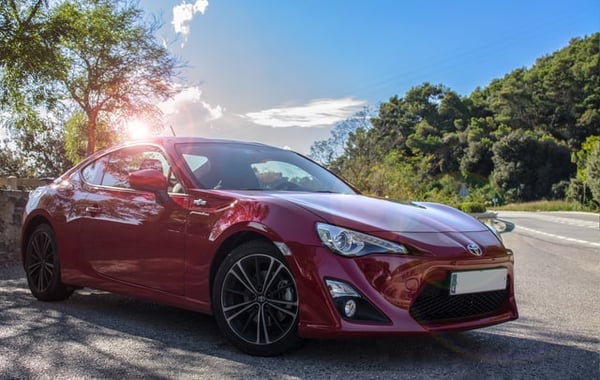 To get quick cash, some people head to pawnshops to pawn their jewelry or gadgets. A car collateral loan in the Philippines works the same way.
When you apply for a car title loan, the lending company will ask for your vehicle's original OR/CR. The car that will serve as the collateral should be registered under your name. If it's financed by a bank, the auto loan should be already fully paid before you can apply for a car collateral loan.
However, there are cases where the car being pawned is still being financed by the bank. In such situations, the car collateral loan provider may offer to buy the vehicle. If you're pawning a second-hand vehicle, the lender may ask for an absolute deed of sale.
Remember that defaulting on your loan may result in the loss of your car. The lender will seize the vehicle and then become its new owner.
Read more:
What are the Advantages of a Car Collateral Loan?
A car collateral loan in the Philippines has many benefits for car owners with an urgent need for cash.
1. Get Cash Instantly
A car title loan is among the most convenient cash solutions when you desperately need money. Because you have a car, you'll need nothing more. Contact your local car title loan company, fulfill the requirements, and get the money fast.
2. Application Processing is Usually Fast
Car collateral loan providers in the Philippines require the same basic requirements. All you need to provide usually includes valid IDs, the original copy of the vehicle's OR/CR, payslips, and a few corporate documents (in case you're running a business). A few easy requirements make for fast loan processing.
3. Credit History is Not Required
When you apply for loans at banks, your credit history will be checked thoroughly. If you have a bad credit score, your application runs the risk of getting rejected.
Things are different with car title loans. Your credit history isn't a requirement since you already have your vehicle's title as collateral.
4. Your Car Doesn't Have to be Surrendered
Traditional car pawning may require owners to surrender their vehicles to the lender. However, some lenders allow borrowers to keep their vehicle and will only ask for the original copy of the OR/CR.
Remember, though, that the loan company may let you keep your car under certain conditions, which may require additional paperwork.
5. Some Companies Accept Different Kinds of Vehicles
Got no car to pawn? Don't worry, as there are lenders that accept different vehicle types, such as public utility vehicles (PUVs), public utility jeepneys (PUJs), tricycles, motorcycles, and multicabs.

What are the Disadvantages of Car Collateral Loan?
Car title loans also have their own share of drawbacks that you should know before you proceed with your application.
1. You Might Need to Surrender the Car
Some car title lending companies may take your vehicle and keep it in their private storage. This is bad news if you're using your car for livelihood such as food delivery, ride-sharing, or rental services.
2. Interest Rates Can Be Pretty High
This means you may end up shelling out more money to pay back the loan and get your car back. You'll find loan companies that offer around 3% to 4%, but some can charge as high as 10% interest per month.
Other than the interest rate, another disadvantage of car title loans is the number of possible costs that you'll need to cover, such as processing fees and penalties.
3. There's a Risk of Low Appraisal
If the loan company has an outdated method of appraising car value, you may end up getting less than the actual worth of the vehicle. This is why you should pick a lender that has a reputation for giving high appraisals.
Where Can I Get a Car Collateral Loan in the Philippines?
There are numerous car title loan companies out there. But if you don't know where to start, we've rounded up four reputable and trustworthy names in the business offering low interest rates that you may consider.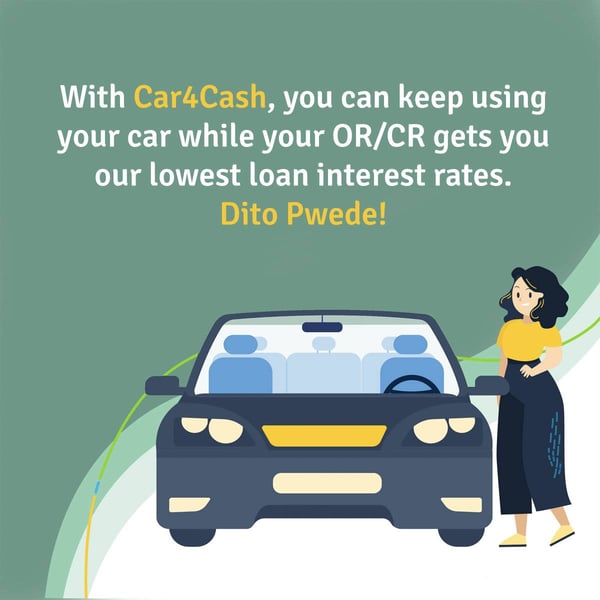 With SB Finance's Car4Cash program,[2] you can borrow from PHP 100,000 up to PHP 2 million using just your OR/CR. SB Finance is an affiliate of Security Bank.
The loan terms are flexible—this unsecured loan in the Philippines can be repaid in 12, 18, 24, or 36 months. You don't need to surrender your car when you avail of Car4Cash. Just submit the original copy of your OR/CR, which the bank will safekeep until you've fully paid the loan.
However, note that SB Finance accepts only car model years from 2011 and above. Interest rates start at only 1.25%, but the rate you'll get still depends on the age of your vehicle and your chosen loan term.

Asialink Collateral Loans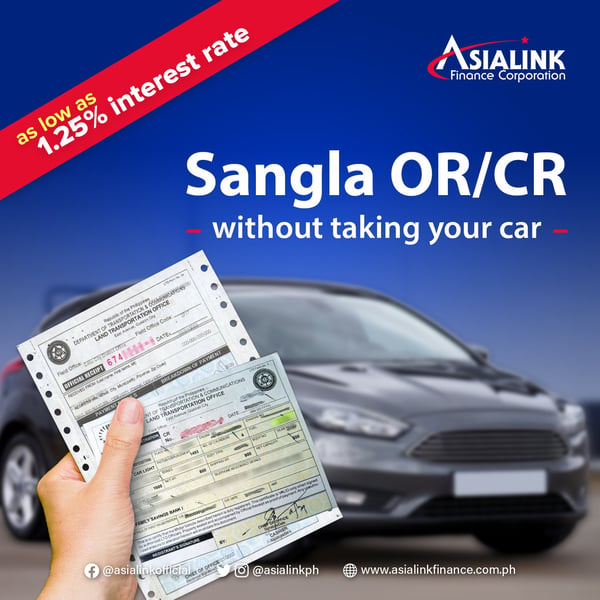 Asialink's ORCR Collateral Loan program[3] accepts a wide range of vehicles, such as cars (model year of 2000 and above only), trucks, PUVs, PUJs, taxis, tricycles, motorcycles, and multicabs. You also won't need to surrender your vehicle.
When it comes to motorcycles and tricycles, Asialink accepts units from the following brands as collateral: Honda, Yamaha, Suzuki, and Kawasaki.
Interest rates start at 1.25%. When you get approved for a car collateral loan from Asialink, you car stays with you because the lender won't take the vehicle.
GDFI Car Collateral Loan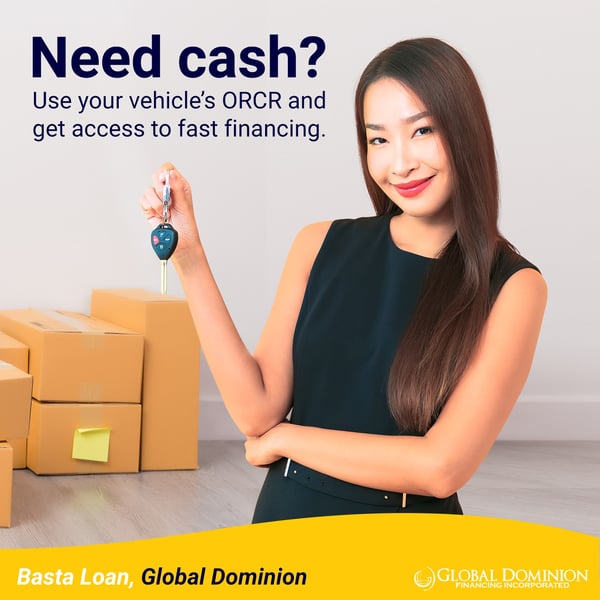 While Global Dominion Financing Incorporated (GDFI) is known for its business loans and car financing loans, it also offers a car collateral loan in the Philippines.[4] Its car title loan has a low interest rate of 1.30%. Moreover, the company offers a quick turnaround time of 24 to 72 hours (though it'll still depend on the requirements you submit).
Maybank Auto Loan Refinancing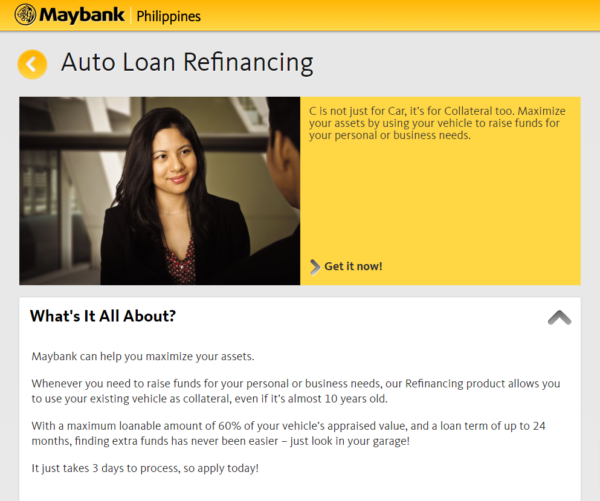 Maybank's Auto Loan Refinancing product[5] allows borrowers to use their existing vehicle as collateral. The bank still accepts units that are almost 10 years old. The maximum loanable amount is 60% of the vehicle's appraised value, and the loan term is up to 24 months. Processing of the loan refinancing application can take three days.
Tips to Remember When Applying for a Car Collateral Loan
Just because you need cash immediately doesn't mean that you'll go for the first loan company that comes your way. You need to do your due diligence to make sure that you'll get your vehicle's worth and be able to avoid costly pitfalls.
Here are some of the things you need to remember.
1. Check the Lender's Credentials
Make sure to check the car collateral loan company's track record and reputation. Chances are the lender you're planning to do business with may have high interest rates and low appraisals. It may even have one-sided terms and conditions that will give you the short end of the stick. A quick search online will give you reviews of car title loan companies, so choose wisely.
If you have a relative or a friend who has pawned their car title, don't hesitate to ask them questions. Other than probing them about the reputation and interest rates of the company, you can also ask about their experience, which in turn will help you know what to expect when you apply.
2. Make Sure Your Car is in Good Condition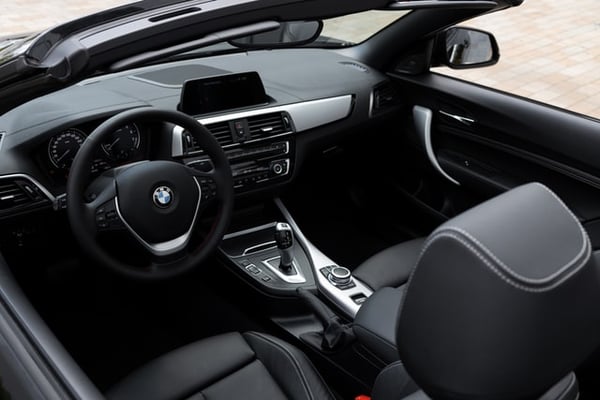 Some car title loan companies are very particular with the units that go into their garage; they accept only specific car brands and model years. So before applying for a car collateral loan, check first if your car matches the lender's requirements.
Make sure that your car is in good condition before turning it in. This is because the assessment of your car will determine its market value and how much money you'll be able to get out of it. Remember that the assessment depends not only on the car's brand and model year but also on the unit's physical condition and mileage.
3. Check If You Can Pay the Loan Off Quickly
Before deciding to go for this type of loan, figure out first how you're going to pay it back. Other than the principal, you'll also need to cover the interest rates in the monthly payments.
Are you expecting an increase in your monthly salary? Is there a windfall coming in? Or will your spouse help you repay the loan and get the car back? These are some of the most important questions you need to ask yourself.
Final Thoughts
A car collateral loan in the Philippines can be a good source of quick cash. But as much as possible, you may reserve this option for situations that actually require a large amount of cash, such as emergencies.
While the application process is convenient and the cash is provided quickly, paying back the loan can give you a little bit of shock because of its high interest. With that, we strongly recommend that you consider all your other choices before making a call.

Sources: