The ban on public smoking in the Philippines has been implemented for about a year now. Are you happy so far with the nationwide smoking ban? Do you think it's effective in encouraging smokers to quit their habit?
In 2017, President Rodrigo Duterte signed Executive Order (EO) 26—the nationwide smoking ban—that prohibits smoking in all public places in the Philippines. These no smoking locations include schools, hospitals, clinics, government offices, food preparation areas, elevators, jeepneys, buses, and more. The EO also bans the sale, distribution, and purchase of cigarettes to and from minors.
Considered one of the strictest anti-smoking laws in Southeast Asia, the smoking ban in the Philippines imposes fines ranging from PHP 500 to PHP 10,000 to individuals caught smoking in public places. Establishments selling cigarettes to minors are fined PHP 5,000 or jailed for up to 30 days. They also risk cancellation of their business permits and licenses.
Now, what does this nationwide smoking ban mean to you? Whether you're a smoker or not, observing it has life-saving and money-saving effects.
1. The Smoking Ban Saves Lives

Longer Life Span
Before you take another puff, consider how it puts lives at risk—not just yours but also your loved ones. Smoking just one stick can cut your life by 11 minutes, not to mention the higher risk of serious health problems such as cancer, heart diseases, and a lot more.
The risks of second-hand smoke are just as life-threatening. If you're pregnant, smoking can cause miscarriage, premature birth, birth defects, and even infant death. People who inhale cigarette smoke are likely to develop asthma, respiratory problems, and heart diseases. They may even die over time. Remember Jam Sebastian of the popular Jamich duo who died of lung cancer in 2015? He had never smoked, yet he was exposed to cigarette smoke from friends, costing him his life before he hit his 30s.
When you stop smoking, you improve your health and live longer. Just 20 minutes after your last puff, your heart rate and blood pressure start to drop, according to the American Lung Association. Stay smoke-free for a month, and you'll cough less and breathe more easily. And if you can sustain that for 20 years or longer, your risk of death will drop to the level of people who have never smoked in their life.
Smoking leads to about 23% of deaths in the Philippines, with over 100,000 people dying from tobacco-caused diseases each year, based on The Tobacco Atlas data. If more people follow the smoking ban, these figures can decline in the coming years.
Read More: Best Health Insurance in the Philippines: Compare Now!
Fire Prevention
The nationwide smoking ban seeks to improve not just public health but also safety. It forbids smoking in gas stations, storage areas for flammable materials, and other locations with fire hazards. This helps prevent a fire that kills and injures people as well as destroys properties.
Read More: Fire Insurance in the Philippines: Why It's Important to Get One
2. The Smoking Ban Saves Money

Smoking has become more expensive in the Philippines, largely due to the higher excise tax on tobacco as a result of the TRAIN law implementation. The price of a cigarette stick from a popular brand costs PHP 7 (as of July 2018). Seems like a tiny expense, but it can quickly burn a hole in your pocket if you buy a pack daily. Will you still light up a stick and waste your hard-earned money?
Stopping the deadly habit will keep more money in your wallet. If you're struggling to let go of your daily nicotine fix, consider how much you'll save if you quit smoking.
Lower/Zero Spending on Cigarettes
With prices of other goods and services skyrocketing this year, cigarettes are among the expenses that you should definitely omit from your budget.
Heavy smokers who consume a cigarette pack or more daily puff away as much as 200 bucks per day. Let's say you smoke two packs a day, and you stop smoking starting this year. In five years, you can save more than PHP 300,000!
Factor in also the miscellaneous expenses such as lighters, ashtrays, and breath mints that you get rid of when you quit smoking.
Think about the more important stuff that you could be spending this money on, like your living expenses, retirement fund, tuition fund for your child, home renovation, and more.
The smoking ban in the Philippines is also seen to help the poor. The Tobacco Atlas notes that smokers spend about 5% of their average income per year to buy cigarettes. This robs Filipino families of the money they need to get out of poverty.
Reduced Healthcare Costs
The Philippines loses PHP 269,326 million to smoking-related costs such as healthcare and lost productivity from deaths and illnesses. The nationwide smoking ban may address that by discouraging smokers from their habit.
With less exposure to cigarette smoke, Filipinos are less likely to fall ill and end up paying for expensive medicines, treatments, emergency room visits, and hospital bills.
3. The Smoking Ban Saves the Environment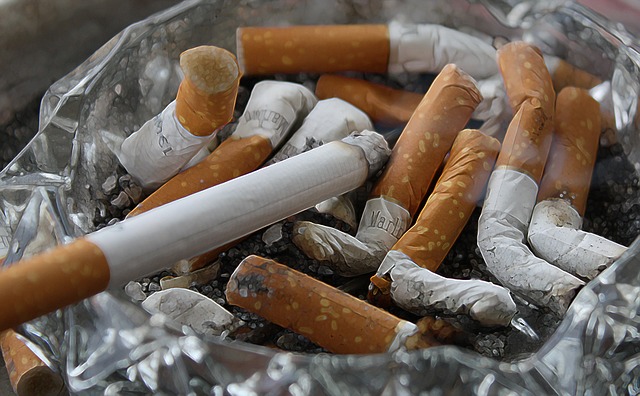 Did you know that quitting smoking can help protect the environment?
Cigarette smoke contains carbon dioxide, methane, and other toxic chemicals that contribute to air pollution and climate change. Cigarette butts and packs also harm the environment, being among the most common types of waste worldwide. According to The Tobacco Atlas, the Philippines accumulates more than 37 million kilograms of cigarette butts and packs every year. Such wastes end up clogging and contaminating water system and harming plants and aquatic animals.
Apparently, when Filipinos obey the nationwide smoking ban, air pollution and cigarette wastes will be reduced.
Final Thoughts
Whether you're optimistic or skeptic about the smoking ban in the Philippines, let's support the government in its efforts to ensure public health and safety. You may report any establishment that violates the smoking ban to the Department of Health (DOH) hotline: 711-1002.
If you want to quit smoking, you can seek help from the DOH Quitline by dialing 165-364 or texting STOPSMOKE to 29290-165-364.