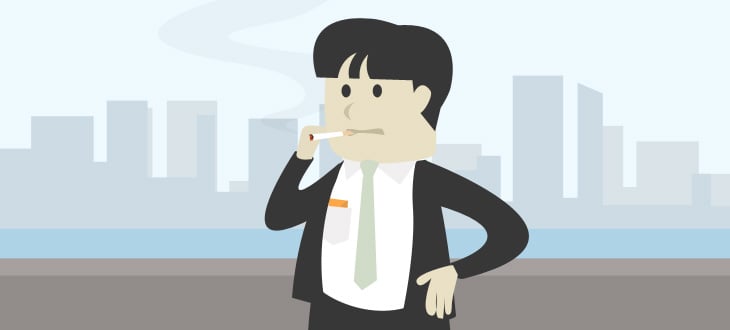 Bad habits are hard to break. One as addictive as smoking is even harder. But did you know that you could save as much as PHP 45,625 a year if you gave it up? These figures can go higher or lower depending on the frequency that you replenish your supplies.
Arguments can be made by smokers, non-smokers, and former smokers when it comes to the benefits of quitting. You're already aware that heavy smoking can cause all kinds of issues with your health, and predisposes you to various cancers.
Related: Best Health Insurance in the Philippines: Compare Now!
One other thing that may make you consider quitting is the fact that smoking can be a costly habit. The money you spend on a pack of cigarettes could be put to better use.
If you smoke, or have friends who smoke, then you've had a conversation about quitting at least once. The reason it's difficult is because of the nicotine, which is an incredibly addictive substance.

How much is it costing you?
The average price for a pack of 20 cigarettes in the country is PHP 62.50. Factor in the markup at some retail outlets, or your preferred brand, and you could be looking at a price tag between PHP 63.00 to PHP 150.00. The cost of cigarettes factors in import costs, and the 'sin tax' levied by the government.
In a year
A heavy smoker can go through a pack of 20s, sometimes more, in a day. That's 365 packs a year, at PHP 62.50 a pack.
PHP 62.50 x 365 = PHP 22,812.50
Going through two packs a day costs you double that amount, or PHP 45,625 per year. If you smoke the more expensive cigarettes, you're looking at a possible annual cost of PHP 55,115.
What happens if you save the money instead?
In the short term
That's PHP 62.50 you could just as easily put away for savings, food, or use as commute money. It's an extra PHP 62.50 in your pocket that you wouldn't have otherwise.
In the long term
Over the course of a year, that PHP 62.50 a day grows into PHP 22,812.50. That amount could be invested, or saved.
What more can you do with the money you saved?
The money you saved instead can be used for a lot of other things, like:
Investing in Mutual Funds, Stocks, or financial products that can generate wealth.
Put together with your retirement fund.
Saved as part of your emergency fund.
Finance a vacation to your dream destination.
Invest in yourself - take classes based on your interests.
As columnist Dr. Willie T. Ong wrote "Quitting may take some time, but the rewards are tremendous," and among these rewards is a much happier bank balance.
Are you or your friend trying to quit smoking today? Share this with them and let us know what they thought in the comments!