In this almost unbearable summer heat, electric fans and ice-cold drinks just don't cut it anymore. To cope with the high temperatures, Filipinos are left with no choice but to turn on the air conditioner at home.
However, leaving the AC on all day can significantly spike your household's electricity bill. So how to conserve electricity at home?
From tips on aircon consumption to roof insulation, here's how to save electricity at home in the Philippines.
How to Save Electricity at Home: 12 Energy-Saving Tips
⚡ Unplug Gadgets and Appliances When Not in Use
This is one of the easiest tips to save electricity. Your plugged gadgets and appliances, even when not in use, still consume electricity. Standby electricity loss is often associated with electronics in idle mode.
For instance, a plugged-in television that's not in use still consumes around 16 watts, or ₱57.60 of wasted electricity in a month.[1]
⚡ Use a Power Strip
Got multiple appliances in one area at home? Plug them all in one smart power strip. Since power strips can detect when devices are not in use, they ensure these electronics aren't consuming energy even when in standby mode.
You can also turn off all of the devices plugged into the strip with just one button.
⚡ Work Smarter Hours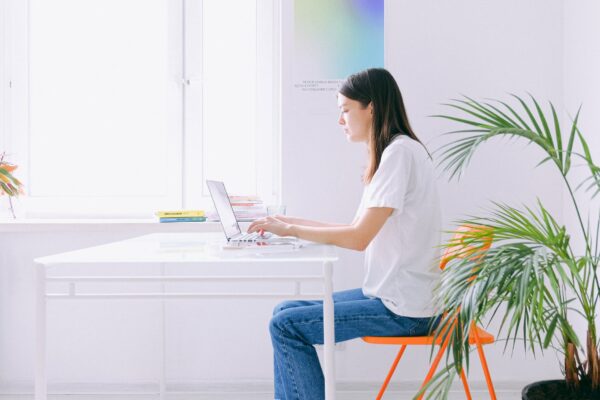 If you work remotely, one of the ways to reduce energy consumption at home is to cut down the hours you're on the computer. Instead of surfing the web in between tasks, organize your to-do list and maximize your workday productivity.
If you can complete your work in seven hours instead of eight, you can get off of your computer a bit earlier and save an hour of energy consumption.
⚡ Invest in Smarter Devices
Instead of getting a cathode ray tube (CRT) monitor for your home office, go for a flat-panel liquid crystal (LCD) monitor. The latter consumes about 43 watts less than a CRT monitor. Alternatively, you can opt for a laptop instead of a PC as laptops use considerably less energy than desktop computers.
⚡ Turn On Your Computer's Energy-Saving Features
Whether you're working, gaming, or streaming your favorite show, computers consume a lot of energy. If you're serious about saving electricity at home, you can just turn on your device's built-in energy-saving options.
⚡ Change Your Light Bulbs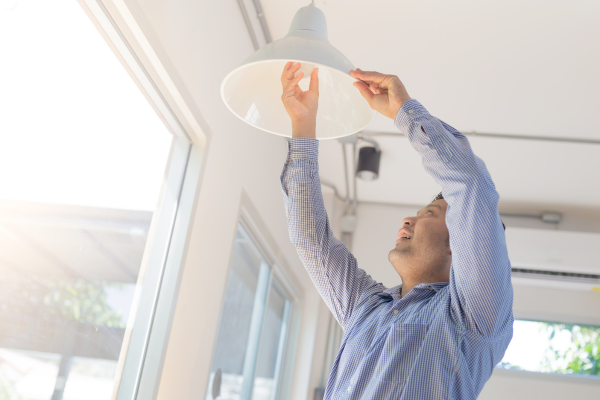 Wondering how to save on your home electricity bill? Consider switching from incandescent bulbs to LED bulbs.
LED bulbs can save energy by up to 85% compared to incandescent bulbs, and up to 20% compared to compact fluorescent lamps.[2] Replace the bulbs in the most-used light fixtures in your home to reduce energy consumption.
⚡ Take Advantage of Natural Lighting
Aside from reducing your energy consumption, natural light can boost your mood and productivity. Open your curtains or blinds even if the window doesn't get hit by direct sunlight. If you're working or studying, move to a spot with the strongest natural light, so you won't need to turn on the lights or use a desk lamp.
⚡ Check for Air Gaps
If you rely on an air conditioner to keep your house cool, you may end up paying as much as ₱7.73 per hour or around ₱2,087 a month, if the appliance is used for nine hours a day.[3]
The cost may balloon if your house has air gaps or areas where the air can escape, such as an open window. To save on electricity at home, check for air gaps and make sure your home is well-insulated. If your home office is the only place that needs air conditioning, make sure to close the door so that the cool air won't escape.
⚡ Save Energy in the Kitchen
Love cooking? If you want to know how to save energy in the kitchen, use the correct cookware on your stovetops. For instance, copper-bottom and cast-iron pots and pans heat up and retain warmth more efficiently than stainless steel ones. Keep the cover on, so you can cook your meal faster.
Additionally, defrost frozen food in the refrigerator ahead of time instead of using the microwave.
⚡ Change Your Wall Paint to a Lighter Color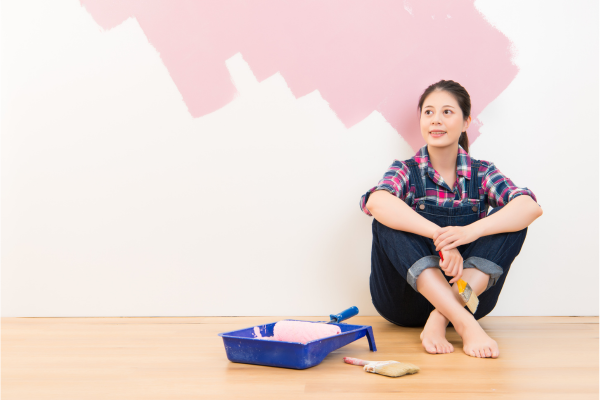 Another way on how to save electricity is to paint your walls with lighter colors. Dark colors can absorb 70 to 90% of the sun's radiance, which can be then transferred to your home. On the other hand, light-colored paint reflects the heat away from your abode, reducing heat absorption.
⚡ Insulate Your Ceiling or Roof
The temperature during hot days in the Philippines can reach up to 42°C. Your electricity consumption may become higher than usual as it takes more energy to keep your house cool, especially if your roof isn't properly insulated.
Consider having a professional fix your insulation to reduce your home's heat retention. Otherwise, you may end up trapping the heat instead.
⚡ Clean Your Appliances
Looking for energy-saving tips for electric fans and other home appliances? Appliances consume more energy when they have dirt caked onto them—which can cost you an extra 10% annually on your electric bill!
Fans run slower the dirtier they are. If you don't clean them, the coils behind your refrigerator also don't run as efficiently. Dust and dirt can also damage air conditioning units.
Related reading:
Final Thoughts
The summer heat may cause your electric bill to shoot up, but you can make a few tweaks to minimize the increase without sacrificing your productivity and comfort. If you want to know how to save electricity this summer, take note of the home energy-saving tips above.
To save more money, consider using a credit card to pay your utility bills as well. With the following cards, you can get rebates, earn cash back, and enjoy other perks:
💳 BPI Amore Cashback

Minimum monthly income requirement: ₱15,000
Bills payment perks:


1% cash back on utility payments
Auto-Charge – Charge your utility bills automatically to your credit card
💳 HSBC Red Mastercard

Minimum monthly income requirement:

₱16,667
Bills payment perks:


4x reward points on online, shopping, dining, and overseas spend
HSBC AutoCharge – Pay multiple utility bills automatically
1 reward point for every ₱20 spend
---
🎁

Free Gift from Moneymax:

₱2,500 eGift, ₱2,500 SM Gift Pass, or Dolce Gusto Coffee Machine

Eligible cards: HSBC Red Mastercard, Gold Visa Cash Back, and Platinum Visa Rebate

Promo period: Until October 31, 2023

Not an HSBC credit cardholder yet? Apply for an HSBC card through Moneymax during the promo period (and get approved subsequently) to receive an exciting free welcome gift! Choose from a free eGift voucher worth ₱2,500, SM Gift Pass worth ₱2,500, or a Nescafé Dolce Gusto Piccolo XS coffee machine (worth ₱5,199).
Per DTI Fair Trade Permit No. FTEB-173270 Series of 2023. Terms and conditions apply. This Moneymax HSBC Giftaway/SM Gift Pass/Dolce Gusto promo runs until October 31 only. So hurry and apply now!
---
💳 Metrobank Rewards Plus Visa

Minimum monthly income requirement: ₱29,167
Bills payment perk:


2 rewards points per ₱20 spend on telecom bills
1 rewards point per ₱20 spend on utilities charged to Bills2Pay
Bills2Pay Auto-Charge Program – Charge your monthly utility bills automatically
💳 Security Bank Complete Cashback Platinum Mastercard

Minimum monthly income requirement:

₱65,000


Bills payment perk:




3% rebate on bills payment
SimplyPay – Use your credit card to pay for utilities that require a bank
deposit
Security Bank Bills Assist Program – Settle your monthly bills automatically
Sources: