Finding it hard to be productive at home? Whether it's for work or school, finishing tasks may not be as fun as scrolling through your social media feed. Good thing you can easily download productivity apps right from your mobile phone.
In a twisted sense of irony, your smartphone or tablet can both help and distract you from being productive. It goes to show that it's never about the technology, it's how you use them to your advantage. Here are the productivity apps you should consider adding to your setup.
10 Productivity Apps to Check Out
Adobe Acrobat Reader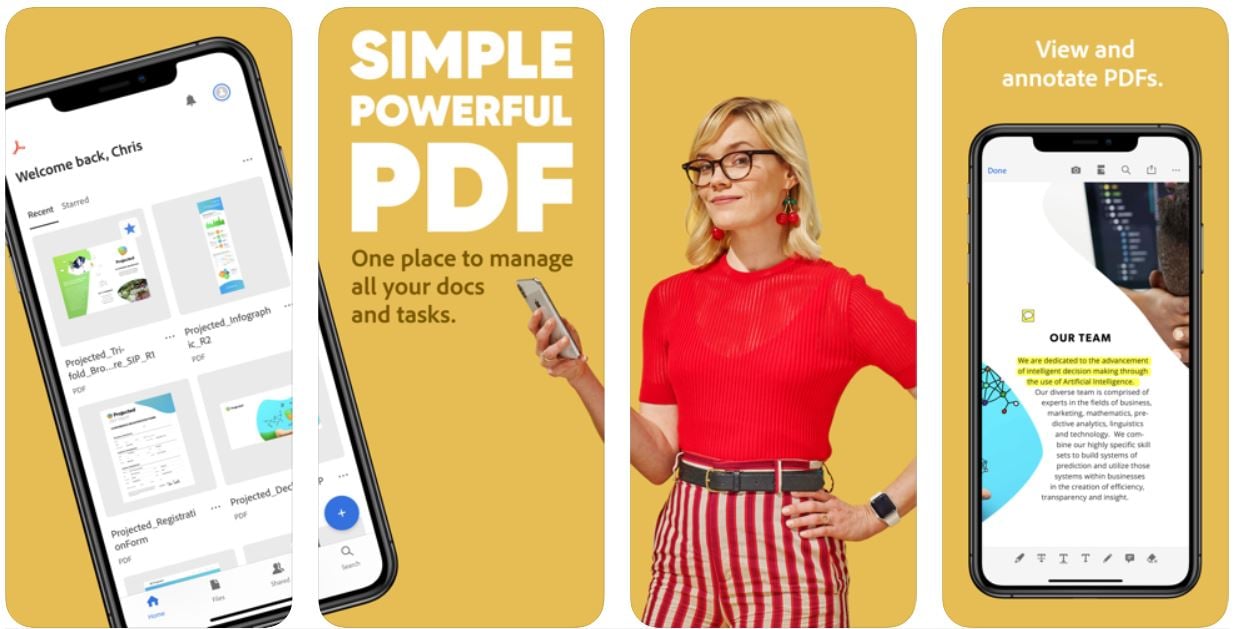 Platforms: iOS, Android
Price: Free
Dealing with a lot of documents? Cut your efforts down by going digital. Now you might think it'll be hard to take note or highlight a PDF file. That's where Adobe Acrobat Reader comes in. The app can open a wide range of document file extensions with ease. You can view your document, zoom in or zoom out, highlight text, sign and apply digital signatures, and other advanced functions.
You can also use your device as a scanner to convert printed text to PDF. If you sign up for an Adobe account, you get 2GB cloud storage, more than enough to access documents wherever. And the best part, it's free! You don't need to have an active Adobe subscription to access the app's useful features. The fact that it's compatible with any device makes Acrobat Reader a solid choice.
Any.do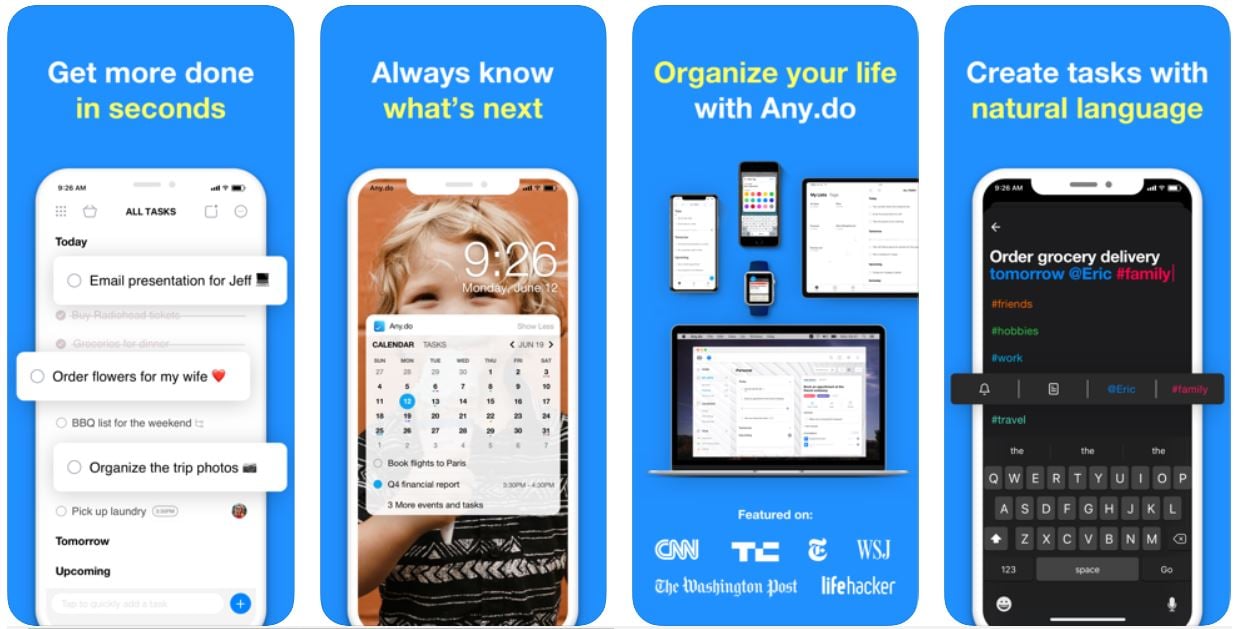 Platforms: iOS, Android
Price: Free/Premium starts at ~PHP 290 per month
Instead of listing down and tracking your daily tasks on a piece of paper, why not use your smartphone? It's more convenient to do so and it's more satisfying to tick off a task from your digital list. One way to do so is by downloading Any.do from your app store. Sync it with your calendar and integrate it with other work apps like Outlook, Gmail, or Slack and you're good to go.
Aside from organizing your to-do list, you can add items by simply speaking. You can also set reminders for each item to increase your productivity. To accomplish more tasks, you can share your to-do list to your friends, family, or colleagues and assign tasks to them. Subscribe to Any.do Premium to access more personalization options and remove limits to attachments and collaborators.
Evernote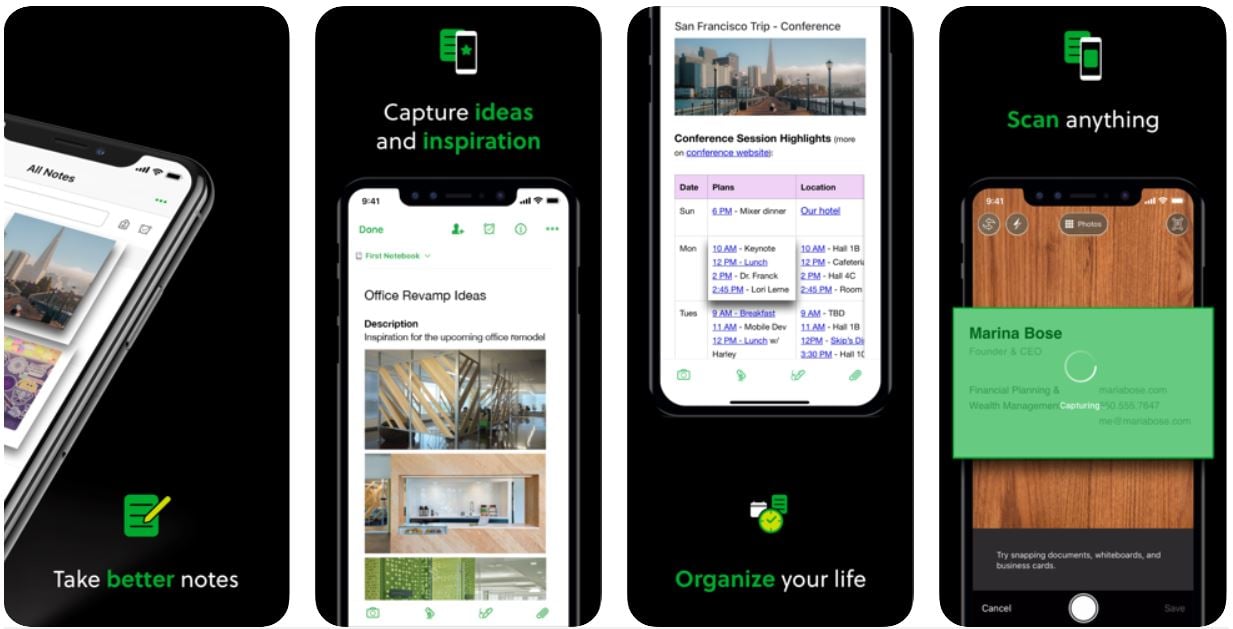 Platforms: iOS, Android
Price: Free/Premium starts at PHP 130 per month
If you need to take down notes and your phone's stock notes app isn't doing it for you, check out Evernote. As one of the most popular productivity apps out there, Evernote packs more features to make note-taking more productive. It allows you to take notes, upload pictures, audio, and video snippets in organized notebooks that sync across all your devices with relative ease.
All of these are available within the free version of the app. Once you subscribe to Evernote Premium, you unlock a whole lot of useful note-taking features. For PHP 130 a month, you get unlimited notebooks and rich formatting options, along with bigger upload and storage limits. Evernote is definitely worth a second look if you want to organize your workflow at work or school.
Read more: Best Budget Apps to Download
Forest
Platforms: iOS, Android
Price: PHP 99 on iOS/Free on Android
Want to minimize distractions while also helping the environment heal? Then Forest should be added to your productivity apps. The way it works is simple: if you need to focus, plant a virtual seed on the app and set the timer. If you exit the app for even a second, the seed you planted will die. Imagine killing a plant just because you can't get your hands off your phone for a few minutes.
By breaking the habit of checking your phone every chance you get, you unlock new plant variants and grow your very own virtual forest. And to sweeten the deal further, Forest partnered with Trees for the Future[1] so users can get a chance to plant real-life trees after accomplishing certain goals. Now that's how you cure phone addiction: by focusing more and growing trees at the same time.
Habitica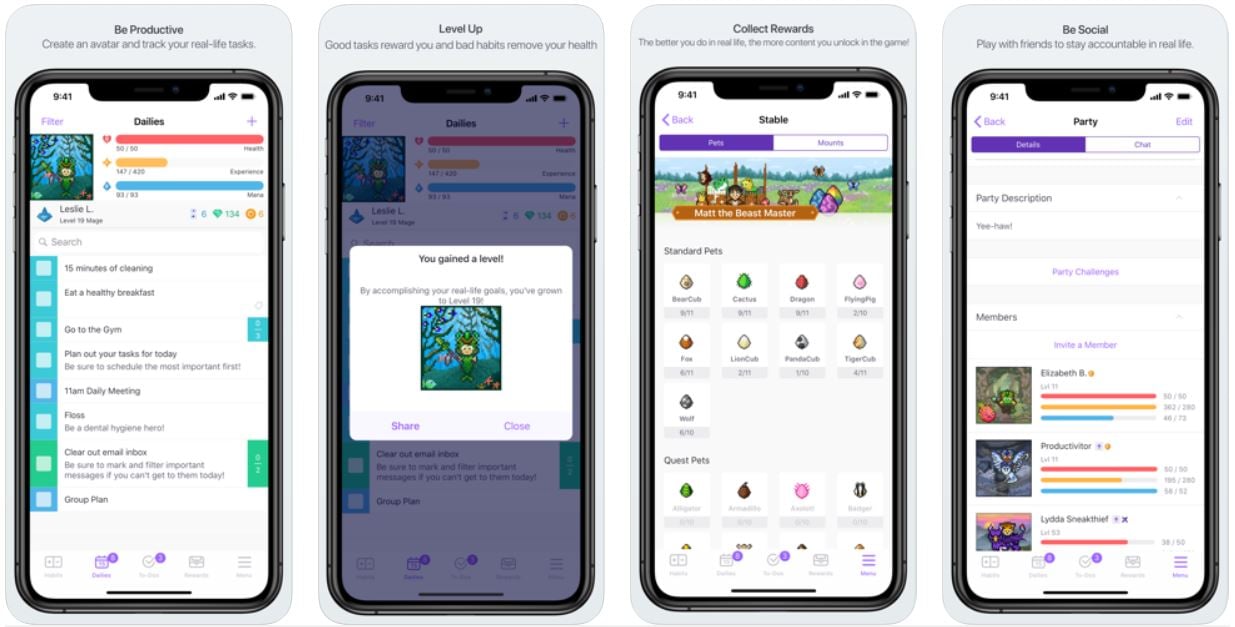 Platforms: iOS, Android
Price: Free/Premium starts at ~PHP 242 per month
Life is like a video game, as most gamers would probably say. Give the quote a whole new meaning when you download Habitica from your app store's productivity apps section. This app is more than just a habit tracker, it's also a role-playing game! You start with a bare-bones character and you level up by ticking off tasks from your to-do list. The more you finish, the stronger you get.
Just like a proper video game, you get cool features as your character levels up. Unlock new armor, weapons, skill sets, quests, and even pets. You can even connect with friends and finish quests together by keeping each other accountable to your respective tasks. And just like pay-to-win schemes in video games, access more stuff when you subscribe to Habitica Premium.
Read more: 16 Mobile Games to Help Keep Your Mind Off COVID-19
Notion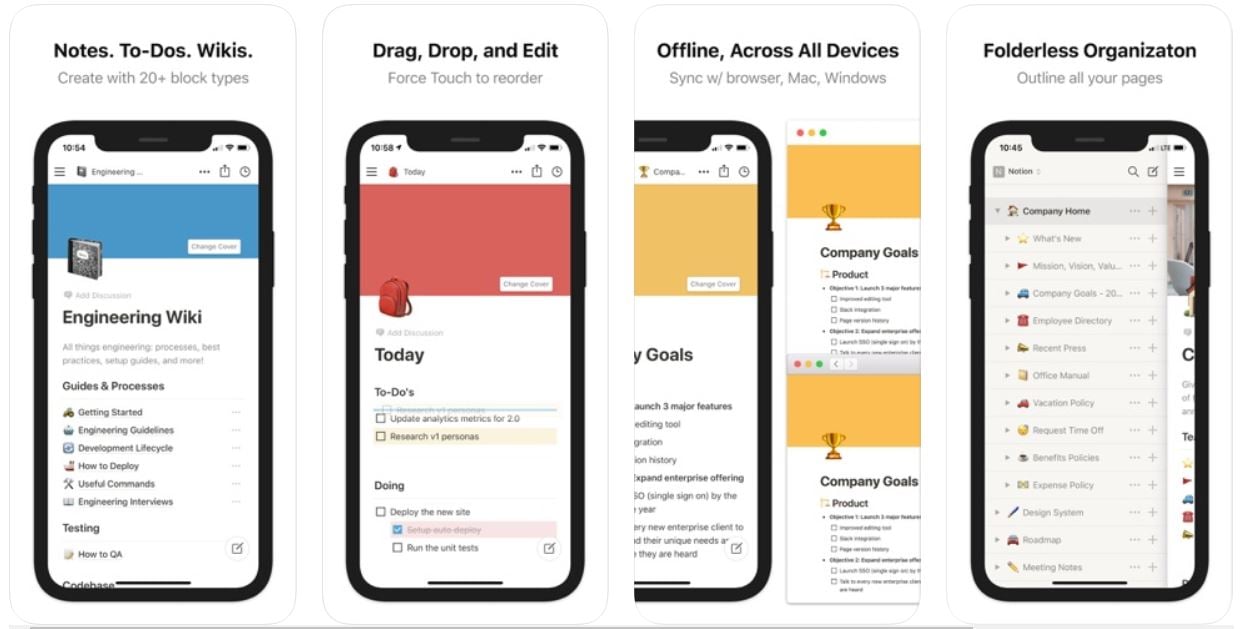 Platforms: iOS, Android
Price: Free
Want a more sophisticated notes app that combines all productive apps in one? Give Notion a try. You can pretty much add any type of media in it, including images, videos, audio, to-do lists, code snippets, bookmarks, among others. And now that the free version removed its limit on the amount of notes you can make[2], Notion has never been more attractive to productivity junkies.
Another thing that makes Notion a slam dunk choice is its real-time collaboration feature. With the free version, you can give access to five individuals. That's more than enough for a small team, but you can always unlock more features with a Notion Pro subscription. Plus, it syncs to all your devices. Whether it's personal or business use, the Notion app will surely fit your note-taking needs.
Pocket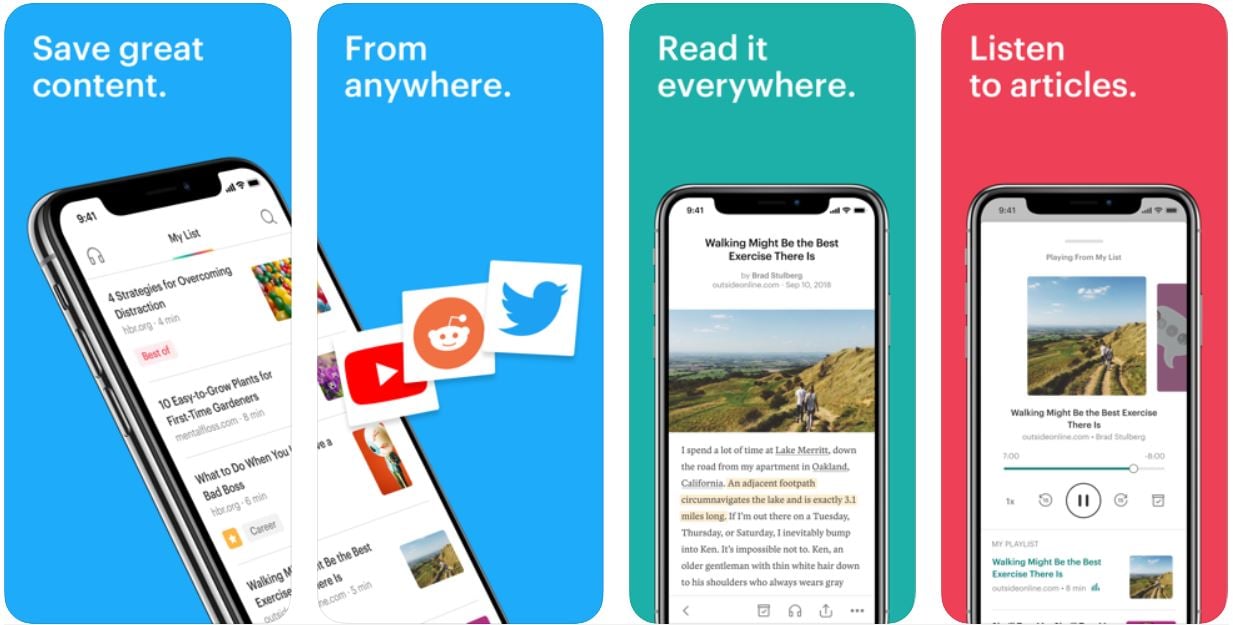 Platforms: iOS, Android
Price: Free/Premium starts at ~PHP 240 per month
Need to compile a lot of articles and sources online for your projects? Your browser's bookmark may not be enough. How about a specialized app for bookmarking articles and videos? Pocket has got you covered. Save articles and videos off the web for later viewing. You can save them in web view to enjoy them as they are or view them in article view, a more customized reading experience.
You don't even need to buy the premium version of Pocket to enjoy its benefits. But if you want more features like creating a permanent library of everything you've saved, a customized ad-free reader, enhanced searching and tagging, and unlimited highlighting of text, then the monthly fee would be worth it. If you have a tablet as your main device, Pocket will be a better fit for you.
Todoist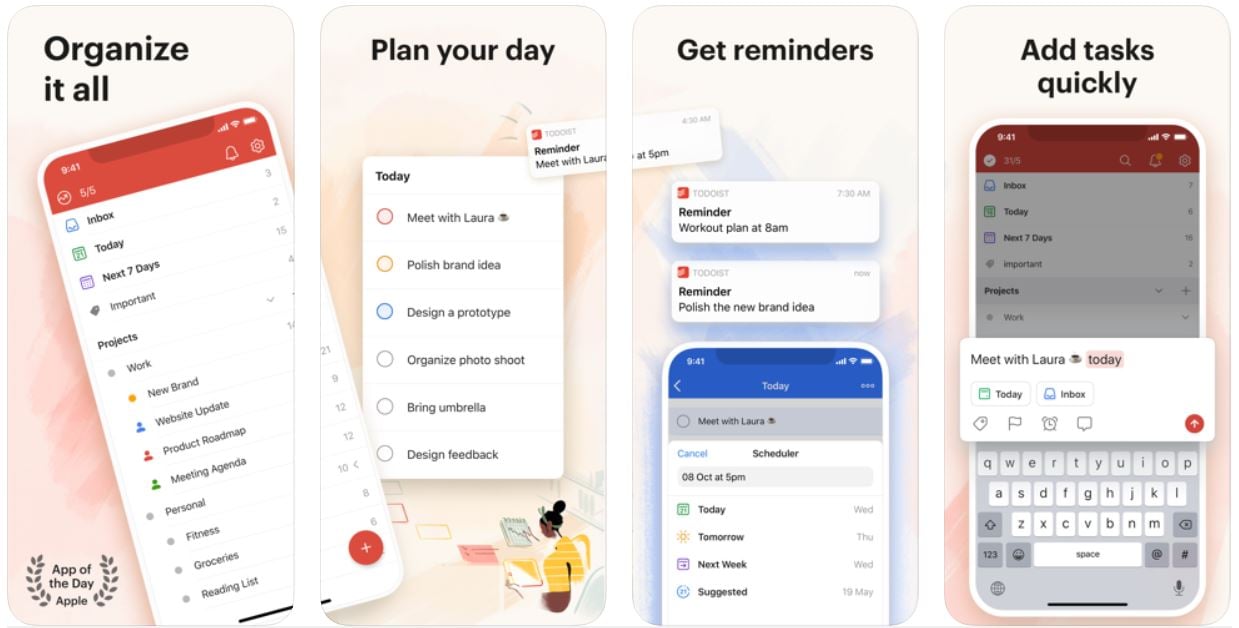 Platforms: iOS, Android
Price: Free/Premium starts at ~PHP 194 per month
Want a universal to-do list for all your mobile or desktop devices? Todoist could be the solution you're looking for. Organize your to-do list with helpful labels and theme customizations, integrate your list with your work and personal apps, track your progress for each project, and collaborate with other users all via the app. It's a more beefed-up and digital version of your usual to-do list.
Like the other productivity apps in this list, you don't need a subscription to get the most out of Todoist. A premium subscription will get you features like unlimited reminders, additional task labels and filters, automatic backup, and full access to extensive productivity reports, among others. Otherwise, the free version is enough to boost your productivity on a daily basis.
Toggl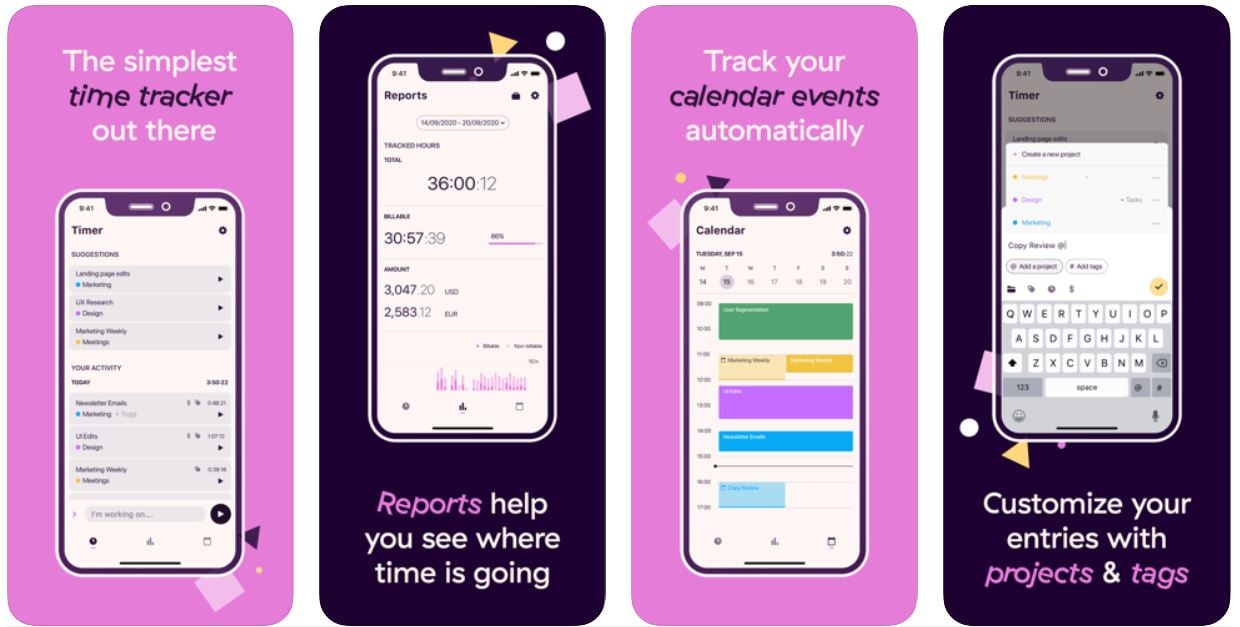 Platforms: iOS, Android
Price: Free/Premium starts at ~PHP 486 per month
No, there's really no 'e' at the end of that tunnel. Toggl may sound like a hip social media app, but it's actually one of the most intuitive productivity apps out there. It could've been a simple timer that tracks your time, but it goes beyond itself with features like detailed timelines, specialized timers, and idle detection to help you analyze the way you spend your time on your projects.
It's definitely an app you should download if you want to focus more on the tasks at hand. If you can afford the monthly fee, upgrade to the premium version and get scheduled reports, time audits and insights, a dedicated admin dashboard, and time tracking reminders. But if not, just stick with the free version and put your time management skills to the test.
Trello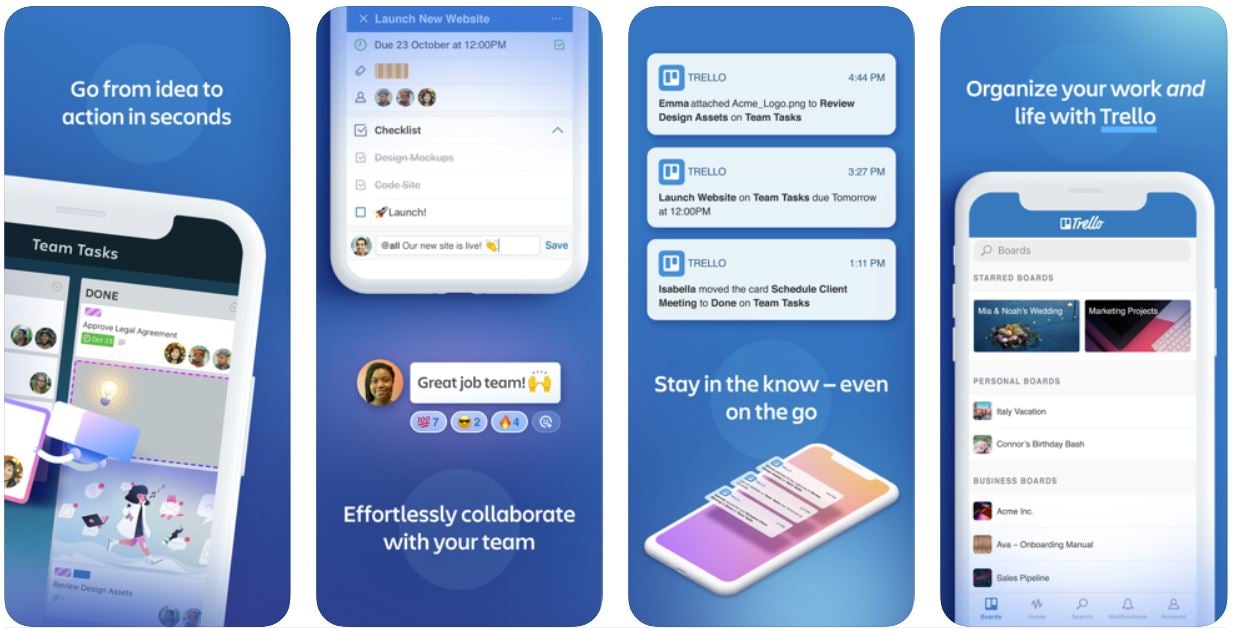 Platforms: iOS, Android
Price: Free
But isn't Trello an app for big corporations or ambitious startups only? Nope, Trello is an all-around app that anyone can use for whatever purpose. Whether you're organizing your dream vacation or plotting the details of your dream business, Trello's digital bulletin board can help you plot, organize, and visualize your ideas down to every detail. Who doesn't love mood boards, anyway?
Stick with the free version because it has all the things you need and more. Create unlimited boards, cards, and lists and upload attachments up to 10MB. That's more than enough to organize your personal workflow. You can also create up to ten team boards if you're looking to organize the workflow of a small team. From assigning tasks to adding comments, Trello has your back.
Final Thoughts
Think your smartphone can't help you be more productive? Think again. Check out these productivity apps and start accomplishing tasks at home. Don't let the allure of staying in bed or watching online videos all day distract you from your academic, professional, or financial goals.
Read more: What is Smartphone Insurance and Should You Get One?

Sources: