If you're a big consumer of global content, you've definitely watched lots and lots of Western movies and K-dramas. But from time to time, you long for something that hits close to home—you know, the type of material that seems to tell the story of your life or of someone you know.
At the end of your foreign content binges, a Pinoy movie feels like a warm cup of cocoa or a cozy blanket. Thankfully, streaming a homegrown title is easy with various sites to watch Filipino movies.
So gather your folks and grab some popcorn for a movie marathon. But first, read through this handy guide on where to watch Pinoy movies online.
12 Sites to Watch Filipino Movies: Pinoy Movie Website List
Where to watch Filipino movies? You've got many options! You can conveniently choose a platform that suits both your taste and budget. Here are the top Pinoy movie websites worth checking out:
🎬 Netflix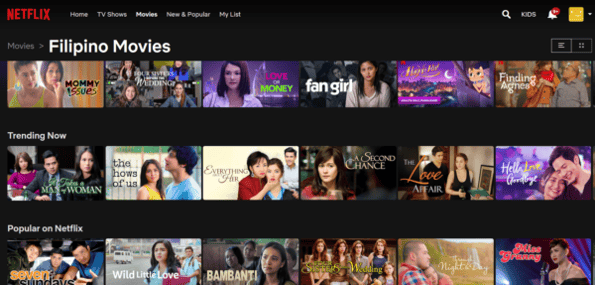 Prices:
Mobile: ₱149 per month
Basic: ₱249 per month
Standard: ₱399 per month
Premium: ₱549 per month
Since it's one of the biggest streaming services in the world, you can't go wrong with Netflix. It's local library boasts a variety of Pinoy movies online, from popular rom-coms to critically-acclaimed films. Netflix hosts local TV titles as well, including the ever-famous "Wildflower" series and "Maria Clara at Ibarra."
Moneymax Recommends: Pinoy Movies to Watch on Netflix
"Saving Sally" – This film starring Rhian Ramos and Enzo Marcos features a combination of gorgeous animation and stellar acting from the two starring leads.
"Kita Kita" – Starring Alessandra de Rossi and comedian Empoy Marquez, this emotional story is backdropped by gorgeous sceneries of Sapporo, Hokkaido, Japan.
"BuyBust" – Starring Anne Curtis and mixed martial artist Brandon Vera, it tells the action-packed story of a failed buy-bust operation and one woman's quest to survive.
"Four Sisters and a Wedding" – "Bakit parang kasalanan ko?" You've probably seen this GIF. If you're looking for a family-centric film to watch with your folks, this classic is a solid pick.
"The Hows of Us" – Kathniel fans, don't miss out! This tells the story of a young couple whose different priorities set them apart.
Read more: [Battle of the Brands] Netflix vs iflix: Which Online Streaming Service is Better?
🎬 Apple TV+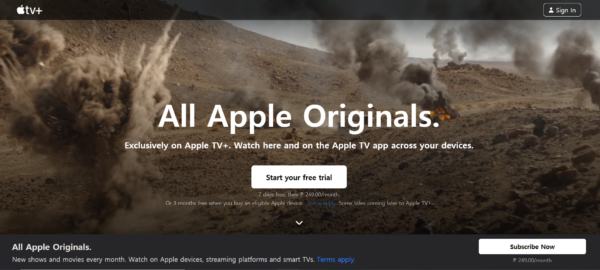 Prices:
Monthly:

₱369

Free for 3 months if you buy a new Apple device
Think Apple is just about groundbreaking laptop computers and smartphones? The tech giant is also a big contender in the streaming market with Apple TV+.
What makes it a force to reckon with is that it packs high-end features at an affordable price. Shows are shown in 4K resolution, and the platform itself also boasts HDR-graded imagery.
While one may think that Apple TV+'s catalog is full of Western content, it actually has a slew of Pinoy movies. Surprisingly, some of them are classics!
Moneymax Recommends: Pinoy Movies to Watch on Apple TV+
"Feng Shui" – "May inuwi si nanay, si nanay, sa bahay…" Who could forget this ominous chant? This contemporary horror film kept everyone from looking into baguas.

"On The Job" – Neo-noir action thrillers are rare in Philippine cinema. If you're looking for one that features subtle social commentary, this Erik Matti movie is for you.
"Sana Maulit Muli" – AgaLea's (Aga Muhlach and Lea Salonga) award-winning masterpiece will make you view long-distance relationships in a different light.
"Jowable" – This movie features the adventures of a woman yearning for an intimate and meaningful relationship. We know you can relate!
🎬 WeTV iflix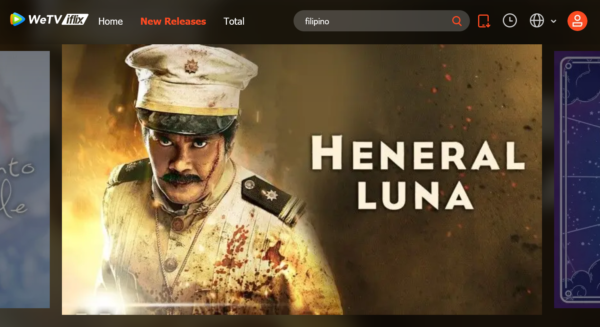 Price: Free / ₱99 per month for VIP subscription
WeTV iflix may be known for its K-dramas and C-dramas. But it's actually one of the sites where you can watch free Pinoy movies online.
If you want an immersive and ad-free experience, you can go for the VIP subscription. It doesn't cost a lot, so you may want to give this one a try.
Moneymax Recommends: Pinoy Movies to Watch on WeTV iflix
"Block Z" – Led by Julia Barretto and Joshua Garcia, this film tells the story of a group of students fighting a horde of zombies.
"Miracle in Cell No.7" – We know that the original material made you cry. Get your tissues ready again because the Filipino adaptation is equally poignant and tear-jerking.
🎬 iWantTFC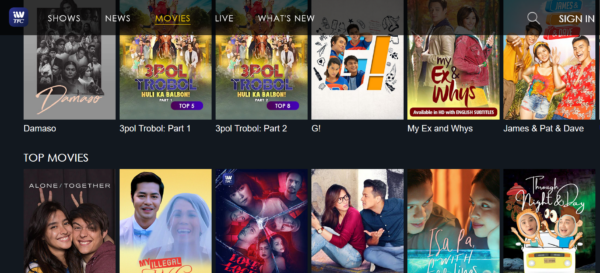 Price: Free / ₱1,070 yearly
ABS-CBN may have left the airwaves,[1] but its spirit lives on in its streaming platform, iWantTFC (a merger of iWant and TFC, both ABS-CBN platforms). It features an extensive catalog of ABS-CBN shows and Star Cinema films.
iWantTFC has a free tier with access to its library. If you're a loyal Kapamilya, then you won't need any other site to watch Filipino movies!
Moneymax Recommends: Pinoy Movies to Watch on iWantTFC
"Mano Po" – This franchise about a Filipino-Chinese dynasty showcases the acting prowesses of Maricel Soriano, Kris Aquino, and Eddie Garcia.
"Corazon, Ang Unang Aswang" – Starring Erich Gonzales in a daring role as the titular Corazon, this film aims to bring scares to your living room.
"My Ex and Whys" – Is it okay to start things over with your ex? This film answers the question with an emotional story courtesy of LizQuen (Enrique Gil and Liza Soberano).
"Seven Sundays" – This family movie features a powerhouse cast of Dingdong Dantes, Aga Muhlach, Enrique Gil, Cristine Reyes, and Ronaldo Valdez.
🎬 Cignal Play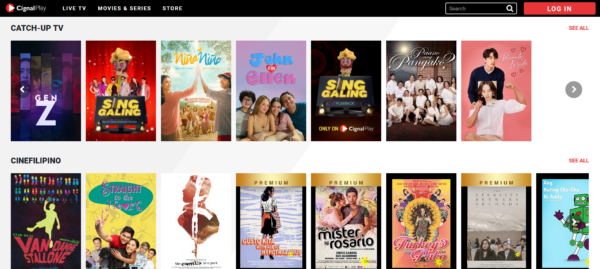 Prices:
Cignal Play Basic: Free
Cignal Play Premium: ₱75 or ₱200 per month
Cignal is more than just the leading local cable provider in the Philippines. With Cignal Play, you can now stream all live channels from your desktop or phone, plus more exclusive titles from their library.
Moneymax Recommends: Pinoy Movies to Watch on Cignal Play
"Ang Babaeng Allergic sa Wi-Fi" – Imagine not being able to enjoy modern technology. This movie illustrates how the internet changed the way we love.
"Born Beautiful" – The sequel to "Die Beautiful," this film starring Martin del Rosario continues the exploration of gender norms and sexuality in a funny and thoughtful way.
"Maledicto" – Want to know what "The Exorcist" will look like in a Philippine setting? Check out this horror film starring Tom Rodriguez and Jasmine Curtis-Smith.
"Ang Kwento ni Mabuti" – Superstar Nora Aunor has her acting prowess on display in this drama, where she plays a local healer who was in the right place at the wrong time.
🎬 YouTube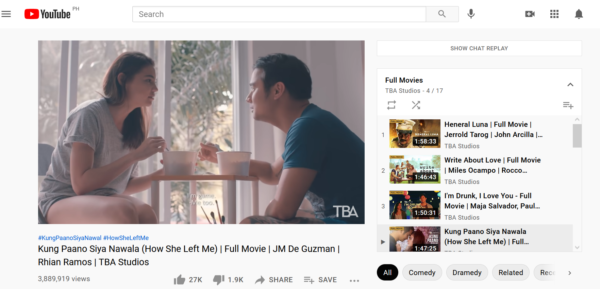 Price: Free
Where to watch Tagalog movies for free? Believe it or not, you can catch full versions of popular Pinoy movies online via YouTube. Studios sometimes release their movies for a limited time so that anyone can watch what they missed in theaters.
So before you pay a streaming service for a specific title, better check out YouTube first.[2]
Moneymax Recommends: Pinoy Movies to Watch on YouTube
"Heneral Luna" – The historical film that made a lot of buzz back in 2015 tells the story of General Antonio Luna's struggle for independence.
"Smaller and Smaller Circles" – Another awards darling, this 2017 film stars Nonie Buencamino and Sid Lucero as two Jesuit priests investigating a series of murders in 1997.
"I'm Drunk, I Love You"– The movie united a lot of hopeless romantics in 2017. Experience drunken nights and unrequited love from the comfort of your home.
"Sunday Beauty Queen" – Take a peek at the life of an Overseas Filipino Worker (OFW). This follows OFWs in Hong Kong as they prepare to join an annual beauty pageant.
Related reading: Pinoy Movie Lines That Teach You to Be Money-Savvy

🎬 Vivamax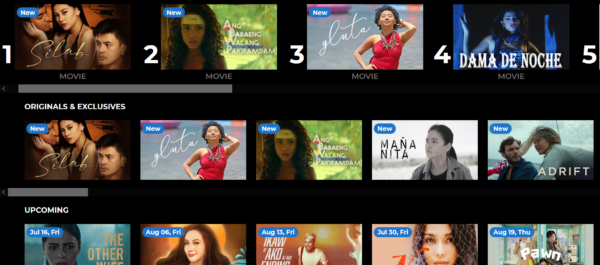 Prices:
Seven days: ₱49
One month: ₱169 / ₱219 / ₱499 / ₱679 (depending on the number of accounts and devices)
One year: ₱1,420 / ₱1,890 / ₱4,790 / ₱6,390 (depending on the number of accounts and devices)
Vivamax boasts a large catalog of top Filipino blockbuster movies and hit television series. It also features original works and concerts.
And because Vivamax knows that Filipinos have a soft spot for Korean content, you'll also find K-Dramas and K-Movies here. Mind you, this Filipino movie online site offers a selection of Korean movies that have been showcased at Cannes!
Moneymax Recommends: Pinoy Movies to Watch on Vivamax
"One More Chance" – This movie introduced a generation to "hugot." It tells the story of Popoy (John Lloyd Cruz) and Basha (Bea Alonzo) whose relationship falls apart.
"A Very Special Love" – One of the highest-grossing films in the Philippines, this film tells the story of publishing executive Miggy (John Lloyd Cruz) and his editorial assistant Laida (Sarah Geronimo).
"Ulan" – This movie, which stars Nadine Lustre and Carlo Aquino, fantastically melds surrealism with romance, using Filipino folklore to further the film's themes of love, pain, and longing.
🎬 Upstream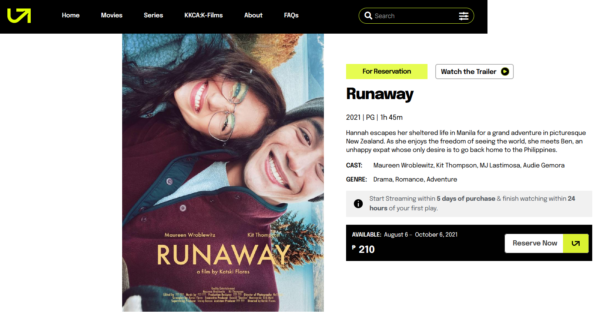 Price: Depends on the movie
A relatively new player in the local streaming scene, Upstream is the brainchild of producer Dondon Monteverde and director Erik Matti. This Tagalog movie site is unique in terms of content consumption, as each title has a price tag. This means that you'll have to pay every time you watch a movie or a TV show.
Moneymax Recommends: Pinoy Movies to Watch on Upstream
"Shake, Rattle, and Roll" – Rejoice, because Upstream has a collection of Shake, Rattle, and Roll movies, from part 10 to part 14. Don't forget to watch with the lights on!
"Cleaners" – Missing high school? Cleaners will take you back to 2007! This movie's frames are rendered in black and white photocopied paper, and some parts are colored with highlighters.
🎬 Amazon Prime Video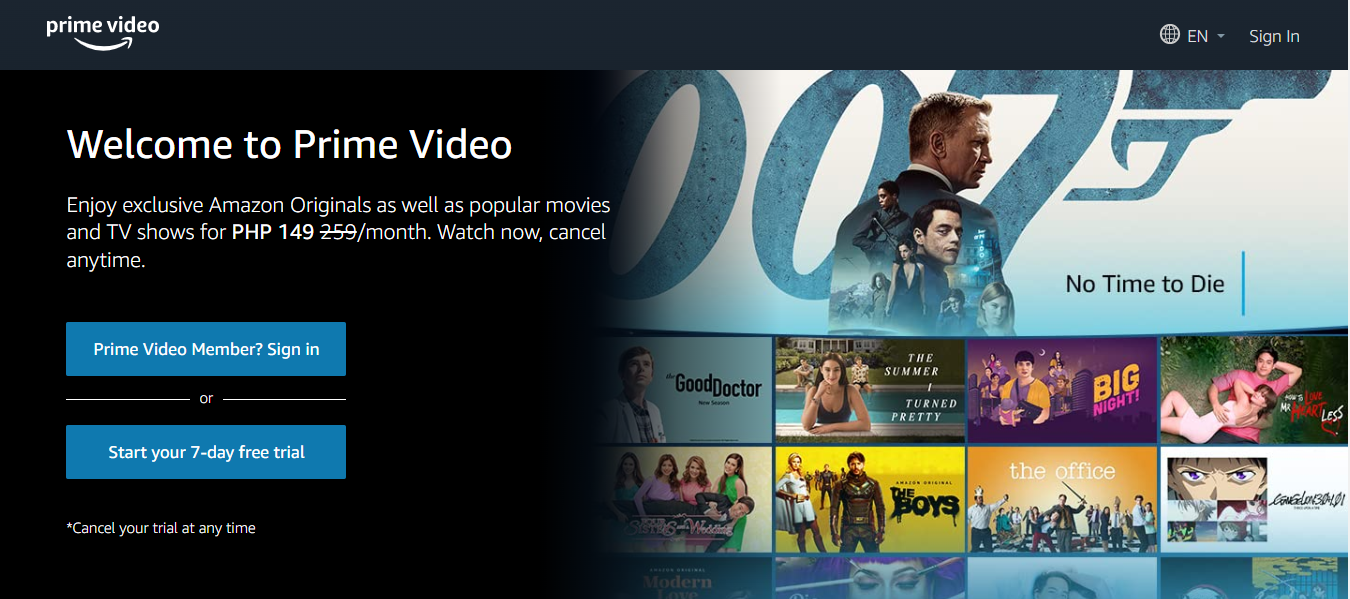 Price: ₱149 per month (until December 2023)
"The Boys," "The Good Doctor," and "Reacher" are among the series that make Amazon Prime Video popular. But the said platform also doubles as a Filipino movie site. If you have an Amazon account, you can easily access Prime Video.
Moneymax Recommends: Pinoy Movies to Watch on Amazon Prime Video
"She's Dating the Gangster" – This movie unabashedly explores unorthodox young love. Teenagers played by Kathryn Bernardo and Daniel Padilla enter into a fake relationship pact.
"Love You to the Stars and Back" – Director Antonette Jadaone weaves an emotional and romantic film featuring Julia Barretto and Joshua Garcia as their characters go on a road trip to find aliens.
"Big Night" – Featuring Christian Bables, "Big Night" is a story of a gay hairdresser who finds out that his name is included in his barangay's drug watchlist.
🎬 Tubi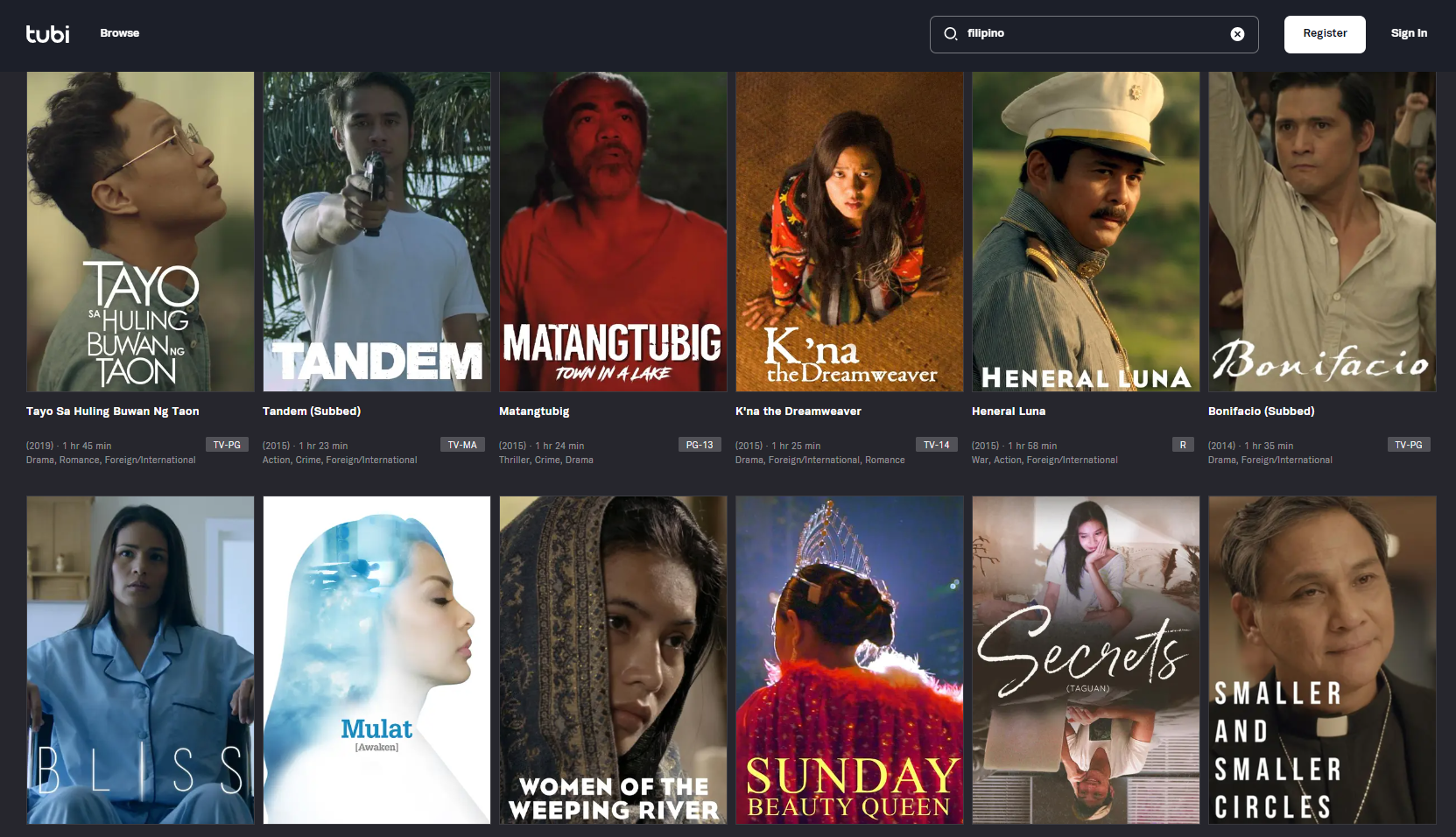 Price: Free
Tubi makes a good alternative to mainstream Pinoy movie sites. The best thing about it? It's free! The platform makes that possible by allowing ads.
If you have a thing for independently produced films, you'll find them here.
Moneymax Recommends: Pinoy Movies to Watch on Tubi
"Neomanila" – Do slick neo-noir thrillers tickle your fancy? A hitwoman trains a young orphan to become an assassin against the grim backdrop that is the war on drugs in Manila.
"Bliss" – Jerrold Tarog's psychological thriller will show you the acting chops of Iza Calzado, Ian Veneracion, and TJ Trinidad. The story revolves around a famous movie actress suffering from the results of an accident.
"Tayo sa Huling Buwan ng Taon" – Do you believe in life after love? Five years after their split, ex-lovers try to search for romance. To get the whole picture, watch its prequel, "Ang Kwento Nating Dalawa."
🎬 FilmDoo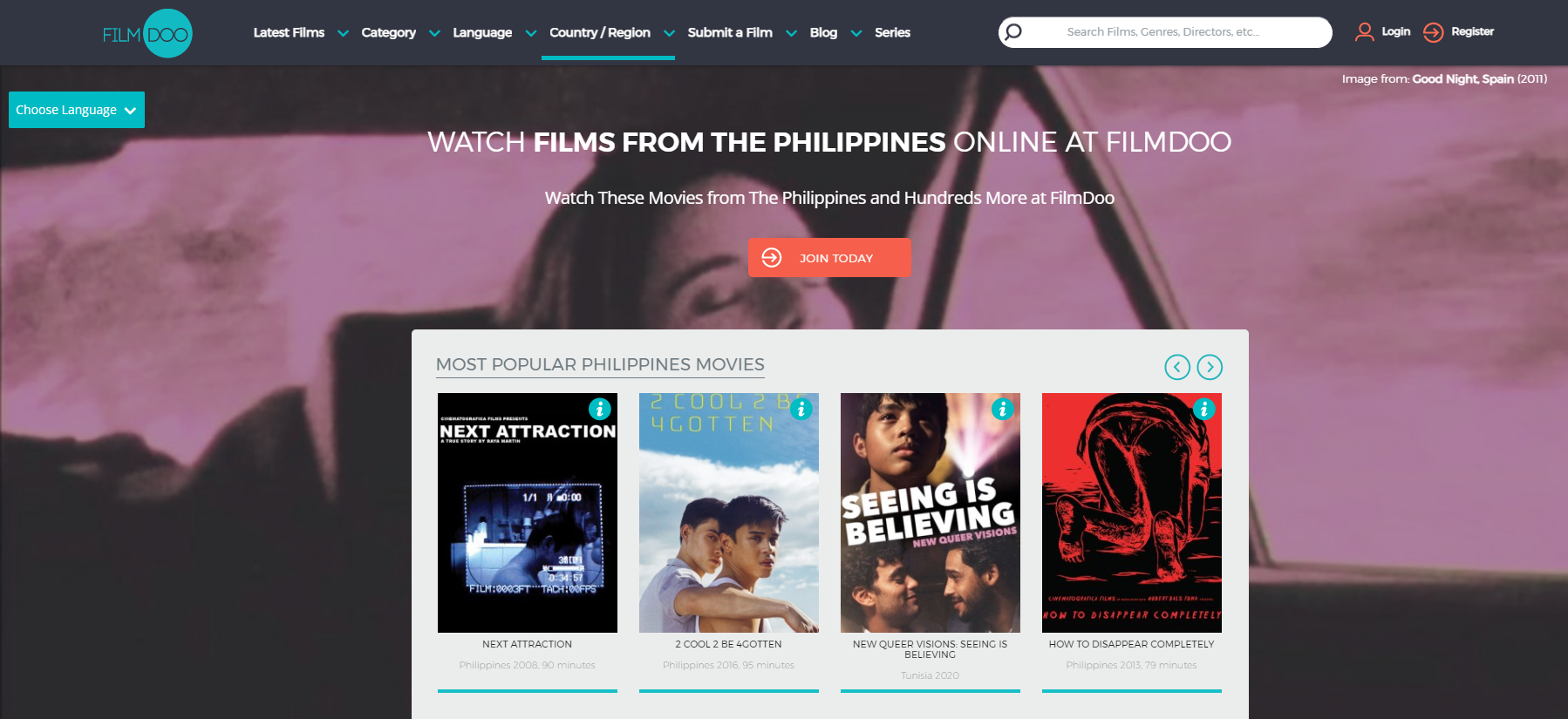 Price: Depends on the movie
FilmDoo is more than just a Filipino movie streaming website. It cultivates a community by bringing together film lovers and giving them a voice.
Here, you can provide reviews or post comments on movies that you've just watched. You can also follow other people and see the films they liked, reviewed, and would want to see.
Wondering where to watch old, classic Filipino movies? You can find some here.
Moneymax Recommends: Pinoy Movies to Watch on FilmDoo
"Manila by Night" – This Ishmael Bernal film explores the scarred, grimy, and ugly side of Manila. Issues such as drug addiction, prostitution, and lack of dignified housing are tackled.
"Babae at Baril" – This Gawad Urian winner highlights the plights that every woman is forced to brave. The main character stumbles upon a gun which gives her an opportunity to go against the status quo.
"Apocalypse Child" – This movie explores the life of the main character, who believes he is the son of the legendary film director Francis Ford Coppola.
🎬 Kanopy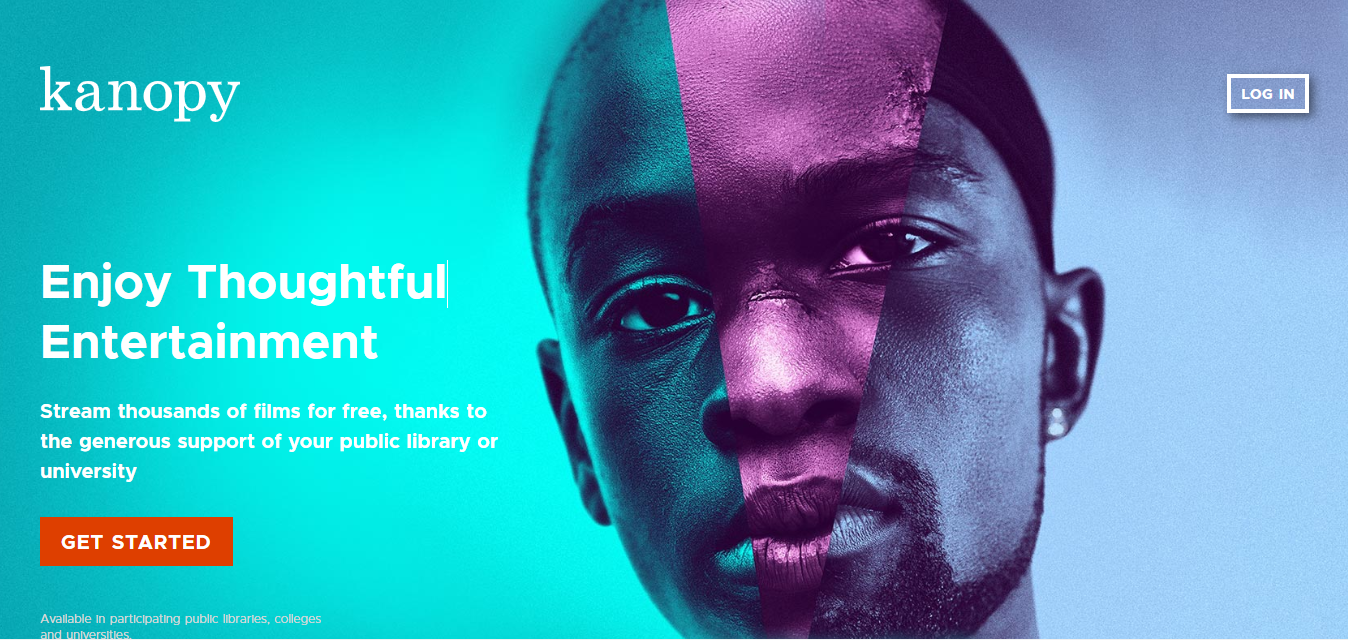 Price: Free
Looking for free Pinoy movie streaming sites with curated films? Include Kanopy on your list.
As long as your university or locality's public library partners with Kanopy, you can watch high-quality movies. All you need to do is log in with your library membership.
If you're studying at UST, give this site a spin. The university lists Kanopy as one of its electronic resources.[3]
Moneymax Recommends: Pinoy Movies to Watch on Kanopy
"Respeto" – Music and poetry come together in this picture starring Abra (yes, the rapper). An aspiring rapper from the slums forges an unlikely friendship with a poet.
"Ma, Rosa" – Ever seen that post-payday meme showing Jaclyn Jose tearfully eating squid balls? That's taken from this Brillante Mendoza picture. Jose won the Best Actress award at the 2016 Cannes Film Festival for this movie!
Related reading:
Final Thoughts
While foreign content serves as your window to other cultures, isn't it nice to take a breather from it all for a while and consume something familiar? As they say, love local.
A lot of Filipino films tell meaningful stories that keep you grounded. They also show you facets of life you never knew existed in the Philippines.
If you're up for some homegrown pictures, take note of these sites to watch Filipino movies. Get your tablet and snuggle with your blanket. Or better yet, call your family and bond over stories.

Sources: