The theater scene is alive and kicking in the Philippines! While not as big as the country's TV and movie industries, it has countless devoted fans and newbies exploring alternative forms of entertainment.
The business also rakes in some serious money. For perspective, the total loss in theater revenues during the pandemic was more than ₱400 million.[1]
But the show is meant to go on. The Philippine theater is back, and performing groups will surely make spectators laugh, cry, and sing their hearts out.
We've listed the best musical and theater plays in the Philippines that you shouldn't miss. Read through the following and take your pick!
Top 7 Musical and Theater Plays in the Philippines 2023
Ready to get enthralled by the best theater performances in the Philippines? Check out this list of theater plays and shows in the Philippines in 2023.
🎭 Hamilton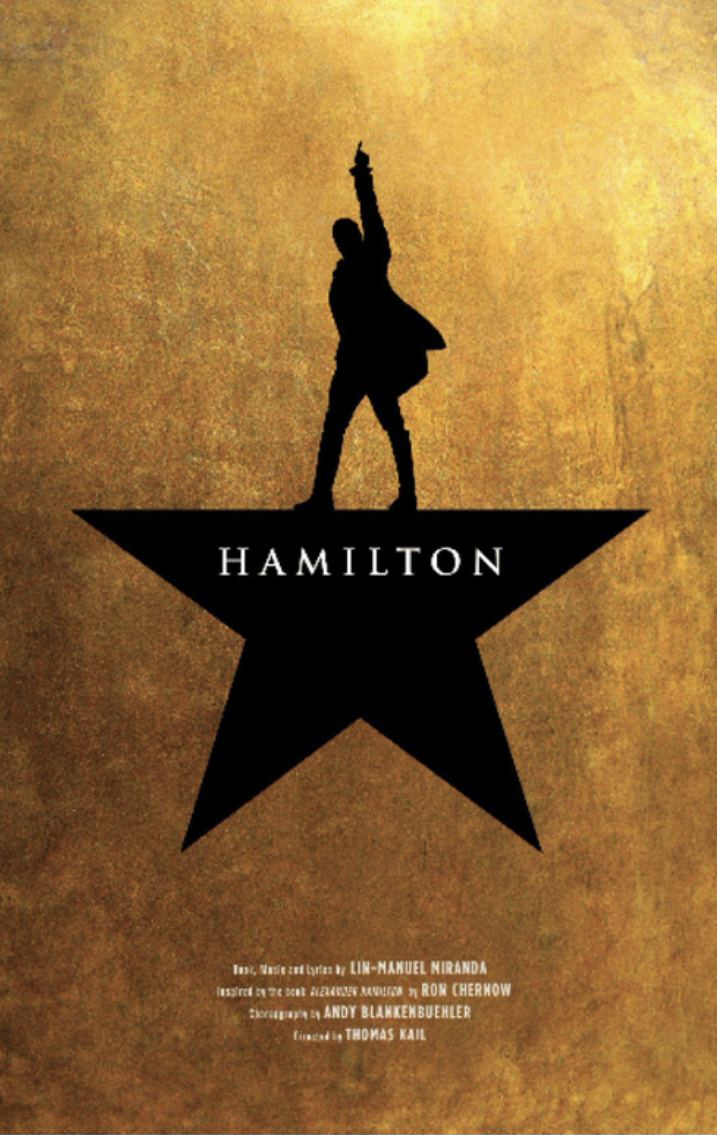 Date: September to November 2023
Location: The Theatre, Solaire Resorts and Casino, Pasay City
Ticket prices:

E section: ₱2,645
D section: ₱3,174
C section: ₱4,232
B section: ₱5,290
A section: ₱6,348
VIP: ₱8,464
"Hamilton,"[2] a masterpiece by Lin-Manuel Miranda that premiered in 2015, went on to become an institution in the theater industry. When news broke that the critically acclaimed Broadway musical play will hit the Philippine musical theater stage, fans immediately started booking their tickets.
This theatrical adaptation of the 2004 book Alexander Hamilton by Ron Chernow tells the story of Alexander Hamilton, one of the Founding Fathers of the United States.
What makes it a hit among theater-goers and new fans is that it fuses history and modern music. Genres such as hip-hop, pop, and soul are prominent in the production. Talk about learning history in an interesting and entertaining way!
Read more: Ready to Binge? 12 Pinoy Movie Sites Where You Can Watch Local Films
🎭 Ang Huling El Bimbo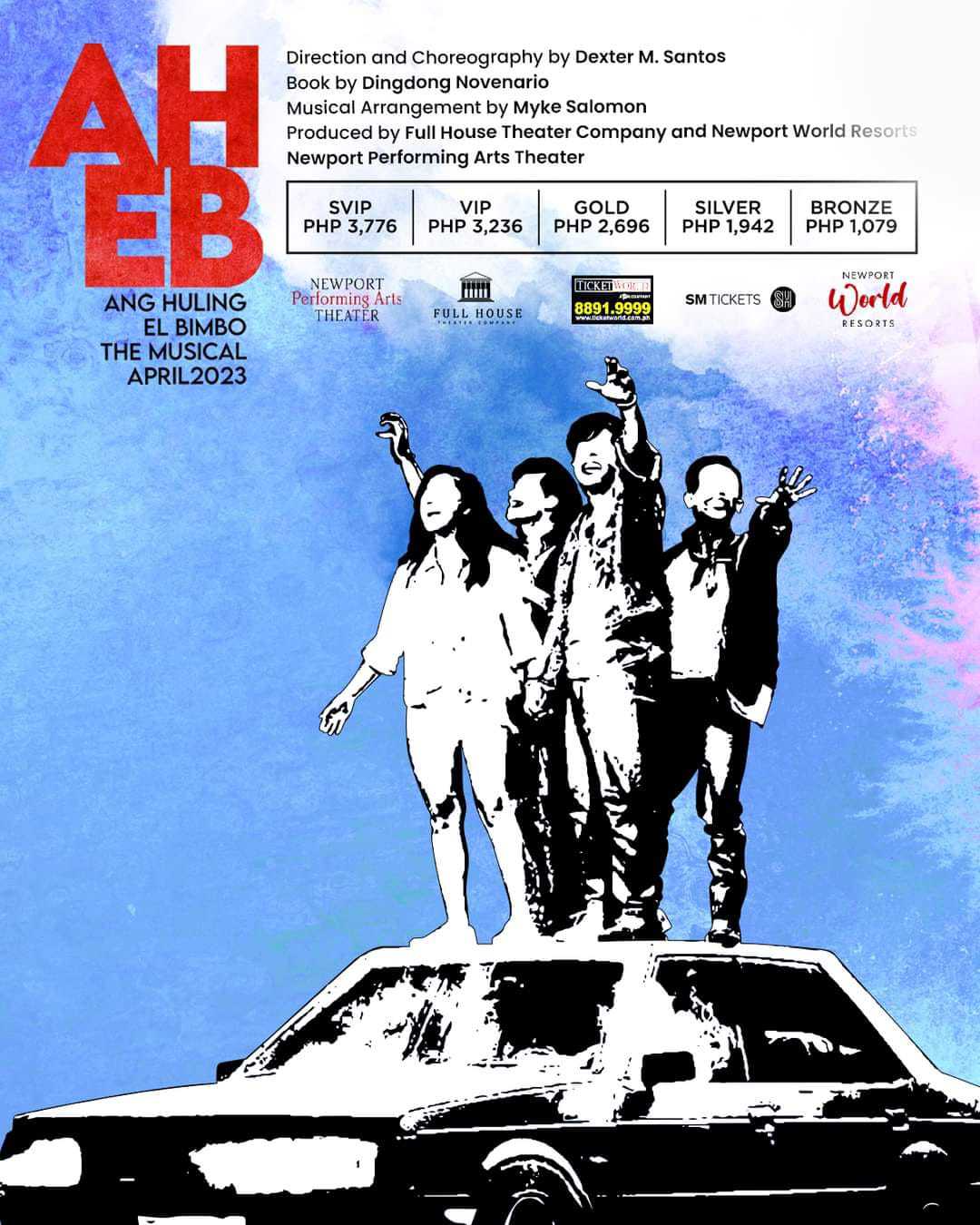 Date: Starts in April 2023 with tickets already available for May
Location: Newport Performing Arts Theater, Newport World Resorts, Pasay City
Ticket prices:

Bronze: ₱1,079
Silver: ₱1,942
Gold: ₱2,696
VIP: ₱3,236
SVIP: ₱3,776
A Pinoy rock classic from Eraserheads, "Ang Huling El Bimbo" is a piece that defined a generation. People who long for lost love will always relate to the poignant lyrics. And in 2018, the song became a jukebox musical title.
This Filipino musical play tells the story of four friends whose lives are forever changed after one tragedy. It features some of Eraserheads' legendary tracks, such as "Minsan," "Alapaap," "Tindahan ni Aling Nena," "Ligaya," "Alapaap," and of course, "Ang Huling El Bimbo."
One of the most anticipated musical and theater plays in the Philippines this 2023, "Ang Huling El Bimbo"[3] recasts seasoned artists Gab Pangilinan, Gian Magdangal, and Topper Fabregas in lead roles. Renowned indie folk artist Bullet Dumas also joins the roster in this year's run.
🎭 Walang Aray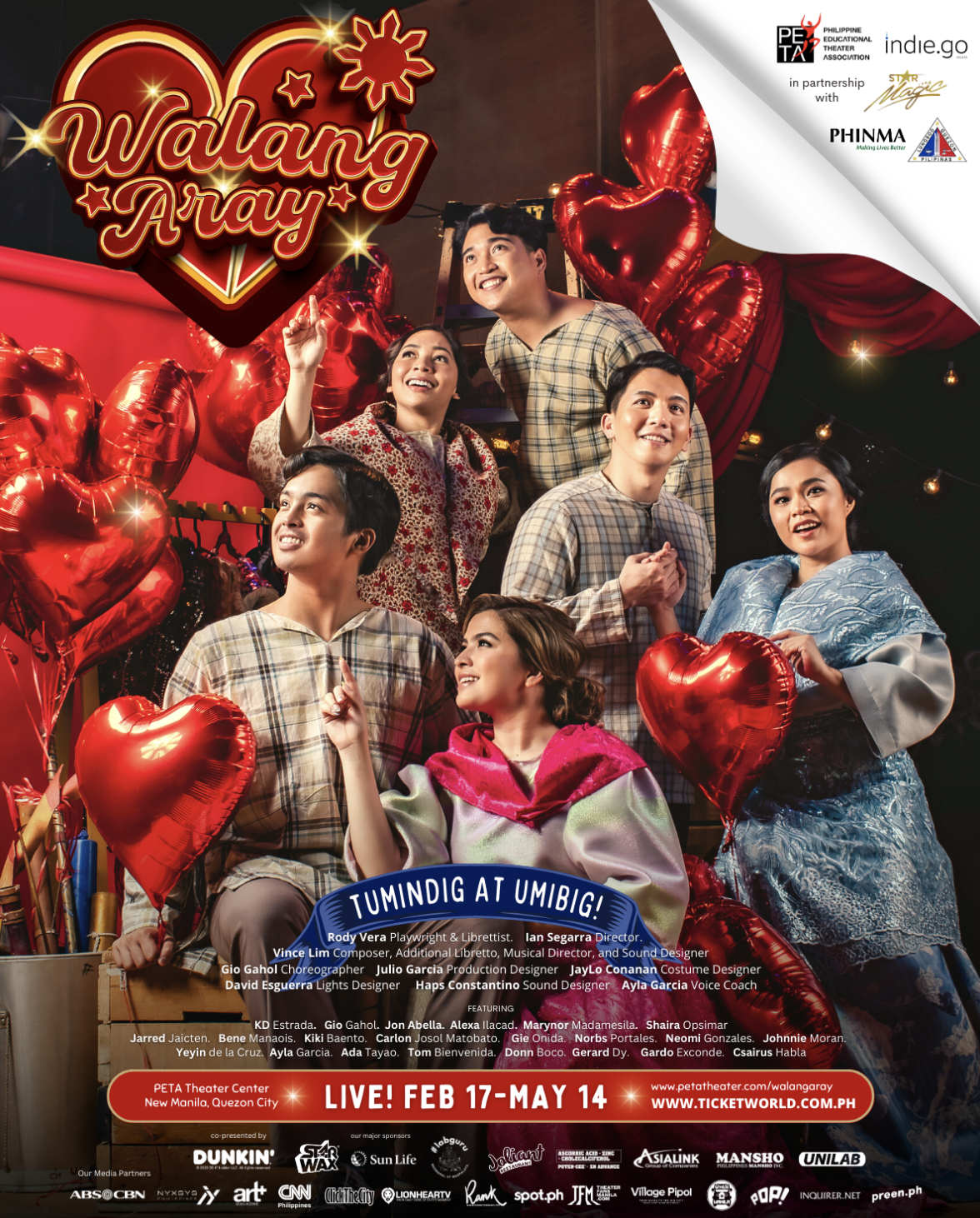 Date: Until May 14, 2023
Location: PETA-Phinma Center, Quezon City,
Ticket prices:

Balcony side: ₱1,200
Orchestra side: ₱1,500
Balcony center: ₱2,000
Orchestra center: ₱2,000
VIP: ₱2,500
An all-original Filipino theater play, "Walang Aray"[4] is a comedic number based on "Walang Sugat," a zarzuela written by the legendary writer Severino Reyes (the original Lola Basyang). This story is about two lovers named Tenyong and Julia navigating their relationship during the colonial era.
While "Walang Aray" is a musical and theater play in the Philippines that will tickle your funny bone, serious topics, especially government-related ones, are also incorporated into the story.
It features Alexa Ilacad and KD Estrada, both Star Magic artists, in the roles of Tenyong and Julia.
Read more: [Battle of the Brands] Netflix vs iflix: Which Online Streaming Service is Better?
---
Book Your Tickets Online with These Credit Cards
Planning to buy tickets to the best theater shows in the Philippines? For hassle-free bookings, any of the following credit cards are ideal to use:
💳 UnionBank Classic Visa Card
1 reward point for every ₱35 spend
Up to 36 monthly installment terms at 0% interest
💳 HSBC Red Mastercard

4x reward points on online, shopping, dining, and overseas spend
1 reward point for every ₱20 spend
6% rebate on first Caltex fuel spend; 3% rebate year-round
💳 BPI Blue Mastercard

1 reward point for every ₱35 spend
Flexible installment plans with terms of up to 36 months
Free travel insurance of up to ₱2 million
💳 Metrobank ON Virtual Mastercard

1 reward point for every ₱20 spend
Fast approval
Flexible credit limit
---
🎭 Ibarra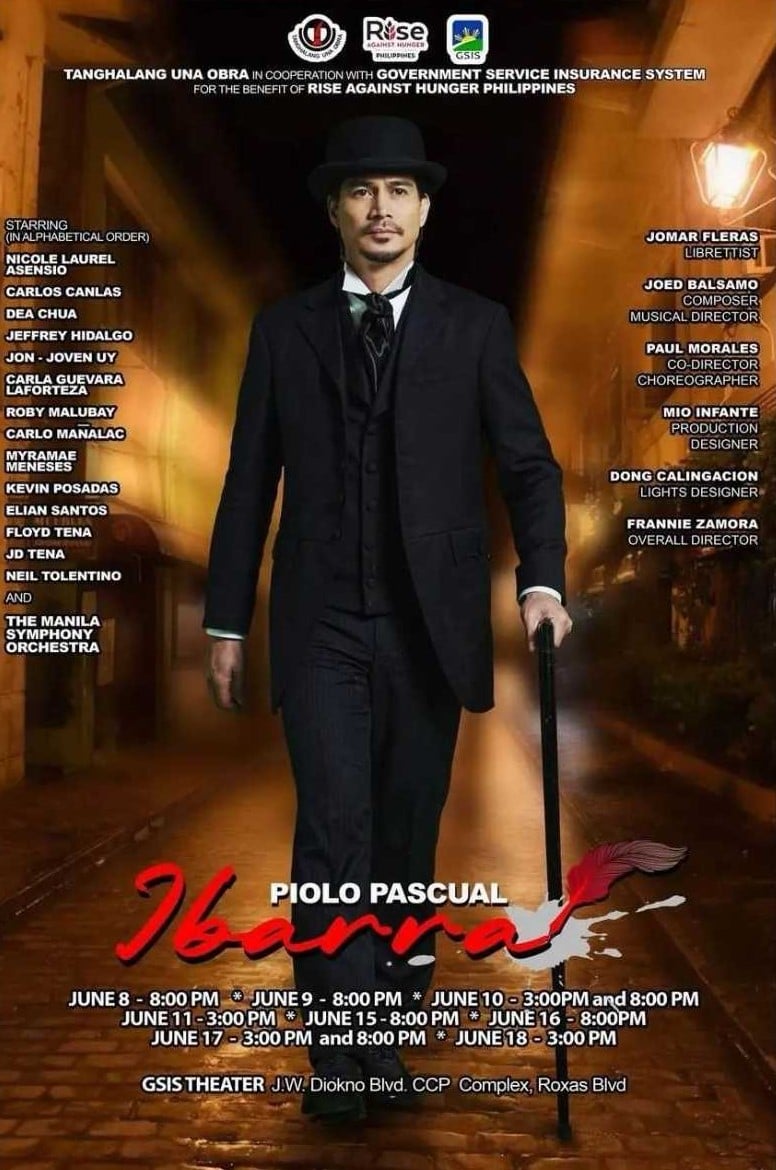 Photo: @cornerstone (Instagram)

Date: June 8 to 18, 2023
Location: GSIS Theater, Pasay City
Ticket prices: To be announced in May
Before Piolo Pascual became the multi-hyphenate star that everyone knows today, he was once an actor for Teatro Tomasino, the University of Santo Tomas' theater guild. After 30 years, he's back on stage taking on the titular role of Ibarra.[5]
"Ibarra" is a Filipino musical play based on Jose Rizal's "Noli Me Tangere." It's also the modern iteration of the play "Kanser," which is known to be the country's longest-running play.
Faithful to Rizal's masterpiece, "Ibarra" will touch on social ills of the past that are still relevant in present times. For a contemporary approach, this musical theater show in the Philippines will feature some pop songs.
🎭 Ibong Adarna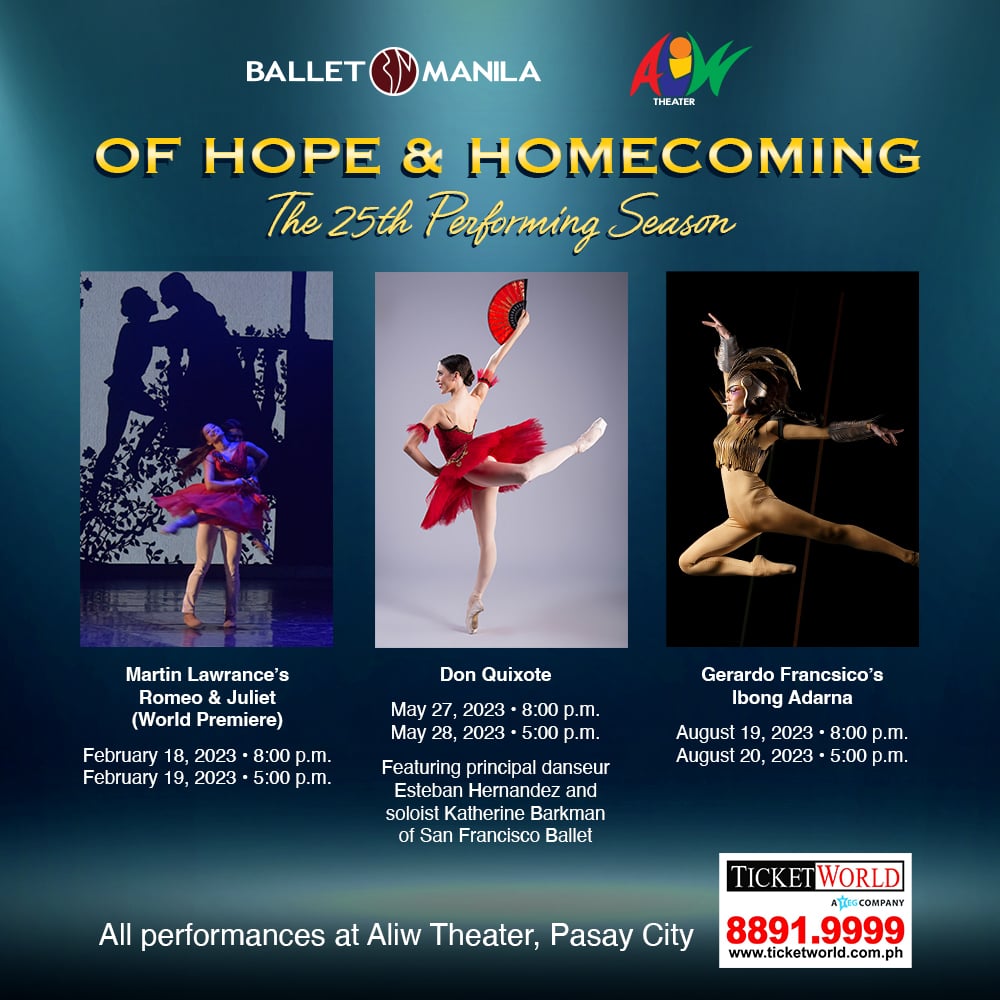 Date: August 19 to 20, 2023
Location: Aliw Theater, Pasay City
"Ibong Adarna"[6] is one of the stage plays in the Philippines that prominently features dance arts. Produced by Ballet Manila, this production shines a spotlight on Filipino literature.
The story is a classic—a king gets sick, and the only remedy is the song of an elusive magical bird. One by one, the king's three sons embark on a journey to capture the bird, with only the youngest succeeding in his mission.
This epic tale is creatively translated into a dance filled with beautiful choreography. Both dance fans and ballet newbies will surely find this production mesmerizing.
🎭 Don Quixote
Date: May 27 to 28, 2023
Location: Aliw Theater, Pasay City
Ticket prices:


Zone 2: ₱1,030
Zone 1: ₱2,060
Another production from Ballet Manila, "Don Quixote"[7] is a well-loved ballet play produced in the 19th century. Penned by Spanish author Miguel de Cervantes, "Don Quixote" tells the quirky adventures and exploits (including fighting windmills) of the aspiring knight-errant Don Quixote together with his sidekick Sancho Panza.
Don Quixote's tale is translated into a dance number that has captivated the world since time immemorial. For its Philippine run, Don Quixote features guest performers Katherine Barkman and Esteban Hernandez, both from San Francisco Ballet.
🎭 Twenty Questions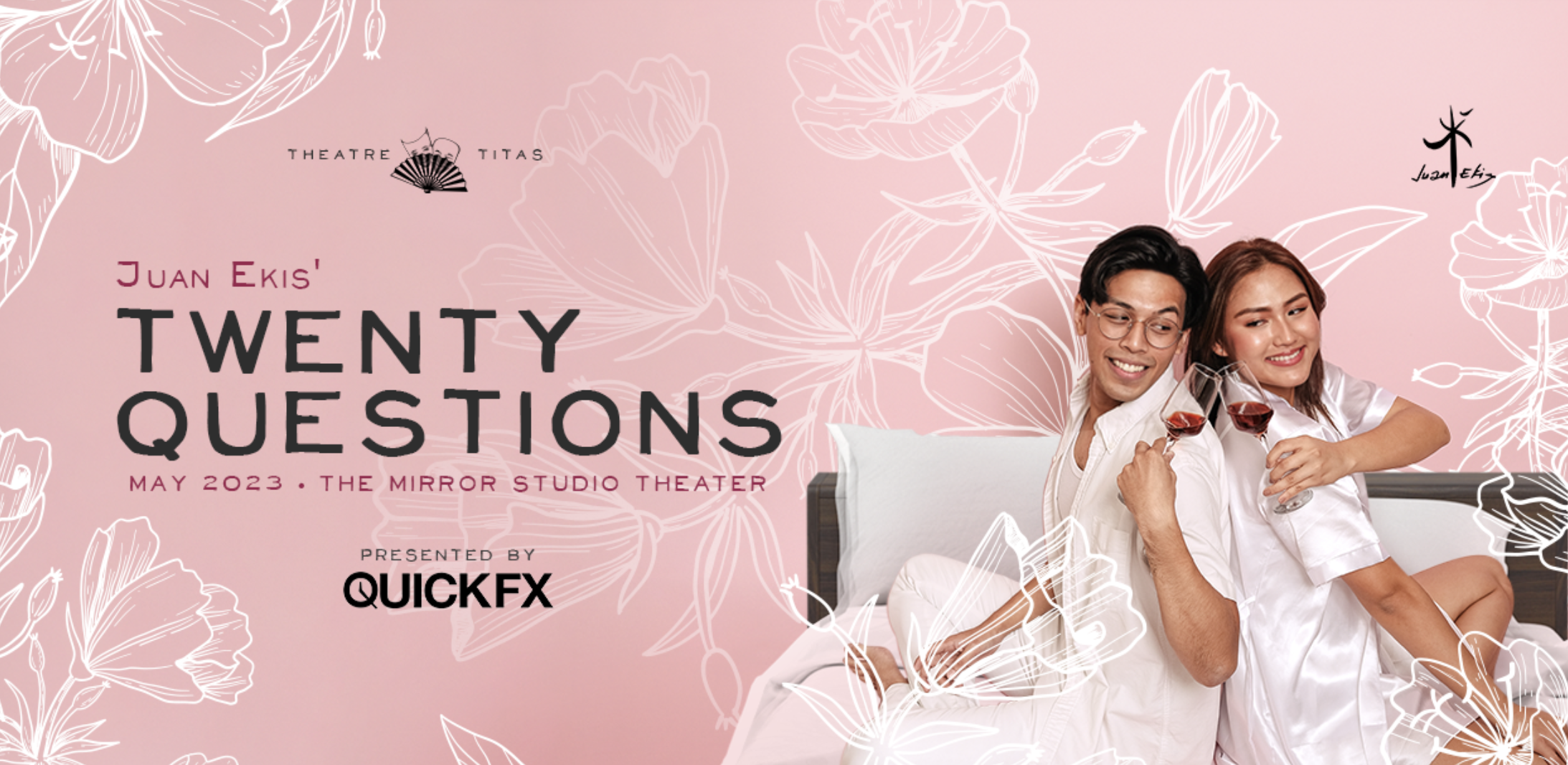 Date: May 12 to 28, 2023
Location: Mirror Studio Theatre, Makati City
Ticket prices: ₱600
Palanca Award-winning "Twenty Questions," written by Juan Ekis (whose real name is Christian Valles), is making a comeback this year. While released two decades ago, the play's language remains fresh, casual, modern, and youthful, making it relatable to the younger generation.
"Twenty Questions"[8] tells the story of two friends named Jigs and Yumi who fall victim to their barkada's tradition: locking up two members of the group in a room and leaving them together to see what happens. To kill time, the two play a game where they ask each other questions that reveal their insights on love, life, and sex.
Read more: Hello, Long Weekend! Family Weekend Activities to Enjoy Your Mini Grand Vacay
Final Thoughts
While theater may be a small niche in the Philippines, its foundations are solid, thanks to dedicated fans and devoted patrons. With social media's power, more and more people are getting drawn to the wonders and delights of this art form.
If you and your friends are looking to bond over something new and exciting, consider watching musical and theater plays in the Philippines. You have a lot of choices, as you can see.

Sources: