Can you recite all the Money Heist characters' names without skipping a beat? What about describing all the Money Heist deaths in great detail? Are you the unofficial Money Heist meme sharer in your group chat? Congratulations, you're a certified Money Heist fan!
We strongly urge you not to plan your own bank heist, now or in the future. But you can indulge yourself in these key takeaways from the show, especially when it comes to money and a little bit about life, too.
What is Money Heist About?
The hit Netflix show is about a group of robbers with different backgrounds recruited by The Professor, a brilliant and unassuming man, to help him carry out a heist in the Royal Mint of Spain (their first).
Each heist crew is also given a nickname, specifically famous cities in the world: Tokyo, Moscow, Berlin, Nairobi, Rio, Denver, and Helsinki. More members join the team as the show progresses, with bigger heists and bigger stakes.
But more than the elaborate plot to rob banks, outsmart the police, and lay out escape routes, Money Heist also has a lot to teach us about money and life in general.
10 Money Lessons We Learned from Money Heist
Here are just some of the Money Heist lessons we've learned from watching all the heart-pumping and nail-biting episodes.
1. Capitalize on Your Strengths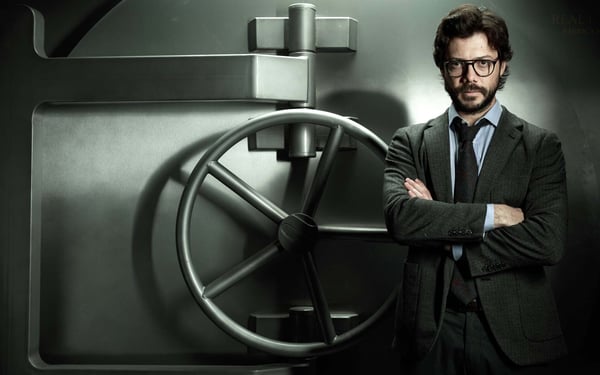 So what's your superpower? What can you do superbly even with your eyes closed? Whatever it is, focus on your strengths and expect great results.
This is what The Professor did when he organized the first heist at the Royal Mint of Spain. He didn't have the brawn. But he certainly had the brains to come up with elaborate and well-thought-out plans. And he used this to his advantage.
Whether it's with business or your own finances, know where you're good at and make the best of it.
2. Do Your Research―Lots of It
Slippery criminals evade capture because they know exactly what they're doing and what they're getting into. They're aware of the risks, and they know the rewards. They want to minimize these risks by learning everything they can, so their plan can go without a hitch.
Before The Professor assembled the entire heist crew, he devoted years of research learning the lay of the land, figuring out how the security system works, and knowing everything inside out, including each crew member's personality, strength, and weakness.
This is how you should approach anything that requires you to invest or spend your money. Remember that this is money that you worked hard for, so don't waste it on bad investments or flashy trends. Do your homework and determine if what you're spending on is worth it, or if what you're investing in will grow your money in the future.
Read more: 5 Best Books on Money Management
3. Have a Plan (and Back-Up Plans)
If there's anything you should know about the show Money Heist, it's that things always go wrong. Whether it's Arturo playing the hero, Tokyo making another impulsive and reckless decision, or key members getting shot or killed, plans get derailed all the time in this show.
With all that stacked up against The Professor, he'd certainly need a lot of planning to do if he wants to pull off a heist without getting anybody killed and escaping with their loot―and their lives.
So it pays to always be one step ahead. The success of an endeavor, especially a financial one, depends on careful planning. Because you'll never know what can happen in the future, you should also have a plan B and even a plan C, a plan D, and so on.
4. Don't be Distracted and Just Stick to the Plan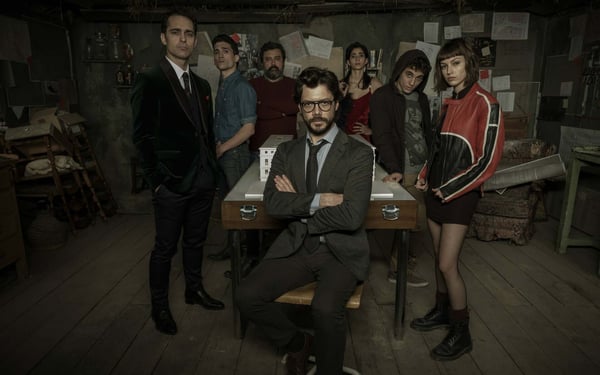 No matter how meticulous, cautious, driven, and goal-oriented The Professor is, there are also plenty of moments when he lets the whole team down and puts all their efforts to waste.
That's okay. He's only human! Moreover, he has plenty of trauma from certain life events. He also bears the weight of responsibility for everyone in his crew, including the hostages and his crew helping him from the outside.
In life, there will always be events and situations that will make us lose focus. Sometimes, we'll be doubting ourselves, losing morale, and finding no support. Don't allow yourself to drift away from your goal. Stand up, dust yourself off, reset, and try again!
Read more: 5 Lessons to Remember from Netflix's Get Smart With Money
5. There Will Always be Challenges—Just Keep Going
Can you imagine The Professor and his crew just giving up and surrendering to the police at the first sign of trouble?
What makes Money Heist so successful and watchable is the fact that you can throw The Professor obstacle after obstacle, and he'll always find a way to overcome it. The answer may not come to him right away. But he always figures things out, whether it's escaping from the boot of the car or avoiding arrest by hiding under the couch.
This pandemic has thrown us obstacle after obstacle, too. Some of us have lost loved ones, jobs, businesses, and investments. Let's all be inspired by The Professor's determination and just keep going.
Read more: Know Your Candidate Better: The Net Worth of 2022 Presidential and Vice Presidential Candidates
6. It's Not a Race, So Don't be in a Hurry
The Professor clearly has his eyes on the prize. When the heist crew signed up for the gig, they're all aware that getting their hands on all that money would take time, hard work, and a lot of risks.
They also knew that each person played an important part in the plan and that no one should be moving at a different pace. Last-minute decisions and clumsy shortcuts can lead to their downfall, arrest, or worse, deaths.
So remember that there's no time limit to your dreams. Don't move too fast. More importantly, don't compare your accomplishments with your friends' because each person's circumstance is different. Just make your way to the finish line and cross it.
7. Don't Make Major Financial Decisions When You're Emotional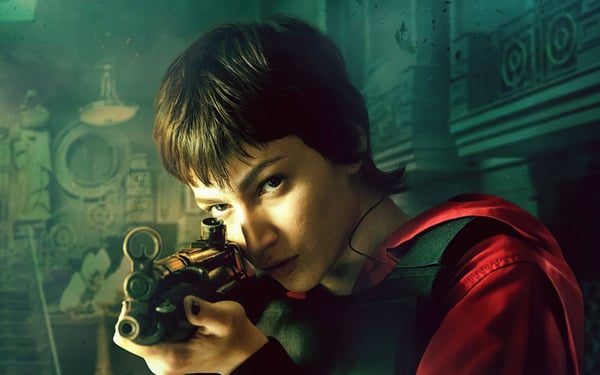 The Professor certainly has his hands full making sure the heist goes according to plan and that his crew keeps their cool.
Yes, that means you, Denver and Tokyo. And you, too, Berlin when it has something to do with Tatiana and Ariadna. How many times have we screamed at our screens for the many impulsive and stupid decisions these heist members made in the show?
So don't be like Denver, Tokyo, or Berlin. Always keep your cool. Once you let your emotions get the best of you, you're just doing more damage and jeopardizing everything you've worked so hard to achieve.
This means not going on a shopping spree after a breakup, or not saying yes to a tempting investment opportunity you're not sure of. In short, don't make big and permanent financial or life decisions when you're feeling a lot of things.
8. You Won't Get It Right the First Time, and That's Okay
Whether you're Team Professor or Team Tamayo, these men showed that they don't always have everything figured out.
Tamayo's team suffered heavy losses, and he'd been humiliated and one-upped at every opportunity. But even someone as despicable as him still managed to score a few crucial wins, much to The Professor's distress.
So if you must go through trial and error to solve a problem, do it. Put it down to experience and try not to make the same mistake again.
Read more: Filipino Financial Gurus You Need to Follow Today
9. Money isn't Everything
For the heist crew, money can solve a lot of their problems. This is their main motivation and the main reason they signed up in the first place.
But for The Professor and Berlin, it's really more than that. The brothers' motivations are rooted in family, no matter how sad and twisted their philosophies might be.
So while money is a good motivation to work hard, your life should not just be about making it or earning it. There are lots of meaningful things to focus your attention, time, and energy on, like your relationships with friends and family.
Read more: Money Lessons from Movies
10. Fight to Survive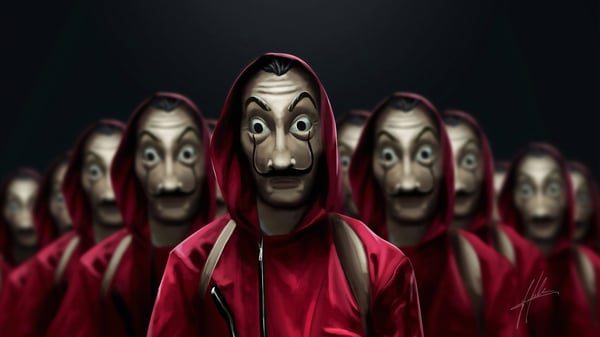 Like that famous quote says, "As in war, so in life." Life is a battlefield, so show up and battle the elements every single day. For this group of thieves, it's them against the authorities, and them against their own personal demons. The clock is ticking, and it's a battle to stay alive.
Sometimes, we'll have to make tough sacrifices. Other times, the losing streak will seem unending. But even when the chips are down, there will always be a lucky break, a glimmer of hope, or a fortunate coincidence. Never lose faith―life has a funny way of working itself out.
Final Thoughts
We're wired to hate the bad guys in movies and TV shows. But with Money Heist, you can't help but root for The Professor and his masked, jumpsuit-wearing, and gun-toting crew. The show is just a perfect blend of action, emotion, and brilliance with plenty of Money Heist lessons on money and life dished out in each episode.
If you've been living under a rock and have not heard of this show, now's the perfect time to binge-watch! The Money Heist finale just aired, so try to avoid spoilers. Whether you watch Money Heist in Spanish or English, you're in for a treat!

Sources: