The spookiest day of the year is upon us all. For fun-loving people, this only means one thing: an all-out Halloween bash over the long weekend!
If you're artsy, it's the perfect opportunity to show off your skills with handcrafted spiderwebs, bloody costumes, and jack-o-lanterns. Budding cooks will also enjoy applying season-appropriate aesthetics to snacks and treats.
Spare yourself from the horror of a poorly planned Halloween party. If you don't know where to start, you've come to the right place. We've got a handful of Halloween theme ideas both kids and kids at heart will love.
And don't worry—these spooky suggestions won't scare your wallet.
Easy-to-Make Halloween Theme Ideas for Decor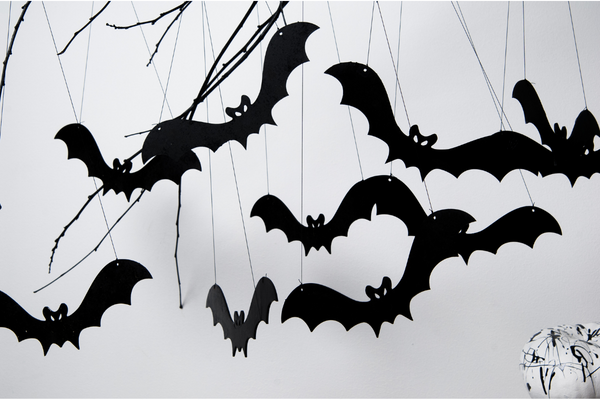 What's a Halloween party without the decorations? While it's always advisable to prepare for a party with plenty of time to spare, a lot of us can spare only a few days to prepare. Take inspiration from these super cute and easy Halloween party decoration ideas—perfect for both kiddie and office parties!
🎃 Spooky Candle Holders
You probably have a bunch of used old peanut butter jars or mayonnaise glass jars lying around the kitchen. Clean them up and wrap some gauze around them. Splatter on some fake blood, put a tealight candle in it, and you've got a cool little candle holder that looks like a mummy!
You can also wrap the jars with a thin sheet of orange paper with hand-drawn pumpkin faces. These spooky candle holders make great table centerpieces.
🎃 Giant Spider Web
It's easy to make a giant spider web using a long piece of rope. You can make a huge one to cover a big wall. Instructables author BowMaster has a simple guide on making a giant spider web using just yarn and scissors.[1]
🎃 Print Out Spooky Family Pictures
Print out scary or macabre family pictures from the Internet and replace your family pictures with them. This is a quick way to decorate your house if you're pressed for time. While you're at it, add some cobwebs to achieve that haunted house atmosphere.
🎃 Cut-Out Bat Ceiling Hangers
All you'll need are strings and black poster paper. Cut out several bats and use strings to hang them on your ceiling. You can also use the cutouts to decorate your walls!
🎃 Head in a Jar
Give off some seriously creepy vibes with glass jars that contain heads—not real ones, of course! You just need a picture of your face and a big glass jar. Just insert your rolled picture into the jar and voila–you have a pickled decapitated head!
Go the extra mile by laminating your picture, putting it into the jar, and pouring in some colored water (green or red will do). Put these jars in unexpected places, such as your fridge, to spook your guests.
If you're planning to decorate your office with this, just make sure it won't shock people working overtime into the night!
🎃 Creepy Pumpkins
Most Halloween party ideas involve pumpkins, so make sure you've got some lying around the house. Spruce them up for extra heebie-jeebies.
Get a real or plastic pumpkin and embellish it with small plastic spiders using a glue gun. The more spiders, the creepier it gets.
Related reading: Long Weekend at Last! 10 Ideas for Spending Rest Days with Your Family
Affordable Halloween Party Food Ideas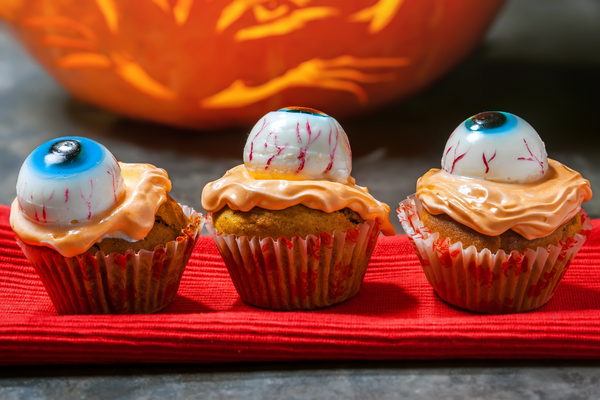 Hold a memorable trick-or-treat party by serving Halloween-themed food. You don't have to go beyond ordinary party fare. With a few twists, you can transform any ordinary treat to suit a variety of Halloween theme ideas.
🎃 Ghost Lollipops
Candy and Halloween go together, especially if you're expecting kids to come knocking on your door or office cubicle for trick or treat.
Wrap white tissue paper around a lollipop and tie it with a short string. Draw spooky ghost faces on the tissue with a marker. And just like that, you've got cute ghost lollipops kids and kids at heart will enjoy!
🎃 Pizza Fingers
When you order pizza for the party, ask the restaurant to deliver it unsliced. Once you get the pizza, slice it in half and cut little finger-sized bars. Add the fingernails by putting triangle-shaped bell pepper cuts on the ends of these pizza bars.
Now, you have creepy fingers to serve your guests! This gives a whole new meaning to finger food.
🎃 Spooky Halloween Drink
Check out arts and crafts expert A Girl and a Glue Gun's tutorial for a quick Halloween party drink to serve your guests.[2] You just need Sprite, Nerds candies, and ice. Put some green Nerds into a cup and add Sprite to make the drink turn green.
If you want to add a grown-up twist, switch the Sprite for vodka instead. You could also add candy eyeballs to the mix to make the concoction creepier.
🎃 Monster Cupcakes
To add to your list of Halloween party ideas, dress up your cupcakes for the occasion. Using colored icing and candy eyeballs, you can create delectable monsters such as mummies and vampires. For less scary options, go for jack-o-lanterns, bunnies, black cats, and spiders.
Either way, these Halloween-themed cakes will be a hit!
🎃 Meringue Bones
Meringues, or what Filipinos call merengge, also make delicious Halloween treats. Using white meringues, create crunchy bones. Combine egg whites, cream of tartar, sugar, and vanilla extract to make these airy and scary treats.
For a detailed recipe, check out this guide from Epicurious.[3]
Quick and Easy Halloween Party Game Ideas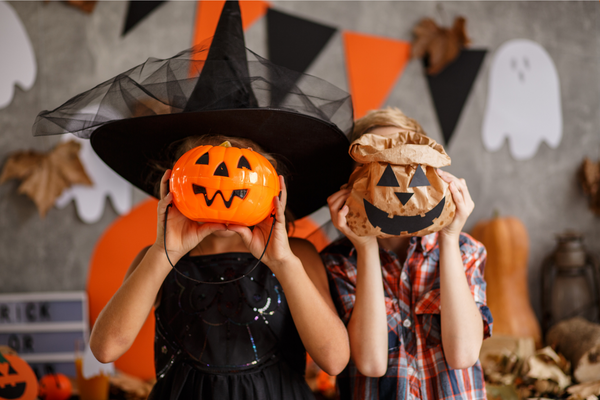 Drumming up Halloween party ideas for the office? Or looking for a sample program for a Halloween party for kids?
Either way, liven up the scene with these Halloween party activities! They're easy to mount and don't cost a lot of money.
🎃 Halloween Picture Scavenger Hunt
If you want to get the whole office out of their seats, this game will do it. In this scavenger hunt, participants have to take a picture of the items on your list. Create a list of 10 things they need to take a picture of, like a Halloween Witch or a Pumpkin.
The first one to take pictures of everything on the list wins a special prize!
🎃 Guess What's In the Box
Here's a simple game to freak your guests out! Get three to five boxes. At the top of the box, cut a hole big enough for a hand. Put "scary" things like a fake snake, fake rat, or a toy spider into the box and have your players guess the item.
🎃 Halloween Charades
You can also derive Halloween theme ideas from existing ones.
For instance, traditional charades can be injected with spooky elements. Use famous horror movies as your theme—have everyone guess "Patayin sa Sindak si Barbara" and enjoy the hilarity that ensues. If you really want to scare your office mates, have them guess petsa de peligro and other similar concepts.
For kids, simple clues such as pumpkin, vampire, and cobwebs will do the trick.
🎃 Spooky Balloon Dart Game
Get a large wooden board and attach lots of balloons onto it. Make sure each balloon contains either treats or spooky items, such as bloody doll heads, toy spiders, and trash can slime. Each participant will then pop the balloon with a dart and get whatever is inside it.
Kids will love this fun game for sure! Just make sure to have some treats on hand for those who end up not getting any from their balloons.
Read more: No NYE Plans? Where to Celebrate New Year Countdown in the Philippines
Bonus Tip: Attend Halloween Parties in the Philippines this 2023
Let's face it. Not all of us have the luxury of time to think of exciting Halloween party ideas and organize a spooktacular bash. But you can always attend a party organized by others!
Get into the spirit with these Halloween events around the metro:
🎃 Scare Street at Bonifacio Global City
Date: October 28 to 29, 2023
Venue: Bonifacio High Street Ampitheater, Bonifacio Global City, Taguig City
Do your kids love painting anything they can get their hands on? Take them to Bonifacio Global City's Scare Street: Paint it Fun Drip Workshop as a fun treat.
Enjoy an afternoon decorating a Drip Bear with glow-in-the-dark paints. No skills or experience required, so kids of all ages can enjoy unleashing their creativity!
Price will depend on the size of your chosen Drip Bear.
🎃 Spooky Superpowers at Taal Vista
Date: October 28, 2023
Venue: Taal Vista Hotel, Tagaytay City
Chill this Halloween by heading to Tagaytay. Have some fun at the Spooky Superpowers party at Taal Vista. Note that there's an entrance fee, which is ₱1,590 for adults and ₱990 for kids ages three to 12 years old.
This is one of the best Halloween theme party ideas for kids this year. You and your children can enjoy games, mini rides, and snacks galore! Loot bags also await all attendees.
🎃 Super Cosmic Halloween at Cove Manila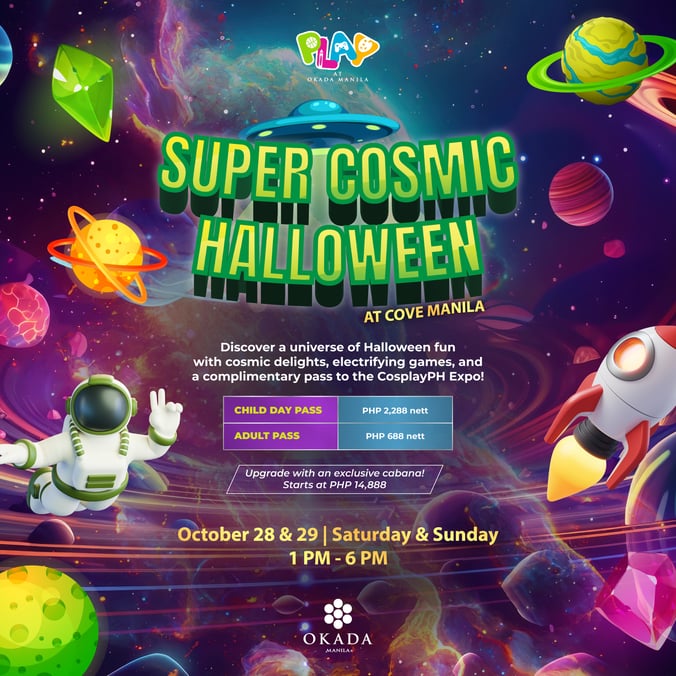 Date: October 28 and 29, 2023
Venue: Cove Manila, Entertainment City, Parañaque City
If you're looking for a Halloween party for the whole family in Manila this 2023, Cove Manila's Super Cosmic Halloween is perfect for you. A day pass for one child includes one official trick-or-treat loot bag, access to the booths and game stations, access to the light and laser show and Halloween program, and bonus access to the Cosplay PH event.
If you're with a large group, you can also get the cabana package, which includes a private cabana, set meals, and other perks.[4]
🎃 The Haunted Circus Carnival at The Excelsior Hotel
Date: October 28, 2023
Venue: The Excelsior Hotel, Alabang-Zapote Road, Las Pinas City
If you live in the south of Manila, check out The Excelsior Hotel's spooky carnival-themed Halloween party. For ₱1,300 for adults and ₱1,200 for kids ages three to 12 years old, you get to partake in a variety of games and activities and enjoy snacks and trick-or-treat loot bags.
Should you want to stay the night, avail of the room package promo. Stay in a deluxe room, inclusive of breakfast buffet for two, tickets to the Haunted Circus Carnival, and 15% off on in-room dining—all for ₱6,600.
Read more:
Final Thoughts
Halloween is not just a celebration of all things spooky. It's also the perfect time to enjoy the company of your family or friends. From delicious snacks to fun games, you and your loved ones can make new precious memories. Get into the spirit of the occasion and impress your guests with these budget-friendly Halloween theme ideas.

Sources: