Last year, the whole world experienced a different kind of New Year's Eve. Lockdowns and social restrictions forced families and businesses to take their celebrations and countdowns online. Truth be told, it wasn't as exciting as the pre-pandemic New Year's festivities, but people couldn't afford to be careless.
At the latter part of this year, however, things started looking up. A lot of Filipinos have already been vaccinated, and some are also starting to receive their booster shots.[1] Authorities have either eased up on certain restrictions or completely lifted them. You could see malls reverting to their pre-pandemic state, and the holiday rush has been manifested by traffic jams and busy businesses.
With all these improvements, you can expect that New Year's Eve in the country will be alive and eventful once again. So, the question is where should you spend your New Year countdown?
Some may elect to go to the beach for a quiet countdown or visit their relatives in the province for loud merriment. But if you wish to stay in the metro, there are a few options that you can look into. Here are some of them:
New Year Countdown Events in the Philippines
Resorts World Manila's Grand Countdown to 2022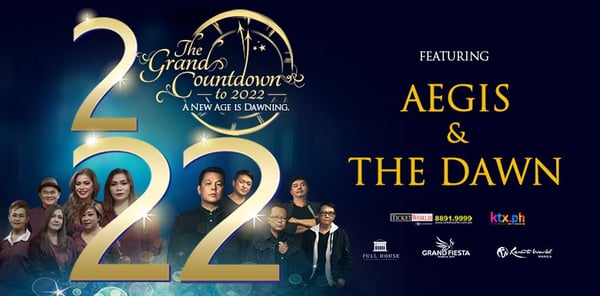 Resorts World Manila is not new to New Year celebrations. It knows how to spice things up, and it always delivers. For this year's Grand Countdown, Resorts World Manila will be bringing in two legendary OPM icons to usher in 2022―Aegis and The Dawn. This 2022 countdown in Manila will also be hosted by Nicole Laurel Asensio.[2]
The Grand Countdown to 2022 will start at 8:00 p.m. on December 31, 2021 at the Newport Performing Arts Theater. Ticket prices range from PHP 2,659 to PHP 13,615. You can get your tickets via TicketWorld or ktx.ph.
According to Resorts World Manila, only fully vaccinated guests aged 12 years and up will be allowed inside the theater. For reservations and questions, you can contact the following:
Girah Manaligod - 0917-872-8309
Neil Crisostomo - 0917-658-9378
King Feria - 0917-823-9602
Read more: Plan Your Time Off: Holidays in the Philippines and Long Weekends in 2022
Sheraton Manila's New Year's Eve Countdown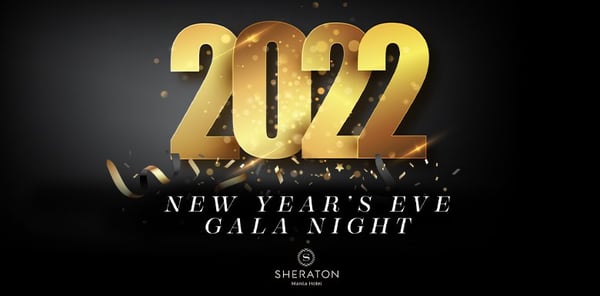 Sheraton Manila is another great venue within the Resorts World Manila complex where you can celebrate your New Year countdown. There are a couple of ways to celebrate New Year's Eve here, so choosing what's up your alley shouldn't be hard work. Here are some of them:
New Year Celebration at COLLAB
COLLAB, Sheraton Manila's co-working space, is transforming into a party venue for the New Year countdown. For PHP 4,500, you can anticipate the New Year in style with a scrumptious dinner, hibiscus iced tea, fancy wine and cocktail, and live band entertainment featuring Jo and the Holy Notes. And if you stick around, you may even win a complimentary buffet for 2 at the S Kitchen.
Retro-Themed Party at The Lounge
If all things retro make you tick, The Lounge just got the right party for you. Priced at PHP 2,500 nett, The Lounge's vintage-themed party comes with a snacking menu for 2 to 4 persons and a choice of one bottle of sparkling wine or a pitcher of mocktail or cocktail. There will also be party hats and poppers.
A Tastemaker's New Year's Eve at the S Kitchen
Looking to celebrate your New Year's Eve with overflowing dishes and refreshing wines? The S Kitchen is the place to go. For PHP 3,888 nett, you can enjoy a delicious buffet and a glass of Valdivieso sparkling wine.
K-Style New Year at Oori
Korean culture is forever meshed into our Pinoy DNA, so you might as well celebrate your New Year countdown the way Koreans do. Oori, Sheraton Manila's sophisticated K-bbq restaurant, will let you experience how Koreans traditionally welcome the New Year. Enjoy a New Year's Spread for two at PHP 5,000.
An Intimate Feast at Vubble
If you want to surprise your significant other with an elegant and private dinner this New Year's Eve, why not take them to Vubble? Vubble is an experience as it lets you and your loved one dine inside a transparent bubble pod under the night sky. This dining mode was brought about by the COVID-19 pandemic.
For PHP 10,000+ per person, you and your special someone can indulge in curated meals complete with a bottle of champagne. You also get a complimentary pass to the New Year's Eve Gala Night.
Read more: Start the Year Right with These Financial New Year's Resolutions
F1 Hotel Manila's New Year's Eve Dinner Buffet
Another exciting New Year countdown is happening at the F1 Hotel Manila. What makes the said occasion at this hotel special is The Festive Flavors dinner buffet. It will be available on December 24, 25, and 31 from 8:00 p.m. to 11:00 p.m. However, the celebration on the 31st will be much more special because an acoustic band will serenade you while you enjoy your feast before the countdown. This celebration is priced at PHP 1,300 per person.
Novotel's New Year's Eve Dinner Buffet
A New Year countdown will always be better with overflowing dishes and drinks. And such a gastronomic feast will be much more exciting if you get to sample different cuisines. Head to Novotel for that experience. The New Year's Eve buffet at Food Exchange Manila will let you taste not only Filipino dishes but also Chinese, Japanese, and Indian cuisines. Price is at PHP 2,488 nett.
Okada Manila's 2022 New Year's Eve Barbecue Bash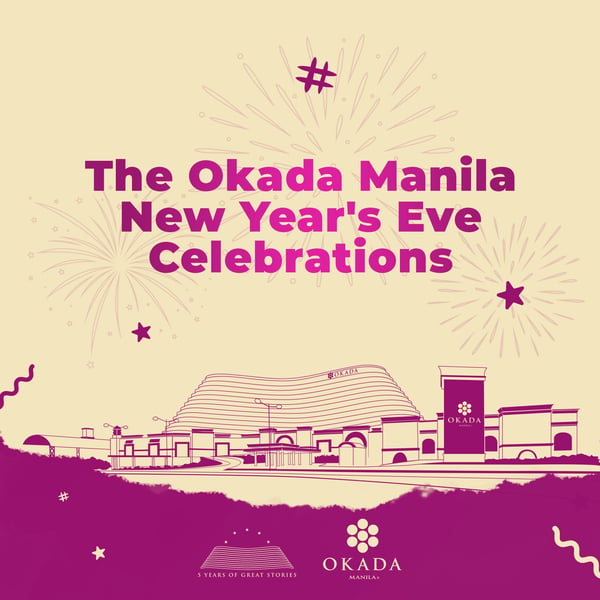 What makes an ideal Pinoy New Year countdown celebration? For many, it's barbecue, beers, music, and raffles. You'll get all these and more at Okada Manila's 2022 Year's Eve Barbecue Bash. This will be happening at Cove Manila, Okada's indoor beach club and nightclub.
Avail of the Sunset Barbecue package for the 10:00 p.m. to 1:00 a.m. slot at PHP 3,888 and get the following:
Barbecue buffet
Live entertainment
One (1) signature Okada Manila Drink
All-You-Can-Drink San Miguel Beer
Choice of one of the following drinks: red wine, white wine, sparkling wine, iced tea, and soda
Raffle entry for a chance to win exciting prizes, such as Dyson products, staycation packages, and buffet dinners
Manila Ocean Park 2022 Neon Countdown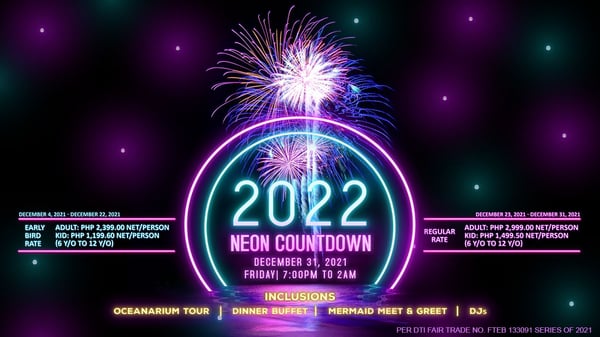 A New Year countdown at an oceanarium? Why not? If you want to have this experience, the Manila Ocean Park is the perfect venue for you. With its 2022 Neon Countdown, you get to celebrate New Year's Eve in a very hip style.
The regular rate for adults is PHP 2,999 per person while the regular rate for kids six years old to 12 years old is PHP 1,499 per person. But you'll get to save a lot if you book early. The early bird rate for adults is PHP 2,399 per person while the rate for kids six years old to 12 years old is PHP 1,199 per person.
The inclusions of the New Year's Eve package are the following: oceanarium tour, dinner buffet, live entertainment with the DJs, and meet and greet with the park's mermaids.
Coffee Rush's New Year Countdown
If you're looking for a New Year countdown away from the city, head over to Binangonan, Rizal. A full-service coffee shop slash glamping site aptly called Coffee Rush Binangonan will warmly welcome you. Its New Year countdown package will let you enjoy a Filipino and Japanese buffet complete with dessert stations, steak carving stations, a sushi bar, local beer stations, and all-you-can-drink hot coffee.
Love vintage music? Male Rigor of VST & Company will be there to serenade you. And as you cheer for 2022's arrival, you can view various fireworks displays of the metro all at once since the café gives you an uninterrupted view of the Manila skyline.
Mall of Asia Fireworks Display
The SM Mall of Asia has always been synonymous with flashy and festive pyrotechnics. After all, it's the home of the Philippine International Pyromusical Competition. So, this coming New Year, expect that the mall will be lighting up the night skies with beautiful and dazzling fireworks.
The fireworks displays at MOA already started on December 2, which coincided with Pasay Day. It will continue every Saturday until January 1, 2022. Program starts at 7:00 p.m.
Read more: Handy List of Holiday Mall Hours for Hassle-Free Shopping
Simultaneous Fireworks Displays in Bonifacio Global City
Speaking of fireworks, the city of Taguig offers not just one but three fireworks displays at separate locations within the Bonifacio Global City (BGC). On December 31, the fireworks from the High Street, Uptown Parade Steel Carpark, and Market! Market! will light up the sky simultaneously. So, if you're just around the area or are planning to visit BGC on the 31st, you can dine, shop, or meet up with friends before watching these fireworks displays.
2022 Weverse Con [New Era]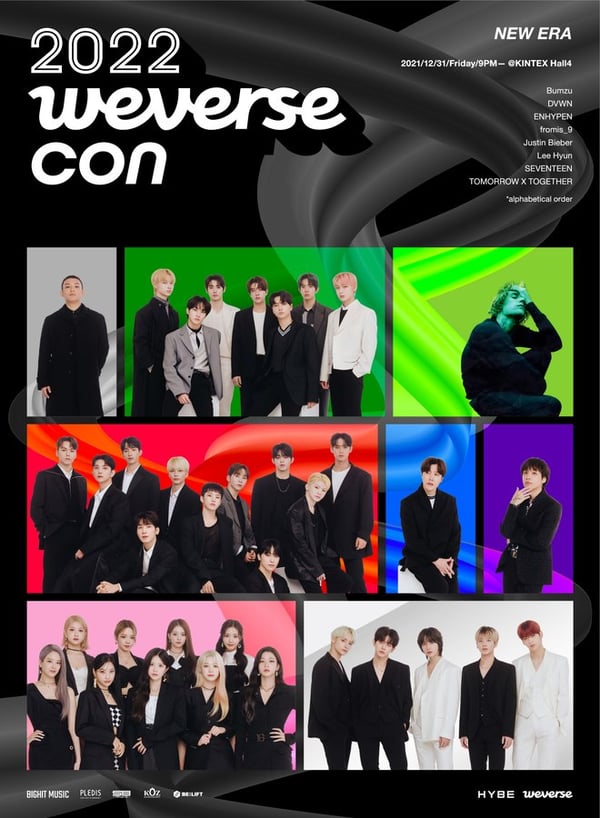 Some prefer welcoming the New Year bundled up in their respective nooks than going out and partying with friends. And if you're an introvert who happens to be a K-Pop fan, you're definitely in for a treat!
HYBE, the entertainment company behind BTS and TXT, is holding the 2022 Weverse Con [New Era], a star-studded concert on December 31, 2021. The show will feature prominent K-Pop groups and high-profile international artists, such as ENHYPEN, BUMZU, TXT, SEVENTEEN, and Justin Bieber.
The said concert will be held in person with a simultaneous broadcast online. It's important to note that only Korean nationals and foreign nationals living in Korea are allowed to buy in-person tickets. Nevertheless, you can purchase a ticket for the live stream via the Weverse Shop.[3]
IMPORTANT NOTE: With the emergence of the coronavirus' Omicron variant, it only pays to be aware of any changes in the IATF guidelines. The schedules above are subject to change without prior notice, so we highly recommend that you contact the venue ahead of time regarding the status of the event.
Final Thoughts
As we bid 2021 goodbye, let's remember all the good things that happened even in the midst of an ongoing global crisis. It's nice to know that more and more people are getting vaccinated, and restrictions are being lifted gradually. With all these developments, everyone will be able to reunite with their families and friends and experience exciting and fun New Year celebrations again, such as these listed above.
But don't let your guard down. Be careful when you go out. Observe social distancing, and always bring your new normal essentials, such as face masks, hand sanitizers, and your vaccination card.

Sources: