Whether you're traveling here or abroad, the task of safeguarding all your belongings and travel essentials falls on your luggage. Given that, buying the right suitcase is a serious affair.
But what is the best luggage brand in the Philippines? Where can you buy high-quality suitcases? And what are the factors that you should consider?
Read on to learn more.
10 Best Luggage Brands in the Philippines
There are countless luggage styles out there. But we've made choosing easier for you by handpicking some of the best options. Take a look at this list:
📌 Travel Basic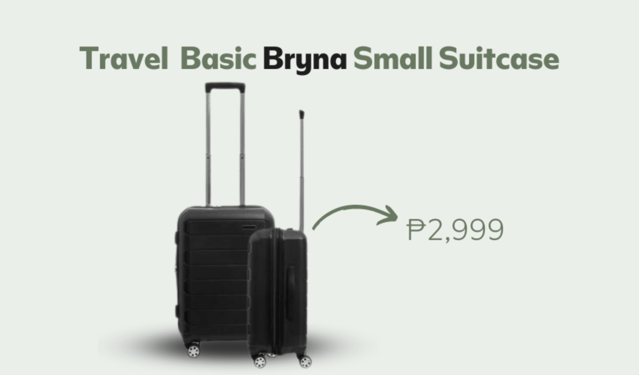 Top models:

Bryna Small Suitcase – ₱2,999
KX TB Dolly 28-inch Hard Case Luggage – ₱3,199
Raxi Large Suitcase – ₱3,199

Best features:

TSA lock
Made of polypropylene (PP)
Anti-theft zipper
Top and side handles
Expandable

Where to buy: SM Supermalls and official The SM Store shop on Lazada
Who says suitcases have to be expensive? Travel Basic is one of the most affordable luggage brands in the Philippines, but don't let its price point fool you. Its collections are stylish and durable—just look at three of Travel Basic's most popular models.
If you're just flying out for the weekend, the Bryna Small Suitcase is for you. But if you're going abroad for an extended period, the large variants of the Raxi and the KX TB make great travel buddies.
These models are expandable and all feature TSA locks. They can also endure various forces at the airport since they're made of polypropylene.
Where to buy this cheap luggage in Manila? Just visit SM Supermalls and look for Travel Basic in the department store.
Read more: On a Budget? Travel Tips and Hacks to Try for a More Meaningful Trip
📌 Sky Travel Luggage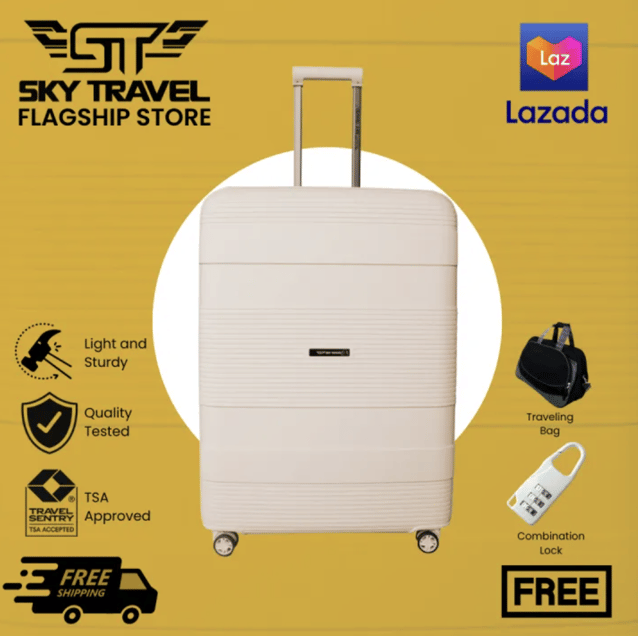 Top models:

Hard Case – ₱4,499.50 to ₱5,499.50 (discounted)
Hi-End Soft Case Luggage – ₱6,199 to ₱7,199 (discounted)
Clam Type Hard Case – ₱6,499.50 to ₱7,499.50 (discounted)

Best features:

Made of durable materials; luggage has undergone intensive durability tests
Hard case luggage made of PP material
Anti-theft zipper
TSA lock
Lifetime service warranty

Where to buy: Official Sky Travel Luggage shop on Lazada
Looking for cheap but durable luggage in the Philippines? Check out Sky Travel Luggage. You can choose between soft case and hard case options. Nevertheless, both are stylish and life-proof.
Sky Travel suitcases have undergone rigorous tests to ensure product durability. Evaluation parameters include the drop test, wheel test, handle test, rotating test, and temperature test.
In case your luggage shows signs of wear and tear after your travels, you can always bring it to Sky Travel for repair. This brand offers a lifetime service warranty.
📌 Samsonite
Top models:

TOIIS C – ₱9,817.50 to 13,217.50 (discounted)
Niar – ₱29,150

Best features:

TSA lock
Expandable
Double wheels
Cross ribbons
Luggage divider for TOIIS C

Where to buy: Official Samsonite Philippines website
Samsonite is easily one of the most famous luggage brands, thanks to its stylish and long-wearing products. If you have a few bucks to spare, you might as well invest in a Samsonite suitcase.
Discerning travelers will fall in love with the TOIIS C collection. This pack won at the 2020 Red Dot Design Awards, a prestigious award-giving body in the field of product and communication design.
A TOIIS suitcase is equipped with high-quality ball-bearing double wheels to remove friction-caused resistance and provide rolling comfort. Its interior comes with cross ribbons plus a luggage divider.
Another popular Samsonite suitcase is the Niar. This minimalist luggage comes with integrated carry handles, dual-tube trolley puller, TSA locks, and an expander, among others.
Where to buy this quality luggage? Check Samsonite stores nationwide or go to the official Samsonite Philippines website.
---
Enjoy Peace of Mind With Travel Insurance

While the suitcases in this article are tough and durable, they can still get damaged at the airport. On top of that, they may get lost somewhere. While these situations are inevitable, you can deal with the stress by getting the right travel insurance.
Your travel insurance won't only protect your belongings while you're on a trip. It also offers other important features such as medical and emergency coverage, medical evacuation, repatriation, and even COVID-19 treatment.
Compare your options here at Moneymax. Click the banner to get started!
---
📌 TUMI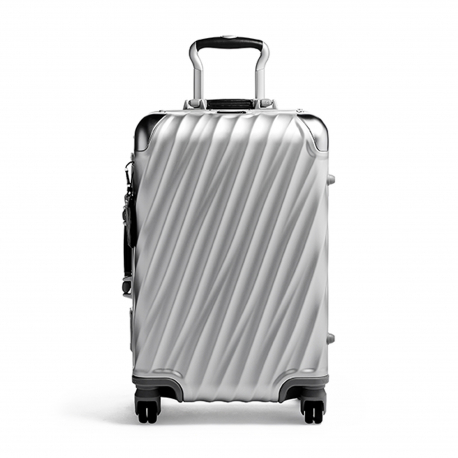 Top models:

Extended Trip Expandable 4 Wheeled Packing Case – ₱73,990
International Carry-On – ₱99,990

Best features:

100% aluminum as primary material for TUMI International Carry-On
Internal hanger bracket for TUMI International Carry-On
Recycled polycarbonate for TUMI Extended Trip suitcases

Where to buy: Official TUMI Philippines website[1]
TUMI Philippines is one of the top 10 luggage brands in the Philippines not just because of its prestige but also because of its impeccable craftsmanship. While it sits on the expensive side of prices, TUMI's products use high-quality materials that can last a long time.
Case in point, the iconic International Carry-On is built with aluminum, ensuring that it can endure all the forces life throws at it. Going on a business trip to meet important clients? Keep your suit or cocktail dress ready and dandy through this luggage's internal hanger bracket.
If you have a longer holiday, take the Extended Trip suitcase with you. While lightweight and flexible, it's still durable since it's made of recycled polycarbonate. Inside, the Extended Trip luggage uses the PROTX2 technology, which prevents bacteria, mildew, and mold growth.
📌 American Tourister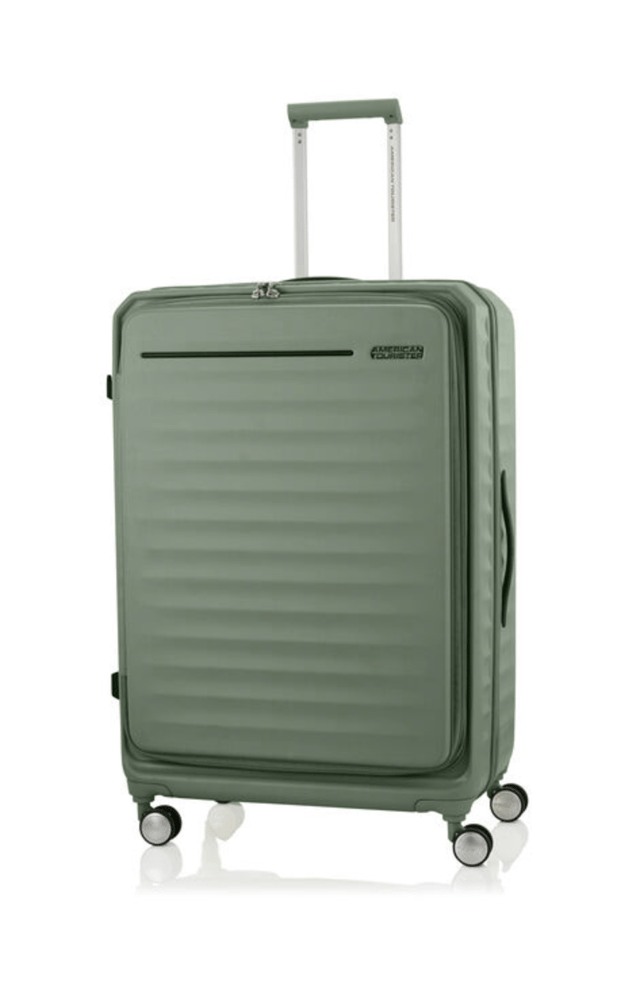 Top models:

Curio – ₱13,217.50 to ₱16,617.50 (discounted)
Frontec – ₱18,950 to ₱21,450

Best features:

TSA lock
Expandable
Multi-stop wheel handle for Curio
Cross ribbons
PP material for Curio
Polycarbonate (PC) material for Frontec

Where to buy: Official American Tourister website
Vibrant, trendy, and durable—these are the words that best describe American Tourister, one of the most popular travel bag brands in the Philippines. Two of their models, namely Curio and Frontec, prove just that.
Both the Curio and the Frontec come with Optimov Shock Absorbing Wheels to ensure rolling comfort. Inside both models is a generous space that expands depending on the bulk of your belongings. The interiors are also treated with antibacterial lining.
As one of the top 10 luggage brands in the Philippines, American Tourister offers assurance and peace of mind with TSA locks, complemented by the Duosaf Security Zipper.
📌 VERAGE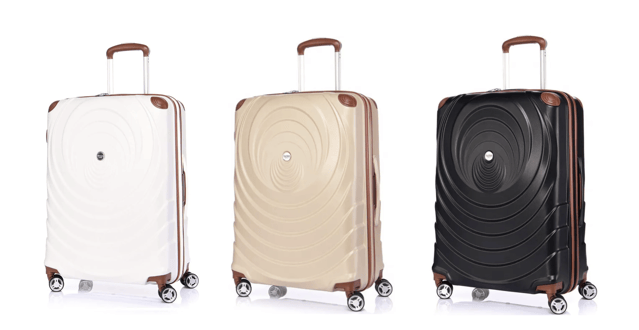 Top models:

GM18025W – ₱4,490
Arrowhead (Large) – ₱4,159 (discounted)

Best features:

TSA lock
Expandable
Corner guards for scratch and dent protection (GM18025W)
Silent spinner wheels
PP material for Arrowhead

Where to buy: Official Verage shop on Lazada
Sold in more than 100 countries and regions, VERAGE suitcases are synonymous with style, innovation, and durability. But what takes the cake is that this brand's products aren't overly pricey. Just take a look at GM18025W and Arrowhead suitcases.
The GM18025W features an elegant spiral design and corner guards to keep dents and scratches at bay. Moreover, it can expand up to 20% of its packing volume.
The Arrowhead luggage, on the other hand, is made of PP material, ensuring toughness. The interior has a polyester lining with a garment divider.
Both suitcases have TSA locks and silent double wheels.
---
✈️ Book Your Trip Now, Pay Later with #UNOnow Loan!

Fulfill your travel goals without worrying about your budget. UNO Digital Bank has got your back! You can easily apply online for an #UNOnow Loan—no collateral needed—and get extra cash for booking your trips.
Enjoy quick approval and disbursement, as well as flexible payment terms, so you can travel now and pay later. Apply via Moneymax now!
---
📌 World Traveller Luggage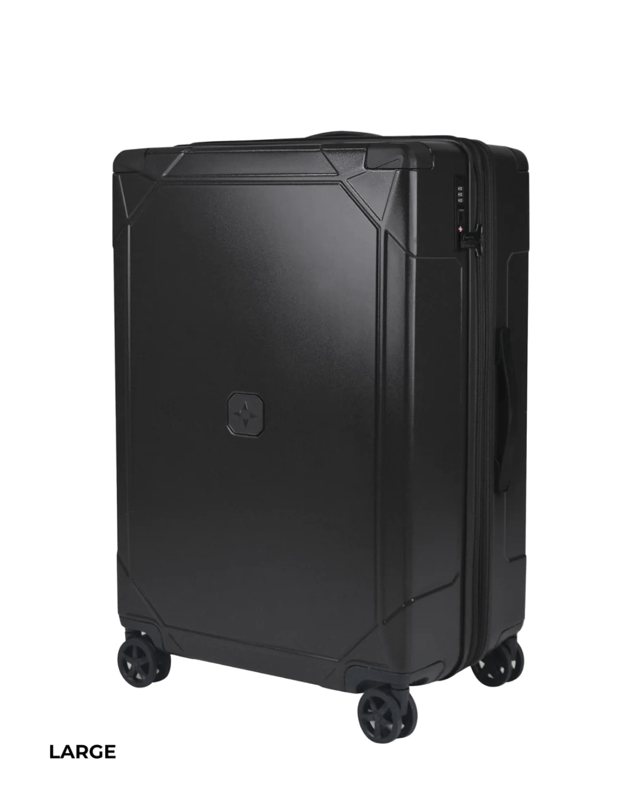 Top models:

Marrakesh – ₱5,290 to ₱8,290
Montserrat – ₱10,990 to ₱14,390

Best features:

Lightweight
TSA lock
Expandable
Straps
Security zipper for Montserrat

Where to buy: Official World Traveller website or The Travel Club website[2]
Where to buy quality luggage if you don't have a big budget but still want a reliable and high-quality option? Try World Traveller Luggage.
If you prefer softside luggage, check out the Marrakesh. It's lightweight and expandable. Its streamlined and muted design can easily blend with your personal aesthetics—plus it comes with a TSA lock!
But if you're looking for a hard case, try the Montserrat. It's also lightweight, expandable, and comes with a TSA lock and a security zipper. It even has a storage cover.
📌 Delsey Paris
Top models:

Clavel Klein – ₱14,990 to ₱16,990
Chatelet Air 2.0 – ₱32,990

Best features:

PP material for Clavel Klein
100% PC material for Chatelet Air 2.0
Expandable
TSA lock
Limited five-year warranty for Clavel Klein
Limited 10-year warranty for Chatelet Air 2.0

Where to buy: Official The Travel Club website or ZALORA
One of the most durable luggage brands in the Philippines, Delsey Paris is a favorite among travelers for its aesthetics and sturdiness. Two models epitomize these: the Clavel Klein and the Chatelet Air 2.0.
The Clavel Klein suitcase uses polypropylene to ensure durability while maintaining its light weight. It comes with four double wheels, a water-resistant zipper opening, and a TSA lock. It's also outfitted with an integrated top handle, side handle, and bottom handle.
If you're looking for luxurious and classic luggage, the Chatelet Air 2.0 is worthy of your consideration. This hard case comes with anti-scratch finishing, corner protection, and ZIP SECURITECH. Its accessories include a laundry bag, a shoe bag, straps, and dividers.
📌 Kamiliant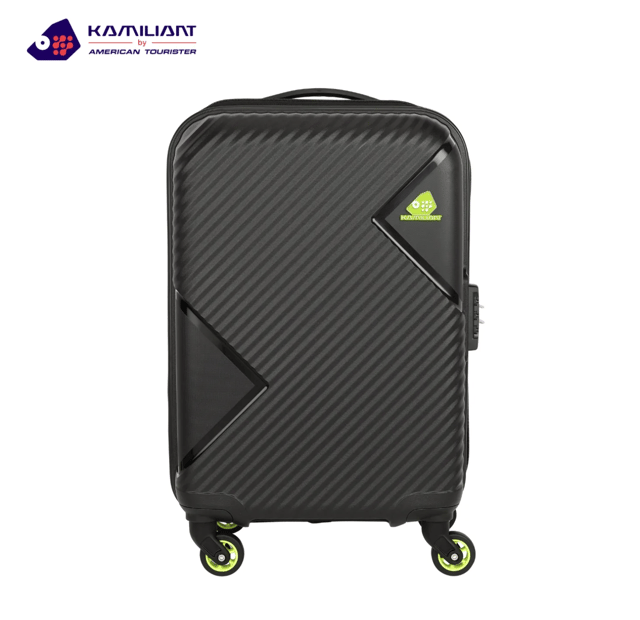 Top models:

Zakk Secure Large – ₱8,773 (discounted)
Liniar three-piece set – ₱19,225 (discounted)

Best features:

TSA lock
Cross ribbon
PP material for Zakk model
Multi-stop wheel handle for Liniar
Scratch-resistant design for Liniar

Where to buy: Official Kamiliant shop on Lazada
What's the difference between Kamiliant and American Tourister? Not much since Kamiliant[3] is owned by American Tourister. Both excel in crafting suitcases that appeal to the young and the adventurous. Their collections feature trendy, vibrant, and quirky designs.
If you're looking for a modern-looking suitcase, the Zakk Secure Spinner may fit the bill. It's made of polypropylene and has a TSA lock and single wheels. For the interior, the Zakk has a cross ribbon and a fabric divider pad.
It's wise to get a complete set of suitcases, especially if you go on various types of trips, from weekend getaways to month-long vacations. The three-piece Liniar luggage is the one for the job. It has three sizes (small, medium, and large), 360-degree smooth rolling wheels, and a TSA lock. It also features a scratch-resistant dual-texture design.
📌 Herschel Supply Co.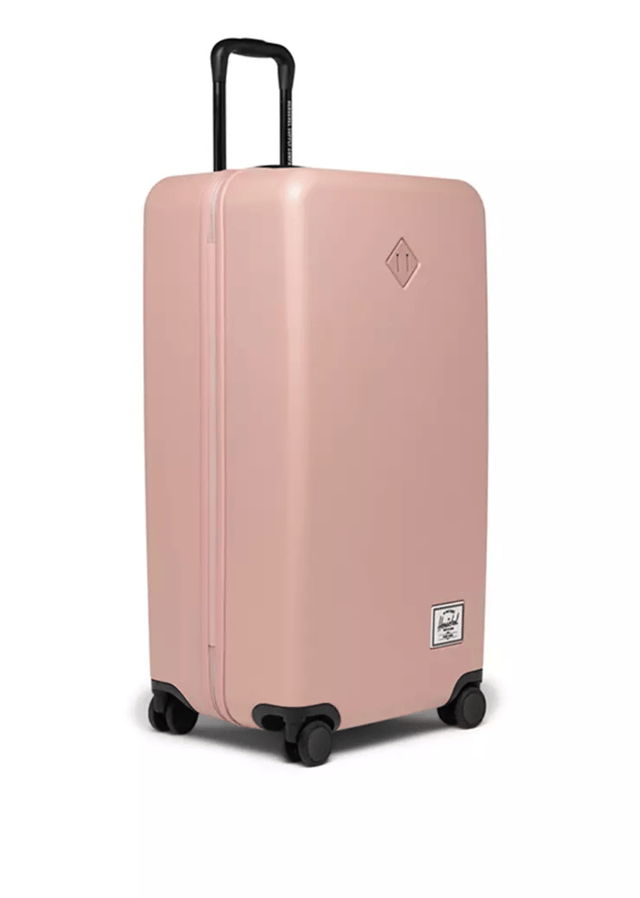 Top models:

Trade Large Port Hard 4-Wheel – ₱14,392 (discounted)
Herschel Heritage Hardshell Large – ₱21,990

Best features:

Molded ABS hard shell exterior for Trade model
70% recycled PC material for Heritage model
TSA lock

Where to buy: ZALORA
Herschel may be known for their iconic Little America backpack, but the brand also crafts luggage. Check out their Trade Large Port suitcase and the Heritage Hardshell luggage.
The Trade Large Port suitcase is made of molded ABS hard shell exterior. It comes with a two-way exposed zipper, a retractable multi-stage locking trolley handle, multi-directional double wheels, and a TSA lock.
The Heritage Hardshell luggage, on the other hand, is made of 70% recycled polycarbonate. It's also designed to be impact-resistant and comes with inset Hinomoto wheels for quiet rolling.
Read more: Steals and Deals for Your Trip: Top 6 Travel Expos in 2023 and 2024
What to Look for When Buying Luggage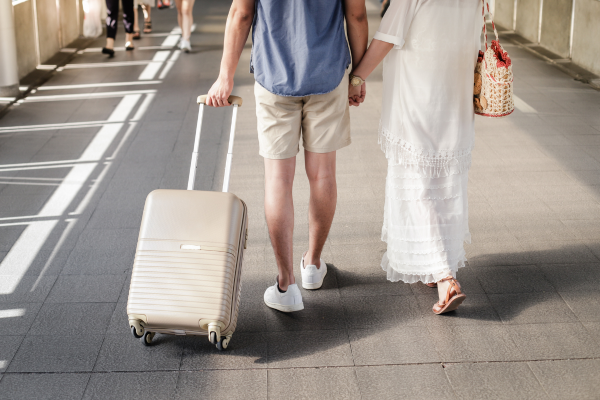 You'll be using your luggage for a long time. As such, you need to get one you won't regret buying. Here are some of the things to look for when choosing a suitcase:
🔎 Material
Good luggage brands in the Philippines offer both hardside and softside options. If you're packing fragile items, it would be wise to get a hardside suitcase since materials such as polypropylene and polycarbonate are tough.
Softside suitcases, on the other hand, are suitable for those who pack a lot of items. This is because they're usually expandable and not too restrictive.
🔎 Size
Some of the best luggage brands in the Philippines carry small, medium, and large sizes. If you frequently go on weekend trips, a small suitcase is a great option. But if you regularly fly abroad over extended periods, go for medium to large luggage. Should you decide to buy the latter, consider its storage space when it's not in use.
🔎 Wheels
Two-wheeled luggage is ideal for light travelers. But if you're a heavy packer, get a suitcase with four wheels. That way, it'll be easier to pull your luggage around. Since a four-wheeled suitcase rotates 360 degrees, you can pull or push it in any direction.
🔎 Security
While you can secure your luggage by using padlocks or zip ties, a Transport Security Administration (TSA) lock is highly recommended. This shouldn't be a problem, as most luggage brands outfit their suitcases with this kind of lock.
🔎 Compartment
The best luggage brands in the Philippines offer products with multiple compartments, which make it easy for you to organize your belongings. Some even come with dividers and complementary pouches and bags.
Read more:
Final Thoughts
Finding the best luggage brand in the Philippines can be challenging since there are many contenders out there. But you can always narrow down your options by using these criteria: your budget, your travel habits, and your travel frequency. May the list above help you find the right suitcase for your upcoming trips!
💳 Earn Air Miles While You Travel Miles Away From Home
Do you go on trips abroad frequently? Make every trip more rewarding by earning air miles with the right credit card:
Credit Card
Air Miles and Travel Benefits

Metrobank World Mastercard®

2.5 rewards points = 1 Mabuhay Mile
Exclusive airport discounts

HSBC Red Mastercard

1 air mile per ₱25 or ₱30 spend, depending on the transaction type
Exclusive travel deals worldwide via HSBC's home&Away Privilege Programme

Security Bank Platinum Mastercard

11,667 rewards points = 1,000 Mabuhay Miles
Access to airport lounges worldwide
Access to Marhaba Lounge

11,667 rewards points = 1,000 Mabuhay Miles
Access to Marhaba Lounge

BPI Signature Card

8,000 points = 1,000 PAL Mabuhay Miles or airasia rewards
Access to airport lounge
Up to ₱20 million travel insurance

BPI Platinum Rewards Card

8,000 points = 1,000 PAL Mabuhay Miles or airasia rewards
Access to more than 1,300 lounges worldwide
Up to ₱10 million travel insurance

PNB-PAL Mabuhay Miles NOW Mastercard

₱58 spend = 1 rewards point = 1 Mabuhay Mile
1,000 Mabuhay Miles welcome gift
5% discount on select Philippine Airlines international flights booked via the official PAL website all year round
Pay bills in peso even for transactions abroad

PNB-PAL Mabuhay Miles Platinum Mastercard

₱48 spend = 1 rewards point = 1 Mabuhay Mile
2,000 Mabuhay Miles welcome gift
5% discount on select Philippine Airlines international flights booked via the official PAL website all year round
Option between single and dual currency billing
Sources: