Another Korean TV show is creating a buzz online. It involves a group of high school students and a whole lot of zombies. If you're looking for your next Netflix binge, make sure to add "All of Us Are Dead" to your list.
The zombies in "All of Us Are Dead" are fast and merciless. You should see them crawl on floors! You can also get infected and turn in just minutes, adding to the tension and panic. But apart from the horror and the gore, the newest Netflix hit is also teeming with great life lessons.
In fact, there are so many. But we've picked the 10 best ones from the show. Don't worry if you're only on "All of Us Are Dead" episode 1―we won't spoil the episodes or the ending for you. So keep scrolling!
What is "All of Us Are Dead" All About?
"All of Us Are Dead" is a South Korean coming-of-age zombie apocalypse series created by Lee Jae-kyoo, Chun Sung-il, and Kim Nam-su. You may wonder why the story's quite familiar. That's because "All of Us Are Dead" is based on a Naver Webtoon called "Now At Our School", which was published between 2009 and 2015.
"All of Us Are Dead" follows a group of high school students at Hyosan High School who gets caught in the middle of a deadly and horrifying outbreak. Cut off from the outside world with no food and water, the group must gather their wits and strength to fend off and escape the zombies (and zombie hybrids!). All while dealing with their own personal losses and friendship and family drama.
Aside from the great storyline, the cast of "All of Us Are Dead" is another reason to start binge watching it ASAP.
Cho Yi-Hyun plays the role of Nam-ra, the cold, aloof, and standoffish class president.
Park Solomon plays the role of Lee Su-Hyeok, an ex-member of a delinquent group in the school who dreams of joining the military. He's the most skilled fighter in the group, and also secretly in love with Nam-ra.
Yoo In-Su plays the role of the class bully Gwi-nam. To say that he's ruthless and violent is an understatement. He's a rule breaker with no regard for the law.
Park Ji-Hoo is On-jo, daughter of a firefighter. Because of this, she's learned a lot of useful survival skills that help her group against the zombies.
Read more: Know Your Candidate Better: The Net Worth of 2022 Presidential and Vice Presidential Candidates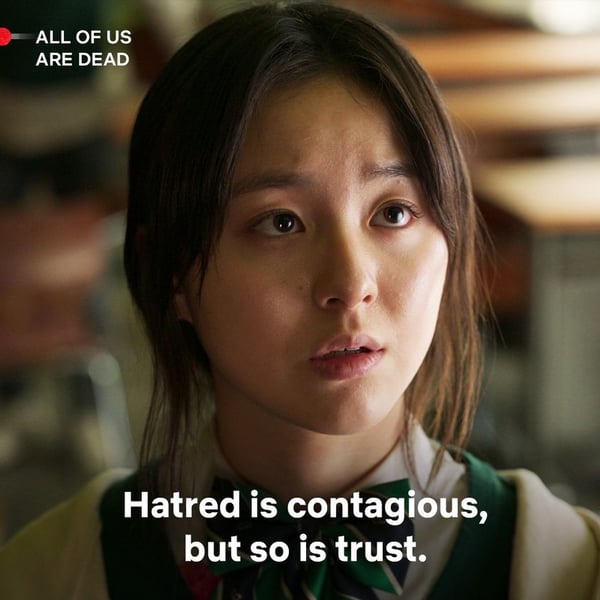 Yoon Chan-young plays On-jo's childhood friend Lee Cheong-san. The two have a very special bond, and there's nothing that Cheong-san won't do for a friend, especially when that friend is On-jo.
Im Jae-hyuk provides the light moments in the show with his character Yang Dae-su. He's the comic relief who likes to break the tension with his funny quips and great singing voice.
Last but not least is Lee Yoo-mi who plays the rich and arrogant Lee Na-yeon. This is such a departure from her breakout role in Squid Game. Yes, if you're wondering which other show you've seen her on, Lee Yoo-mi's also part of the Squid Game cast and played the role of Ji-yeong.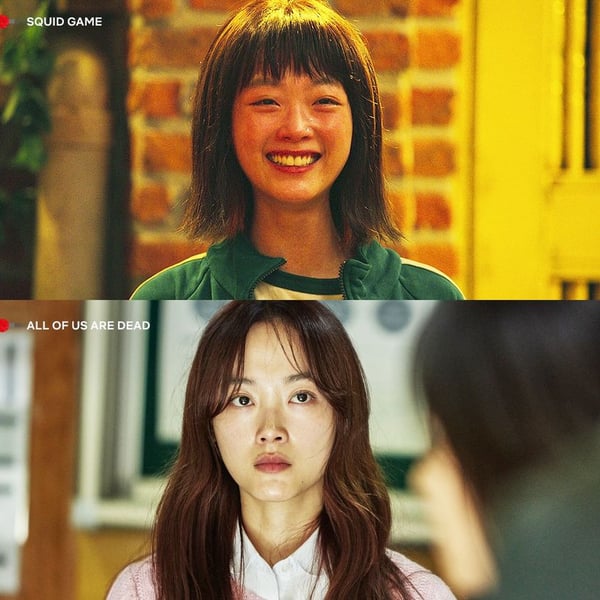 Read more: 10 Money Lessons We Can Learn from Netflix's Squid Game
Lessons on Life and Money from "All of Us Are Dead"
Every episode of this show is a teaching moment. But here are some of the lessons that really stood out.
1. Tough Times Bring Out the Best and Worst in People
The zombie outbreak in Hyosan happened with no warning, and it unleashed devastation in the entire school and beyond in just a few hours. It was the end of normal life as students, teachers, and Hyosan citizens knew it.
Although most scrambled to safety by locking themselves in classrooms and hiding under tables, others bravely faced the zombie throngs with makeshift weapons to get to somewhere safe or to rescue someone who's trapped.
When crises happen, there are people who will rise up to the challenge despite their limited capabilities or resources. They'll try to restore peace and order, make sure everyone's safe, and ultimately find solutions.
While others are putting the blame on other people, selfishly putting themselves first, or sitting back in self-denial, there are also people who will go the distance and make it work, no matter how dire the situation is.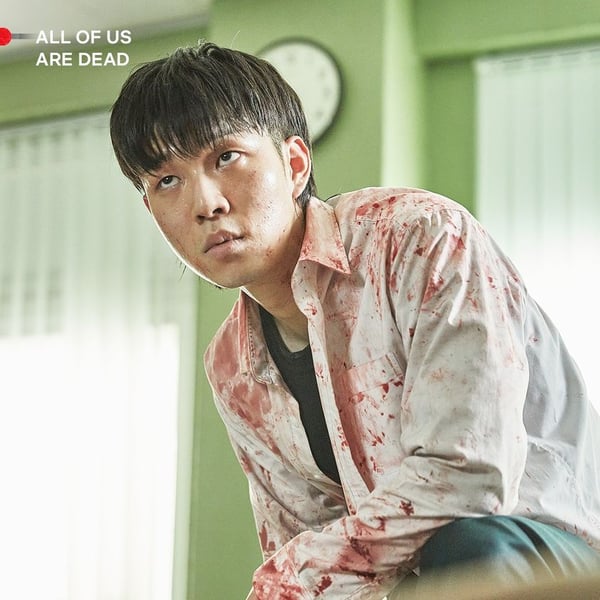 2. Status Doesn't Matter in the Game of Survival
Whether you're the class president, the most popular student, the school bully, or the school outcast, you're all fair game to zombies. Zombies don't care about your status or rank in society.
They don't discriminate. All they care about is breaking down that door or smashing that glass so they can feed. In the end, instincts, grit, and courage will help you survive.
Read more: Money Lessons from Movies
3. You are Your Own Savior
In "All of Us Are Dead", they usually fight the zombies as a team. But there are also situations where they deal with them on their own. Much like in real life, you can't always rely on other people to get you out of a bind or fight off the bad guys for you.
You can't always ask your parents or friends for money when you're short on cash. As an adult, it's your job to earn the money for the things you spend on.
When things aren't going well with your business, don't expect things to get better if you're not picking up the slack.
In short, you have to fight your own battles and find solutions to your own problems. No one's going to come to your rescue all the time. Take matters into your own hands and make the hard decisions yourself.
4. Help When You Can
You won't always be in a situation of power, and you won't always have the upperhand. One day you're enjoying a high-paying job, the next day you're desperately looking for a new one because you've been retrenched. When that happens, isn't it reassuring to know that someone will still be there to help?
Many "All of Us Are Dead" characters demonstrated this desire to help, even if it meant risking or giving up their lives. Even if it meant breaking the rules and the plan seems like a suicide mission.
5. Be Ready to Make Sacrifices
Life won't always go according to plan. No matter your preparation or how much you try to delay it, there'll come a time when you need to make sacrifices, both big and small.
You may need to give up a few luxuries so that you can stretch your budget. Or you may need to leave a job you love so that you can increase your earning potential. If it's not that, you may have to sell a beloved possession to pay for an urgent expense.
The characters of "All of Us Are Dead'' know a lot about making sacrifices. They've seen the worst and have done the unthinkable. When lives are on the line, making the ultimate sacrifice is inevitable.
6. Say What You Mean, Mean What You Say
Does it really take a zombie apocalypse for people to finally admit their feelings for someone? All those years wasted, loving someone in secret, when they could've made so many happy memories together. It's enough to drown in regret.
Also, it's not a K-Drama if it didn't touch on family relationships. Without giving away too much, just remember to be thankful and show your gratitude. Most importantly, don't leave those important words unsaid because you may not get another chance.
7. Life Will Help You Find Your Tribe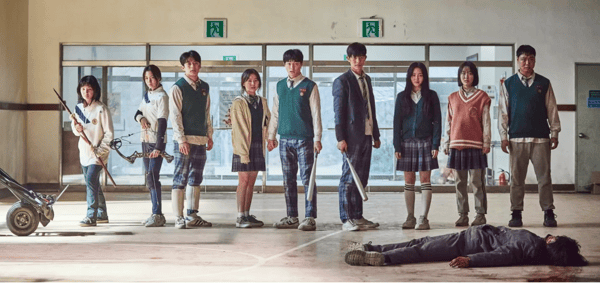 Cheong-san, Nam-ra, and the rest of the "All of Us Are Dead" characters were only thrown together by circumstance. They didn't handpick each other because of their qualities. But because of what they went through together, they formed a life-long bond.
So don't worry too much. You'll find people you'll share life-long bonds with by overcoming hardships and sharing life-changing experiences together.
8. There's Always a Way Out
A handful of humans vs a horde of zombies―sounds pretty bleak, doesn't it? But that's part of the allure of "All of Us Are Dead". How are these students going to survive the zombie apocalypse on their own?
As it turns out, there's always a solution. There's always a way out. Whether by a stroke of luck or a devastating decision, On-jo, Nam-ra, Lee Su-Hyeok, Cheong-san, and the rest of the gang overcame challenge after challenge.
In life, our zombies can manifest themselves as financial hardships and losses. It may feel like rock bottom now because of this ongoing pandemic. But there have been lots of developments since its onslaught, and now people are starting to feel hopeful again.
With a positive mindset, the willingness to work hard, and the discipline to see it through until the end, you'll see the change soon. Just hang in there!
Read more: 10 Important Money Lessons from Money Heist
Final Thoughts
Since it premiered on January 28, 2022, "All of Us Are Dead" rose to the number one spot at the Netflix U.S.'s Daily Top 10 List just on its seventh day of release.[1] This milestone is proof that it's one of the most binge worthy shows streaming right now.
With a lot of great lessons to impart on family, friendship, and other societal issues, you really shouldn't miss out on this show. So let the bingeing begin, and try to avoid spoilers online, too.

Source: