NFTs, or non-fungible tokens, have taken the digital world by storm. These unique collectibles, ranging from digital art to in-game items, are one-of-a-kind. If you want to join this exciting new world of NFT crypto, you'll need to find a website for NFTs that suits your needs.
To help you get started, we've compiled a list of the best NFT marketplaces for creators, artists, and sellers. From established platforms like OpenSea to new ones like SuperRare, there's sure to be a perfect marketplace for you.
So what are you waiting for? Explore the list of the best NFT marketplaces below.
What is an NFT Marketplace?
An NFT marketplace is an online platform where people can buy and sell NFTs such as images, videos, music, and other forms of content. The key difference between an NFT marketplace and a traditional online marketplace is that the latter deals with physical goods while the former deals with digital assets.
This means that an NFT marketplace doesn't deal with shipping or inventory management. Instead, it focuses on providing a safe and secure environment for people to buy and sell digital assets.
Many NFT marketplaces are available today, each with its own unique features and offerings. As the demand for NFTs continues to grow, so too will the number of NFT marketplaces.
1. OpenSea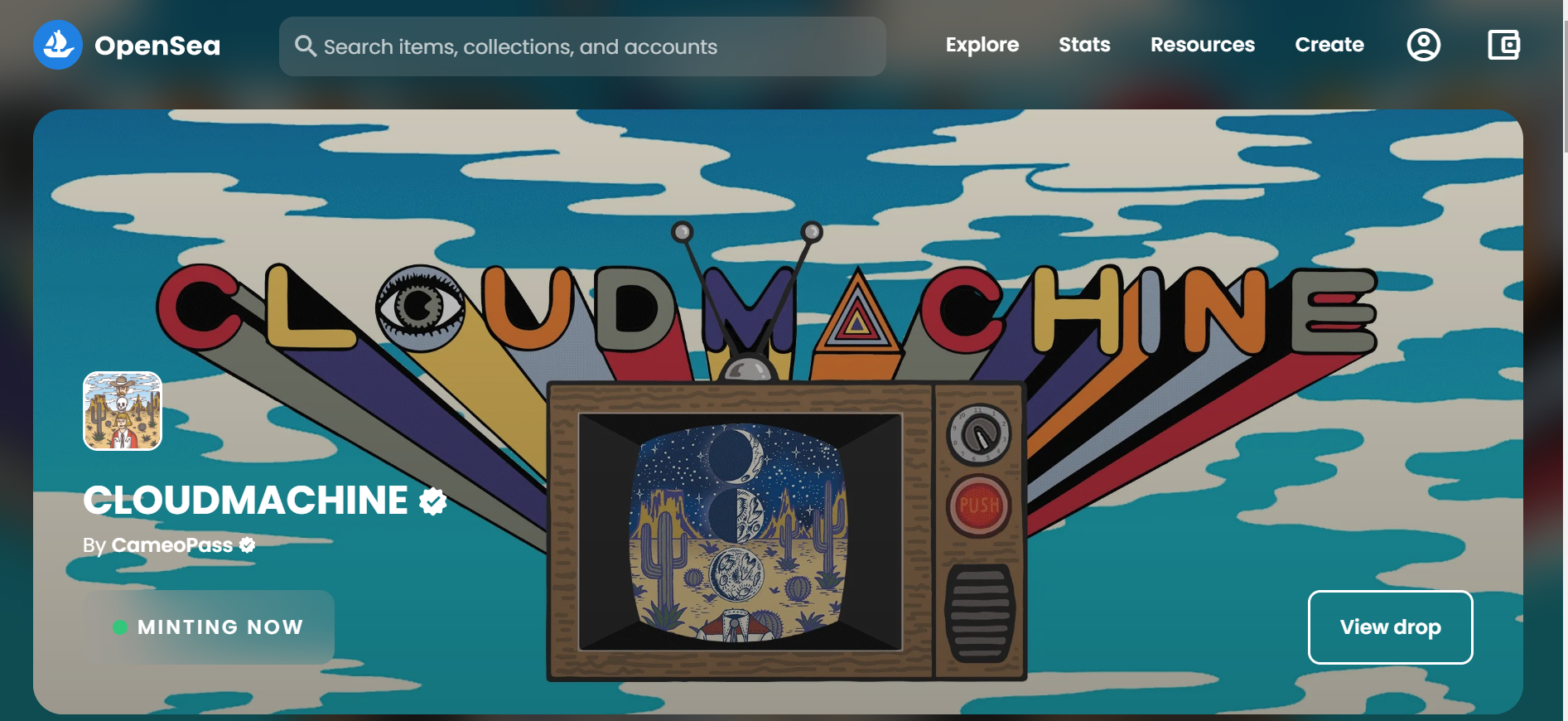 OpenSea[1] is the world's first and largest NFT marketplace. It supports all kinds of digital collectibles, including art, gaming items, and more. It offers a wide range of items available for purchase and a marketplace where users can list their own NFTs for sale.
One of OpenSea's best features is the Search section on its website, which helps users find new and interesting digital collectibles to add to their collection.
OpenSea also runs an extensive blog that covers all things NFT, including interviews with industry leaders, previews of upcoming projects, and more.
Lastly, OpenSea's leaderboard feature showcases the most popular digital collectibles for the past 24 hours, giving users an idea of what's hot in the world of NFTs.
2. Rarible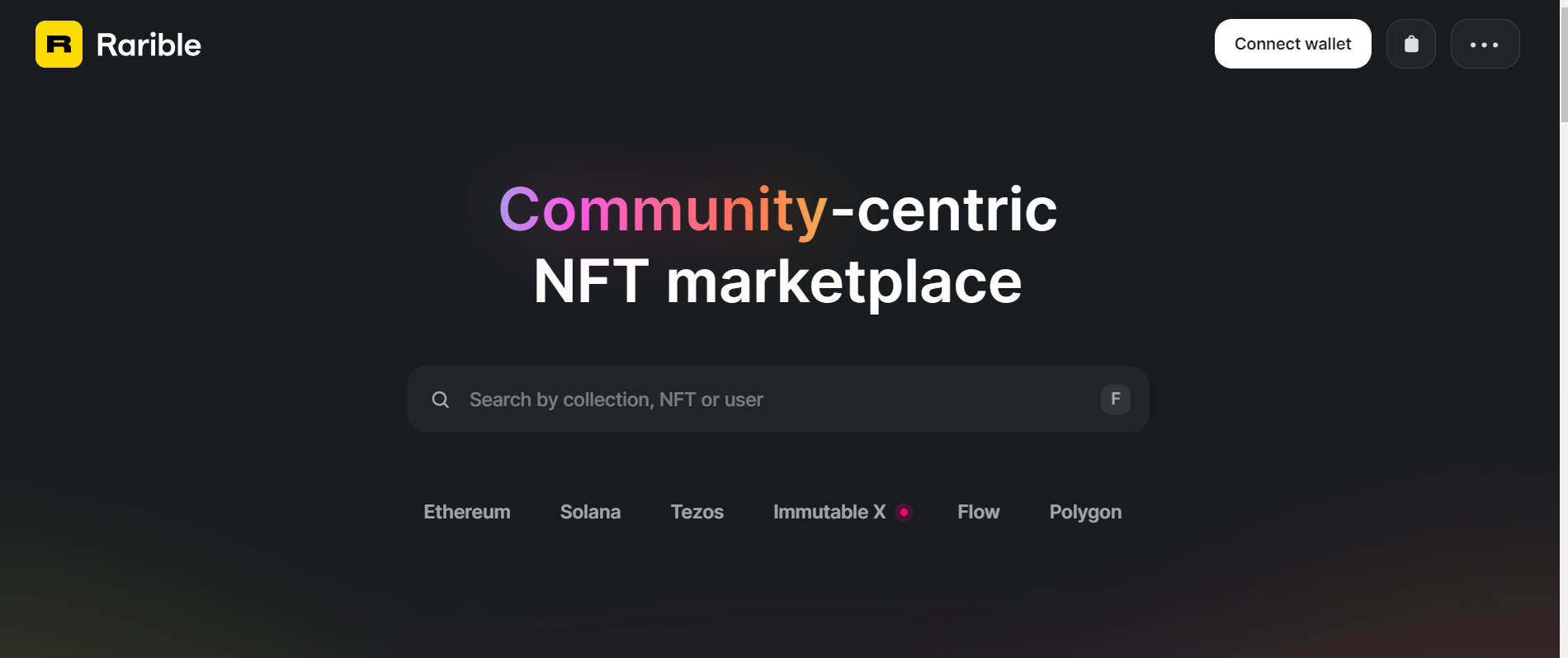 Rarible[2] is a leading NFT marketplace. What sets Rarible apart from other NFT platforms is its focus on community-driven governance, ability to mint NFTs on Ethereum, and low marketplace fees.
With Rarible, creators have the power to set royalty fees up to 50% and require buyers to pay for the minting fees. This community-driven approach helps ensure that NFTs remain accessible and fair for all participants. The platform also announced that it would soon support Tesoz, Solana, and Flow blockchain.
Whether you're a seasoned crypto trader or a first-time buyer, Rarible's features make it an ideal platform for buying, selling, or holding digital collectibles.
3. SuperRare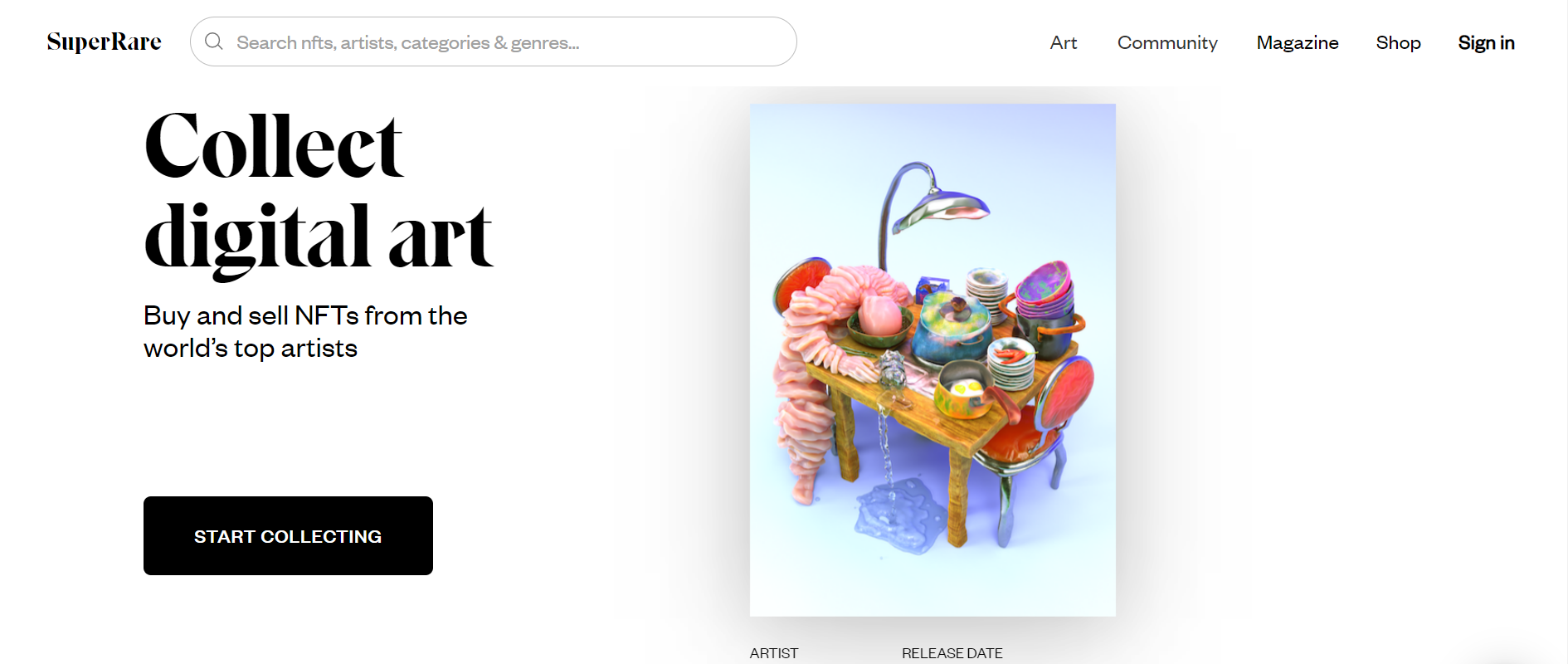 SuperRare[3] is one of the best marketplaces for NFTs. It's a decentralized platform that uses Ethereum and allows artists to create, mint, and sell digital artworks.
The key difference between SuperRare and other NFT marketplaces is its focus on quality over quantity. Rather than allowing all users to upload and sell their digital artwork, SuperRare curates its collection by accepting submissions only from established artists with a proven track record.
To mint your collections, you need to receive an invitation to sell. As a result, the platform is now a go-to destination for serious collectors and investors looking to purchase high-quality NFTs. However, there's a 15% transaction fee, which can be a dealbreaker for lots of creators.
4. AtomicHub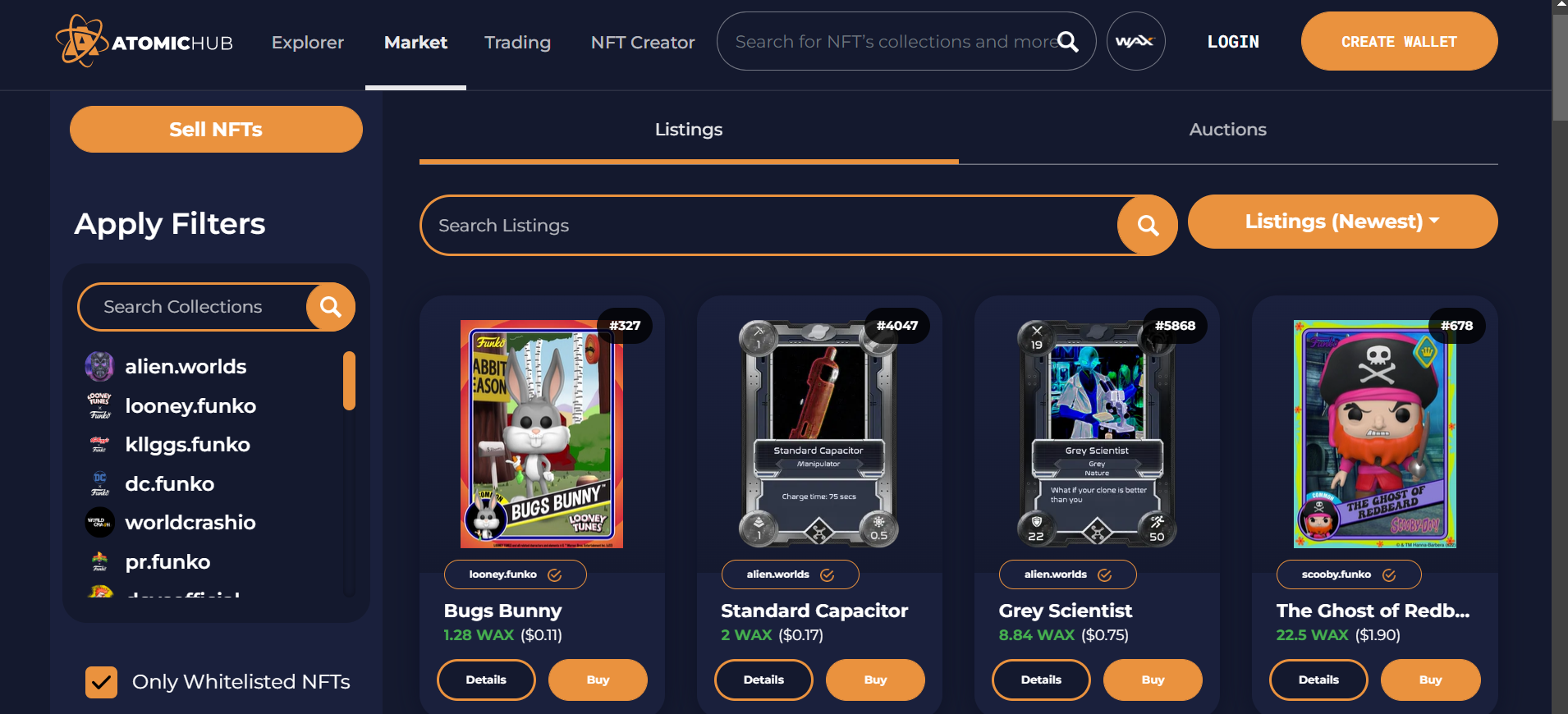 AtomicHub[4] is one of the best NFT marketplaces for several reasons. First, it offers a wide range of NFTs from various creators, which means there's something for everyone on the site⁠—whether you're looking for art, music, or gaming assets.
What makes AtomicHub stand out from other NFT marketplaces is that you can mint a few NFTs for free as a beginner. However, if you're going to mint multiple collections, you must have WAX tokens.
The transaction fee is only 2%, one of the lowest in the marketplace.
AtomicHub is also one of the most user-friendly NFT marketplaces. Its intuitive interface makes it easy to find the NFTs you're looking for. It supports PNG, JPG, .WEB, MP4, and GIF files.

5. Axie Infinity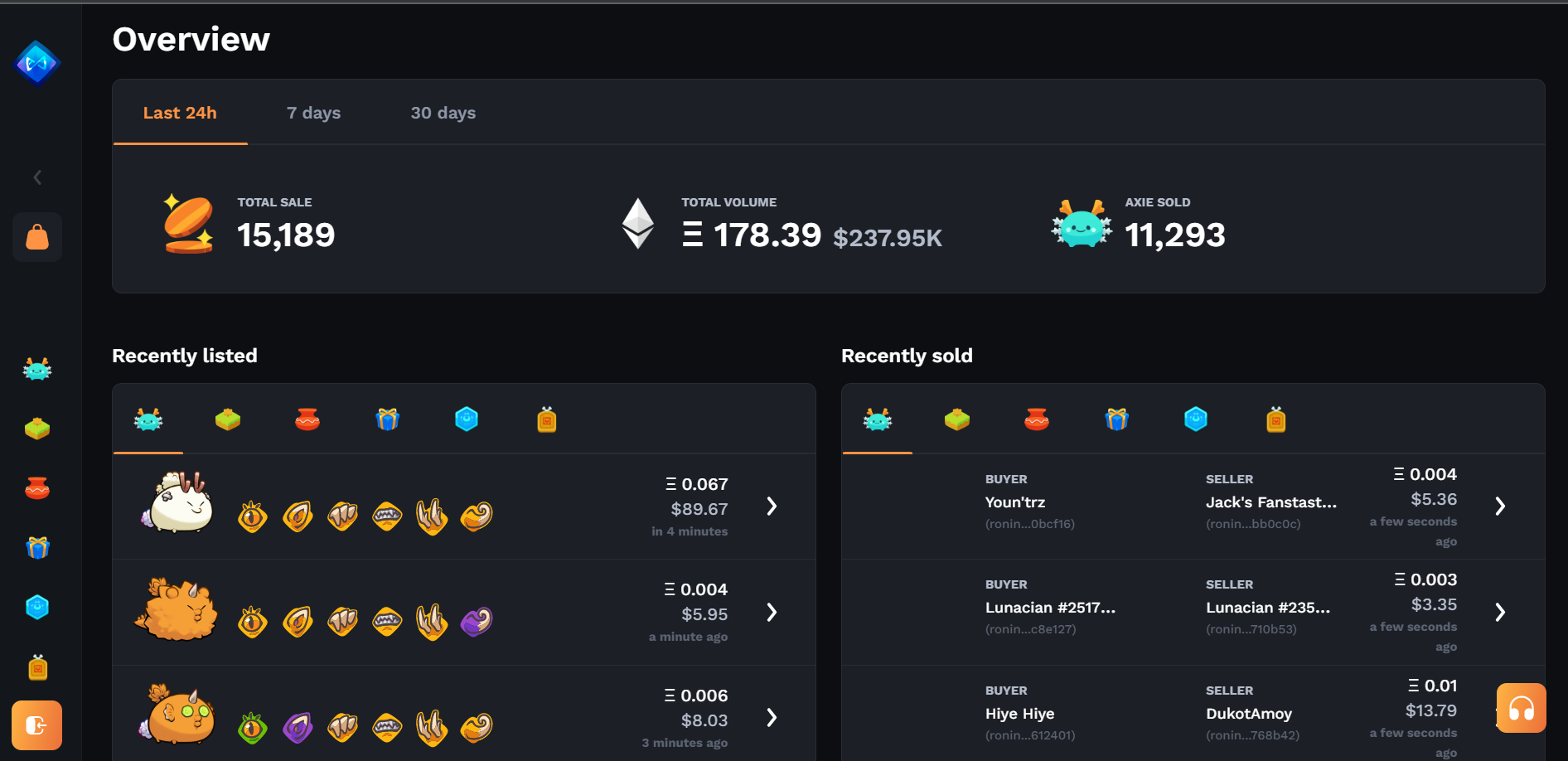 Axie Infinity[5] is the best NFT marketplace for Axie players. Since it's a specialized platform, the only available NFTs you can buy and sell are in-game assets such as Axies or digital pets, lands, and bundle items. The marketplace also has a user-friendly interface that makes it easy to browse and purchase items.
The transaction fee, a drawback for most sellers, is 5.25%. It's relatively higher than other marketplaces that charge only 2.5%. On the other hand, if you're a buyer, you'd be happy to know that the platform doesn't charge a buyer's fee.
However, you still have to pay the required gas fees when transferring Ethereum to the Ronin wallet.
6. Foundation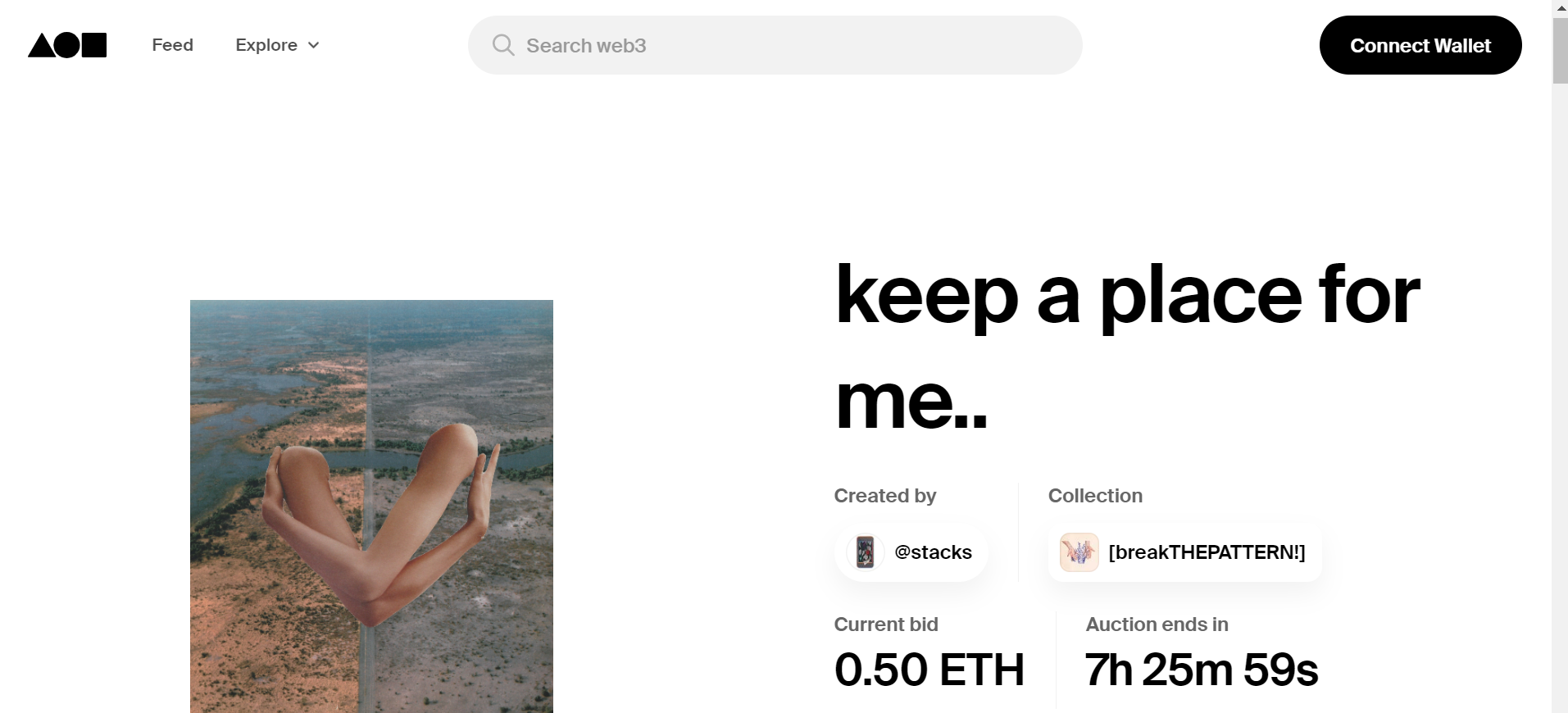 Foundation[6] is one of the premier marketplaces for verified artists. You'll find high-quality NFTs since the platform allows only community voting for each NFT collection. This means you'll never find low-cost projects and spammers on this platform. It supports Metamask and WalletConnect crypto wallets for buying and selling. However, the transaction fee is pretty high at 15%.
Another great thing about Foundation is its user-friendly, clean, and easy-to-navigate interfaces. Transactions are also processed quickly and smoothly. Plus, the team behind Foundation constantly works on new features to improve the user experience.
7. Binance NFT Marketplace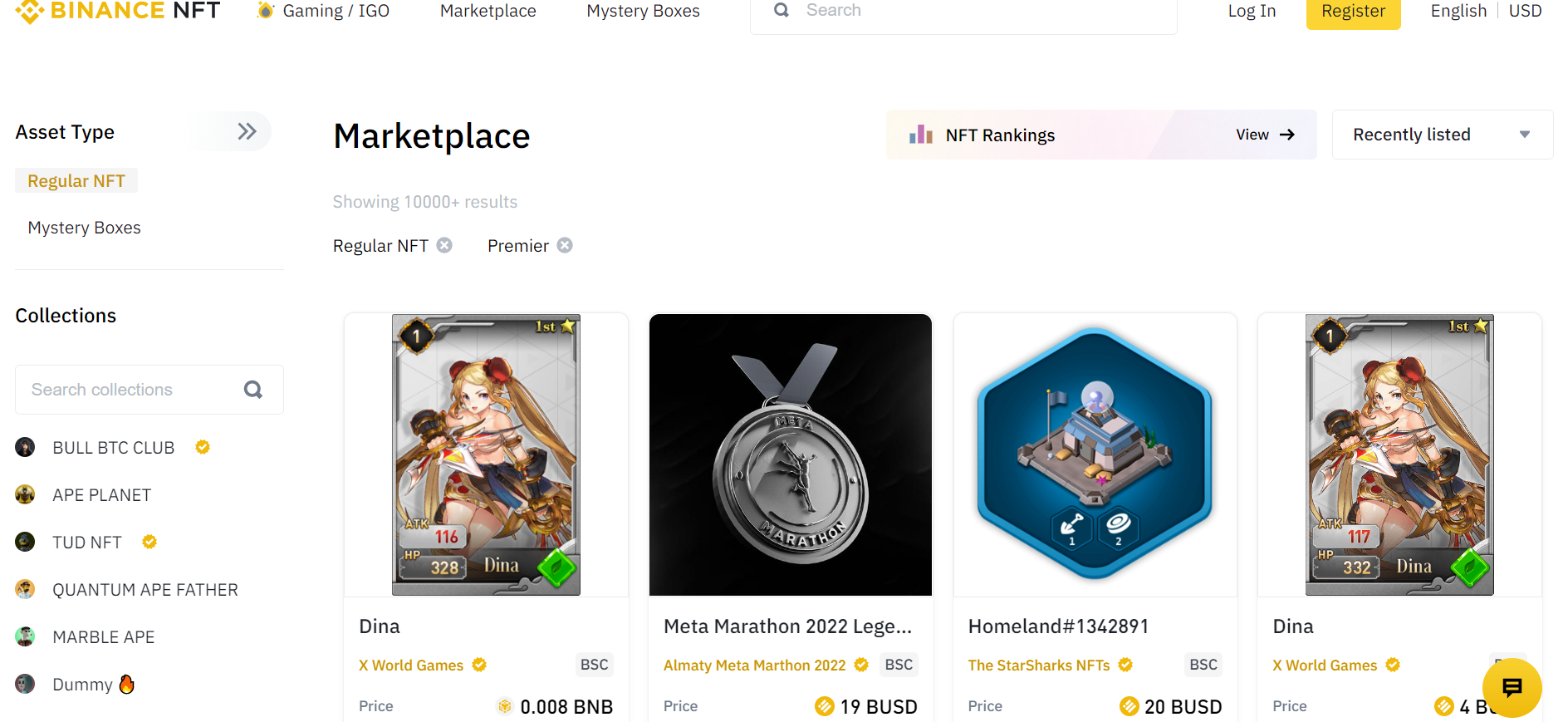 With the Binance NFT Marketplace,[7] users can buy, sell, and auction off collectible items stored on the blockchain. It offers a wide variety of collectibles, ranging from digital art and fashion items to animations and more. It provides some unique features that make it one of the best NFT marketplaces.
For instance, when posting your collection, you can set the time when your NFT goes live. Moreover, you can transfer funds from your Binance wallet to the platform if you want to buy collections. It's an NFT marketplace for both beginners and seasoned traders since you can use all the functionalities of Binance within its ecosystem.
In addition, Binance has a Binance Academy section that provides educational resources on how to buy, sell, and auction off NFTs. If you're a beginner, you can learn the basics of minting NFTs and how to use the platform.
8. FTX NFT Marketplace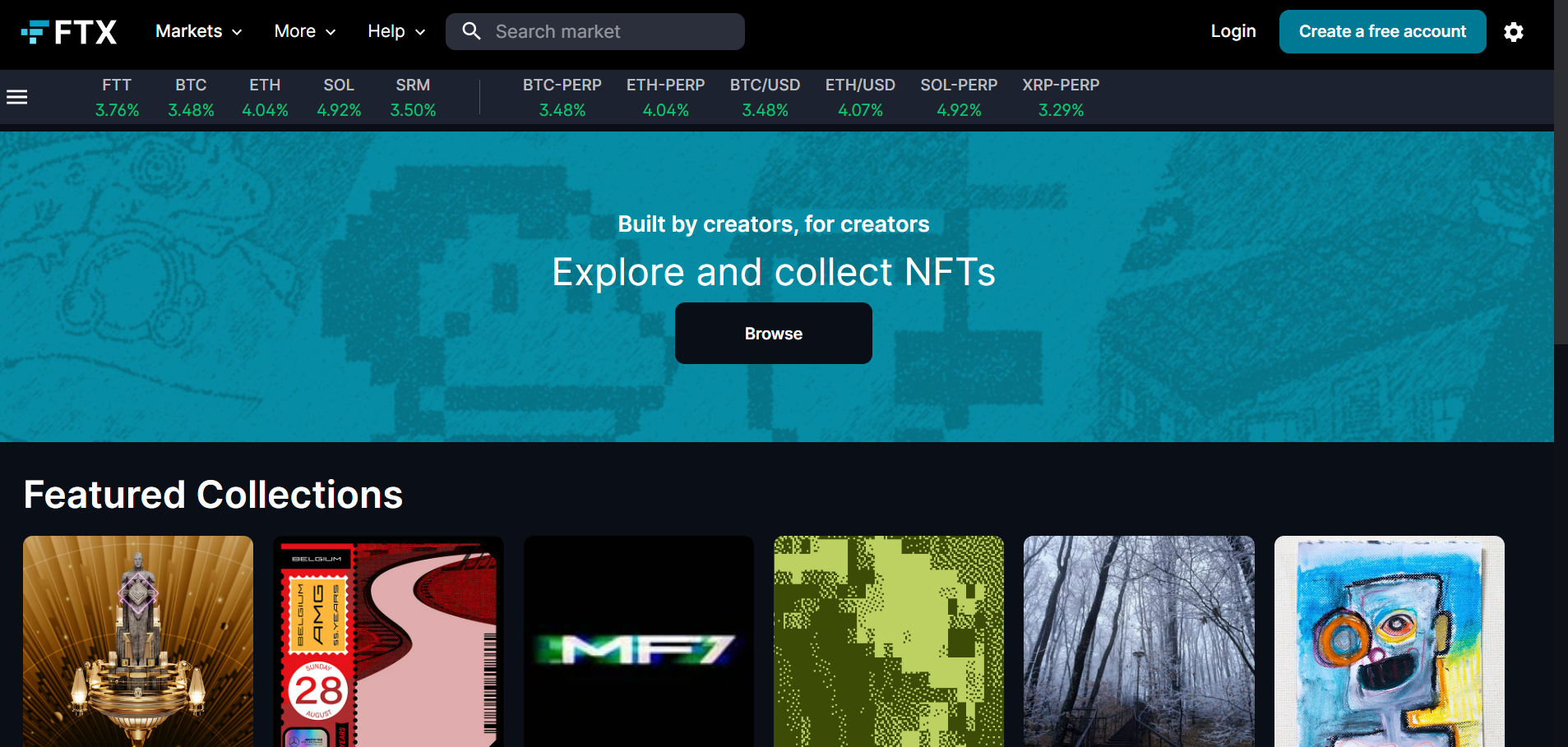 FTX NFT Marketplace[8] is one of the most popular venues where people can buy and sell NFTs. There are plenty of reasons why it's such a popular choice, but three of the most significant factors are its user-friendly interface, wide range of NFTs, and low fees. Let's take a more detailed look at each of these factors.
FTX NFT Marketplace has a very foolproof interface. Even if you're not too familiar with cryptocurrency, you'll be able to navigate the website and trade NFTs. You can see all the information you need with its simple layout.
The marketplace is not moderated, which means anyone can mint and trade its collections. You can find contemporary art, animal retro art, and AI world collections and mint yours using Ethereum and Solana blockchains.
Another key advantage of FTX is its focus on security. The platform uses state-of-the-art security protocols to safeguard your assets. Its customer service team is always ready to help if you have any concerns.
9. Crypto.com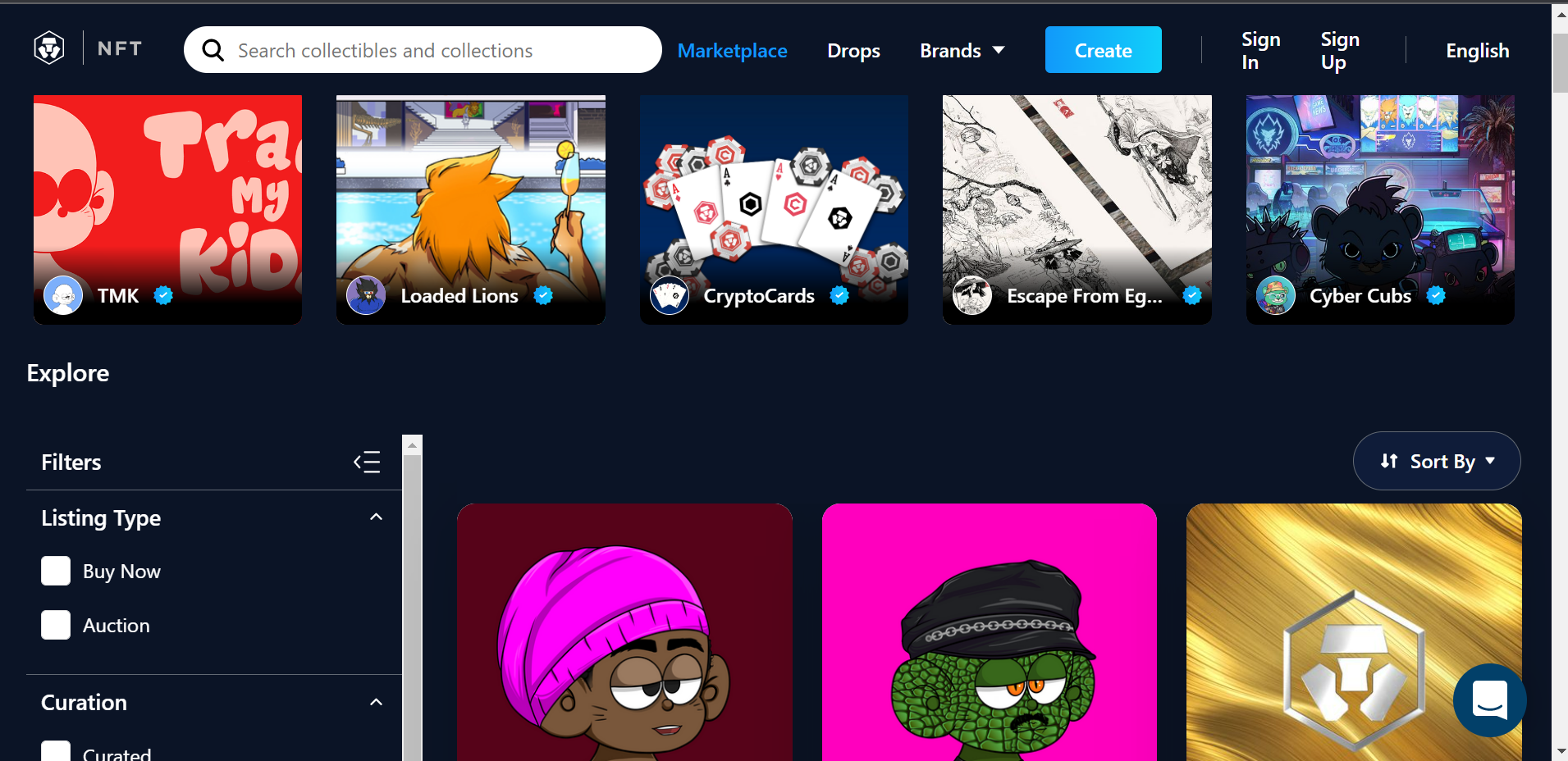 Crypto.com[9] is a cryptocurrency exchange and NFT marketplace founded in 2016. They partner with NFT celebrities like Snoop Dogg, BossLogic, Boy George, and Axel Mansoor. You can create, showcase, sell, and buy NFTs on their marketplace. Some auctions start for as low as US$1.
The platform offers a wide range of features, including the ability to buy and sell NFTs, create and manage portfolios, and track prices and market trends.
Crypto.com also offers a unique rewards program that allows users to earn rewards for their activities on the site. Overall, Crypto.com is a comprehensive and user-friendly NFT marketplace that provides everything you need to get started in digital asset trading.
10. Enjin NFT Marketplace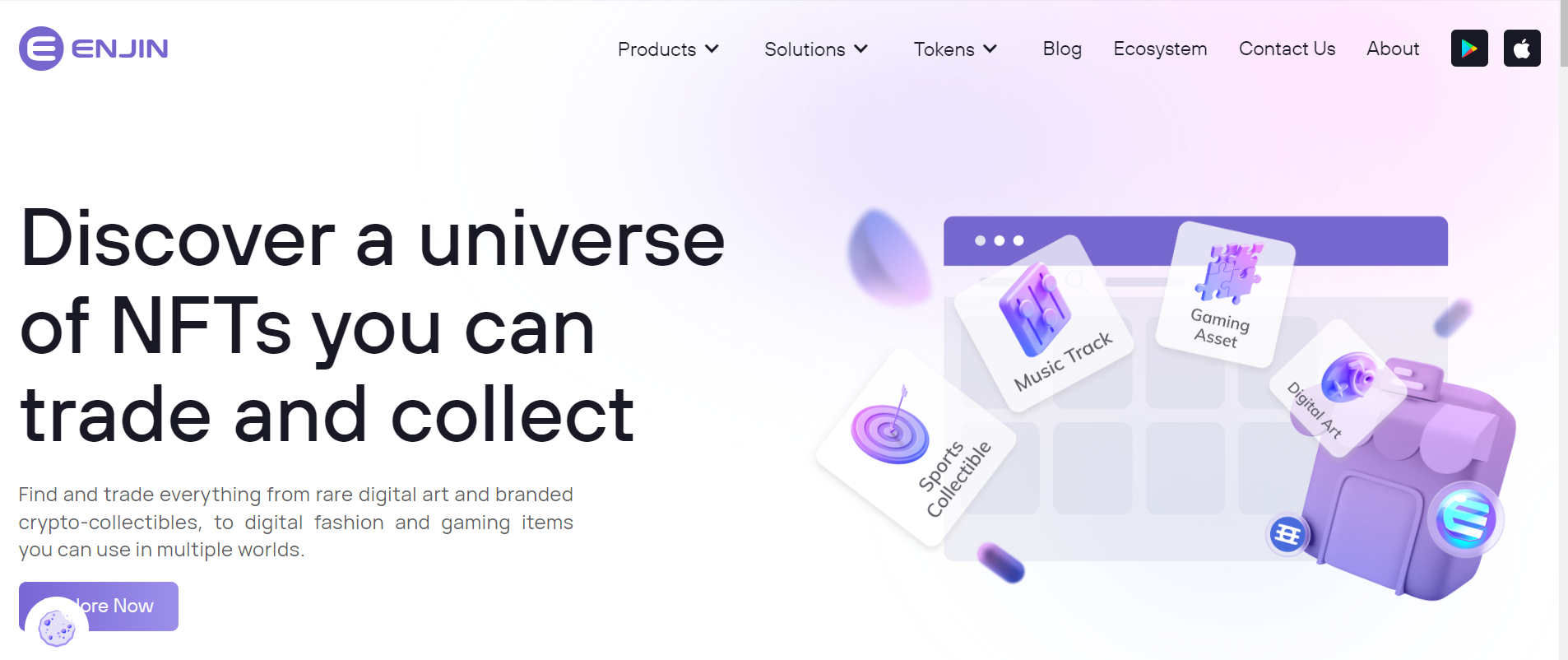 Enjin NFT Marketplace[10] is one of the best NFT marketplaces that lets you trade digital art and branded crypto collectibles using the Enjin blockchain. You can discover pioneering blockchain projects, trade gaming collectibles using your Enjin wallet, and grow your inventory of digital assets.
Enjin NFT Marketplace is built on the Enjin platform, one of the most powerful and secure blockchain platforms in the world. This gives buyers peace of mind, knowing their NFTs are safe and secure.
You can trade using either Enjin coin or ETH on the Enjin marketplace. The marketplace is dedicated to gamers and the items listed on it can be used in multiple games across various platforms.
To sign up, you just need to connect your wallet to the game through the marketplace. As soon as you do so, Enjin will deliver the item directly to your in-game inventory.
Which Marketplace is Best for NFT?
With NFT's recent surge in popularity, there's now a growing number of marketplaces where you can buy, sell, or trade these digital assets. So which one is the best?
The answer depends on what you're looking for. If you're just getting started with NFTs and want to experiment with buying and selling different types of tokens, OpenSea is one of the best NFT marketplaces for beginners.
It's one of the largest and most popular NFT marketplaces, so you'll have no trouble finding what you're looking for. Plus, it's easy to use. With its wide range of prices, you can find something that fits your budget.
If you're more interested in trading NFTs, then Binance, FTX, and Rarible may be better choices. SuperRare is the best NFT marketplace for artists to showcase their work. If you prefer community voting, try Foundation. For Axie players, its own marketplace is the best place to buy and sell in-game collectibles and bundles.
Ultimately, the best marketplace for NFTs depends on your individual needs and preferences. There are many options available, so take the time to explore them before deciding on the right one.
Final Thoughts
Though a relatively new technology, NFTs have changed the way crypto holders collect items virtually. Each NFT is unique and impossible to replicate, so it's perfect for artists and creators looking to sell their work online. And with the rise of blockchain technology, NFTs have become even more popular.
If you're thinking about entering the world of NFTs, you may be wondering which marketplace is the best place to buy and sell these digital assets. While there are many great NFT marketplaces out there, we believe that OpenSea is one of the best. Not only does it have a huge selection of NFTs, but it also offers tools that allow you to easily create and manage your own NFTs.

Sources:
DISCLAIMER: Information published on this blog or elsewhere on www.moneymax.ph should be used for general information purposes only and does not constitute investment advice, performance data or any solicitation or recommendation that any security, investment product, transaction or investment strategy is suitable for any specific person. This material does not take into account your financial situation, risk tolerance level, investment experience or objectives; all of which are unique to you. Before acting on information on this blog, we suggest consulting an independent professional to advise you on the risks of any decision and the extent of any exposure to loss.