The number of active COVID-19 cases in the Philippines continues to rise, forcing the government to place parts of the country in various levels of community quarantine. To minimize the transmission of the virus, the government has hired over 30,000 contact tracers. But what is the role of a contract tracer in the Philippines? Keep on reading to learn about it and how you can be a contact tracer in the Philippines.
What is Contact Tracing?
Contact tracing is the method of identifying, evaluating, and managing individuals who have been exposed to COVID-19. When done effectively, contact tracing can help reduce the transmission of the disease.
The process requires tracers to identify individuals who have been exposed to a positive COVID-19 patient. They also have to follow up on them daily for at least 14 days from the last point of exposure.
According to the Department of Health, contact tracing helps the country's battle against the pandemic by:
Interrupting ongoing transmission
Reducing the spread of infection
Alerting close contacts from possible infection
Offering preventative counseling or care
What are the Responsibilities of a Contact Tracer?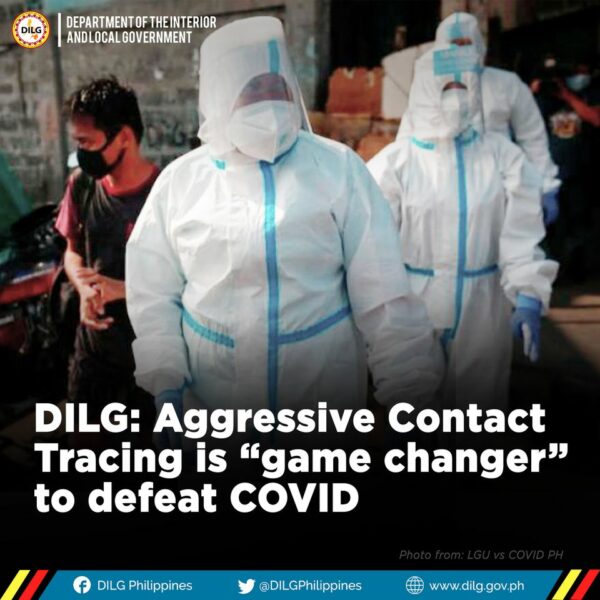 Apart from the abovementioned tasks, the World Health Organization has also broken down the contact tracing process into three sub-processes. These are the main responsibilities of a contact tracer.
1. Contact identification
When an individual tests positive for COVID-19, a contact tracer will then identify their most recent contacts. They would have to ask about their activities and people they have interacted with. Contacts can be anyone—from family members, co-workers, friends, and health workers.
2. Contact listing
The contact tracer will list all contacts of the infected person. Then, these individuals will be informed of their contact's status, what it means for them, and what actions they can take. The tracers will also provide information about the prevention of diseases. High-risk contacts are also required to isolate for at least 14 days.
3. Contact follow-up
The tracer must follow up with contacts to monitor for symptoms and test for other signs of infection.
Read more: Running List of COVID-19 Testing Centers in Metro Manila
Contract Tracer Skills and Qualifications
Contact tracers hold the important job of retracing a COVID-19 patient's steps and have people they interacted with be placed under quarantine. Knowing where the virus has spread is important not only for local government units but for the national government as well because this enables them to formulate a response to the pandemic.
To become a contact tracer in the Philippines, you need to have the following skills:
Has great interpersonal skills
Ability to collect basic data
Able to understand the need for patient confidentiality
Can conduct case interviews without disclosing any information about the patient
Can explain the medical terms related to COVID-19 as well as its principles
Resourcefulness in locating and communicating with patients who may be reluctant to talk
Must have an ethical and professional conduct
Has emotional intelligence, flexibility, and adaptability
Apart from these skills, contact tracers must have the following requirements as per the Department of the Interior and Local Government (DILG):
Contract Tracer Requirements
First priority: Applicants with a bachelor's degree related to health-related courses or criminology
Second priority: Applicants who finished at least two years of schooling under health-related or criminology-related courses
How to Become a Contact Tracer
[embed]https://youtu.be/uQYzzefYtiU[/embed]

DILG regional offices and provincial, city, and municipal offices are responsible for hiring contact tracers. To apply as an applicant, you can visit the nearest DILG office[1].

The 50,000 contract tracers needed will then be assigned in various locations. 20,000 contact tracers for Luzon, 15,000 for Visayas, and another 15,000 for Mindanao. More tracers will also be assigned in Metro Manila and other areas, if needed, according to DILG Undersecretary Jonathan Malaya[2].
TESDA Training for Contact Tracers
As of August 2020, the Technical Education and Skills Development Authority (TESDA) is developing online courses for contact tracer training[3].
The training program aims to equip tracers with the required skills for contract tracing purposes. It also aims to train individuals with 21st century skills in line with the current industry standard. The program will run for 15 days, composing of online and face-to-face learning as provided by the curriculum.
TESDA Secretary Isidro Lapeña also said that the government agency wants to provide "world-class and competent human resources for contact tracing" and still follow the standards required by health sectors in the country.
Lapeña is also encouraging all Technical and Vocational Education and Training (TVET) institutions to register their own contact tracing courses, which will be processed by TESDA's regional and provincial offices.
What are the basic requirements for TESDA's free contact tracing training?
Completed at least 10 years of basic education OR
Holder of Alternative Learning System certificate of completion with Grade 10 equivalent
Has basic communication skills
What are the qualifications for the trainers?
Holds a Trainer's Methodology Certificate OR
A practicing trainer for two years within the last five years
Completed any health or health-related courses
Has good communication skills
Must have at least two years of public health industry experience in the last five years
Related articles:
Final Thoughts
Are you interested to become a contact tracer? It might be a good opportunity for you, especially if you were recently unemployed due to the COVID-19 pandemic. Contact tracers play an important role in the country's fight against the virus. If you have the skills and qualifications to be one, you may visit your local DILG office to apply.

Sources: