Can I apply for a credit card without a job or income proof like payslips or ITR? How to get a card with no income requirement? If you've been looking for answers to these questions, keep reading to learn more.
Getting credit cards without income proof in the Philippines is challenging. Most freelancers and unemployed Filipinos such as stay-at-home parents, college students, and fresh graduates can't apply for a credit card without payslips and income documents. Business owners even need to submit DTI and SEC registration papers.
Thankfully, there are ways to enjoy the perks and benefits of credit cards without the hassle of securing income proof. Through these credit card alternatives, you can swipe or enjoy cashless transactions while earning rewards.
How to Get Credit Cards Without Income Proof: 6 Alternatives in the Philippines
Credit card alternatives offer mostly similar functions and benefits as regular cards. But they don't require income documents and verify annual income, and you don't need to undergo a background check.
Try these credit card alternatives if you're unemployed or self-employed with no fixed income or zero or poor credit history.
📌 Secured Credit Cards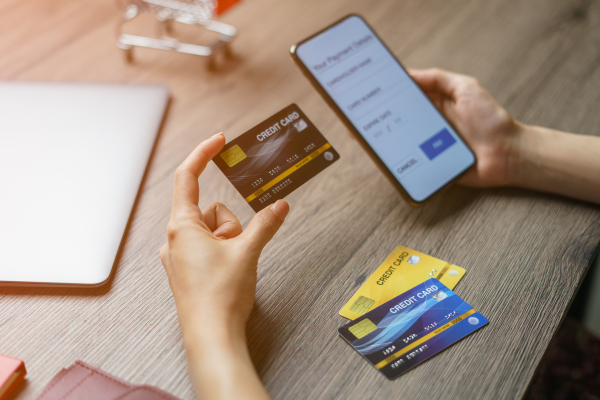 A secured credit card works just like a regular credit card. The only difference is that banks require collateral from a savings or time deposit account. How much you deposit into the account will determine your credit card limit. Usually, the credit limit will be 80% to 95% of your deposit amount.
To maintain your credit limit on your secured credit card, you should keep your deposit for at least one year. Afterward, you may request the bank to convert your secured credit card to a regular one.
Because of the collateral, getting approved for a secured credit card is easy, even without proof of income. In case of missed payments, the bank will simply deduct your unpaid balance from your bank account.
👉 What are the Available Secured Credit Cards in the Philippines?
| Secured Credit Card | Available Card | Minimum Deposit | Credit Limit |
| --- | --- | --- | --- |
| | Any AUB credit card | ₱25,000 | 80% of deposit guarantee |
| BPI Express Start | Any BPI credit card | ₱15,000 | 90% of the hold-out deposit amount |
| China Bank Secured Credit Card | Any China Bank credit card | ₱30,000 or US$750 | 85% of the security deposit (for Peso deposit accounts) / 70% for Dollar deposit accounts |
| | Any Metrobank credit card | ₱12,000 | 90% of the hold-out deposit |
| | Any RCBC credit card | ₱10,000 or US$2,000 | 95% of the hold-out deposit |
| | Gold Mastercard and Platinum Mastercard only | ₱25,000 for savings account / ₱100,000 for time deposit | 80% of the hold-out deposit |
Still undecided on which secured credit card to apply for? Compare credit cards for free and find the right one for you!
👉 How to Get a Secured Credit Card
Wondering how to get a credit card without income proof? If you've got a secured credit card in mind, visit the bank that issues that card and inform the staff that you're applying for one.
Just like the regular account opening process, you'll need to fill out an application form (if you don't have an account with the bank). You'll also be asked to sign a Deed of Assignment form, present a valid ID, and make a deposit, the amount of which will depend on your desired credit limit.
Read more:
📌 Supplementary Credit Cards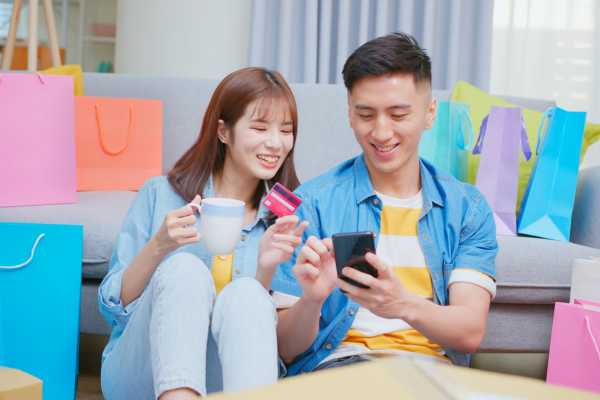 Most banks in the Philippines issue supplementary cards as an extension of the credit they offer to their primary (or principal) cardholders. A bank may provide three up to nine supplementary cards to their credit card customers.
Supplementary cards are usually assigned to family members, especially those who aren't qualified for a regular credit card due to age or lack of income documents. They can be a primary cardholder's unemployed spouse and siblings, children (at least 13 years old), and aging parents.
Like regular credit cards, supplementary cards also earn rewards, qualify for promos, and share the same credit limit with the primary card. However, the primary cardholder can control how much each supplementary cardholder can spend.
Read more: 16 Best Credit Cards for Beginners in the Philippines 2023
👉 How to Get a Supplementary Credit Card
You can't apply for a supplementary card by yourself. Only the primary cardholder can apply for one. If you wish to have your own, you may ask a credit cardholder in your family to enroll you as a supplementary cardholder.
If no one in the family has a credit card yet, try to ask anyone qualified for a credit card to apply for one and sign you up as a supplementary cardholder. Once someone agrees to your request, visit the bank together to apply for a supplementary credit card. You'll complete and sign the application form and present your photo-bearing valid IDs.

📌 Debit Cards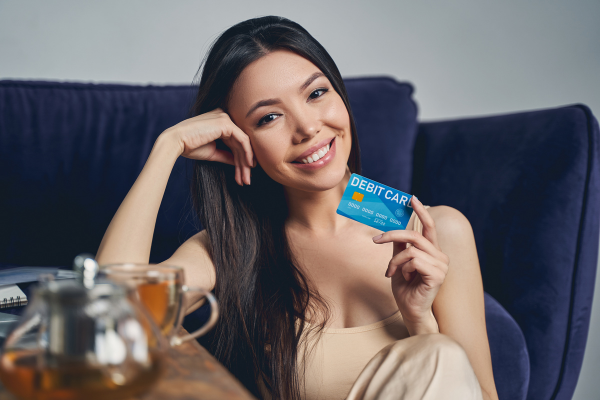 When you open a savings account, you're also issued a debit card linked to your savings or checking account. You can use this debit card to withdraw money from your account at ATMs. It's usually free of charge if you use your bank's ATM, otherwise, you're charged a minimal fee.
👉 Advantages of Debit vs Credit Cards
You can use your debit card to pay for in-store and online purchases, just like a credit card. As long as your account is funded, you can enjoy cashless transactions with it.
Moreover, you don't risk overspending as you would with a credit card. As a result, you also avoid the risk of getting a significant outstanding balance on your card. It's easier to stay on top of your finances and monitor your spending because your debit card is linked to your bank account.
There are no high-interest cash advance fees to worry about as well. If there are any usage fees, they're minimal.
Debit cards are also readily accepted in most establishments in the Philippines that accept credit cards.
👉 Disadvantages of Debit vs Credit Cards
But as mentioned, money is taken immediately from your account when you use your debit card, unlike with credit cards. You spend only your own money. Depending on how much you have in your account, your purchases can also be limited to essential spending or bill payments.
You can't buy big-ticket items and rack up rewards points as you would with credit cards and their rewards programs.
👉 How to Get a Debit Card
Debit cards are usually provided when you open an account with a bank. Once your account is opened, you'll receive your debit card either immediately from the bank staff or later via courier. Depending on the bank, you may need to activate it via ATM or mobile app and set or change your PIN.
📌 Reloadable Prepaid Cards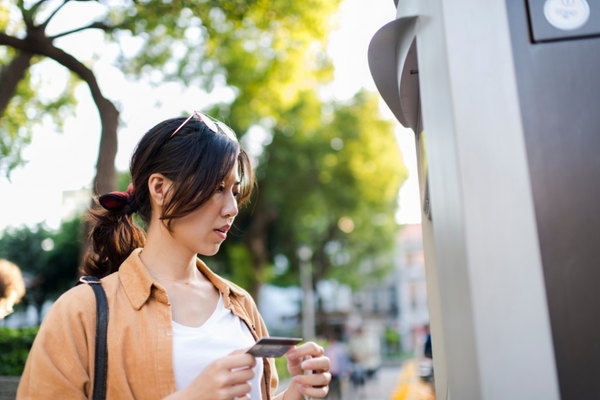 Prepaid cards are a popular alternative to credit cards and debit cards. They can work as credit cards for unemployed individuals, housewives, and students with no income in the Philippines. That's because they also allow convenient cashless transactions at any establishment that accepts Visa or Mastercard.
But before you can use a prepaid card, you need to top it up first. Some people may find this inconvenient, but it can be pretty beneficial. Unlike with credit cards, you won't overspend with a prepaid card because you're limited to spending only the amount you've loaded. And unlike debit cards, you don't need to open a bank account just to get one.
Prepaid cards have these features in common:
Used for cashless payments for online, local, and overseas in-store purchases, ATM withdrawals, bills payment, money transfers, and/or mobile phone reloading
No required maintaining balance
No credit checks
Can be linked to a PayPal[1] account
Different reloading options: over-the-counter deposit, ATM, online banking, mobile app, phone banking, malls, convenience stores, pawnshops, and more
Minors as young as seven years old can apply for a prepaid card
👉 What are the Available Prepaid Cards in the Philippines?
| | | | | |
| --- | --- | --- | --- | --- |
| Prepaid Cards | Unique Features | Fees | Maximum Reloading Amount | Validity Period |
| BPI Amore Visa Prepaid Card | Earn points when you use the card anywhere Visa is accepted | No loading fees and maintaining balance | ₱100,000 through BPI electronic channels | 2 years for cards issued on November 1, 2020 onwards |
| BPI ePay Mastercard | Tap and go at Mastercard PayPass merchants | ₱150 card fee; no loading fees and maintaining balance | ₱100,000 through BPI electronic channels | 4 years |
| GCash Card | Manage your funds with the GCash App, pay at merchants that accept Visa, and withdraw from any affiliated BancNet ATMs nationwide and Card ATMs worldwide | ₱185 one-time card fee + ₱65 delivery fee | ₱500,000 GCash wallet monthly limit | Displayed on the card |
| GCash AMEX Virtual Pay Card | A virtual card for local and international online purchases; comes with a personalized virtual US address for payments to websites that allow only cards with a US billing address | ₱250 annual fee | GCash wallet cap | Displayed on the card |
| Maya Card | Mobile app for easy fund management; built-in Beep card; link to a PayPal account | ₱150 card application fee | ₱500,000 monthly wallet balance limit for Super Users | 4 years |
| PSBank Prepaid Mastercard | Cashless shopping, remittance, withdrawal, bills payment | Free application and online reloading; ₱10 reloading fee at PSBank branches | Up to ₱500,000 from PSBank accounts | Displayed on the card |
| Metrobank YAZZ Prepaid Visa | Cashless convenience and discounts and promos from partner stores through YAZZ Perks | ₱300 starter pack; ₱20 loading fee | ₱50,000 per day; ₱100,000 per month | Displayed on the card |
| PNB Prepaid Mastercard | Cashless payments for local and international transactions | ₱150 (non-personalized) / ₱250 (personalized) card fee | ₱100,000 monthly top-up limit | Displayed on the card |
👉 How to Get a Prepaid Card
Visit any branch of your chosen bank or use its online application facility. After that, present a valid ID and complete an application form. You'll be notified as to when you can pick up your card or when you can expect it to be delivered if you apply for it online.
As for non-bank prepaid cards, you can order them directly from their respective websites, apps, or partner retailers.
📌 E-Wallets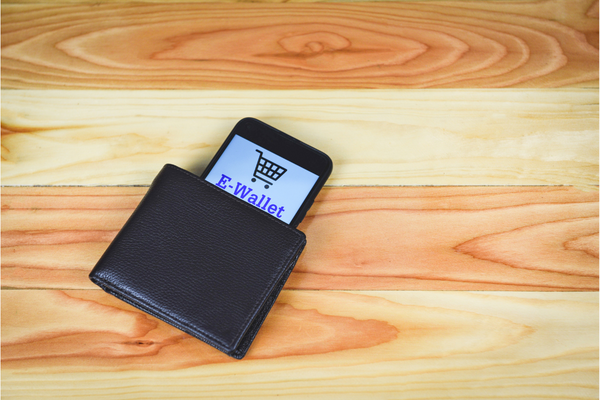 An e-wallet is a digital wallet linked to your bank account through a debit or credit card. It can store your credit card, debit card, or rewards and loyalty cards.
In the Philippines, among the most popular and most used e-wallets are GCash, Maya, Coins.PH, GrabPay, and PayPal.
👉 E-Wallet Advantages
With an e-wallet, you can make secure cashless transactions online or in-store without a physical cash card. As long as you have your smartphone and internet access, you can pay with your e-wallet.
This means you don't need to carry cash around with you. Simply pay for your transactions with just a few taps on your phone.
You also have the option to get a physical or virtual card that you can link to your e-wallet. Maya and GCash issue physical cards you can use for online and in-store purchases.
You can do a lot of things with e-wallets. Like a debit card or reloadable prepaid card, you need to fund your e-wallet to use it for payments or purchases.
Aside from sending and receiving money, you can pay bills, buy load, apply for a loan, buy an insurance policy, redeem rewards, or even invest.
You can also receive rewards when you use your e-wallet frequently for transactions. For instance, you boost your GScore when you use GCash for your transactions. A high GScore will unlock more features, like GCredit (instant cash loan) or GGives (installment loan).
With e-wallets like Coins PH, you can buy and sell cryptocurrencies such as Ethereum, Bitcoin, XRP, and more. You can easily keep track of all your transactions because your e-wallet records all your e-wallet activities.
👉 E-Wallet Disadvantages
There are definitely many benefits to e-wallets, which make them a great credit card alternative. But there are downsides, too.
Because they're so convenient to use, your impulse to spend increases since you can easily access them. Moreover, using most of the features in e-wallets come with a fee, so it can get expensive if you're a heavy e-wallet user. Lastly, you must be connected to the internet to use your e-wallet.
👉 How to Set Up an E-Wallet
To set up an e-wallet, download the e-wallet you want to use from the App Store or Google Play Store. Follow the registration steps and upload the required documents. Then add a payment method, or more than one if you wish. You can now load your wallet to use for your transactions.
📌 Buy Now, Pay Later Plans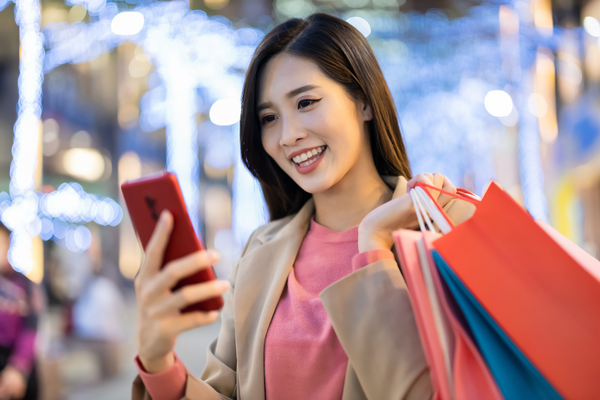 Suppose you found something you want to purchase but lack the funds to cover the full cost. You can still purchase the item without a credit card through a Buy Now Pay Later (BNPL) program.
BNPL is also known as a layaway program, payment plan, or installment plan. Through this program, you can spread the cost of your purchase into several payments without a credit card.
Some of the most popular BNPL providers in the Philippines include TendoPay, Lazada Loans, LazPayLater, BillEase, Shopee SPayLater, and Home Credit.
👉 BNPL Advantages
Similar to credit cards, BNPL programs also offer flexible installment plans of up to 24 months. Some even offer them at 0% interest installments. These make BNPL a practical choice when purchasing big-ticket items such as laptops, smartphones, and home appliances.
They're not limited to online purchases, too. You can use BNPL for your in-store shopping. And since it's an unsecured loan, you also don't need to put up collateral to get approved.
👉 BNPL Disadvantages
But like the other excellent credit card alternatives mentioned here, there are drawbacks to Buy Now Pay Later programs. For one, they can tempt you to make impulsive purchases. After all, you can pay them off in affordable installments.
There are also interest charges, which may be higher with BNPL programs than with credit cards, and other fees like loan processing, late payment, or transaction fees.
👉 How to Avail of Buy Now Pay Later
The first step is to create an account on the BNPL provider's website or download the app where you can sign up for an account. After registering, proceed with the BNPL application process.
Fill out the application form and upload the required documents on the platform. You'll need to wait for the result of your application, which usually takes just minutes. But it will still depend on the BNPL provider.
Upon approval of your application, you can receive the loan amount and use it to pay for your purchase.
Final Thoughts
We know how challenging it is to get credit cards without income proof. If you're unemployed and want a credit card with no income requirement, consider one of these options. You don't need to provide proof of income if you're unemployed in the Philippines to enjoy the convenience of using a credit card.
However, if you're employed but with low salary, there are credit cards with low annual income requirements that you might qualify for. Check out these credit cards for low income earners in the Philippines:
Source: [1] How to Link Credit or Debit Cards to Your PayPal