Not all credit cards are created equal. Some earn rebates while others collect rewards points. The question is: which of these cards suits you best?
Choosing between cashback and rewards credit cards isn't as simple as one would think. Understandably so, as they have overlapping functions and benefits. But if you know your lifestyle, spending behavior, and financial goals, you should arrive at the best decision.
Here's a cashback vs rewards credit card guide to help you choose.
What is the Difference Between Cashback and Rewards Credit Cards?
Before we get to the cashback vs rewards credit cards debate, let's clarify the difference between cashback vs points.
A cashback is the percentage of your purchase that is given back to you. If you use a cashback credit card to shop, you'll get a certain amount of money back.
A rewards point—or simply a point—is a type of reward that you earn every time you spend a specific amount of money. In principle, the more you spend with your credit card, the more points you earn.
So what is a rewards credit card? This card lets you earn points based on the total amount of your purchase. For instance, some banks let you earn 1 rewards point for every ₱20 you spend with your credit card.
The accumulated points can be redeemed for a variety of rewards from the bank's partner merchants, ranging from freebies to gift vouchers. Some banks even let you convert these points to annual fee waivers or air miles, which you can then use to book flights.
Now, to go deeper into the cashback vs rewards credit cards discussion, let's look at their pros and cons below.
Cashback Credit Cards: Advantages, Disadvantages, and Top Options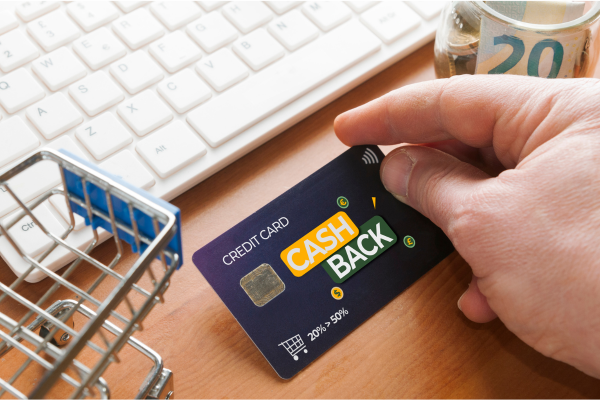 In this section, you'll learn the pros and cons of cashback credit cards, plus some options that may suit your lifestyle.
Advantages of Cashback Credit Cards
Here are some reasons that may convince you to get a cashback credit card:
👍 Great for Saving Money
The biggest benefit of using a cashback credit card is the savings you get every month. Typically, cashback credit cards in the Philippines earn a maximum monthly rebate of around ₱1,000, which means cardholders can save as much as ₱12,000 per year.
The cash rebate you earn each month gets credited to your credit card account, lowering your outstanding balance by the cashback amount. Let's say your credit card balance is ₱5,000 and your cashback earned from the past month is ₱1,000. Applied to your current billing statement, your outstanding balance becomes ₱4,000.
Note, though, that cashback can't be used to reduce the minimum balance.
👍 Easy to Use and Understand
Cashback credit cards are straightforward to use. All you have to do is swipe your card, and you'll get a percentage back on your purchases for the month.
It's easy to understand how a cashback credit card works because the rebates are in pesos, not points or miles. There's no learning curve involved. You can easily see the value of a cashback amount.
With a cashback card, you know exactly how much your rewards are worth. You can expect how much you'll earn back without having to compute or convert points.
👍 Ability to Maximize Rewards
Most cashback credit cards in the Philippines have variable cashback rates, allowing cardholders to earn a higher rebate in certain spending categories.
For instance, the HSBC Gold Visa Cashback lets you earn a high cashback rate of 5% on dining transactions and 0.5% on all other transactions.[1]
On the other hand, the Security Bank Complete Cashback Platinum Mastercard lets you earn 5% cashback on groceries, 4% cashback on gas, 3% cashback on utilities, 2% cashback on dining, and 1% cashback on shopping.[2]
Read more: Secure These Deals: Top Security Bank Credit Card Promos to Enjoy
👍 Easy Redemption
Cashback from credit cards is generally easier to redeem than rewards points. It's automatically credited to your credit card account each month, as in the case of cashback credit cards from HSBC and Security Bank.
Disadvantages of Cashback Credit Cards
Depending on your lifestyle, owning a cashback credit card may come with some limitations:
👎 Rewards are Limited to Cashback
Other than cashback, there's nothing else you can get. The rebate earned can't be exchanged for other types of credit card rewards, like air miles and waived annual fees. You can't even use it to claim actual cash or convert it to a check.
👎 Cashback Limitations
There are certain terms and conditions you need to watch out for when you get cashback from a credit card. The most common is the rebate limit (typically ₱1,000 per month) and the minimum spend requirement to qualify for cashback.
Also, certain types of transactions don't earn rebates, such as overseas and online purchases.
👎 Not Beneficial for Some Kinds of Spenders
Some people keep a credit card in their wallet not for everyday spending but for emergency purposes and big-ticket purchases. However, cashback credit cards are ideal for those who intend to use their card often. If you don't fall under this category, you may not be able to earn cashback and maximize the said privilege.
Top Cashback Credit Cards in the Philippines
Here are a few options for the best cashback credit cards from leading banks in the Philippines:
Rewards Credit Cards: Advantages, Disadvantages and

Options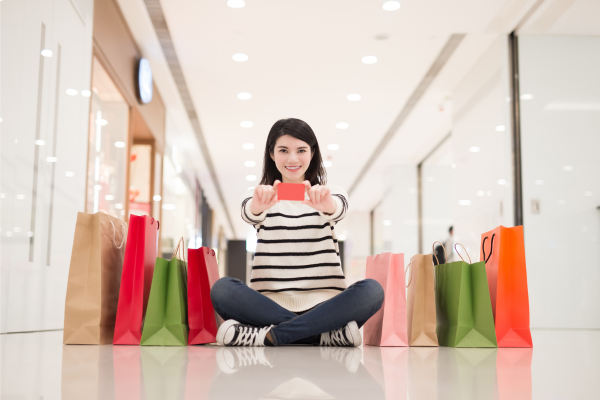 This section delves more into the functions, benefits, and drawbacks of a rewards credit card. We've also handpicked the best options for you.
Advantages of Rewards Credit Cards
Not sure whether a rewards credit card is for you? Check out some of its advantages:
👍 Variety of Rewards
With a rewards credit card, you can exchange points for a lot of things:
Gift certificates for shopping, dining, travel, wellness, etc.

Airline miles for frequent travelers

Annual fee waivers, so you can save on credit card fees

Cash credits




Donations to different charities
This feature makes a rewards credit card more fun and exciting to use than a card that earns only cashback.
👍 Up to 4x Points to Earn
Some credit cards, such as the HSBC Red Mastercard, allow you to earn up to 4x rewards points, depending on the spending category. This means you can earn points faster than usual.
Read more: Moneymax Reviews: 4x the Fun with HSBC Red Mastercard
👍 Non-Expiring Points
Most banks offer non-expiring rewards points for their credit cards. This allows you to accumulate as many points as you can to avail of a specific reward you're eyeing.
👍 Enjoyment of Receiving Freebies
A gift certificate for a day at the spa or a relaxing hotel stay? Why not?
For some people, there's an inexplicable kind of joy in getting something for free without much effort. Just use your credit card and wait until you've earned enough points to redeem a reward.
Disadvantages of Rewards Credit Cards
While a rewards credit card makes spending exciting, it also has its fair share of drawbacks, such as the following:
👎 Complicated to Use
A rewards point is not equivalent to one peso. Neither is one point equal to a mile, if you're trying to convert your points to air miles. This is what makes rewards cards more difficult to use than cashback cards, especially for busy people.
The rewards rate is complex, and if you want to maximize the rewards you earn, you'll have to use different cards for different types of purchases.
For example, you must use a credit card that earns points on travel purchases for booking your flights, accommodations, and tours. For online shopping, you need a separate card that earns higher points for online transactions.
👎 Takes Time to Redeem
You'll have to earn enough points to redeem a reward, especially for cardholders who don't spend that often. And that will take time.
Another frustrating part of redeeming credit card rewards is that once you've found the perfect reward, you'll have to send a request to the bank and wait several weeks for the processing and release of your reward.
However, you can go for rewards credit cards that earn points faster than others if you don't want to wait for too long to redeem points. A good example of a credit card with a fast earn rate is the UnionBank Rewards Credit Card.[3]
With this card, you'll earn 1 point for every ₱30 spend, which is on the lower end compared to other rewards credit cards in the Philippines. Moreover, you'll get triple points for your shopping and dining spend here and abroad.
Read more: Don't Miss These 16 UnionBank Credit Card Promos This 2023
👎 Reward Limitations
Although the credit card rewards up for redemption are numerous and varied, they're still limited to the merchants that the issuing bank partners with. If you prefer a certain brand and it isn't among the bank's partner merchants, you have no choice but to keep looking for other rewards to redeem.
Also, even if your points don't expire, redemptions for certain rewards are valid for a limited period only. If you're eyeing a specific reward, you might not have enough time to accumulate points if it's nearing the end of the validity period.
👎 May Tempt You to Spend More
In your bid to collect rewards points, you may find yourself spending more with your credit card. There may even be instances where you spend on things you don't necessarily need.
Top Rewards Credit Cards in the Philippines
Below are some of the best credit cards that will earn you points with your spending:
Related reading: Metrobank World vs Platinum Mastercard®: Which is Better for You?
Cashback vs Rewards Credit Cards: Which is Right for You?
Now that you know the benefits and downsides of using a cashback or rewards card, which do you think is better for you? If you still haven't decided yet, keep reading to ensure you'll be making the right choice when deciding on cashback vs rewards credit cards.
📌 Who Should Get a Cashback Credit Card
People who are looking for something simple and straightforward, with no patience for browsing through rewards catalogs

Consumers with predictable spending patterns

Cardholders who want to enjoy perks quickly and easily

Consumers who heavily spend on one spending category and are looking to maximize that category's cashback rate

Cardholders who want to save on their credit card bills, as cashback can lower the outstanding balance

First-time cardholders who want to experience the rewarding side of credit spending

First-time cardholders who want to be welcomed with sign-up rewards, as some cards offer such gifts

Cardholders who prefer saving money

over

getting fancy rewards
📌 Who Should Get a Rewards Credit Card
People who are disciplined in their spending and don't tend to max out on their card (Rewards cards provide an incentive to splurge, and exceeding one's credit limit can lead to the cardholder losing their rewards points)

Those who use their credit cards for everyday spending; the more you spend, the more points you receive

Those who want varied rewards, ranging from gift vouchers to freebies at different establishments

Those who love the thrill of finding and getting rewards

Those who don't mind putting in the effort to earn and redeem rewards

Those who travel frequently, as points can be converted to air miles and some rewards are offered by hospitality brands and shops abroad
What to Consider When Choosing Between

Cashback vs Rewards Credit Cards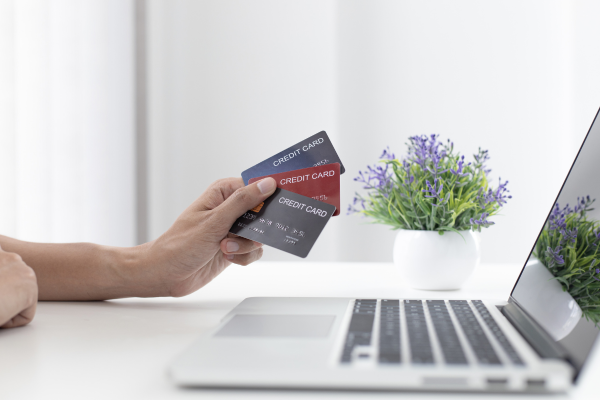 Still torn between a cashback or rewards credit card? Here are some factors you need to consider when choosing either of the two:
Your spending habit – This will be the first thing to take into account, as it will determine if you'll be able to maximize the cashback or rewards feature of your credit card.
The cashback or rewards rate – When picking a cashback card, always check the rates to see which spending categories you're supposed to target. On the other hand, check the points conversion system of a rewards credit card to determine how quickly you'll earn points.
Annual fees – When comparing rewards points vs cashback credit cards, it's always wise to check their annual fees. This yearly charge is still an expense, so make sure that this cost comes with features you can maximize. Don't forget to look into promos and offers, such as zero annual fees for life.
Cashback vs Rewards Credit Cards FAQs
Still got some questions that you don't want to go unanswered? Check out the following:
1. Which is better, cashback or rewards points?
Is cashback better than points and vice versa? This question doesn't have a definitive answer. After all, your choice should depend on your spending habits, your lifestyle, and the type of reward that you want to earn.
For better guidance, please refer to the Cashback vs Rewards Credit Cards: Which is Right for You? section.
2. What is the difference between rebate vs cashback?
Many spenders think rebates and cashback are the same. That's understandable since they're both credited to your account after making a purchase. But there is actually a small difference between the two.
Cashback, as explained earlier, is a form of reward in terms of money. You receive it whenever you spend on certain categories.
Rebate, on the other hand, is an instant refund on a specific purchase. Think of it as a discount, albeit awarded to you after making the purchase. It's usually offered as a promo.
However, some banks use both terms interchangeably. Make sure to read the fine print or double-check with your bank.
Final Thoughts
Cashback vs rewards credit cards? Ultimately, the type of credit card you choose depends on your financial goals, lifestyle, and spending habits. You want to get the most out of using a credit card, so you have to consider these factors seriously before making a choice.

Sources: