When you ask your car insurance provider about the requirements for a claim, one of the items on the list is a notarized affidavit. Now you wonder: Why do I have to provide an affidavit of car insurance claim? Aren't the photos I took of the accident and my damaged car enough to prove what happened? How do I get this document?
If this is your first time filing a car insurance claim, read on to know more about this important requirement for claims processing.
What is a Notarized Affidavit?
While this legal term sounds too technical, the meaning of "notarized affidavit" is actually simple. It's a written and signed statement of facts verified to be true and can be used as evidence in any court case.
When an affidavit of car insurance claim is notarized, it means that you have sworn under oath about the truth of the facts in the affidavit and signed it in front of a notary public.[1] The document should also have the notary public's signature and seal.
Related articles: Top Causes of Road Accidents in the Philippines
Why You Need a Notarized Affidavit of Car Insurance Claim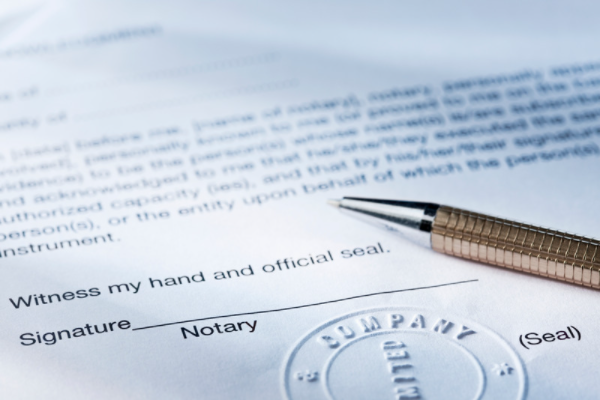 A notarized affidavit is a requirement for most types of car insurance claims, like own damage (or self-accident), CTPL (Compulsory Third Party Liability), excess bodily injury, third-party property damage, Acts of God, RSMD (riot, strike, malicious damage, and civil disturbance), and towing reimbursement.
This legal document is where you tell your version of the story, which is simply a factual narration of the incident. For example, if you got your windshield caved in from an accident, you can get an affidavit of damage to your vehicle's windshield.
It's usually an alternative to the police report, which is also a requirement for car insurance claims. If you've already filed a police report after a car accident, this would suffice—no need to get and submit an affidavit of car insurance claim.
However, it's easier and faster to get a notarized affidavit of damage to vehicle for insurance than a police report. Sometimes, police reports are released the day after filing, so you'll have to come back to the police station for the report. When you obtain an affidavit, waiting for the document will take only a few minutes.
This is especially helpful for hit-and-run cases in the Philippines. Instead of waiting for the police report, you can get an affidavit of damage to vehicle due to hit and run. For lighter cases like a fender bender in a parking lot, you can get an affidavit of damage to vehicle while parked if your insurance policy covers it.
How to Get a Notarized Affidavit of Car Insurance Claim in the Philippines
The simplest way to secure a notarized affidavit is to go straight to a notary public, which already has a template for this kind of document (Alternatively, your car insurance company may provide you with a template for an affidavit). You only have to provide the details of the incident.
Here are the specifics of getting a notarized affidavit of car insurance claim.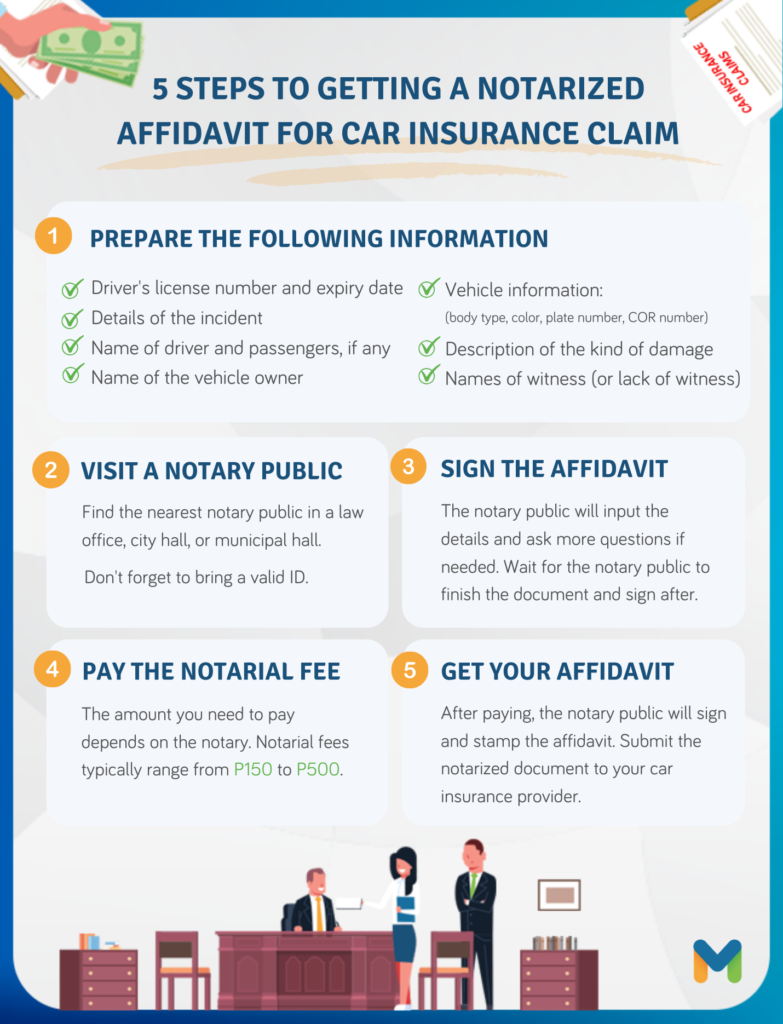 1. Prepare the Necessary Information
Be ready with the details that the notary public will ask of you when preparing your affidavit:
Driver's license number and expiry date
What, when, and where the incident happened (be as detailed as possible).
Who was driving during the incident and the name/s of passengers, if any
Name of the person who owns the vehicle and to whom it's registered
Vehicle information:

Year, make, and model
Body type (hatchback/sedan/wagon/SUV/AUV/MPV)
Color
Engine number
Chassis number
Plate number
Certificate of Registration number
LTO Official Receipt number

Description of the kind of damage to your vehicle and/or any third-party property after the incident
Any witness (or lack of witness) during the incident, such as traffic enforcers and/or security guards
2. Visit a Notary Public
Find the nearest notary public in a law office, your city hall or municipal hall, or a commercial building. Typically, notary public offices are located near banks and government offices.
Present a valid ID that the notary public will use to verify your identity. They may ask you for a photocopy of your ID for documentation purposes, so prepare it before you go to the notary.
3. Sign the Affidavit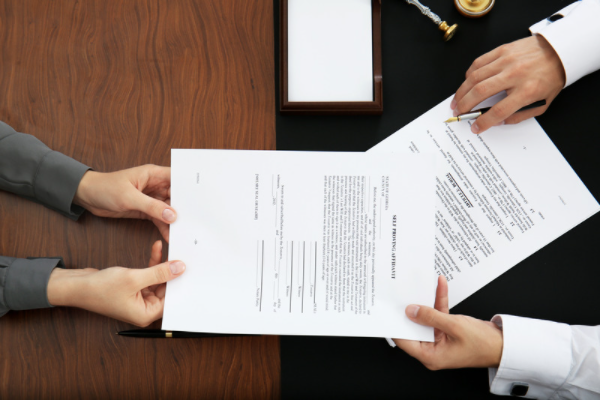 The notary public will input the details you provide and ask more questions if needed. Wait for the notary public to finish preparing your affidavit. Sign the document after.
The details of your transaction will then be recorded in the notary public's logbook. You'll also be requested to countersign the entry on the journal.
4. Pay for the Notarial Fee
The amount you should pay for the affidavit depends on the notary. It typically ranges from ₱150 to ₱500. It's best to ask about the notarial fee as soon as you step into the office.
5. Get Your Notarized Affidavit of Car Insurance Claim
After settling your payment, the notary public will sign and stamp the affidavit. After this, you can already submit the notarized document to your car insurance provider for claims processing.
Sample Affidavit of Car Insurance Claim in the Philippines
Prefer to make your own affidavit instead of relying on the notary public's template? You can download, fill out, and print a copy of your affidavit of car insurance claim, which you'll bring to a law office to have it notarized. Don't sign the document just yet—you'll sign it only in the presence of a notary public.
Sample Affidavit of Accident
Need to make a claim after getting into a car accident? Check out this template for an affidavit of accident for insurance claim in the Philippines.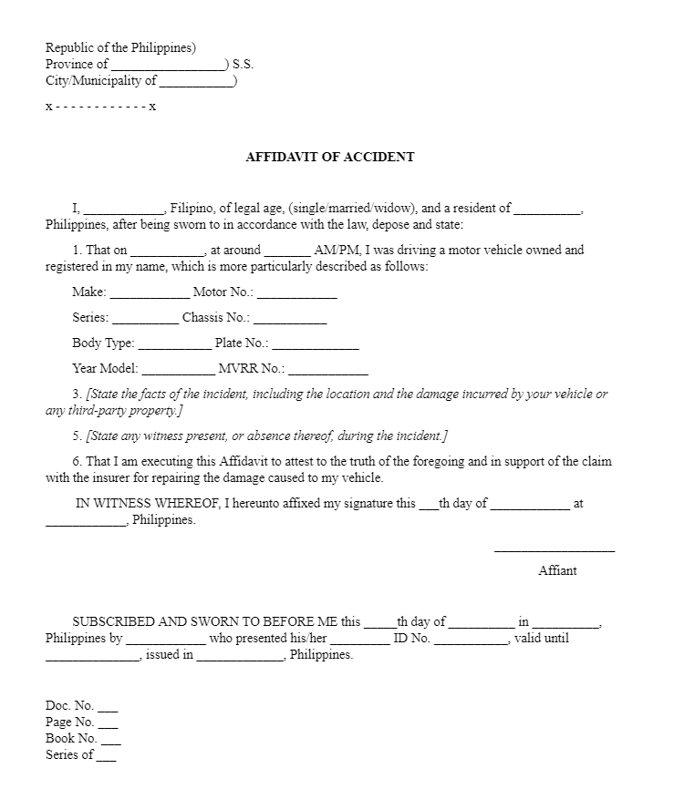 Sample Affidavit of Damage to Vehicle
Here's a sample of an affidavit of damage to vehicle that you can refer to when drafting your own affidavit. Just fill in the blanks on the template with the necessary details.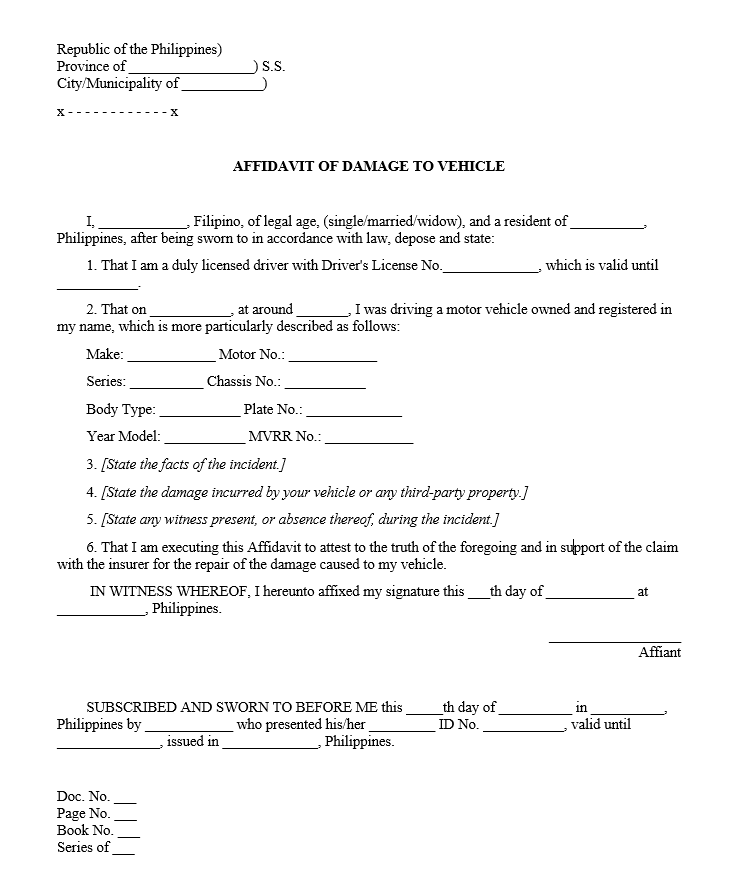 Final Thoughts
Once you have your notarized affidavit of car insurance claim, submit it along with other requirements to your provider. Wait for the car insurance company to approve your claim. Only then can you pay for your participation fee and have your car repaired.
Get a Free Car Insurance Quote!
Looking for car insurance? Below is a list of top companies and their features. Compare your options and get a free car insurance quote from Moneymax!
| | | | | | |
| --- | --- | --- | --- | --- | --- |
| Car Insurance Company | Maximum Total Sum Insured | CTPL Coverage | Own Damage & Theft Coverage | Acts of Nature Coverage | Death or Disablement Coverage |
| FPG Insurance | ₱4 million | ✔️ | ✔️ | ✔️ | |
| Malayan Insurance | ₱7.5 million | ✔️ | ✔️ | ✔️ | |
| The Mercantile Insurance Corporation | ₱5 million | | ✔️ | ✔️ | |
| OONA Insurance (formerly MAPFRE) | ₱5 million | ✔️ | ✔️ | ✔️ | ✔️ |
| PGA Insurance | ₱3 million | | | | ✔️ |
| SGI Philippines | ₱5 million | ✔️ | | ✔️ | ✔️ |
| Standard Insurance | ₱5 million | ✔️ | ✔️ | ✔️ | ✔️ |
| Stronghold Insurance | ₱3 million | | ✔️ | | |
Source: [1] Who is a Notary Public? (Libayan Law Firm)