"Is Etiqa car insurance good?" Whether you're shopping for your first policy or switching to a new car insurance provider, Etiqa Philippines is one of the options that would pop up when you search online. You're probably wondering if Etiqa car insurance is worth considering.
Etiqa offers plenty of benefits and innovations that make getting a policy and filing a claim so much easier for its clients. Here's everything car owners should know about this insurance company in the Philippines.
What is Etiqa Philippines?
Etiqa Life and General Assurance Philippines, Inc. or Etiqa Philippines (via AsianLife and General Assurance Philippines), has been in the industry for over 40 years. Etiqa's headquarters is in Kuala Lumpur, Malaysia and currently has presence in Singapore, Indonesia, Cambodia, and the Philippines.
Etiqa Philippines offers Group Life, Non-Life and Retail (Individual) products that cater to protection, savings, insurance, and investment needs for various segments in the Philippines. They offer a wide range of products, including endowment, term, education, investment-linked, and medical insurance for Life and personal accident, fire, motor, aviation, fleet management, and engineering policies for Non-Life. The company is a member of the Maybank Group.
Etiqa Car Insurance in the Philippines
Etiqa Car Insurance, one of Etiqa Philippines' insurance products, provides financial protection for policyholders whose vehicles are lost or damaged due to accidents, theft, fire and lightning, and natural disasters. It also provides coverage for liabilities resulting from bodily injuries and death or damage to third-party properties.
Etiqa Car Insurance Coverage and Benefits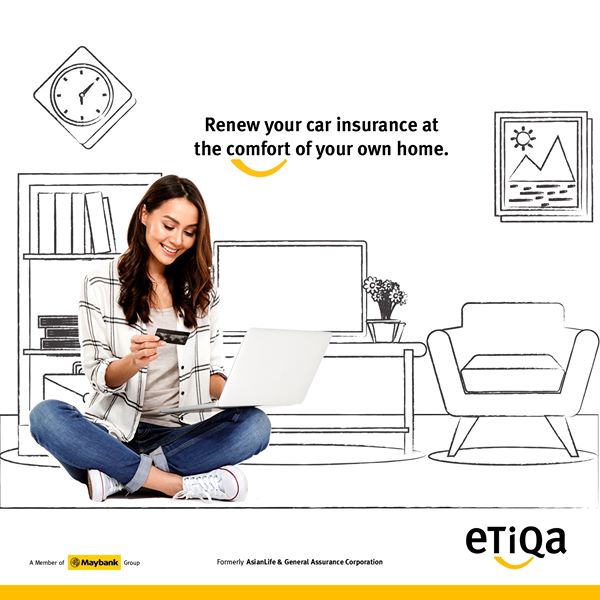 What Does Etiqa Auto Insurance Cover?
You can have your car insured regardless of age and vehicle type—be it a hatchback, sedan, SUV, pick-up truck, or van. Etiqa also offers business car insurance for commercial vehicles like buses, trucks, and vehicles for hire.
An Etiqa car insurance policy includes the following types of coverage:
24/7 roadside assistance - Includes towing services, minor on-site repairs, crane services, ambulatory assistance, hospital admission assistance, and other emergency roadside services
Acts of God / Acts of Nature - Pays for all damage-related expenses to the insured vehicle due to typhoon, flood, earthquake, and other natural disasters
Auto passenger personal accident - Pays for treatment of injuries of the driver and passengers of the insured vehicle
Excess bodily injury - Pays a third party for treatment of injuries caused by the insured vehicle in excess of the PHP 100,000 limit under the mandatory CTPL coverage
Own damage - Pays for damage to the insured vehicle due to an accident while driving
Theft - Pays for the fair market value of the insured vehicle at the time of loss, as well as lost radio and mag wheels
Third-party damage - Pays for damage to properties or vehicles caused by the insured vehicle
Related article: When the Unexpected Happens, You Can File Any of These Types of Car Insurance Claims
Benefits of Having an Etiqa Car Insurance Policy
Here are five things you can expect when you avail of a car insurance policy from Etiqa Philippines.
1. Purchase and Renew Your Policy All Online
All the steps involved in buying or renewing an Etiqa insurance policy can be completed online. No need to go through the hassle of commuting to the company's office. You just have to grab your laptop or smartphone, connect to the internet, and get car insurance through the Etiqa website. Even the policy is issued fast, especially if you choose to receive yours via email.
2. Pay Your Policy at 0% Interest
Compared to most insurers, Etiqa Philippines provides greater payment flexibility to clients. For example, clients with limited budgets can opt to spread out their premium payments for three to 12 months at 0% interest using their BDO or Maybank credit card.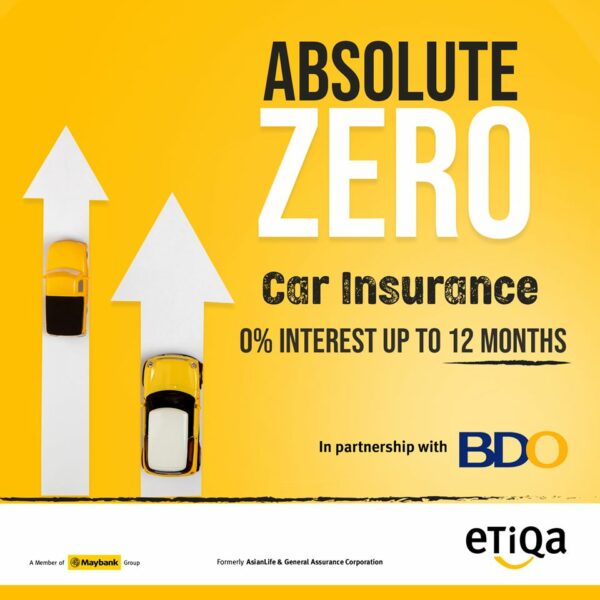 3. Payment Flexibility
Apart from credit card installment, Etiqa offers a wide range of premium payment options. Conveniently pay for your car insurance premium through any of these payment methods:
Credit card or debit card
BancNet ATM card
Cash payment at any accredited payment facility (BDO/BPI/Maybank/UnionBank)
4. Fast Claims Processing
Claims processing for Etiqa car insurance usually takes one to five working days upon submission of complete claim requirements. Such quick claims processing gives policyholders peace of mind after getting their vehicle lost or damaged due to an accident.
Related article: Filing a Car Insurance Claim: A Guide for Policyholders
How to Get Etiqa Car Insurance Online
It's very convenient to apply for auto insurance through the Etiqa Philippines website. Everything can be accomplished online—from getting a free car insurance quote to receiving your policy.
Just follow these simple steps:
Visit the Etiqa Car Insurance Application page at www.etiqa.com.ph
Calculate your premium. To view your estimated premium and cost breakdown, select your vehicle's brand, model, and make in the dropdown menus.
Choose your desired coverage as well as payment type and term. You even have the option to slide the button to set the value of your vehicle which adjusts the premium.
Provide additional details on your vehicle (plate number, chassis number, engine number, and color). Select your preferred policy effectivity date.
Enter your auto loan information, if your vehicle is on mortgage. If not, just click "No."
Fill out the Personal Information form. You would to choose whether you want to receive your policy via email or courier.
Review your auto insurance policy information and edit if necessary.
Hit the Submit and Confirm button.
Pay for your car insurance premium using your chosen method.
Wait for your Etiqa car insurance policy to be sent to you.
Final Thoughts
To catch the best deals on car insurance online, you have to know your options. One great choice to consider for ease of transactions and reliable customer service is Etiqa Philippines.
Enjoy affordable premium payments by choosing to pay via credit card installment at 0% interest for up to 12 months. Learn more about Etiqa car insurance by exploring the Etiqa Philippines website and Facebook page.
This article was created in partnership with Etiqa Philippines. While we are financially compensated for this collaboration, we ensure to maintain our editorial integrity to provide you with the best recommendations that can help you make smarter financial decisions.