One of the best things about working in Makati is that the food options are endless. Fast food joints and hole-in-the-walls are literally everywhere, making dining experience for everyone in the city.
However, eating out also means spending your hard-earned money. It can be tough, especially if your officemates pressure you into dining out with them. Because of this, it's important that you eat on a budget. Don't splurge on a PHP 500 meal just because your teammate can afford it. Spending more than your food allowance can put a dent on your budget and land you on a paycheck-to-paycheck cycle.
Eat with gusto but stay within budget. From PHP 50 to PHP 250 and above, we've listed down the best places to eat in Makati for every budget. Enjoy and share away!
Where to Eat in Makati for PHP 50 to PHP 150
Sisig sa Rada
Address: MetroChef Stall 002, Rada Street, Legaspi Village
You don't work in Makati if you don't know Sisig sa Rada. For P62 (P50 if you order à la carte) you get a serving of rice and crunchy sisig mixed with egg and calamansi. Too lazy to walk? You can have your sisig delivered via GrabFood.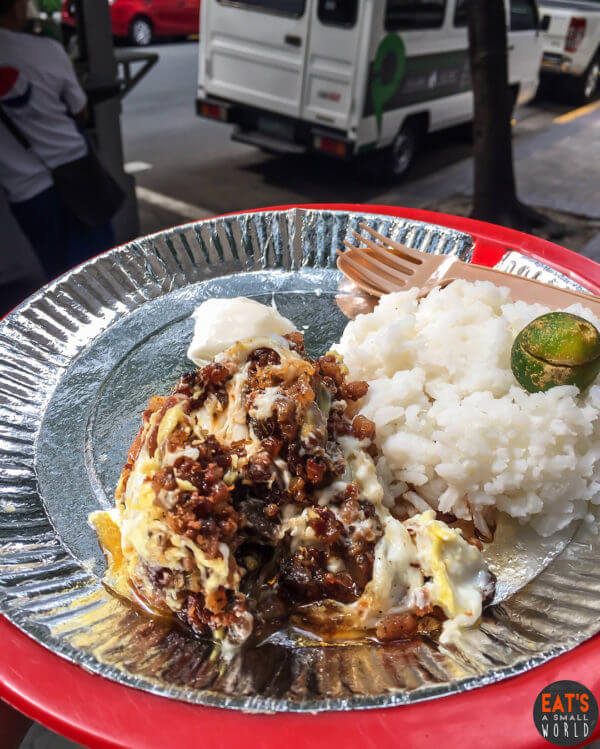 Read more: [Battle of the Brands] Foodpanda vs GrabFood: Which Food Delivery Service is Better?
Higher Ground Food Station
Address: G/F Lepanto Building, 8749 Paseo de Roxas
Higher Ground or HG for some (that some is us) is one of the busiest food courts in the Legazpi/Bel-air area. Packed with popular and unpopular food stalls, HG is perfect for those who are picky but on a budget. Be here before 12 noon or after 1:30 PM as the place gets packed easily.
Moneymax recommends:
Ate Rica's Bacsilog (PHP 74 for regular meals, PHP 99 for combo meals)
Beef or Spicy Chicken Samgyeopsal from RJ's Bowl-Gogi (PHP 99 to PHP 109)
Chicken or Pork Sisig from Sisigan (PHP 99)
Read more: Honestbee, BigDish, and Other Food Apps to Save Money on Dining
Mang Tootz Food House
Address: Valero Plaza, 124 Valero Street, Salcedo Village
Mang Tootz, who first became famous in UST, now has a stall in Makati. Head over to his eatery in Valero Plaza and try the sisig, bicol express, giniling, and banana-rhuma. Meals start at PHP 99.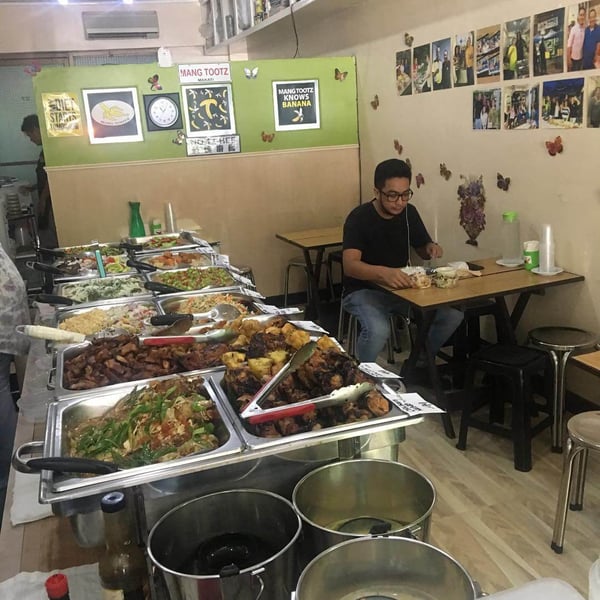 Laza Food Plaza
Address: 2nd floor, Zuellig Building, Makati Avenue cor. Paseo de Roxas
Notable for its all-glass façade, the Zuellig Building is known not only for its attractive design but also for Laza Food Plaza, an upscale food court on the second floor. With more than 10 eateries and cafes, you'll never run out of food options here.
Moneymax recommends:
Make-your-own salad from Salad Bar (PHP 100 – PHP 120)
Mongolian Bowl from Altamura Mongolian (PHP 100)
Lechon Kawali with Veggies and Rice from Pinoy Sizzlers (PHP 130)
101 Hawker House
Address: Unit 102 Campos Rueda Building, 101 Urban Avenue
Inspired by Singapore's famous hawker food stalls, 101 Hawker House is a great place to dine in for those who love chicken, noodles, and spicy food. Order the Nasi Goreng (PHP 145), which consists of three pieces of fried chicken, fried egg, and rice. Also, try the Prawn Laksa (PHP 140), Hainanese Chicken (PHP 130), and Char Kway Teow (PHP 130).
101 Hawker House also serves cheap beer (PHP 45 a bottle) for after-shift drinks with officemates. They also serve vegan food.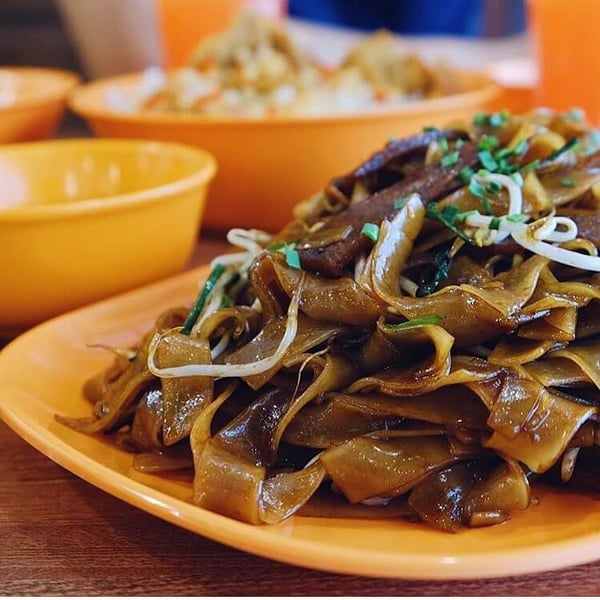 Kanto Freestyle Breakfast
Address: 5079 P. Burgos Street, Poblacion
Breakfast for lunch… Why not? Located in Poblacion, Kanto Freestyle Breakfast is popular for their affordable all-day breakfast meals. Try the Vigan Longanisa (PHP 132), New Zealand Beef Tapa (PHP 150), Mixed Berry Pancakes (PHP 132), and Chocnut Champorado with Tuyo (PHP 99).
Where to Eat in Makati for PHP 150 to PHP 250
Ramen Kuroda
Address: 3/F RCBC Plaza, Ayala Avenue
Yes, you can get delicious ramen at an affordable price. Make ramen a part of your everyday with Ramen Kuroda. Order the Kuro Ramen (PHP 180) for that distinct garlic flavor or the Aka Ramen (PHP 180) for that spicy yet tasty ramen goodness.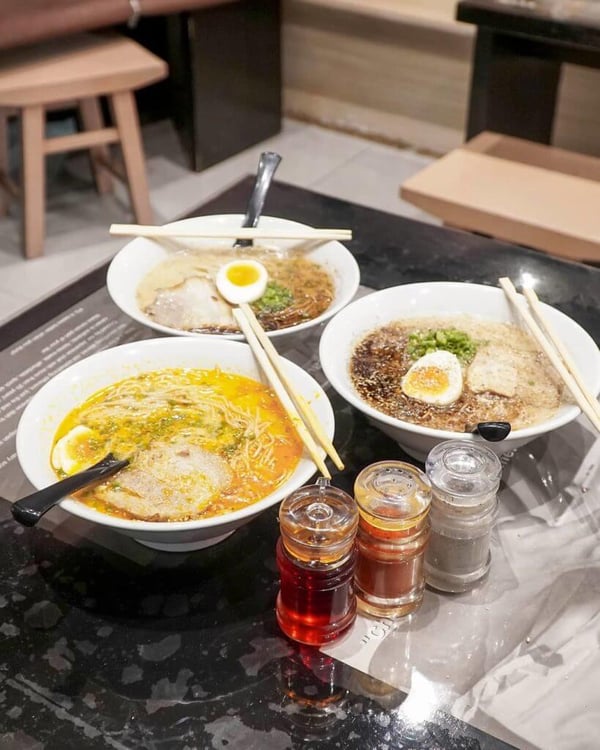 Bugong
Address: G/F Valero II Carpark, Valero Street and G/F Dela Rosa Carpark 1, Dela Rosa Street
Forget about Andok's and Chooks 2 Go. Try Bugong for one-of-a-kind roasted chicken. Inspired by Latin and South East Asian flavors, Bugong is a favorite of those who prefer healthy meals. Get the Chicken Rice and Sides (PHP 160) or Asian Combo (PHP 199).
Read more: Best Milk Tea in the Philippines: Where to Go for the Most Refreshing Milk Tea
The Pantree
Address: JCSO Building I, 119 Dela Rosa cor. Castro, Legaspi Village
The Pantree is not like any food hall in Makati. Apart from being budget-friendly, the food hall has more than 13 food stalls each serving different cuisines and dishes. From Thai to Japanese and Filipino food, The Pantree has something for every hungry Makati employee.
Moneymax recommends:
Shawarma Beef Rice from Rafik Shawarma (PHP 150)
Prawn Phad Thai from Chang Thai (PHP 200)
Spicy Tuna Crunch Bowl from Ono Poke (PHP 250)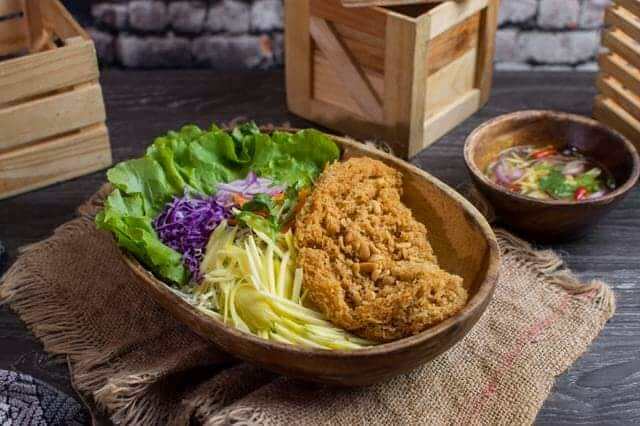 Red Table
Address: 3/F RCBC Plaza, Ayala Avenue
Bless the heavens for affordable Korean food in Makati. Red Table offers traditional Korean food without the hefty price. Try the Traditional Bibimbap (PHP 165), Seafood Ramyun (PHP 155), Ttukbaegi-bulgogi (PHP 170), and Cheese Gimbap (PHP 125) with your officemates.
Tai Koo HK Roast
Address: G/F V-Corporate Centre, L.P. Leviste Street, Salcedo Village
Craving for char siu or Hong Kong style noodles? Get your fix at Tai Koo. For less than PHP 200, you can enjoy Char Siu Pork (PHP 188) and Roast Pork Belly (PHP 188) both served with bok choy and steamed rice. Other must-tries are the Hong Kong Roast Duck (PHP 208) and Soy Chicken and Wonton in Tossed Noodles (PHP 248).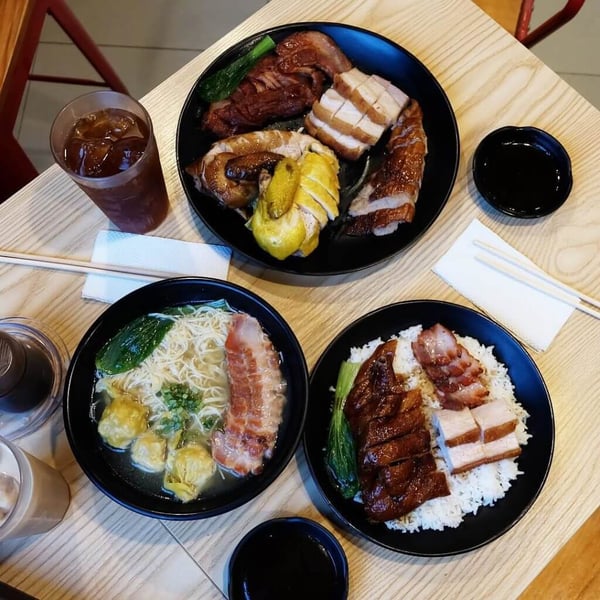 Where to Eat in Makati for PHP 250 and above
Banapple Pies & Cheesecakes
Address: Ayala Triangle Gardens, Ayala Avenue, Makati
Having a stressful day at work? Get off your seat and treat yourself with a Banapple meal. The "friendly bakery cafe" offers rice meals, pasta, and cake and pastries in huge servings (read: good for two hungry employees). Interiors are IG-friendly too so don't forget to take a snap with your workmates.
Moneymax recommends:
Hickory Smoked Barbecued Country Ribs (PHP 295)
Chicken Parmigiano (PHP 275)
Baked Creamy Cheesy Penne (PHP 255)
Banapple Smoothie (PHP 145)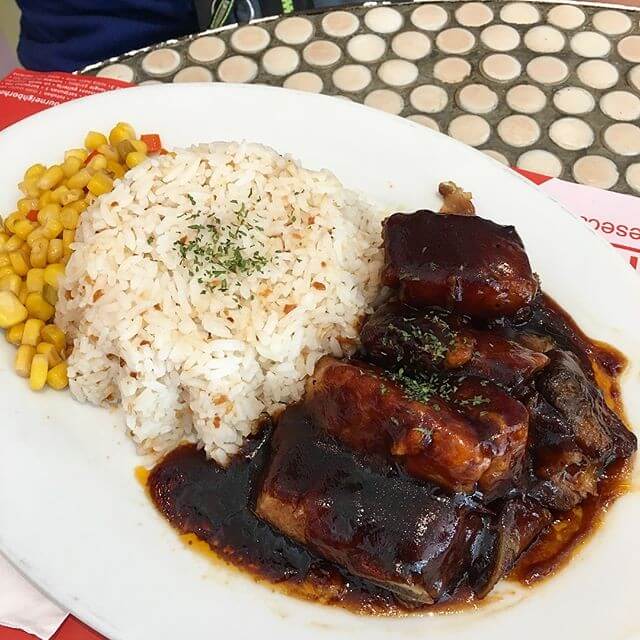 Señor Pollo
Address: 5767 Ebro Street, Poblacion
If you've been in Poblacion then you're probably aware of Señor Pollo. Established in 2014, the hole-in-the-wall serves Latin American food in an artsy setting. We recommend the Senor Pollo Roast with two side dishes (PHP 264) and Fried Chicken, also with two side dishes (PHP 289).
Pro tip: the roasted chicken is good for two so order with a friend to save money!
Locavore
Address: A1-A2 Three Central, Salcedo
Locavore is perfect for days when you want to celebrate. The interiors are great, the service is excellent, and the food is top-notch. The Filipino modern restaurant uses fresh ingredients from all over the Philippines, adding interest to the restaurant's sustainable dining concept. The food may be expensive, but it's something you have to try.
Moneymax recommends:
Mac's Boneless Fried Chicken (PHP 270)
Tortang Alimasag (PHP 370)
Lechon and Oyster Sisig (PHP 400)
Sizzling Sinigang (PHP 550)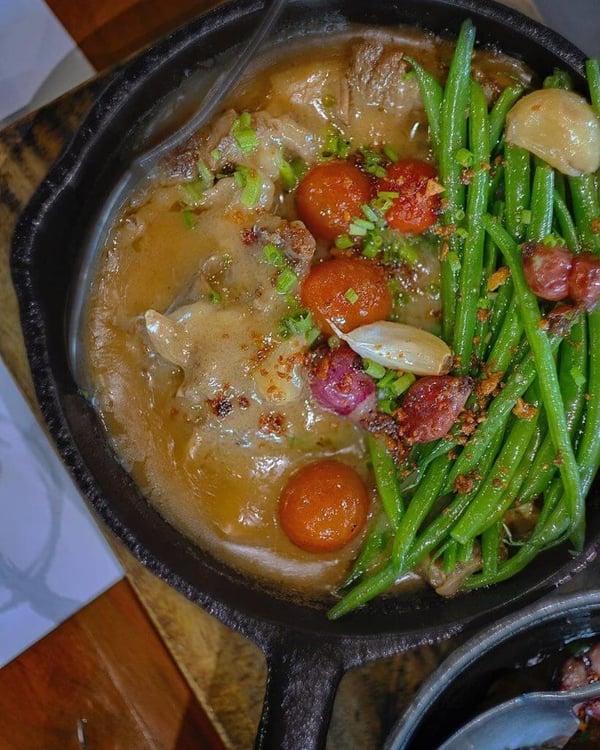 Mendokoro Ramenba
Address: V. Corporate Center, Soliman Street, Salcedo Village
I've dined in Ramen Nagi, Ippudo, and Ichiran but nothing beats Mendokoro Ramenba--go ahead, fight me. The broth is tasty, the chasu is succulent and smoky, and the size of their ramen is just right. The lines get long even on weekdays (expect a 30-minute or two-hour wait) but as what they say, good things come to those who wait. Convinced? Order the Shio Ramen (PHP 390) or TanTanMen (PHP 420).
Final Thoughts
Have you tried any of the restaurants or food halls mentioned? What are your thoughts? Maybe you'd like to share your best places for when you find yourself asking "where to eat in Makati?" Let us know!
Read more: Affordable Unlimited Samgyupsal in Metro Manila