Can you imagine your life now without your favorite food delivery service? It's undoubtedly hard, especially knowing that all your cravings, regardless of time and space, can be satisfied with just a few taps on your smartphone.
You may not realize it, but food delivery service is among the most significant breakthroughs in the last decade. Its importance has been further highlighted during the COVID-19 pandemic. No one wants to risk their safety by going out, so many just opt to have their food delivered right to their doorstep.
When it comes to this, a lot of people count on two popular food delivery services: Foodpanda and GrabFood. Keep reading this Foodpanda vs GrabFood comparison review to find out which of them is better.
The Difference Between Foodpanda and GrabFood
Two of the biggest food delivery services in the Philippines today are Foodpanda and GrabFood. But in recent years, GrabFood has been the consistent top-of-mind choice among consumers, based on research by Kantar TNS.[1]
Launched in the Philippines in 2018, GrabFood is relatively new in the industry yet it has already amassed a large following. It's the food delivery arm of the Singaporean transport network company Grab. Just recently, they have opened GrabKitchen.
On the other hand, Foodpanda has been operating in the Philippines since 2014. It's part of Delivery Hero, a multinational online food delivery service based in Berlin, Germany. Unlike GrabFood, Foodpanda's business is solely dedicated to delivering food.
In this Battle of the Brands edition, you'll see which of the two has a more competitive edge. For a more objective judgment, this Foodpanda vs GrabFood review takes a look at the following criteria:
Service availability
Food and restaurant selection
Desktop and mobile user experience
Customer service
Delivery fees
Minimum order requirement
Payment options
Delivery speed
Business friendliness
Related article: Affordameals Under P150: Cheap Food Delivery Options in the Metro
Comparing Foodpanda vs GrabFood: Which is Better?
Ordering and Delivery Process
Before we compare Foodpanda vs GrabFood, it helps to understand first how they operate, as this affects the quality and speed of their service. Although they follow the same business model, these two food delivery services differ a lot in their procedures for placing and fulfilling orders, as well as food delivery.
How to Order Food Online at Foodpanda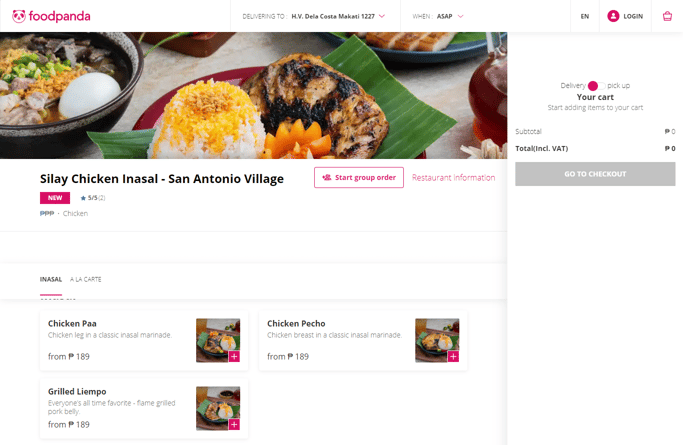 Enter your location/address. If the address is already set in your app, there's no need to do this.
Search by restaurant name, cuisine, dish name, or keyword.
Choose a restaurant available in your area.
Pick the food items you want to order.
Proceed to checkout. Enter your exact delivery address, payment method, and phone number.
After placing your order, Foodpanda forwards it to the restaurant, which then starts preparing your food. The delivery person will pick up your order at the restaurant and deliver it to you on a bike or motorcycle.
How to Order Food Online at GrabFood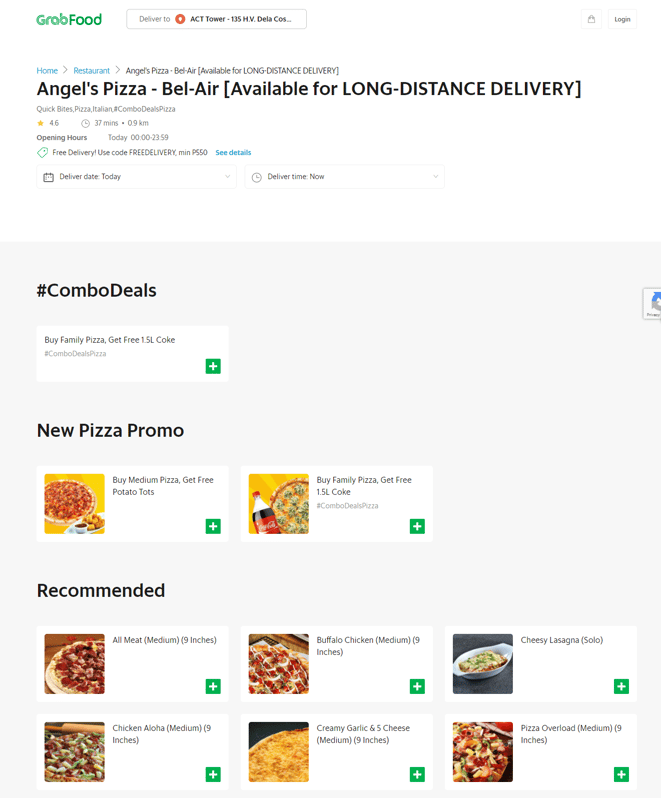 From the Grab app, choose "Food" from the product selection.
Provide your delivery address. If the address is already set in your app, there's no need to do this.
Choose a restaurant.
Choose a meal and add it to your basket.
Tap the Place Order button to complete your order.
Once you've placed your order, Grab finds and books a delivery guy for you. The assigned person will then go to the restaurant (and line up, if needed), order your food, wait for it, and delivers it to your address riding a motorcycle.
Service Availability
Both food delivery companies are serving major cities in the Philippines. They are also expanding, which means they'll be covering more areas in the coming months or years.
The two companies operate 24/7.[2] However, that doesn't mean that their partner restaurants are operating 24/7, too. The availability of the restaurants will still depend on their schedule and your location.
See also: Fast Food Delivery in GCQ: What Restaurants are Open?
Foodpanda Delivery Areas
Foodpanda serves the major cities of Metro Manila. It also covers key cities in Cavite, Laguna, Cebu, Pampanga, Rizal, and the urban areas of some provinces in Visayas and Mindanao.
Metro Manila: Makati, Mandaluyong, Manila, Marikina, Muntinlupa, Pasay, Pasig, Quezon City, San Juan, Taguig
Bukidnon: Valencia
Bulacan: Malolos and San Jose del Monte
Cavite: Bacoor and Tagaytay
Cebu: Cebu City and Lapu-Lapu
Davao City
Laguna: Biñan, Cabuyao, San Pedro, Santa Rosa
Lanao del Norte: Iligan
Leyte: Ormoc
Pampanga: Angeles City and San Fernando
Rizal: Antipolo and Cainta
South Cotabato: Koronadal
GrabFood Delivery Areas
GrabFood is available in most areas of NCR, Rizal, Cavite, Laguna, Pampanga, and Cebu. While GrabFood is available 24/7 in a lot of areas in Metro Manila, its service in Cavite and Laguna is only available from 6 a.m. to 12 a.m. On the other hand, GrabFood service in Pampanga is only from 9 a.m. to 12 a.m.
Metro Manila: BGC, Caloocan, Makati, Mandaluyong, Las Piñas, Malabon, Manila, Muntinlupa, Navotas, Ortigas, Parañaque, Pasay, Quezon City, San Juan, and Valenzuela
Cavite: Bacoor and Imus
Cebu: Cebu City, Lapu-Lapu, Mandaue
Laguna: Biñan and Santa Rosa
Rizal: Antipolo and Cainta
GrabFood has a wider service coverage in Metro Manila and Cebu, as Grab already has established its brand in these key cities. But Foodpanda serves more provinces nationwide, specifically in Mindanao where FrabFood has no presence.
Winner: Foodpanda

Food and Restaurant Selection
When we talk about Foodpanda vs GrabFood, we also need to check how each of them fares when it comes to the range of offerings. Both food delivery services offer a wide range of restaurants and cuisines, from Asian to Western.
Foodpanda says that it has 1,000+ partner restaurants online. GrabFood, on the other hand, launched two years ago with around 4,000 restaurant partners. With its exponential growth over the past few years, one can safely say that more restaurants have been added to GrabFood's roster.
If you love capping off the day with a glass of wine or a few cold ones, you're in for a treat, as both Foodpanda and GrabFood deliver alcoholic drinks. Just be aware of the restrictions on alcoholic drinks in your area, though.
Winner: GrabFood
See also:
Desktop and Mobile User Experience
Both Foodpanda and GrabFood allow their customers to order food through their respective apps and websites.[3] This is a win-win situation for them and their customers, as these food delivery services reach more customers while customers can order food in more ways than one.
Web Design and Functionality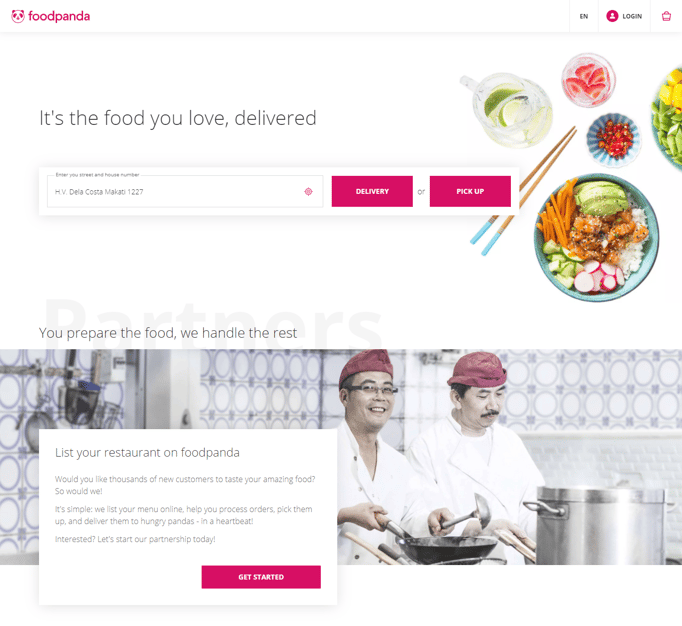 Foodpanda's homepage is a whole lot cleaner and crisper compared to GrabFood's. From a design perspective, this is a good thing, as fewer distractions keep the user focused when ordering or browsing for options online.
GrabFood's homepage, on the other hand, has a lot of things going on since it shows the popular restaurants right away. While seemingly cluttered, the homepage may immediately show what the customers are looking for.
When it comes to ordering, the two follow an almost same format and workflow. Both websites are easy to use and navigate.
Mobile App Design and Functionality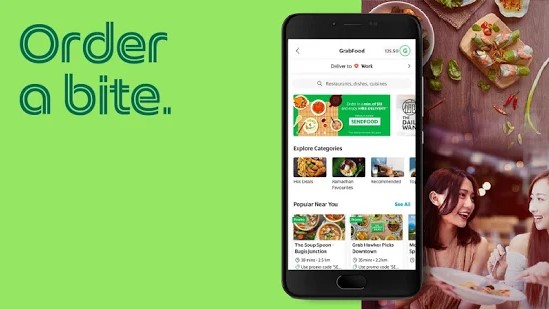 When it comes to mobile, GrabFood's app interface is also full of icons and promo ads, which make the homescreen look cluttered. You can access GrabFood's services via the Grab app, which also houses other Grab services, such as Mart, Express, and Car. To get to the actual GrabFood page, you'll need to look for and click the Food icon. This is an inevitable layer or step, which may disrupt the user experience.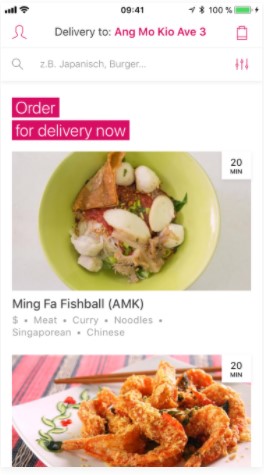 This isn't the case when it comes to Foodpanda. Since it offers only one kind of service, the app's function is straightforward and easy to navigate. The first things you'll see on the dashboard are the search bar and search filters. Daily deals are also displayed on the homescreen.
In addition, Foodpanda's aesthetics is very clean and basic, which means fewer distractions for the users.
Both allow their customers to filter their search according to specific parameters, such as cuisine type and ratings. However, Foodpanda has an edge in this area, as its filter includes price, distance, and options with the fastest delivery times.
Order and Delivery Tracking
The two food delivery apps do a great job of updating customers regarding their order status in real-time, like when the restaurant is preparing the food or when the delivery guy has picked up the order at the restaurant. They both show the estimated delivery time, which changes from time to time depending on the restaurant and traffic situation.
A feature similar to its ride-hailing counterpart, GrabFood's delivery tracker allows customers to view the exact location of the delivery guy on a map, indicated by a motorcycle icon that moves when the rider is in transit.
Winner: Foodpanda
Customer Service
Foodpanda and GrabFood have a feature that lets customers leave a short note about their order to the rider. This seemingly trivial yet significant feature actually allows you to request change for a large bill or give specific instructions on your order (e.g., less sugar for your milk tea, removing egg, cheese, and nuts from your food, etc.).
Both have a chat feature that lets you get in touch with the rider. This is extremely helpful, as it allows you to change some details in your orders or guide your rider to your home in case he gets lost going to your location.
Foodpanda and GrabFood have a pre-order feature, which lets you place an order when a certain restaurant is closed. You'll then receive your order first thing when the shop opens the following day.
Winner: Tie
Delivery Fees
On top of your orders, you'll also need to pay the delivery fee. Below are the usual services fees that Foodpanda and GrabFood charge.
Foodpanda vs GrabFood Delivery Fees
Foodpanda
GrabFood
PHP 19 - PHP 79+

Delivery fee: PHP 59
Small order fee: PHP 30 (A small order fee is applied to orders that are less than the amount specified by a restaurant.)
Note: These fees are subject to change. They may change based on the following factors: time of the day, demand, your location, and the vouchers used.
One way to maximize the delivery fee is by inviting your family members or friends to order, too. That way, the delivery fee can be split among yourselves, thus reducing the amount you need to pay.
Winner: Foodpanda
Minimum Order Requirement
The required minimum order will certainly be a burden if you're ordering solo. For instance, you've been craving milk tea, which usually costs around PHP 85 in your area. However, the food delivery app won't accept your order, as it doesn't meet the minimum purchase requirement.
Thankfully, GrabFood doesn't have a minimum order requirement. But it has a small order fee, which applies to orders that are less than the amount specified by a restaurant.
Foodpanda, on the other hand, has some vendors that require a minimum order value before the order can be placed and delivered to you. In cases where an applicable order fails to meet the minimum required order value, you have the option to pay the difference or add more items to your order.
Winner: GrabFood
Payment Options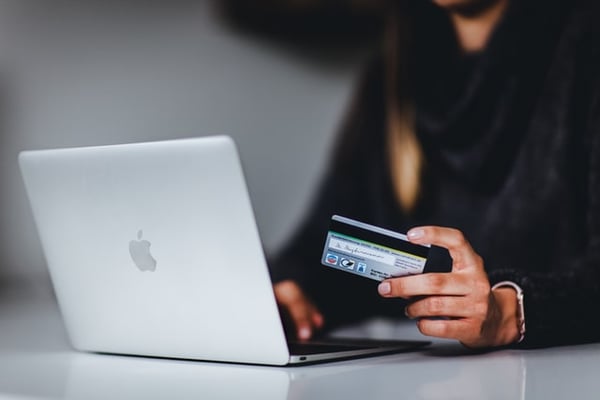 Both food delivery services offer multiple payment options. Foodpanda customers can pay via cash on delivery (COD), credit card, debit card, or PayPal.
Likewise, GrabFood accepts payment through COD, credit card, debit card, and GrabPay (Grab's very own mobile wallet and payment solution).
However, keep in mind that each merchant or restaurant may accept only a specific kind of payment. Small shops, for instance, are likely to accept cash only.
Winner: Tie
Delivery Speed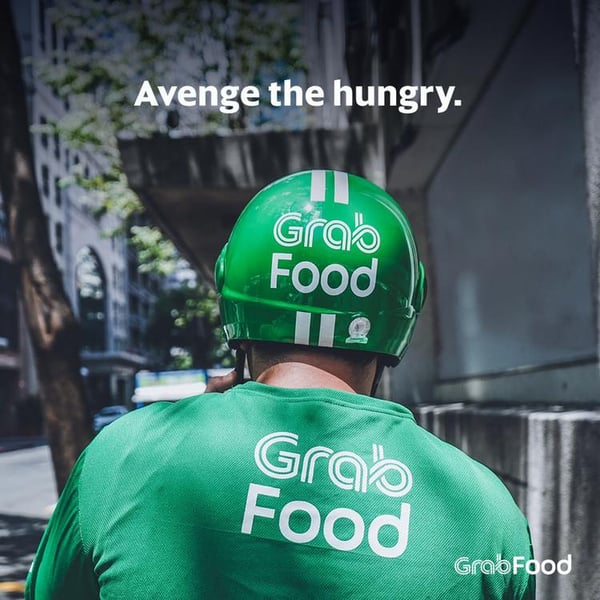 Sometimes, customers may experience delivery delays on both food delivery platforms. However, GrabFood appears to be generally faster at an average of around 30 minutes. Foodpanda, on the other hand, sometimes takes too long. There are even a few occasions where they cancel the order at the last minute.
Nevertheless, keep in mind that the delivery speed is influenced by many factors, such as your location, the size of your order, the queue at the restaurant, the traffic conditions, and the vehicle that your rider is using (for instance, some Foodpanda riders are using bicycles).
Winner: GrabFood
Business Friendliness
This criterion is not for customers. Rather, it's for merchants and restaurants who wish to use Foodpanda and GrabFood's service to deliver and promote their products.
Foodpanda vs GrabFood Merchant Fee in the Philippines
In case you're running a restaurant or a food mart, you need to know how much these companies will charge you for their services. That way, you can gauge how much you should be setting aside every month and plan your business operations accordingly.
Below are the merchant fees imposed by both food delivery service providers.
Foodpanda Merchant Fees
GrabFood Merchant Fees

25-30% per order
2% payment gateway fees for online purchases
Phone calls from customers via the app will also be charged to the restaurant or merchant.

10%-25% per order
Merchant Discount Rate fee for GrabPay transactions
Note: These rates may change without prior notice. To learn more, get in touch with these food delivery companies' respective business development teams.
Merchant Application Process
If you're interested in becoming a partner merchant with these food delivery services, here are some of the things you need to take note of.
Foodpanda Merchant Application Steps
Sign up with Foodpanda online.[4]
While the sign-up page is pretty straightforward and only requires you to upload your menu or item list, it's better to prepare the following business documents just in case:

Mayor's/Business Permit
DTI Certification
Valid ID of the restaurant owner
Halal Certificate (if applicable to your restaurant)

Wait for the contract to be sent out.
Sign the contract.
Once your application is approved, you can already go live.
GrabFood Merchant Application Steps
Sign up with GrabFood online.[5]
Wait for an email with registration instructions from Grab. Complete and submit the following requirements:

Certificate of Registration
Secondary license: either BIR Form 2303 or Mayor's/Business Permit
Valid photo-bearing ID and specimen signature of DTI-named owner
Valid photo-bearing ID and specimen signature of authorized representatives
Articles of Incorporation
General Information Sheet
Secretary's Certificate
Contract
Photo proof of bank account
Valid ID of the bank account holder
Letter of authorization

Wait for the contract to be sent out.
Sign the contract with Grab.
Details will then be verified.
Wait for the final approval of your application.
Winner: GrabFood
Foodpanda vs GrabFood: Final Thoughts
It's a tight fight between Foodpanda vs GrabFood, as there are criteria where they end up in a tie. But in the end, GrabFood has emerged victorious by a hair.
At this point, you already know the answer to the question "Which is better: Foodpanda or GrabFood?" Because both are clearly two of the leading food delivery platforms in the country, they bear the pressure of improving their services and even outdoing and outperforming each other in the process. The amount of pressure is immense right now, with new players in the Philippine food delivery sector (such as Pick.A.Roo, MrSpeedy Eats, and Central Delivery by Landers) competing for customers.
Nevertheless, you're always free to install both food delivery apps on your phone (which many of us do, anyway). That way, you'll get to experience what each of them has to offer. Also, this will compensate for the dilemma where the restaurant or shop you're looking for is not listed with one food delivery app; chances are, that shop may be listed with the competitor.
Always remember: Choosing what's best for you always starts with comparing your options.
Related article: Top 10 Food Bloggers and Their Budget Eat Spot in Metro Manila

Sources: